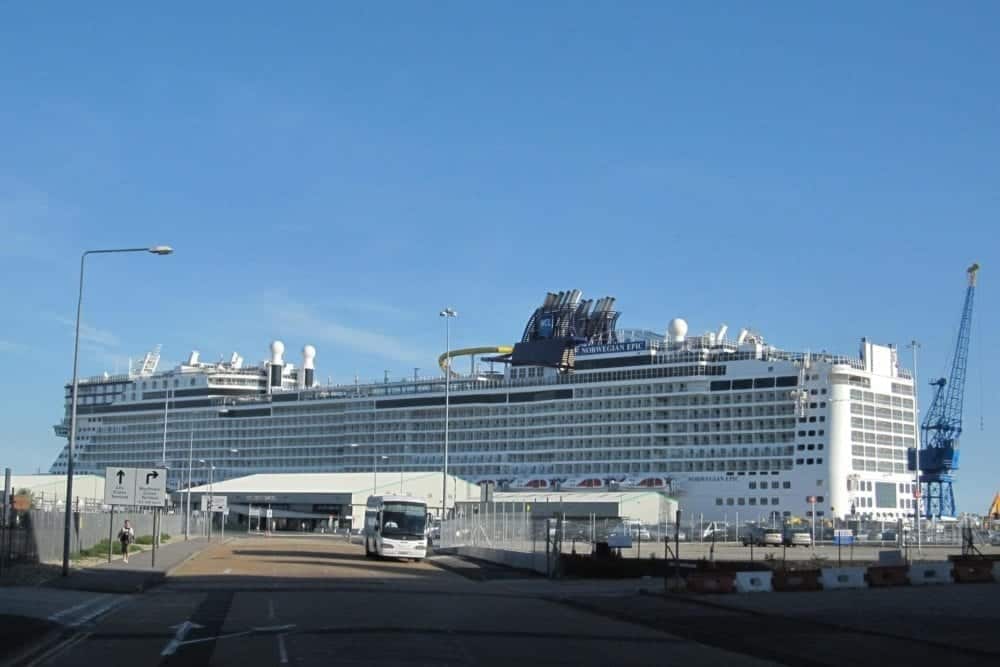 With all the excitement that surrounded the 2014 launch of the Norwegian Getaway and the 2013 sister ship Norwegian Breakaway, it's easy to forget the 2010 Norwegian Epic. A prototype for the Breakaway and Getaway, the Epic is larger and carries more guests than the other two ships.
I was aboard the Norwegian Epic for the inaugural sailing from Southampton, England as well as the transatlantic crossing to America, in 2010. More than the exciting arrival into New York City, it was the quirky design of this ship that created a major buzz.
In a bold move, Norwegian Cruise Line built the Epic with 128 solo-occupancy staterooms (Studios), a first in the cruise industry. Aside from a total of 688 inside staterooms including the Studios, all of the remaining 1,426 staterooms have balconies. That amounts to quite a few options when it comes time to reserve a balcony stateroom.
Traditional rectangular staterooms were redesigned with curved walls, rounded bed corners, and a sink and vanity area in the main living space. But the one feature that garnered the most comments was the split shower and bathroom with translucent sliding doors.
Cleverly designed for convenience and comfort, there are no less than six types of balcony staterooms, all with the same modern design.
Not including mini-suites, suites or The Haven categories, here's a quick run-down on the various types of balconies aboard the Epic. Keep in mind that unless otherwise shown, most of these balcony staterooms have a near-identical design. It's the square footage that differs.
Also, please note that the square footage given includes the balcony, which can vary from 34 – 107 sq. ft. You can ask your travel agent for size as to stateroom and balcony once you choose your stateroom category.
Standard Balcony Stateroom


Spacious enough to accommodate up to three guests with floor to ceiling glass doors that open onto the private balcony. Curved interior walls, separate bathroom and shower areas and a sink and vanity in the main living space are a trademark of all the balcony staterooms on the Epic. Two lower beds convert into a queen-sized bed and the sitting area includes a sofa sleeper. Typical of the balcony categories, there is a large flat screen TV and ample closet space. Staterooms measure approximately 203-230 square feet.
Aft-Facing Balcony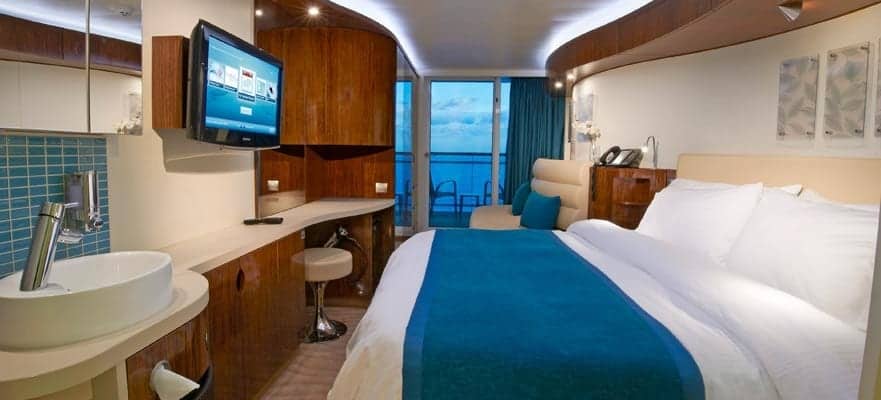 You guessed it. The glass doors in this stateroom open to the balcony with an aft-view panorama of the ocean. It also looks exactly like the standard balcony stateroom above. Able to accommodate up to three, they feature the same separate bathroom and shower design, lower twins beds that convert to queen and a sitting area with sofa-sleeper. From 205-221 sq. ft. including balcony.
Spa Balcony

Located on deck 14, Spa balcony staterooms are similar in size and configuration to the Standard Balcony staterooms and can accommodate up to three guests. Amenities include floor to ceiling glass doors that open to a private balcony, a sitting area with sofa-sleeper, and separate bath and shower. What makes this category special is that the spa balcony rooms include complimentary access to the Mandara Spa, as well as entry to the thermal spa suites. The staterooms measure approximately 203-230 sq. ft. including balcony.
Family Balcony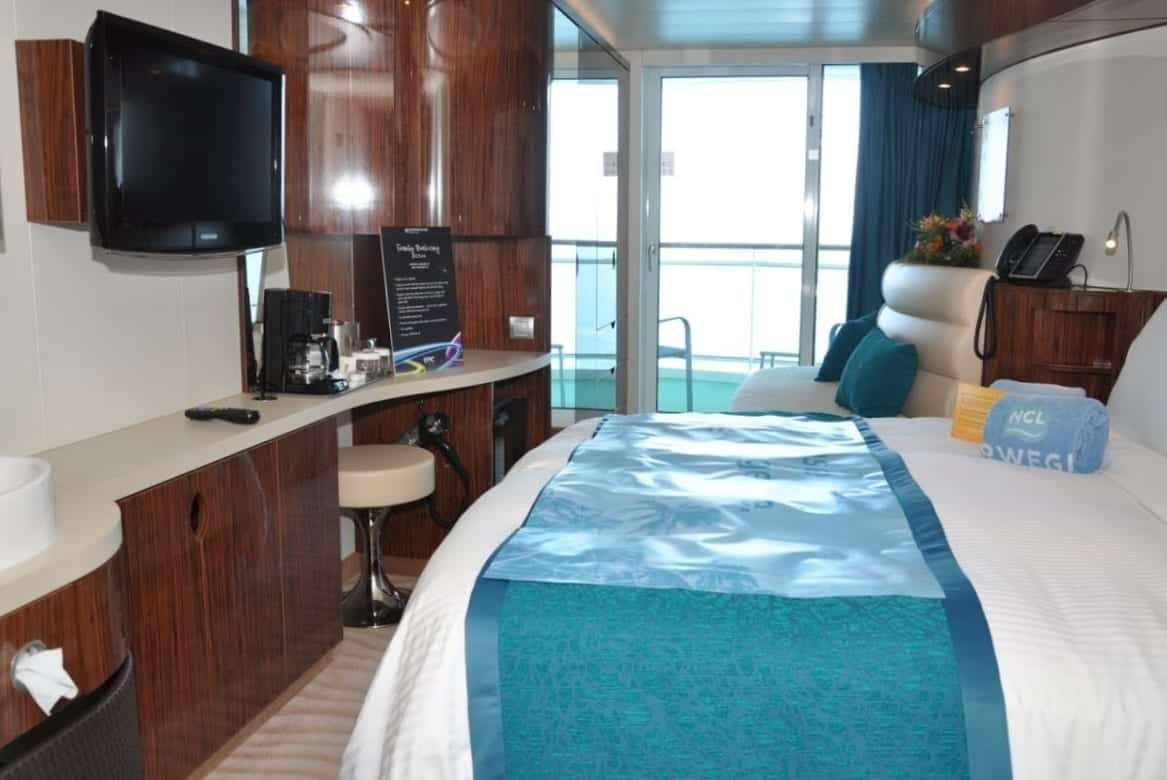 Again, looks just like the standard balcony state except it's able to accommodate up to four guests. The Family Balcony Stateroom has two lower beds that convert to queen-size, an upper berth and a sofa-sleeper. Shower and bathroom are separate, with the sink and vanity located within the living space. Larger families can reserve adjoining Family Balcony staterooms, which are all located near the children's play spaces. Glass doors open onto a private balcony. These staterooms are approximately 188-248 sq. ft. including balcony.
Large Balcony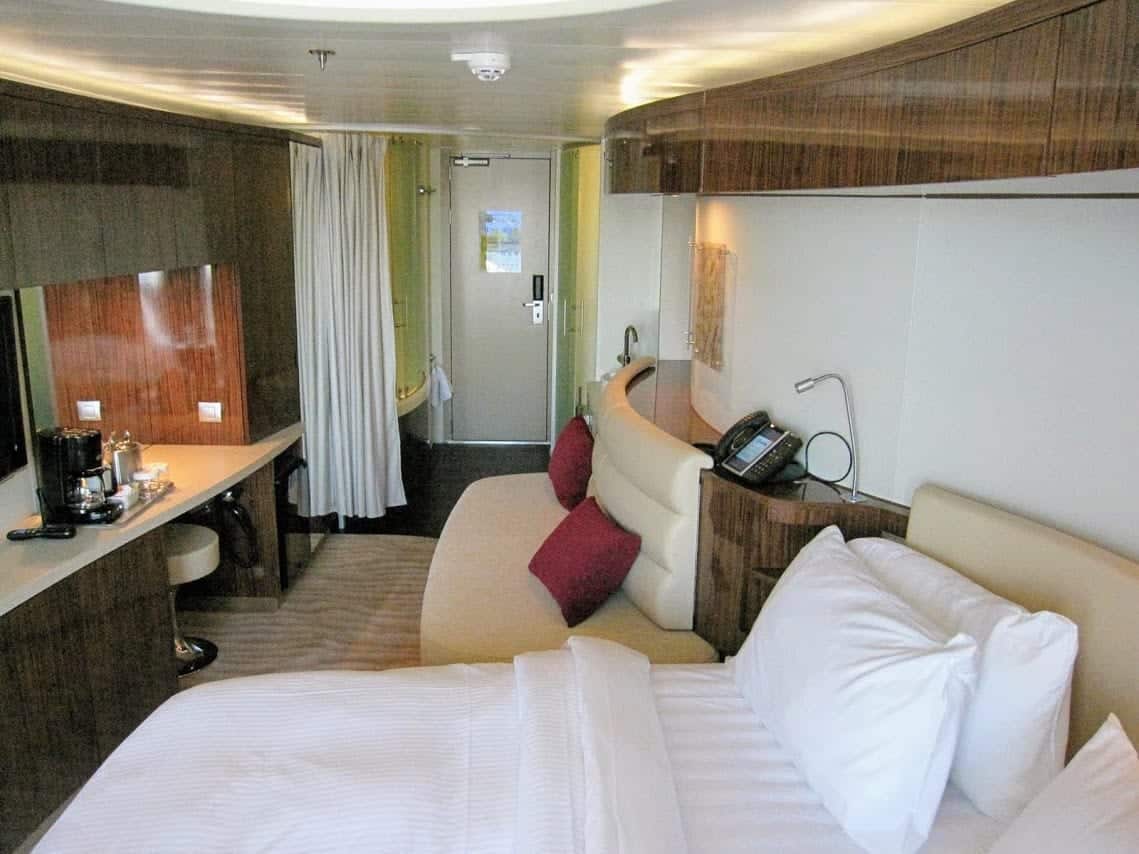 This was my stateroom. Since you've seen the standard photo looking at the balcony, here's how it looks looking inward. Approximately 203-258 sq.ft. including balcony, these staterooms accommodate up to three guests. Two lower beds convert into a queen bed. Floor to ceiling glass doors lead out to the private balcony. With signature curved walls and separate shower and bathroom, the Large Balcony staterooms are located on decks nine through twelve.
Mid-Ship Balcony

Same design, décor and colors. Ranging in size from 204-221 sq. ft. including balcony, Mid-Ship Balcony staterooms sleep up to three guests. As the name implies, these staterooms are located "mid-ship" with easy access to dining, many of the onboard entertainment venues, dining and activities. Two lower beds convert to a queen bed and the sofa converts to a one-person sleeper. Floor-to-ceiling glass doors open onto the private balcony. 203-257 sq. ft including balcony.
There are many things to enjoy on board the Norwegian Epic. One of those is the opportunity to have a private balcony. Whether you are looking to have a relaxing trip enjoying the spa or want to spend time with your family, there is a balcony stateroom to suits your needs.

I'm the editor and creator of CruiseMaven.com, a solo traveler cruising the world on waves and wheels, collecting recipes along the way.  I hope my articles and photos entertain, advise and inspire you to travel the world without flying.  Take a breath…stop for a local meal and a glass of wine along the way.