When it comes to Alaska cruising there are two cruise lines that have been doing it longer than anyone else: Holland America and Princess Cruises. I looked forward to this opportunity to finally cruise again, and to share my Majestic Princess review in detail.
With such a long history of cruising to Alaska, both companies claim to be able to provide experiences on their Alaska cruises that no other cruise line can duplicate. I've always wanted to know if that was true.
Not to mention, the description of Princess' "North to Alaska" program always sounds so enriching!
From food to culture to onboard enrichment by local Alaskans, Princess Cruises' "North to Alaska" program provides passengers with a deeper insight into The Last Frontier, our 49th state.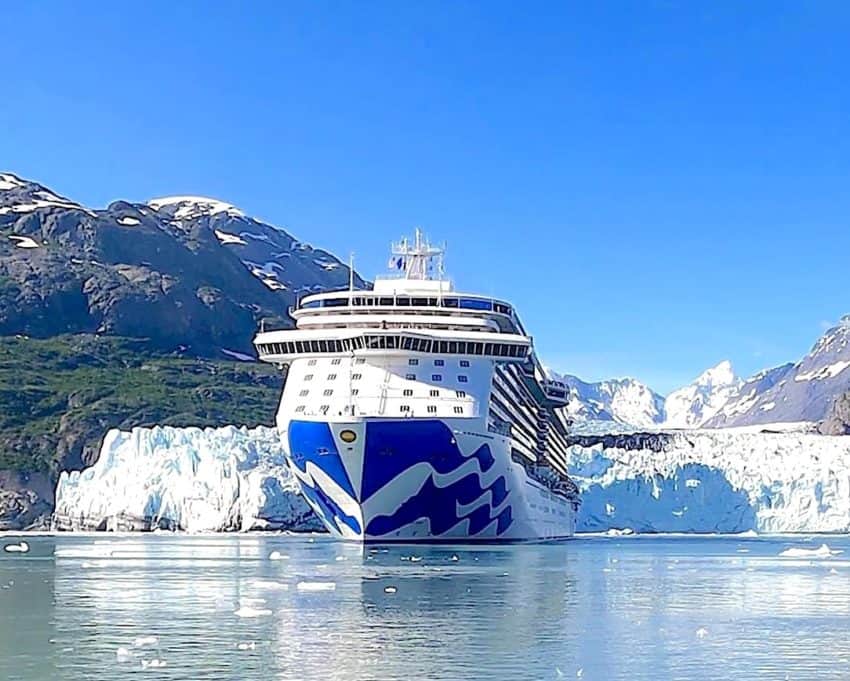 Majestic Princess Review on an Alaska Cruise
Despite having taken an Alaska cruise three times before with other cruise lines, an excellent deal (and some FCCs) were enough to get my husband and me onboard for a mid-August sailing. We looked forward to trying a Princess Alaska cruise and our first experience aboard Majestic Princess.
Our itinerary was a one-week Alaska Inside Passage cruise, roundtrip from Seattle. The voyage included three port days, two full sea days, and a half-day of spectacular scenic cruising in Glacier Bay.
Our ports included:
Because our sailing was one of the "special" Alaska cruises permitted by the Alaska Tourism Restoration Act, the ship was not required to stop at any Canadian port of call as would be typical of a roundtrip Seattle cruise.
Fast Facts – Majestic Princess
Year built: 2017
Year refurbished: n/a
Weight: 143,700 gross tons
Decks: 19
Passengers at double occupancy: 3,560
Crew: 1,346
Total staterooms: 1,780
COVID-19 Protocols
As with all Princess Cruise sailings, you must be vaccinated to get onboard Majestic Princess. The line will make some exceptions (up to 5% of the total capacity) for those who can not get vaccinated for medical reasons and for children. But you must apply for an exception ahead of time and it's not guaranteed.
A negative pre-cruise COVID test is required to board the ship. The test must have been administered within 72 hours before your sailing and must be either a PCR test or an antigen test.
Mask wearing is required onboard except when outside or actively eating or drinking in a restaurant or bar. We saw this rule flouted several times, but especially at night in the casino when almost no one wore a mask.
Welcome Aboard Princess Cruises' Majestic Princess
Our embarkation at the Seattle cruise port was fast and easy despite being the first Majestic Princess cruise departure to require pre-cruise COVID-19 testing.
All Princess ships are Medallion-class. That means everything is digital!
You need to have the Medallion app downloaded onto your phone. And, assuming you filled out all the information requested in the app and have uploaded the appropriate photos, all you need to show at the port is your passport, vaccine card, and proof of negative COVID-19 test.
READ MORE: Do You Need a Passport for an Alaska cruise?
It's not the most user-friendly app, but having been on several previous Princess cruises, most of my information was already there. All I had to update were some sailing specific requests (dining and bed preferences, traveling companions, etc.).
From the moment we got to the port to getting onboard took maybe a half hour. Most of that time was spent on line waiting to get to check in and go through the security baggage check.
INSIDER TIP: If you're having any trouble with your Medallion App or want to get on to Wi-Fi right away, head straight to the OceanFront desk on deck 7, midship. The first two days here are packed and the wait can be a bit long. If you only want to get online and don't need help with the app, head to the Internet café on deck 6, midship, where someone can help set you up.
First Impressions
My first cruise after an 18-month "pause" due to COVID-19, I had high expectations for this Majestic Princess sailing. I've been on Princess ships before, including other Royal-class ships and knew to expect gorgeous hardware, the most comfortable bed at sea, and excellent service.
And my first glimpse of the ship once onboard didn't disappoint. Built in 2017, Majestic Princess is a beautiful example of the direction the line has been moving in since it launched Royal Princess in 2013.
Decked out in neutral shades of gold, blue and white, the ship is shiny and beautiful. The atrium rises three-levels and is full of light. I'm in love with the small pools of water that partially surround two of the glass staircases. Such an elegant touch, reminiscent of a true outdoor piazza.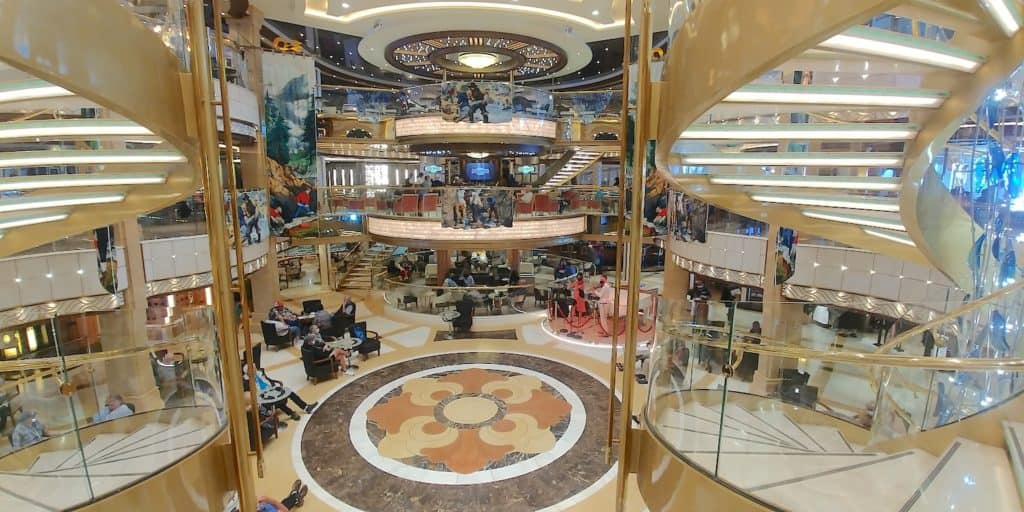 It didn't take long to spot one of the main differences between Majestic Princess and other Princess ships: there's lots of Chinese writing! That's because Majestic Princess was built specifically for the Chinese cruise market and has been sailing almost exclusively in Asia since it launched.
Though the ship will spend the next year or so in North America and then move to Australia, the line didn't not remove all the signs of its Chinese past. Most signage is in English and Chinese, including on the elevators.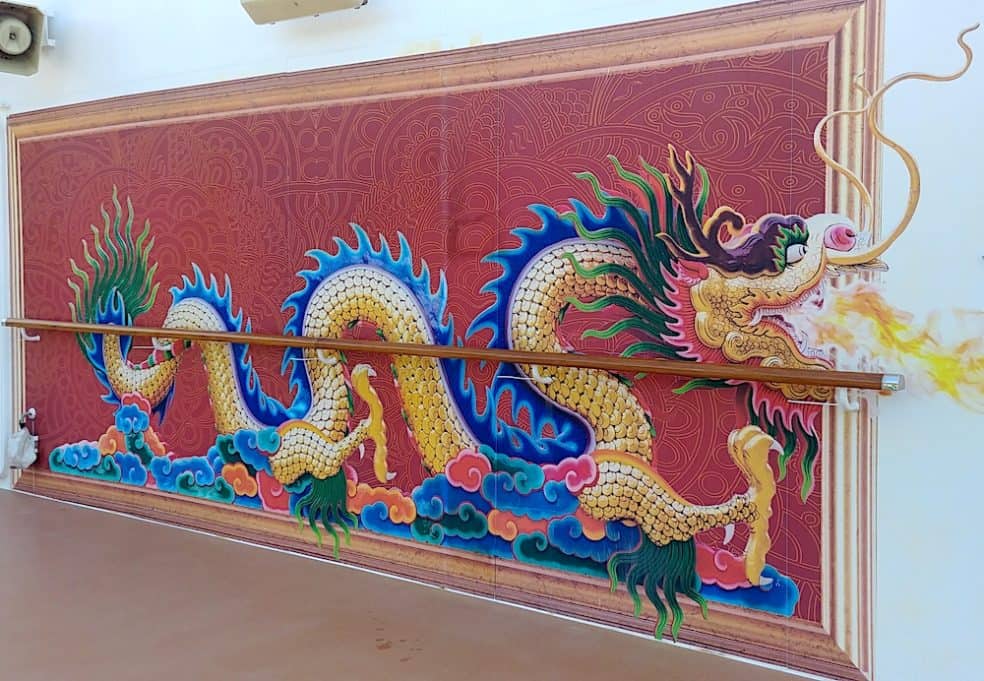 Plus, you'll encounter Chinese style artwork and other design elements throughout the ship. (There's a gorgeous painted dragon on an upper outside deck that makes for a great photo-op!)
By the way, the bed didn't disappoint. So comfortable!
Service on the other hand, was hit or miss, which is not something I expect from Princess Cruises. Everyone was friendly and happy to have us onboard, but there were times the service felt, well, rusty. Like crew had forgotten how to do their jobs during the long pause.
Bartenders charged the wrong prices. Waiters forgot to ask how we wanted something cooked. Dishes we ordered were forgotten and never brought out.
Standard Balcony Stateroom
One fun thing about all staterooms on Princess ships. The doors can only be opened using your wearable OceanMedallion device (there are no cruise cards).
The locking mechanism has a sensor built into it that picks up your OceanMedallion's signal before you get there. By the time you're standing in front of your room, the door is unlocked and all you have to do is open it.
My standard balcony stateroom on Majestic Princess was comfortable. Located on Deck 9, the room had a queen-sized bed with two nightstands (each with two drawers), a desk (with three drawers) and a piece of furniture that hides that mini-fridge, has two small storage shelves, and space on top to pile things.
It's about 220 square feet in size, which is slightly larger than the average balcony cabin on other mainstream ships.
And, did I already mention the bed? Seriously, if you've never been on a Princess ship before, the beds are some of the most comfortable at sea.
Stateroom Amenities
You'll find outlets at the desk and on one side of the bed. (In our case, that was the side of the bed closest to the desk.) Outlets are U.S. and European style, plus there are two USB ports for charging your cell phone.
Thankfully, we'd brought a long enough USB cord that I could plug in to the USB port on my husband's side of the bed and stretch it behind the pillows so that I could charge my phone from my side of the bed.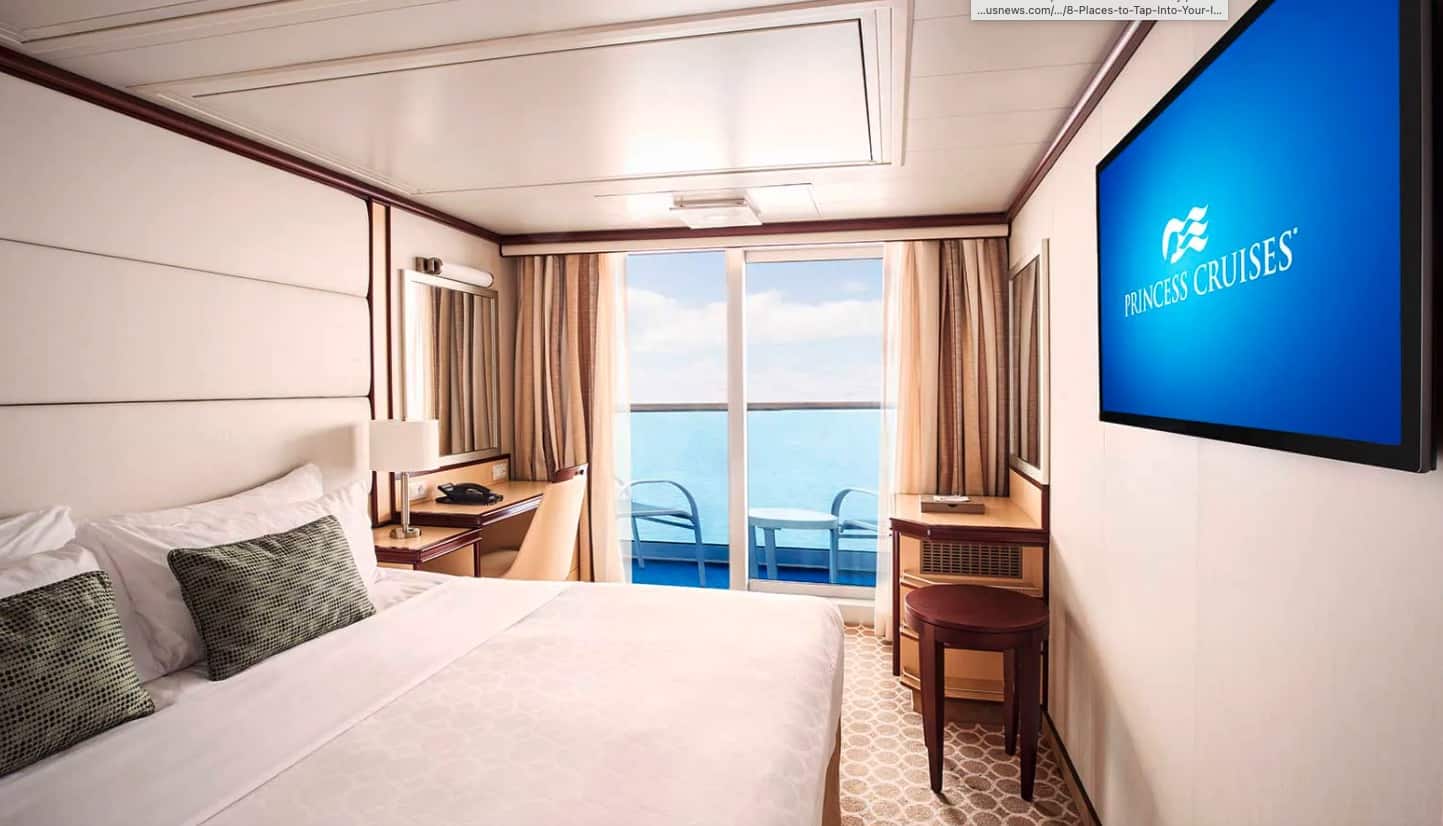 There is no closet per se, but there is bar for hanging clothes located opposite the bathroom door and a cabinet with several shelves and drawers. You can ask for more hangers if you need them, but I always bring extra wire hangers with me.
READ NEXT: What to Pack for an Alaska Cruise
The bathroom is a bit tight. But I love that there's three rows of glass shelving, definitely enough space to put all my and my husband's toiletries … and I bring a lot of toiletries with me when I cruise!
Inside the shower you'll find dispensers with shampoo and body wash. The shower also has a small ledge, which is perfect for holding your own bottles of shampoo and conditioner.
Our cabin category, though standard in size and layout, was high enough that it came with individually-sized spa-branded shampoo, conditioner, body wash and lotion.
The balcony is maybe 40 square feet, which was big enough to fit four of us during the Glacier Bay scenic cruising. There are two chairs and a small glass table, but because it was cold and rainy for much of our cruise, we didn't use the balcony too often.
Our Room Steward
As on all cruises, service varies by room steward. My guy both impressed me and let me down at various times.
He totally impressed me when he replaced the handful of tissues I'd taken from the bathroom to keep next to the bed with a full tissue box. I always keep tissues by my bed on a cruise and no one, not even on the ships where I've had a butler, has ever thought to do that.
He let me down because he had a tendency to forget to refill the ice bucket. No worries though, you can use the stateroom TV or the Medallion app to order an ice bucket.
Review of Dining Options on Majestic Princess
What would this Majestic Princess review be without mentioning the dining. But sadly, dining was the biggest disappointment for me. Though we did have a few good meals, overall, the food was mediocre to poor.
And it didn't matter whether we ate in an included or extra-fee venue. In fact, some of the best food I had was in the buffet and the worst dish (a filet mignon) was in the $29 per person steakhouse, Crown Grill.
The ship has six complimentary dining venues (I'm counting all four main dining rooms as "one" option). There are three extra-fee restaurants including Harmony, the only Chinese restaurant in the Princess Cruises fleet. (Unfortunately, I was the only one of my four-person group who wanted to try Harmony, which meant I was solidly outvoted.)
Our two favorite spots during the day were Alfredo's Pizzeria and Chopsticks Noodle Bar. The first is Princess' signature – and free – pizza place and has some of the best pizza you'll find at sea.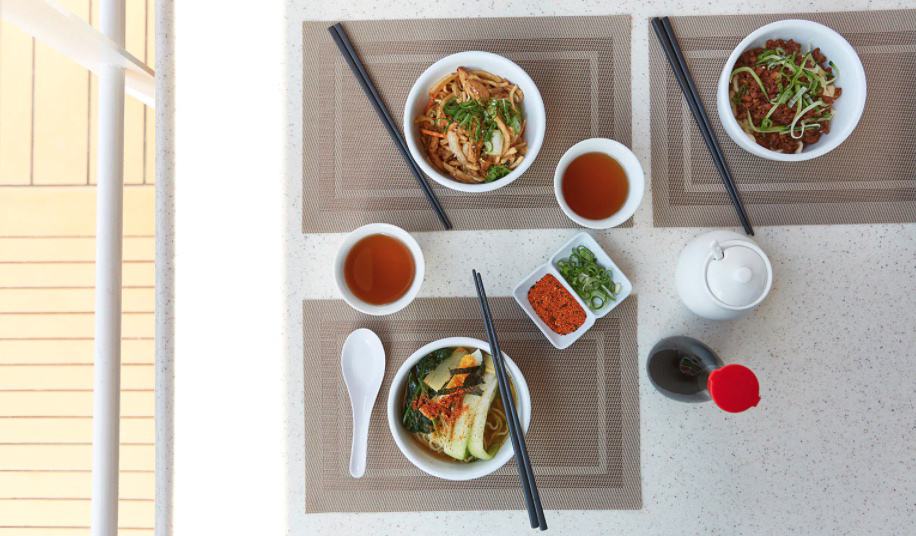 INSIDER TIP: If you want to have lunch at Alfredo's get there before noon. The eatery opens at 11 or 11:30 a.m. most days and by noon, there's usually a line. If you don't want to wait, try getting there by 11:45 a.m. for your best chance at getting a table right away.
The second, Chopsticks Noodle Bar, is another Majestic Princess-only venue that's a leftover from its day in Asia. Wonton noodle soup and a vegetarian miso ramen were always available, plus there was always a special of the day.
I had the vegetarian miso ramen several times, and the special (a lo mein) once. They were always super yummy, with just a little bit of a kick. (You could have them notch up the spiciness if you wanted.) Chopsticks is free. It's located outside on the Lido Deck and was usually open from 11 a.m. to 10 p.m.
International Café was our favorite spot for mid-morning or mid-afternoon snacks. The mini quiches and sandwiches are perfect when you just need a little nosh, as are the array of desserts!
We spent most dinners in one of the three main dining rooms, rotating ourselves through each a couple of times. How good the service was depended on our waiters, with the best service we experienced in Allegro (the aft choice). Food was mostly fine and there was always "North to Alaska" option. My favorite main dining meal was a "North to Alaska" rockfish dish on Italian night.
Majestic Princess Crown Grill Review
Of the three extra-fee restaurants, the only one we visited was Crown Grill. Other than the beet and goat cheese salad appetizer and the creamed spinach side, which were delicious, the rest of our food was a big letdown.
Let's start with my entrée. As someone who doesn't eat red meat or pork, I usually rely on the sides at a steakhouse.
But on our Alaska cruise, Crown Grill offered a "North to Alaska" menu that had several fish options. I selected the wild Alaskan halibut.
There was the option to order my fish grilled, pan-seared or baked, and with lemon butter or drawn butter that I forgot to request when I ordered and my server didn't ask. As a result, the entrée was a dry, baked piece of halibut with no flavoring. Oh, and did I mention it was dry?
Speaking of dry. One of my friends ordered a filet mignon, medium. It came seriously charred on top and quite red inside. She was never offered any sauce or au jus. Eventually, she had to leave the table because the steak was so dry and charred it made her cough.
My husband ordered lamb and said only a small portion of his dish was cooked well. The rest was tough and overcooked.
Only my friend who wanted her filet mignon well-done was happy.
To top off a not-so-great meal, I was disappointed to find Princess has changed its super popular Norman Love chocolate sampler dessert. What was once a highlight of any visit to Crown Grill is now combo of mediocre desserts none of us wanted to finish.
Entertainment and Onboard Activities
With three sea days (half a day of scenic glacier cruising aside), there was plenty of time to fill up onboard Majestic Princess. As avid trivia players, we tried not to miss any trivia sessions. But we made it to only one theater show, which was a guest comedian. We skipped all the song-and-dance revue style shows.
Insider Tip: Got a hot game of bridge going in a lounge and don't want to have to leave to get food? You're in luck! Order food via the Ocean Medallion and it will be delivered to you almost anywhere on the ship…in your room, by the pool, or hanging out in a lounge. Choices are varied, with free and for-fee options.
We also went to a few of the game show-style events put on by the entertainment team. They were mostly amusing though it often felt like the entertainment team was in on a joke that left the audience out of it.
To be fair, as only the fourth sailing since the COVID-19 pause, many of the crew members were still enthusiastically catching up with friends and enjoying life at sea again. The result was that sometimes it felt like the passengers were an afterthought.
LOTUS SPA
I also spent more than my fair share of time in the spa. Unfortunately, Steiner, the operator of the spas on Princess cruise ships, no longer offers the 10/20/30 sail, where you get progressively better discounts if you book three services at once.
Plus, they'd raised their prices a bit. More unfortunately for my wallet, that didn't stop me from booking three services! All three services (massage, facial and keratin hair treatment) were great, but the hard sell after the first two were pretty next level.
Daytime Activities
My husband and I also got in a session of laser shooting, but we had to do it late on a port day. The activity is offered sporadically throughout the cruise and had pretty much booked up by the end of day one.
It's one person (or same-family/friend group) at a time so space is limited. Majestic Princess is just one of a handful of Princess ships that offer the activity.
Other daytime activities included art talks, retail events, wine tastings, sports (mini golf, basketball, ping pong, etc.) competitions and outdoor movies. And, of course, there's always Bingo.
On Alaska cruises, you'll also be able to attend one or two "North to Alaska" presentations from geologists, historians and/or scientists. These are great introductions to the ports and Alaskan history and nature for those who have never been to Alaska.
Insider Tip: Skagway stops on Princess ships always include a visit from a musher and a sled dog puppy. If you want to attend the "Life as a Musher" presentation, get there super early. Everyone wants to see the puppy!
Watch out for the so-called fitness seminars, which are really just high-pressure sales tactics for the spa and fitness staff. (For example: Complimentary Footprint Analysis).
An outdoor activity unique to Princess Cruises is "Games Under the Stars," which despite its name is an afternoon event. Here cruisers use their Medallion apps to compete in video-style games against other cruisers with all the action visible on the big screen by the pool.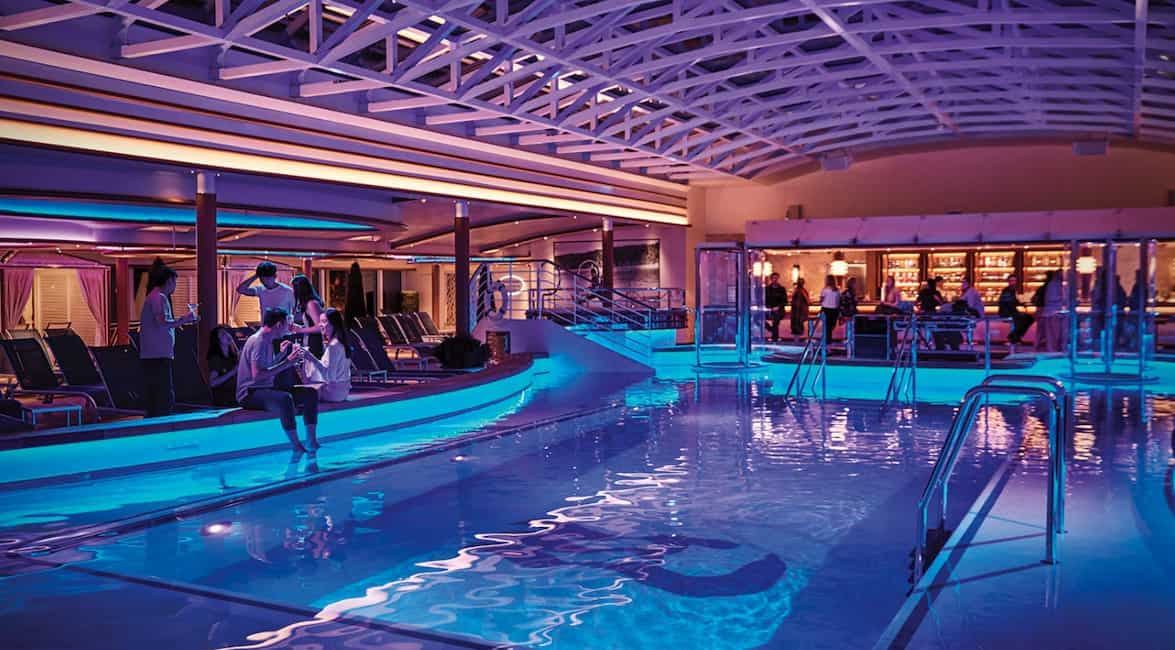 Evening Entertainment
At night, you have a choice of shows in the main theater, trivia or game shows in the Princess Live Lounge, or live music in the Piazza, Vista Lounge and Crown Grill Bar.
Those who like to gamble can while away their night hours – and their money – in the casino.Two interesting evening entertainment options that are each worth checking out once are the Princess Watercolor Fountain Fantasy and the Good Spirits at Sea bar show.
If you've ever seen the lit-up water fountain show at the Bellagio in Las Vegas, then you can picture what Princess' Watercolor Fountain Fantasy looks like. The water fountains are set to themed music and programmed to "dance" as colored lighting adds to the effect. It's worth seeing once, with the shows later in the evening or later in the cruise less crowded than the earlier ones.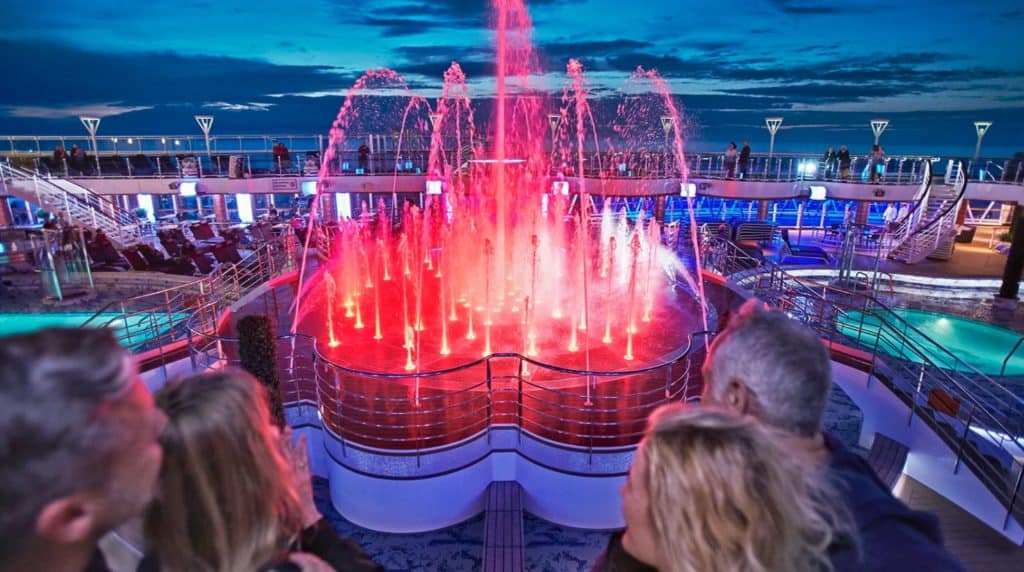 Good Spirits at Sea takes place at the Good Spirits bar and it's always the same thing. A video about the featured specialty cocktails accompanied by the bartender making each one.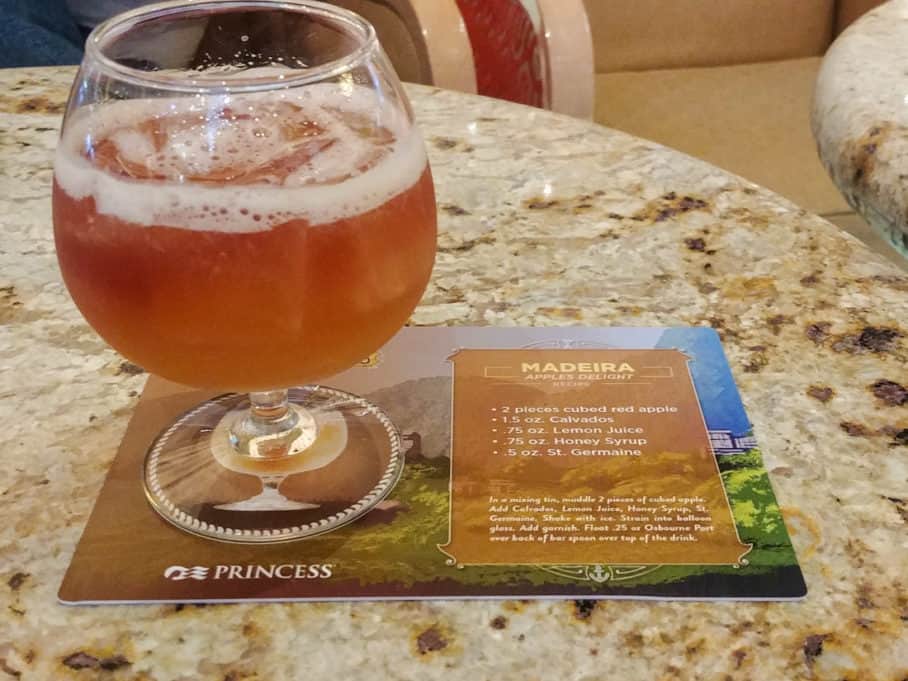 If you're a cocktail lover, it's worth going once to learn about the drinks and giving one or more of them a try. (Our favorite was the Apples Delight.)
Who's Onboard
Our Majestic Princess cruise had a fairly well-rounded assortment of cruisers onboard, which isn't unusual for an Alaska sailing. Alaska, as a destination, attracts people of all demographics.
The one thing we noticed was a decided lack of was families and young children, which was most likely due to the COVID-19 protocols. There were some teenagers and kids that could have been in the 10 to 12-year-old range. I'm fairly certain there was no youth programming of any type during the sailing.
There also weren't many young 20-somethings, which wasn't surprising. Princess Cruises is a laid-back cruise line that focuses less on fun and more on relaxation. As a result, it doesn't usually attract the young (under 35) crowd.
There were plenty of past Princess Cruises passengers onboard, but we saw plenty of blue medallions, which indicate first-timers.
Final Thoughts – Majestic Princess Review
Overall, I had a wonderful time on my Majestic Princess sailing. The ship has almost all of the Princess staples I love and you can never go wrong in Alaska!
The food was a disappointment and there were times it seemed like some of the crew had forgotten how to do their jobs during the long pause.
But overall, Majestic Princess is a perfect example of the "new" Princess Cruises. It might not be right for those who loved the older, smaller Princess ships, but for anyone who likes the Princess vibe on a larger ship, it's just right.
Cruise Review in a Nutshell
Princess Cruises' Majestic Princess
Category: Premium ($$$)
Internet/Wifi: Extra fee, though included in many cruise fare packages.
Date:August 15-22, 2021
Disclosure: I paid the full fare for my Majestic Princess cruise, but was hosted for a complimentary dinner at the Crown Grill restaurant, which normally costs $29 per person. All opinions are my own and reflect my cruise experience and observations.
I hope you find this Majestic Princess review to be helpful if you're considering a Princess Alaska cruise.

Dori Saltzman is a content and copy writer who previously spent 15 years covering the travel and cruise industries at several travel trade publications and at CruiseCritic.com. You can find out more about her at dorisaltzman.com