We awakened to a sunny day in Ketchikan, the last port on our Majestic Princess Alaska cruise. One of the rainiest cities in the state, was a treat to see sunshine.
Especially a treat, since my husband and I chose the Eagle Island Sea Kayaking excursion, yet another outdoor adventure. We already went bike riding and rafting in our other ports of call.
This shore excursion would be our second attempt at sea kayaking together. The first time almost resulted in divorce – not to mention some seriously zig-zagging to view the glacier. But we'd more recently done some river kayaking during which we'd managed to achieve some synchronicity, so we were hoping for the best.
Eagle Island Sea Kayaking in Ketchikan
We chose the early morning tour and were on our bus headed to Knudson Cove by 8:30 a.m. A slightly larger group of zipliners joined our group of six kayakers. Both tours are sold by Princess Cruises but operated by Southeast Exposure, a locally-owned company that offers kayaking and Zodiac tours, along with an eight-line zipline course.
As with most cruise excursions that require a bus ride, our driver narrated the journey with insights into the local history and life in Ketchikan.
At Knudson Cove, we met up with our kayak guides Ali and Faith, both high-energy 20-somethings. Both were engaging and full of information about the local flora and fauna.
Before heading to our kayaks, we stopped at the boathouse to gear up. Life jackets are required, while ponchos and spray skirts are optional. You can also grab a dry bag if you want, but you're free to leave anything behind in the boathouse that you don't need.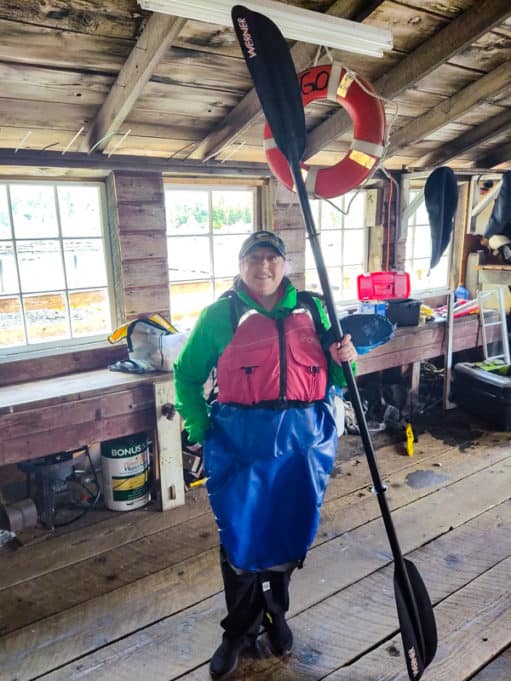 When we were all geared up in our oh-so-fashionable getups, it was time to head to the dock for a quick tutorial and to get into our kayaks.
Despite having been kayaking before, I always find the tutorial helpful. Especially the part where the guides tell us which side of the oar should be facing which way as it always seems to change. (Sometimes the logo should face you, other times, the logo faces away.)
These Kayaks Have Pedals!
The kayaks that Southeast Exposure uses are different than others we've used in past kayaking tours. They've got pedals that allow the person in the back to steer using a rudder. You don't have to use the pedals if you don't need them. One couple, who knew what they were doing, skipped the rudder and easily outmaneuvered the rest of us.
We were happy for the pedals, as my husband's steering capabilities with the oar is one of those sticking points we can't agree. (He says he's an excellent steerer, and I disagree.)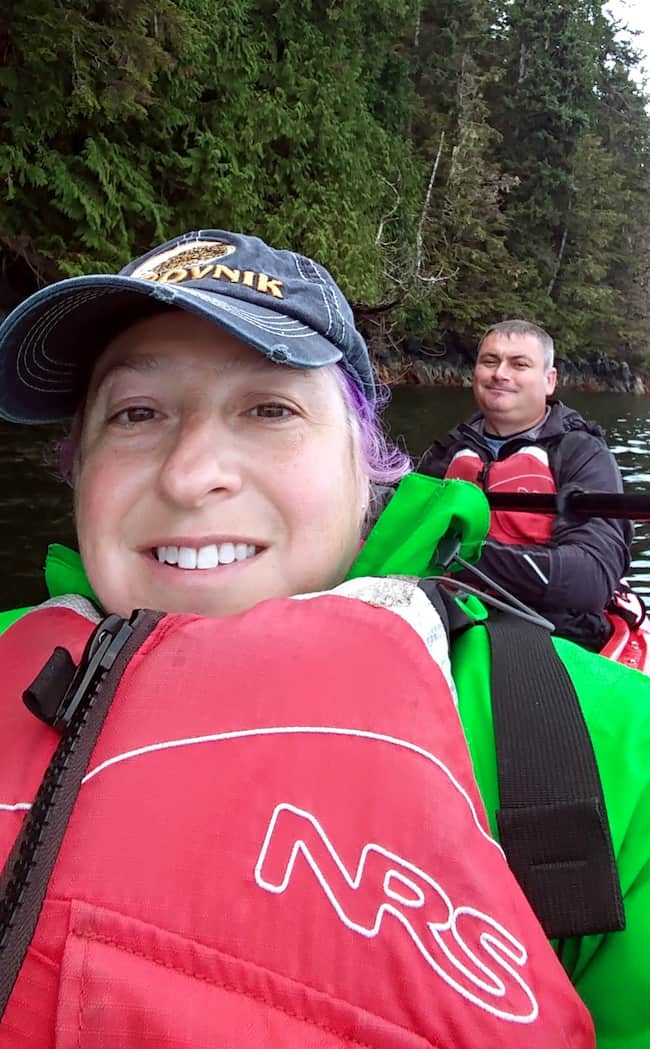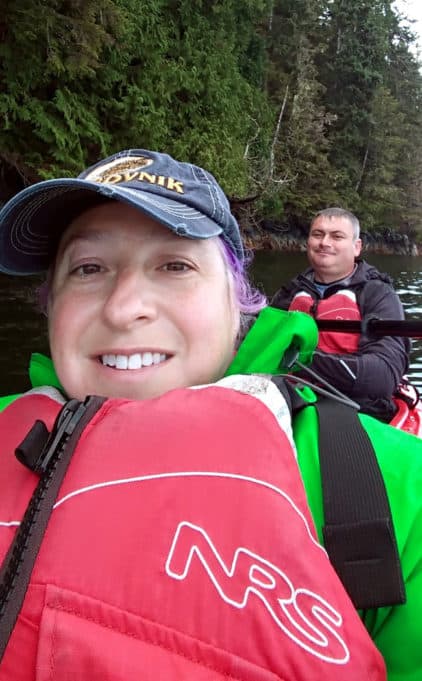 The pedals are a bit sticky and don't always work – the other couple had the same problem we did. But they do make steering with the oar much easier.
With everyone loaded into their kayaks, we headed across the Clover Pass and toward Eagle Island. There is boat traffic in the pass, so we sometimes had to stop and give the right-of-way to speed boats.
Whales, orcas, and dolphins do use the pass to navigate their way around Ketchikan, but we didn't see any during our crossings to or from Eagle Island.
Other than when we had to get across the wake left by passing boats, the water in Clover Pass wasn't rough, and we made our way fairly easily across to Eagle Island. (Mind you, we were still the last kayak to get across.)
About Eagle Island
Eagle Island is a protected islet located within the Tongass National Forest. The island has a permanent pair of nesting eagles, and their large nest is the first thing you notice as you approach. One of the pair was sitting not too far away, high up among the trees.
She (or he) was the only bald eagle we spotted during the two hours we spent in the area. Because the tide was low, we did see quite a few starfish that lined the steep rocky shores of the islands.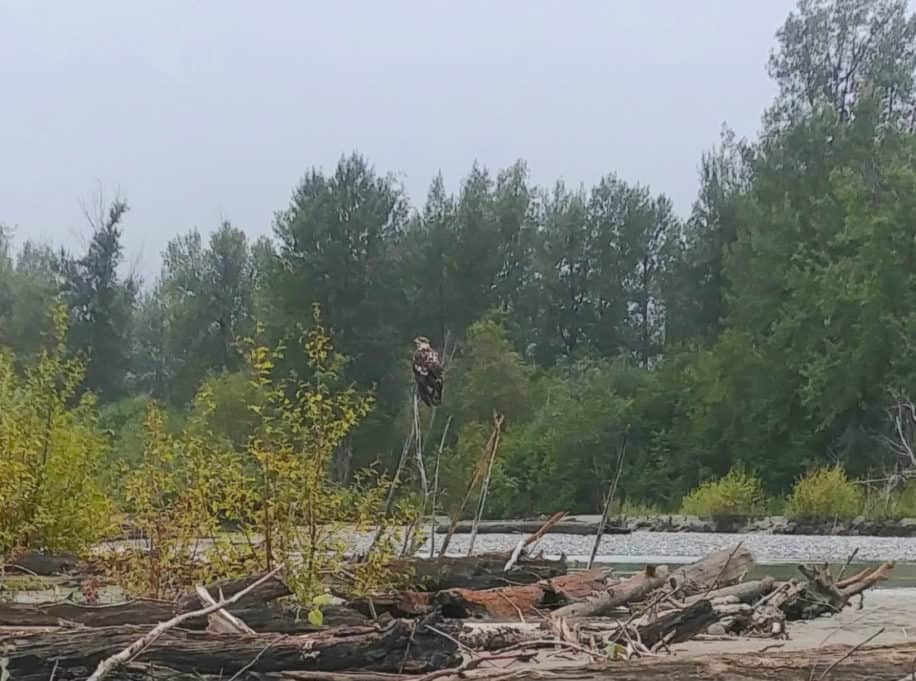 From Eagle Island, we headed across a shorter channel to a second islet, which we circumnavigated. This second island is the best spot for seal sightings, but they must have been keeping away because we didn't spot any. Not even at seal beach, where they're known to sun themselves on the rocks.
The bulk of the paddling is done close to the shores of the two islands and is reasonably easy. The pace is slow, and there's plenty of time to snap pictures along the way.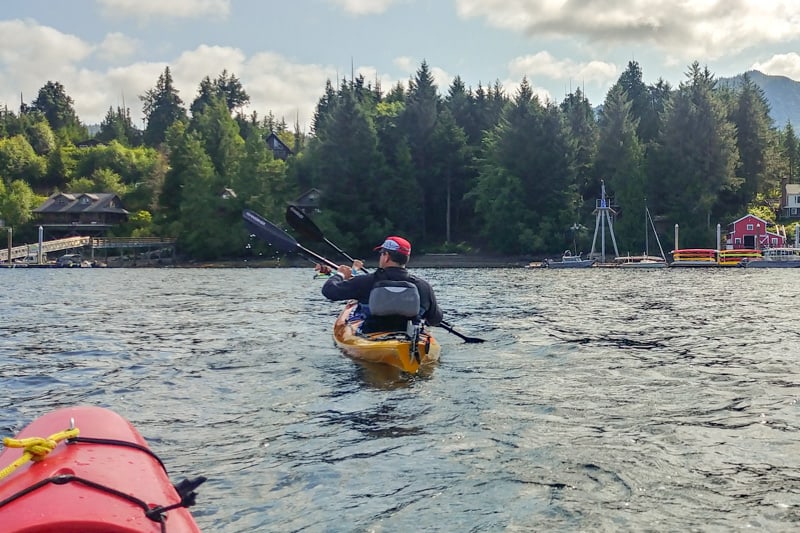 Only on the way back, when Clover Pass is busier than earlier, did we have to pick up the pace and stick together to avoid the numerous passing boats.
After returning our gear, we had a few minutes to check out the gift shop before returning to the bus. On the way back to Ketchikan, we passed a young girl with a lemonade stand basically in the middle of nowhere. Not sure who she was hoping to sell to as our bus driver was surprised to see her.
Despite a deadline to get us back to our cruise ship, everyone on the bus voted to stop and get lemonade. The look on the girl's face and the ecstatic hug she gave her brother when he came running up the long driveway to see us was a highlight of the entire morning.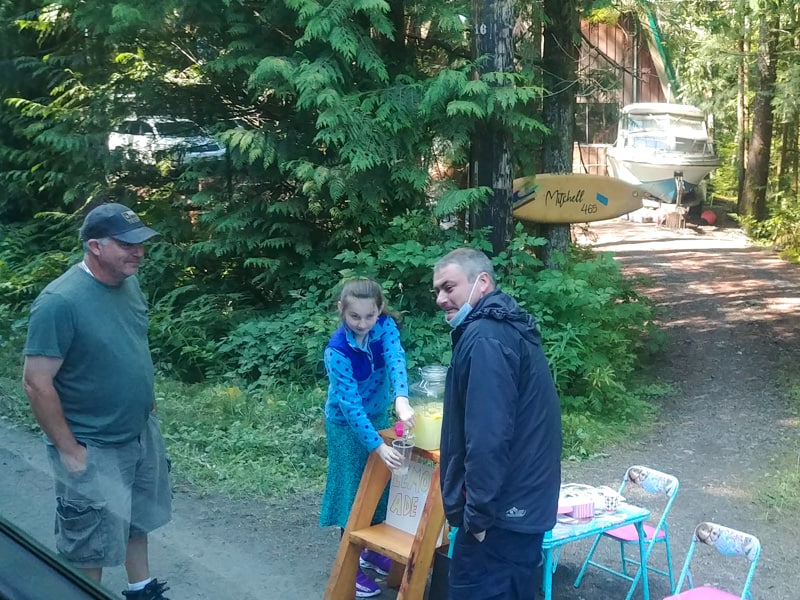 Final Thoughts: Eagle Island Sea Kayaking Ketchikan Shore Excursion
Kayaking in Ketchikan, Alaska, is an excellent way to see the natural beauty that surrounds this rustic port town. But it paled in comparison to the last time we'd been sea kayaking, which had been in Misty Fjords and along the glacier there. If you're looking for majestic scenery, you won't find it here. But it is pretty.
The kayaking is relatively easy, and the foot pedals definitely help with steering. At least for us, the water was calm, and the only current we had to fight was during the paddle back to the dock. Despite a few arguments over his steering and my paddling tempo, my husband and I managed the two hours on the water without needing a divorce lawyer afterward.
We were disappointed at the lack of wildlife. For a tour called "Eagle Island," we'd expected to see lots of eagles, and we saw only one.
And because we were on the water, we were hoping to see some marine life. Except for the bright red starfish and a few sparkly jumping salmon, we didn't see anything.
It was nice to get some exercise later on in our cruise. Our self-control when it comes to cruise ship desserts has usually vanished by day four or five, so we much needed a couple of hours of paddling.
The length of the excursion, about 3.5 hours in total, is also great if you want to combine time in town with an excursion that gets you out into Alaskan nature. Back in downtown Ketchikan, we had plenty of time to walk over to Creek Street and have lunch at the Alaska Fish House.
What to Know Before You Go
Say yes to the spray skirt! Even if it's not raining, there's a good chance water will get into your kayak or onto your lap from your paddle. Because it wasn't raining, my husband chose not to use one. When all was said and done, I stayed dry, and he did not.
You might or might not see wildlife. Before choosing the Eagle Island Sea Kayak excursion, ask yourself how badly you want to spot wildlife. If you've got your heart set on seeing dolphins or seals – or even eagles – you might want to consider a different tour.
The Eagle Island Sea Kayak tour is appropriate for new and experienced kayakers and all ages (minimum eight years old), so long as you have some upper body strength. This tour isn't recommended for anyone with back or hip problems.
Water is not provided. Be sure to bring your own, especially if it's a warm day.
If you would like to try this sea kayak excursion, reserve your space early. Or check with the shore excursions staff on availability if you plan to book onboard.
Dori Saltzman is a content and copy writer who previously spent 15 years covering the travel and cruise industries at several travel trade publications and at CruiseCritic.com. You can find out more about her at dorisaltzman.com