Here are the best things to do in Ketchikan, especially if you have only one day in port. Where to eat, adventure activities and other uniquely Alaskan attractions are all listed here.
Ketchikan, Alaska, dubbed the "Salmon Capital of the World," is never a dull place. Among the best things to do in Ketchikan is, of course, world-famous salmon fishing.
There's Alaska's indigenous Tlingit and Haida culture to learn, historic places to see and some terrific restaurants.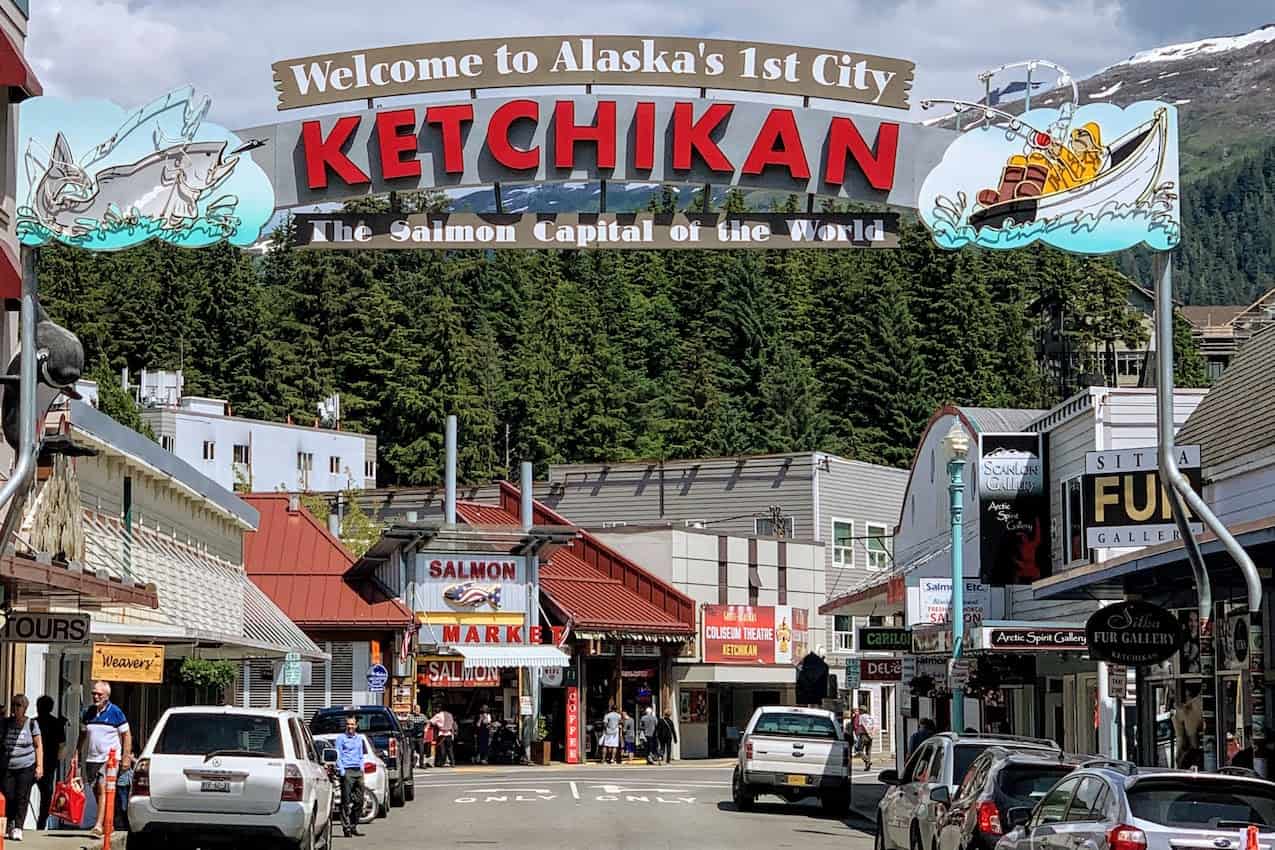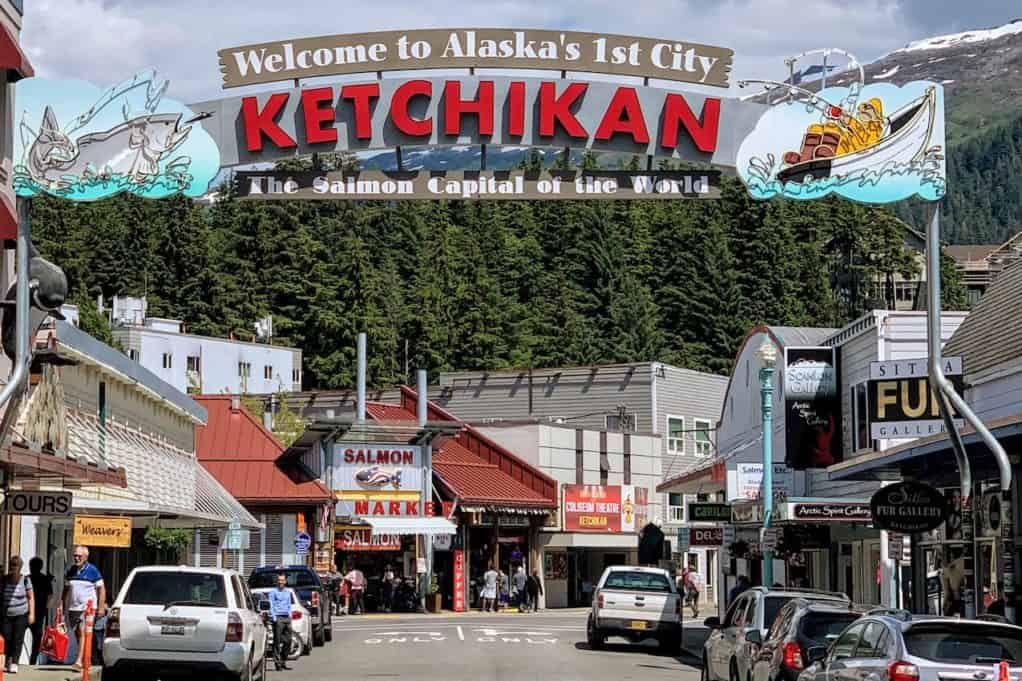 12 Best Things To Do in Ketchikan, Alaska On a Cruise
Ketchikan is a tourist town and almost always the first or last Alaska port on an Inside Passage cruise. The town's small size makes it very easy to navigate in only one day while your ship is in port. There are tons of attractions, shops, and restaurants, too, so there's no shortage of activities.
READ MORE: Complete list of what to Pack for an Alaska cruise
Located near Dixon Inlet near the southern entrance to the Inside Passage, Ketchikan is either the first or last Alaska cruise port visit for the big cruise ships.
As in all Alaska ports, you'll find kiosks set up along the dock with vendors selling last minute shore excursions. There's nothing wrong with waiting til the last minute. However, since a cruise to Alaska could be your bucket-list, once-in-a -lifetime trip, you might want to plan ahead and secure your plans for the day even before you arrive into Ketchikan.
A Little Ketchikan History
Ketchikan, established in 1900, is known as "Alaska's First City" being the closest Alaskan town to Washington State and having a convenient location at the southernmost edge of the Inside Passage in Alaska.
However, the area was a summer fishing camp for the Tlingit native population for several thousand years. Ketchikan was also a favorite fishing spot for Haida and Tsimshian tribes, too.
Word quickly spread about the area's abundance of salmon. By 1936, Ketchikan produced millions of cans of salmon every day. The city also had a large spruce mill, which supplied shipping crates and paper to the salmon canneries. The mill closed in the late 1990s when the US forest service began to protect the local spruce trees and the wilderness surrounding Ketchikan.
Today, the city is Alaska's 5th most inhabited, with a population over 8,000 year-round residents. Still, Ketchikan has a small-town feel that makes even a day visit exciting and comfortable.
RELATED: Cruise Port Guide: Best Things to do in Icy Strait Point, Alaska
Where Do Cruise Ships Dock in Ketchikan?
Ketchikan is one of the most popular cruise ship destinations in Alaska. In fact, just about all large cruise ships stop at Ketchikan on their way north. Over 15 cruise lines visit Ketchikan every year, bringing in millions of cruise passengers.
Until 2021, all cruise ships docked or anchored right downtown. Walk off the ship or take a tender and you were in the smack in the middle of the action.
Then in 2021, Ketchikan, in partnership with Norwegian Cruise Line and Alaska's prominent Binkley family, added a new dock nearly seven miles north from town. There are two berths at "The Mill at Ward Cove."
Constructed over a Superfund site, the dock will be monitored by the EPA to be sure that what's on the sea bed isn't disturbed by cruise ships' propellers.
Whenever your ship docks, stop by the Ketchikan Visitors Bureau on the pier at Berth 2 to get maps, brochures, and other tourist information.
Ketchikan is about 3 miles long and the downtown area is only about four blocks deep. It's easy to take a walk anywhere! Still, there are plenty of free shuttles and tour buses that run around the downtown area, too.
If you want to take advantage of the fast and free shuttles and buses, two well-marked bus stations are immediately near the pier on Front Street.
READ MORE: Alaska's Best-Kept Secret – The Alaska Marine Highway
Here's my suggested list of what I recommend for your day in Ketchikan. You could really spend several days, but with only several hours, try to make the most of your day.
1. See The Rock
Right off the boat, take a short walk to The Rock, welcoming seafaring visitors to Ketchikan.
This gorgeous monument depicts famous people in Ketchikan and some of the local history. It's a must-see monument if you want to get oriented in the city.
It's also on Front Street, next to the Ketchikan Visitors Bureau, so be sure to stop by and learn more about the local history through art! Then, drop-by the Visitors Bureau to grab a map and some tourist brochures.
2. Visit the Southeast Alaska Discovery Center
From Front Street, turn right and walk to the Southeast Alaska Discovery Center on Main street. If you don't want to walk the city, you can also take the free Salmon Run Shuttle, that stops right beside the Discovery Center.
This museum makes the perfect introduction to Southeastern Alaska, giving you the knowledge you need to appreciate this remarkable region fully. In the museum, walk through a recreation of an Alaskan fishing village or visit an exhibit that details the city's rainforest climate.
The Southeast Alaska Discovery Center offers a short yet thorough introduction to Ketchikan's rich and intriguing history with tons of interactive exhibits, totems, ecological information about the area, and historical displays.
A walk through the museum will take around 20 or 30 minutes, but there's so much to see that you can always take longer if you want.
Be sure to grab some brochures and maps on your way into the museum to learn more about what's available in Ketchikan.
3. Take the "Deadliest Catch" Crab Fishermen's Tour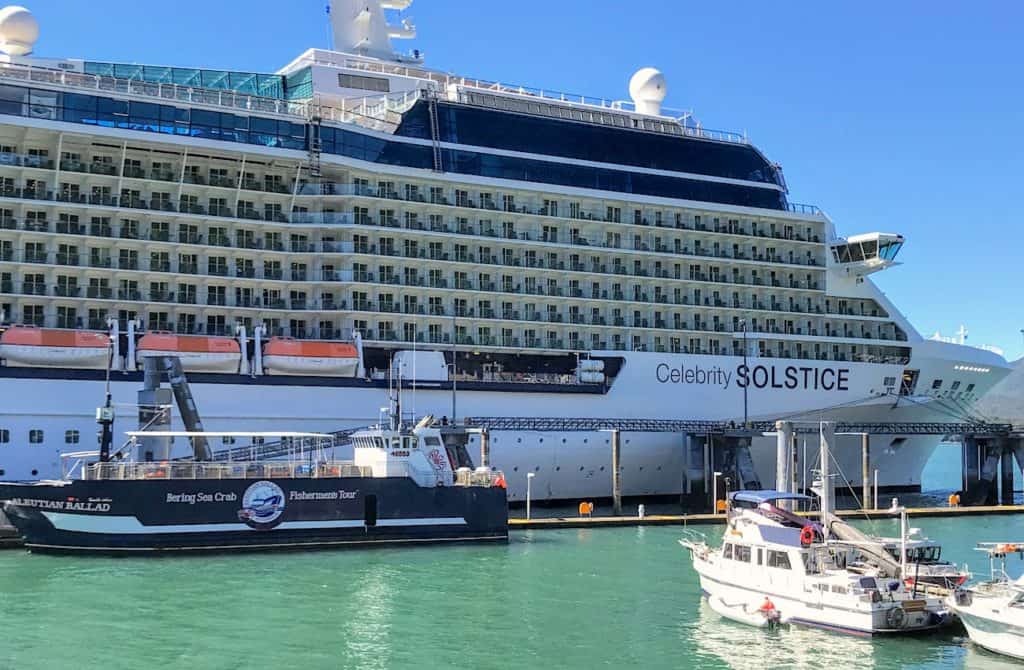 If a day on the water and not far from shore sounds like fun, book a shore excursion for the Bering Sea Crab Fishermen's tour. It's an easy three-hour tour and the boat (the same one used in a wild Deadliest Catch episode) has been made accessible for wheelchairs and scooters. The boat stays within the protected waters so there's no going out into the open ocean.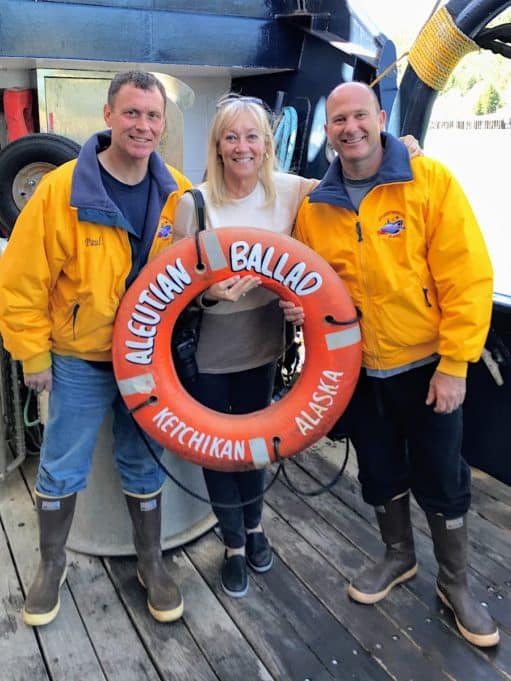 Board the boat right at the downtown cruise ship dock and when everyone is seated, they untie and head out into the nearby calm water. As Aleutian Ballad motors over to the fishing grounds, the crew introduces themselves and talks about their days in the rough and tumble Bering Sea.
As the tour progresses, you'll skirt several islands, including Annette Island, a protected Bald Eagle preserve. The crew throws fish bits into the air and the eagles dive-bomb to catch the morsels. Have your cameras ready.
When you reach the fishing grounds, the crew hauls up their catch and you'll get up close to some strange creatures.
During the ride, you cruise very close to islands with a chance to spot Alaskan wildlife; bears, deer, bald eagles, seals and more. The crew explains that they never promise to spot wildlife, but they do a great job to let guests know when something comes into view.
4. Grab Lunch at the Alaska Crepe Co.
If you feel peckish, stop by Alaska Crepe Co. at 625 Mission Street for an outstanding brunch or lunch. This fantastic local restaurant is perfect if you want to fill up before the rest of your fun-packed day in town.
With plenty of options, this restaurant is the perfect place to stop for a hearty meal. So, whether you prefer savory or sweet wraps or crepes, the Alaskan Crepe Co. has you covered. They offer vegetarian options, too, so the whole family will be satisfied here!
If you can't decide what to get, I recommend the Wild Alaskan Smoked Salmon Savory Crepe– It's out of this world delicious and gives you a good taste of the locally sourced cuisine. You'll never have salmon as good again unless you catch another meal in Ketchikan.
5. Shop at Crazy Wolf Studio
As with all tourist shops, native Alaskans didn't make most of the goods in Ketchikan's stores. Many souvenirs sold in Ketchikan tourist shops were made in China, even if they don't look like it. However, if you're interested in learning more about authentic Alaskan crafts, cultures, and materials, and supporting indigenous artists, be sure to visit a genuine artist's studio.
For the most authentic selection of Tlingit, Haida, and Tsimshian arts and crafts, visit Crazy Wolf Studioon Mission Street. This studio and shop is sure to impress. They offer many souvenirs and items such as drums, ulus, art prints, dance paddles, totems, apparel, magnets, and kitchenware.
Stop by to learn more about Tlingit symbols, totem poles and their stories, and unique crafts that make the native population of Ketchikan unique. While you're there, pick up a few souvenirs to support the authentic art of the indigenous people of Ketchikan.
6. Walk Through the Tongass Historical Museum
While you're wandering through Ketchikan, be sure to stop by the small yet visit-worthy Tongass Historical Museum. It'll take 10-20 minutes to see everything in the museum, which includes exhibits about the indigenous peoples of Ketchikan, the loggers and salmon fishers, and the continuing legacy of the city's history.
The museum also has seasonal changing exhibits, so be sure to stop by to learn more about this fantastic city and the people who live here.
7. See the Chief Johnson Totem Pole
Just northeast of the Tongass Historical Museum, stop by Chief Johnson Totem Pole to see one of the most well-known totem poles in the world.
While you pass by, make sure that you stop and read the monument's placard to learn more about the story that this enormous and gorgeous totem pole tells.
8. Eagle Island Sea Kayak Tour
If you're up for a bit more active adventure in Ketchikan, the Eagle island Sea Kayak Tour will help you to lose some of those added cruise food pounds. With a morning departure, this three-hour tour has you paddling across the inlet to Eagle Island and another nearby island for a beach walk.
The tour company provides all the equipment and protective clothing you'll need for the tour as well as a safety briefing. Book in advance as this tour is very popular.
READ MORE: Eagle Island Sea Kayaking Tour Review
9. Take a Walk on Creek Street
A visit to Ketchikan isn't complete without a visit to Creek Street. With its scenic overview of the Ketchikan Creek and stilted buildings, Creek Street is a short walk from the docks and is the perfect place for sightseeing, shopping, and dining.
Creek Street, which used to be the city's famous and sizable red-light district, is now a historical site with one of the best shopping and tourist areas in town. If you want to learn more about the brothels that once existed here, stop by Dolly's House Museum
There are tons of things to see in this area, even salmon. Looking down from the boardwalk, you can see schools of salmon leaping from the water!
Creek street bridge is also a popular place for fishing. To rent some fishing equipment and cast your line, visit one of the fishing shops on Creek Street, such as Creek Street Rod Rentals (right next to Dolly's House) to rent a rod, get bait, and even purchase a fishing license.
As far as shopping goes, there are tons of shops on Creek Street.
However, you must stop by Sam McGee's at 10 Creek Street for some of the best locally sourced souvenirs and other goods. Everything in the shop is made in Alaska, and they offer all kinds of things, from soaps and coffees to bone-handled knives, local cookbooks, and fossils.
So, no matter what you're looking for (or even if you're not looking for anything at all), Sam McGee's is a must-stop shop.
Creek Street is one of the most scenic places to visit in all of Ketchikan, and I loved my time here watching the salmon swim upstream for the mating season while enjoying a snack and doing some light shopping in the historic buildings. You simply can't miss it while you're here!
10. Visit the Totem Heritage Center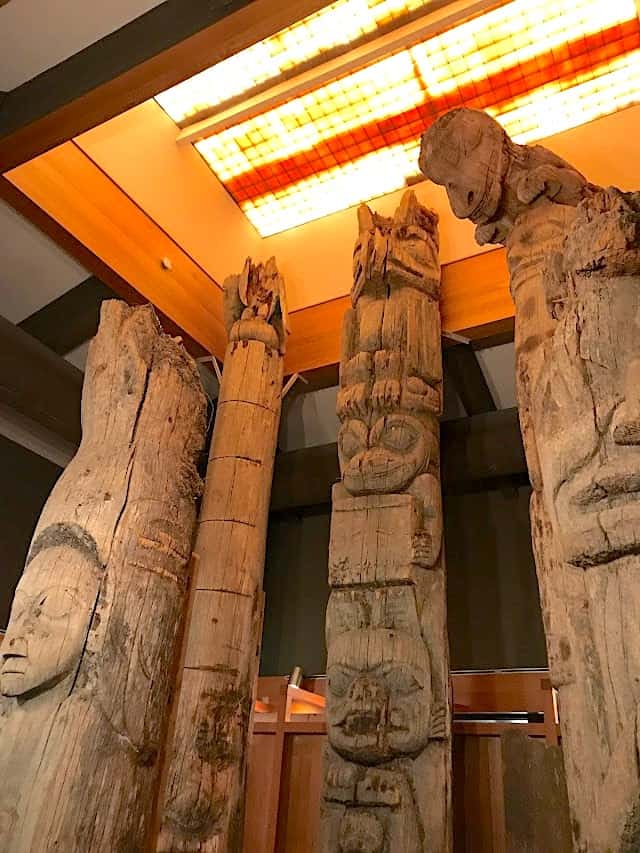 A visit to Ketchikan wouldn't be complete without a visit to the Totem Heritage Center. This city is well-known for the many totem poles that once adorned the landscape, and although many of them have been moved to safer locations, you can still see them in the Totem Heritage Center!
Just 0.3 miles from the port, visit the Totem Heritage Center. This fantastic museum includes the world's most extensive collection of unrestored totem poles from the 19th century.
Surrounded by colorful and intricately carved totem poles, the museum includes many artifacts from the native peoples who lived in Ketchikan before frontiersmen came to Alaska. Be sure to see all of the photographs, baskets, tools, totems, clothes, and masks while you're here.
It takes most visitors around 30 minutes to see all three rooms in the museum, so it's the perfect stop for an eventful day in the town.
READ MORE: Princess Cruises Dedicates New Totem Pole in Ketchikan
11. See the Great Alaskan Lumberjack Show
After a long day of sightseeing, sit back and relax back downtown at the Great Alaskan Lumberjack Show, near the port, close to the ship docks. This spectacular show offers live logging and ax-throwing demonstrations from some of the world's top loggers and lumberjacks, offering a memorable experience in Ketchikan.
Many of the show's performers are professional ESPN athletes who are experts in logging sports, so prepare to be amazed by these lumberjacks' skills! They'll display their chainsawing, hand sawing, log running, and ax-throwing talents in an exciting and theatrical performance that will leave you in awe.
The show is one hour long, with the last showing around 4:00 PM, so it's the perfect way to grab a seat after an action-packed day and wind down while still catching all of the action that Ketchikan has to offer.
12. Early Dinner or Late Lunch at the Alaska Fish House
For the perfect end to a beautiful day in Ketchikan, stop by the Alaska Fish House, conveniently located next to the cruise ship ports, for a memorable and locally sourced dinner. This restaurant is easily the number one eatery in Ketchikan, and you can't miss it!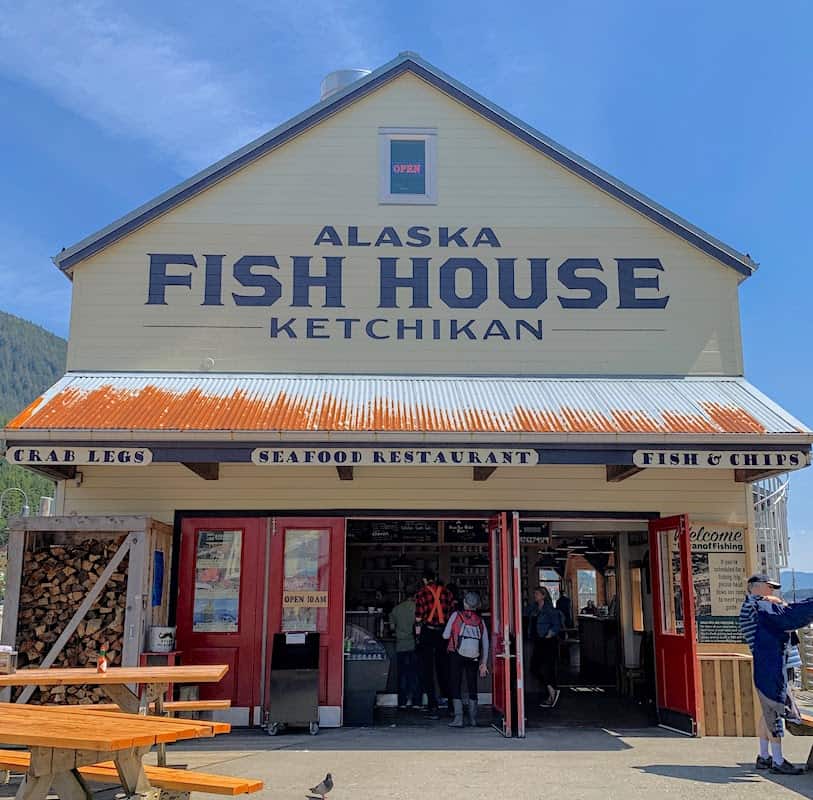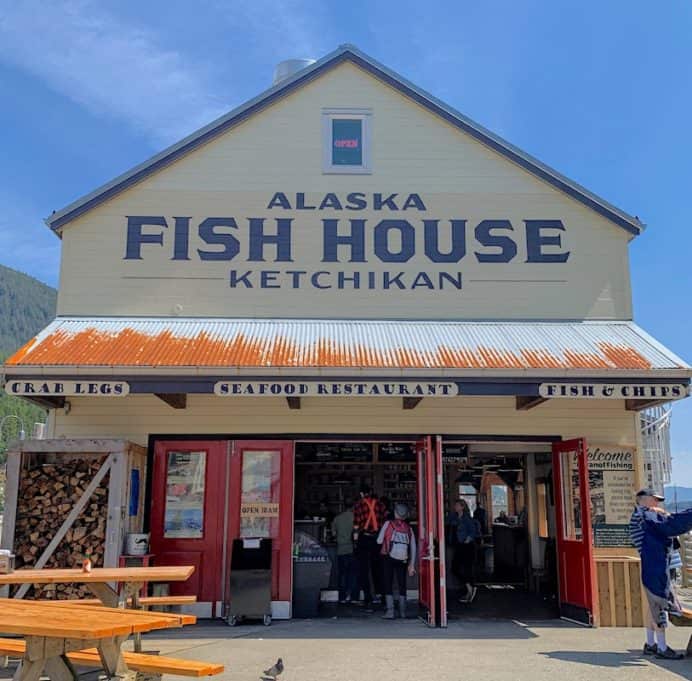 With fresh-caught salmon, Dungeness crab, lingcod, halibut, prawns, cod, and so much more, you'll never get another opportunity to have such fresh and delicious seafood brought to your table.
While you're enjoying your sea-to-table meal, enjoy a lovely view of the coastline to unwind and fill up before hopping back on your ship. Truly, there's no better end to a day out in Ketchikan, Alaska.
Whether your idea of a good time is to sit down and enjoy a locally-sourced meal, visit museums, learn about the indigenous populations of Alaska, or look for wildlife on the coast, Ketchikan is an ideal place to visit.
Recap of 12 Best Things to Do in Ketchikan, Alaska
See The Rock.

Visit the Southeast Alaska Discovery Center.

"Deadliest Catch" Bering Sea Crab Fishermen's Tour

Grab lunch at the Alaska Crepe Co.

Shop at Crazy Wolf Studio.

Walk through the Tongass Historical Museum.

See the Chief Johnson Totem Pole.

Walk down Creek Street.

Visit the Totem Heritage Center.

See the Great Alaskan Lumberjack Show.

Eat dinner at the Alaska Fish House.

More Alaska Cruise Port Ideas and Inspiration!
PIN AND SHARE TO YOUR FAVORITE BOARDS!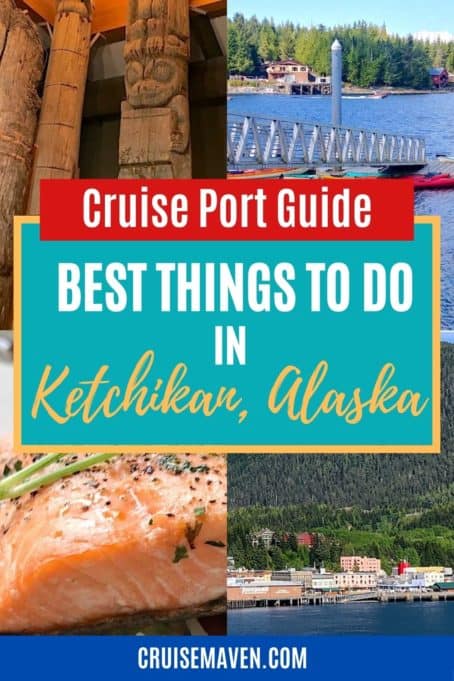 I'm the editor and creator of CruiseMaven.com, a solo traveler cruising the world on waves and wheels, collecting recipes along the way.  I hope my articles and photos entertain, advise and inspire you to travel the world without flying.  Take a breath…stop for a local meal and a glass of wine along the way.