You may not have heard of the Alaska Marine Highway System, but everyone in Alaska is well aware. So are most residents of the Pacific Northwest. I only learned about this nautical necessity a couple of years ago when I was researching how to get to Alaska without flying.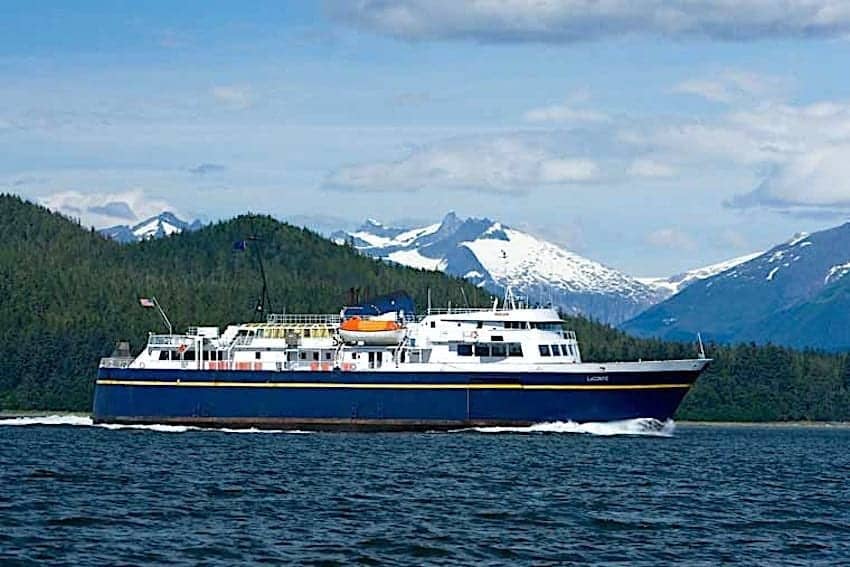 Cruise Alaska's Inside Passage like an Alaskan
All roads may lead to Rome but they don't lead to Southeast Alaska. In fact, nearly all of the major cities in Southeast Alaska are inaccessible by road. Otherwise known as "roadless communities" they're either coastal cities or on islands and you need an airplane or a boat to reach them.
Some of the most populated and touristic Alaskan cities, Sitka, Ketchikan, Wrangell, and even the state capital, Juneau – located on the coastal mainland, are unreachable by vehicle.
You can get there by the Alaska Marine Highway
The Alaska Marine Highway System (AMHS) is really like a highway on the water, navigated by a criss-crossing armada of ferry boats. The ferries reach extends to more than 30 communities. It's the lifeline for many who live in more isolated parts of Alaska .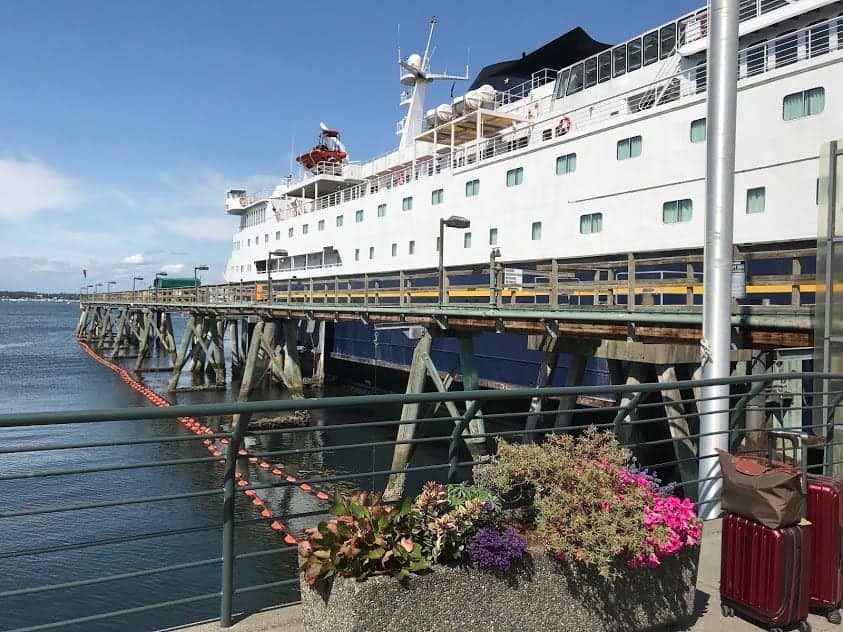 The most well-known route that carries locals, tourists, cars, RVs and pets, begins in Bellingham, Washington. The ships travel in almost completely protected waters as they cruise northward past the forested coastline of British Columbia.
READ MORE: Amtrak Across Country to Get to Bellingham for the Ferry
Two days later, you reach the entrance to the Inside Passage and slowly proceed through Alaska's glacier-lined Inside Passage. Finally you arrive in Skagway, home of the White Pass & Yukon Route Railroad. During the summer season, the ferry route continues northwest into open ocean and across the often-treacherous Gulf of Alaska to reach the remote city of Dutch Harbor in the Aleutian Islands.
Go North to Alaska
It all began back in 1879 when John Muir, famed naturalist, wilderness explorer and co-founder of the Sierra Club, ventured to Alaska for his first visit. Struck by the territory's inherent beauty and endless array of massive glaciers and vast forests, Muir traversed the calm waters of the Inside Passage, many times in nothing more than a dugout canoe.
Read next: From Florida to Alaska Without Flying
It wasn't long before newspapers and magazines began to popularize his aquatic journeys and glacial discoveries. Even before the turn of the 19th century, steamer ships from San Francisco and Seattle, filled with scientists, writers and adventure-seeking tourists, plied the icy blue waters all the way to pristine Glacier Bay, near the top of the Inside Passage.
The 1890s saw the birth of the Alaska Steamship Company plus an onslaught of steamships from as far south as California. They carried mail, supplies and of course tourists to Alaska's early island communities like Sitka, Ketchikan and Skagway. This was just the beginning.
Alaska Marine Highway System History
Compared to the previous century, an Alaskan marine "highway" concept wasn't new by any means. The "official" start for the Alaska Marine Highway System began in 1948 when three residents from Haines wanted to create a safe and reliable marine system that would offer scheduled connecting transportation between the coastal communities.
By 1963, the Alaska Marine Highway System was in full swing operating four vessels; the first ship –MV Chilkat, plus MV Malaspina, MV Taku and MV Matanuska. The ferry routes included Ketchikan, Petersburg, Sitka, Wrangell and Prince Rupert in British Columbia.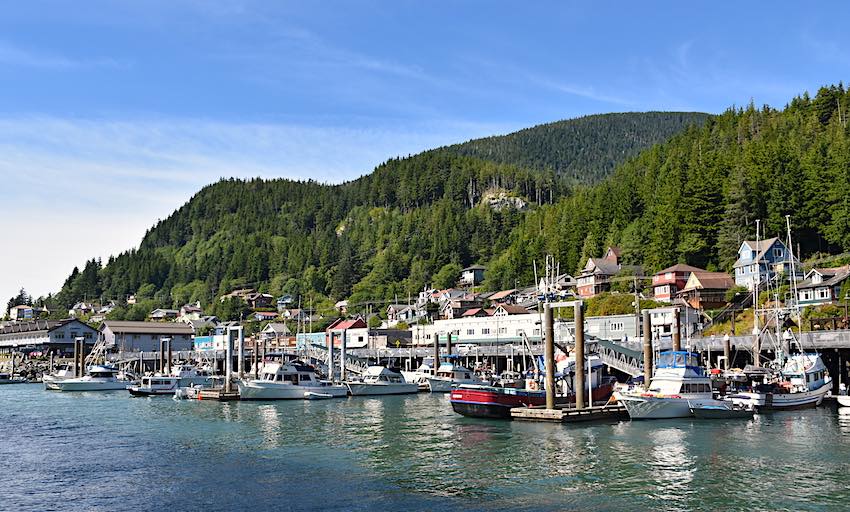 Today the Alaska Marine Highway System extends for 3,500 miles (yes, the Alaskan coastline is huge) and currently has 10 ships. Sadly not all are operational at this time. These vessels are divided into three categories: Shuttle Ferries, Daytime Ferries and Mainline Ferries. All qualify as ships and two are classified ocean-class ferries; MV Kennicott and MV Tustumena.
Because the Mainline Ferries offer overnight trips, they are equipped with very comfortable but sparce sleeping accommodations, some of which have en suite facilities. All ships have public showers and laundry rooms as well as cafeterias or a table-cloth dining room.
Lounges with near-panoramic views and outdoor promenades are common especially on the Mainline ferries. A covered outdoor solarium with heat lamps is where you'll find the more adventuresome passengers.
Those homesteading with their sleeping bags on plastic lounge chairs get the covered space. Others with their own tents, sleeping bags and well-stocked coolers must set up camp under the stars.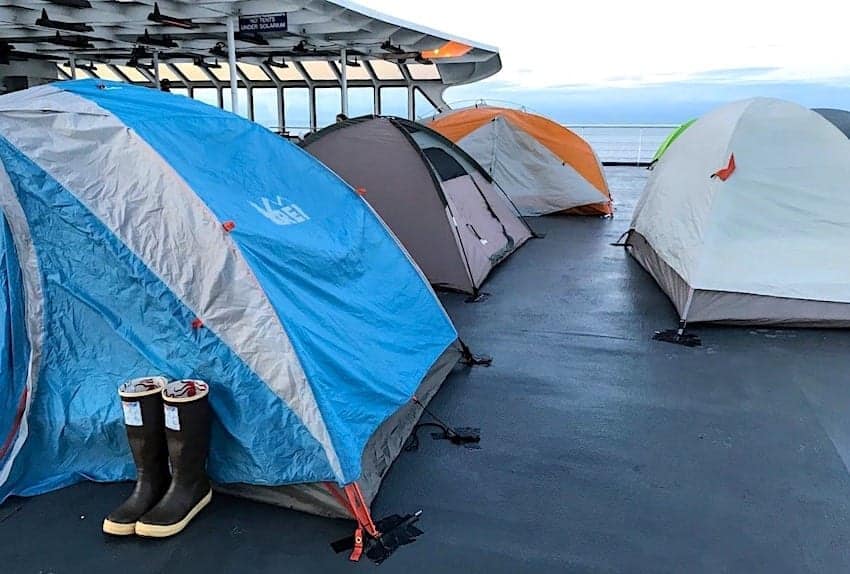 Following the Inside Passage
Whether you need to get to laid-back Sitka for their February Jazz Festival, across the Gulf of Alaska to Whittier where you can connect to Anchorage and onto the interior or all the way to Dutch Harbor near the tip of the Aleutian Islands, there's a ferry ready to take you there.

The longer overnight routes that travel from Bellingham, Washington to Whittier and beyond can take up to a week to traverse the Inside Passage and across the Gulf of Alaska. Shorter cruises that make several daily runs between nearby cities are an easy way to explore new places and then return to a home base.
Alaska Marine Highway Cross Gulf Route
Operating only seasonally, the complete trip from Bellingham, Washington to Dutch Harbor takes over a week. Service between Kodiak and Dutch Harbor in the Aleutian Islands, is not offered in the winter.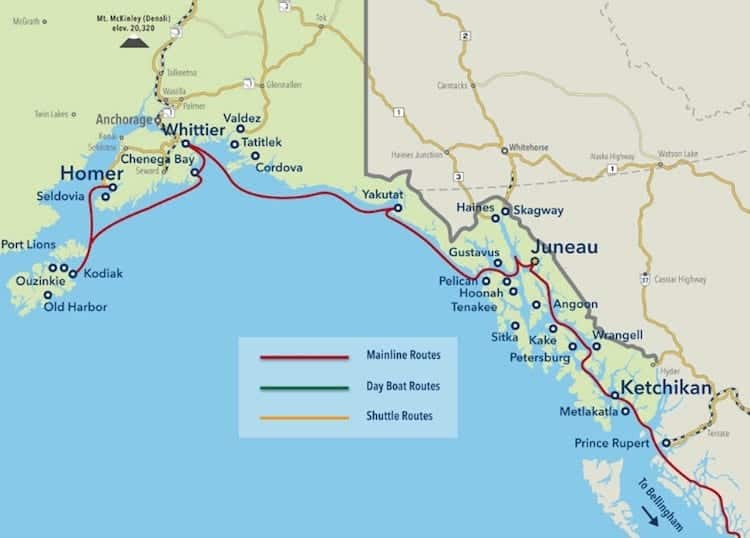 How to book the Alaska Ferry
The easiest way to reserve your passage is to head over to the Alaska Marine Highway website. If you have a travel agent with whom you've always worked, AMHS accepts bookings through travel agents. I always recommend using a travel agent but there's a good chance that the Alaska ferries will be a new experience for even an experienced cruise-oriented travel agent.
That said, spend a little time and learn to navigate and understand the AMHS website. There's a ton of great information and you should be able to reserve your trip yourself. You can also call the Alaska Marine Highway reservations department for assistance. Their reservations staff is super-friendly (they're Alaskans, of course!) and knowledgeable.
Insider tips for cruising the Alaska Marine Highway
Not all ships in the fleet offer same amenities. MV Columbia is the largest and has a "tablecloth" dining room. All other ships have a cafeteria with a wide selection of hot and cold food.
There's no tipping permitted in the dining room aboard Columbia.
Alcohol is only served in the dining rooms or cafeterias and cannot be carried to other public rooms.
If you plan to book an accommodation with an en suite bathroom for several nights, be prepared for a bit of sticker shock.
No need to overpack. There are launderettes plus detergent for purchase.
Dress casual and warm. Bring a hat, gloves and a rain poncho or umbrella if you plan to walk ashore in ports along the way. Even summer nights can be rainy and chilly.
Take a look at the tents at the aft of the ships. The resourcefulness of other passengers is amazing – John Muir would be proud. Others passengers simply curl up in their sleeping bag on a lounge chair under the heat lamps.
Like this? Please pin it!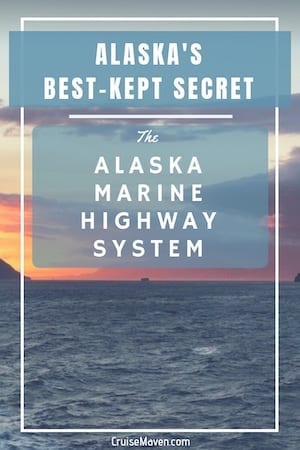 I'm the editor and creator of CruiseMaven.com, a solo traveler cruising the world on waves and wheels, collecting recipes along the way.  I hope my articles and photos entertain, advise and inspire you to travel the world without flying.  Take a breath…stop for a local meal and a glass of wine along the way.