If you carefully choose your Alaska cruise to include Sitka and wonder what to do there, here are the 20 best things to do in one day in Sitka. This guide is especially helpful for first-time visitors.
Sitka, Alaska is one of those special Alaska ports that doesn't get as many cruise ships as say, Juneau or Ketchikan. That said, there are days now when there may be as many cruise passengers (or more!) than there are residents!
Take it from someone who recently lived there. Sitka is small, really small, and you don't need to purchase a shore excursion from your ship to see what's there.
You'll find that there are plenty of excursions that you can arrange to do on your own. Even if you wait til the last minute, shore excursion operators are lined up at Centennial Hall, where the port-to-town bus ends. Or you can simply walk through Sitka using a map you'll receive at the dock.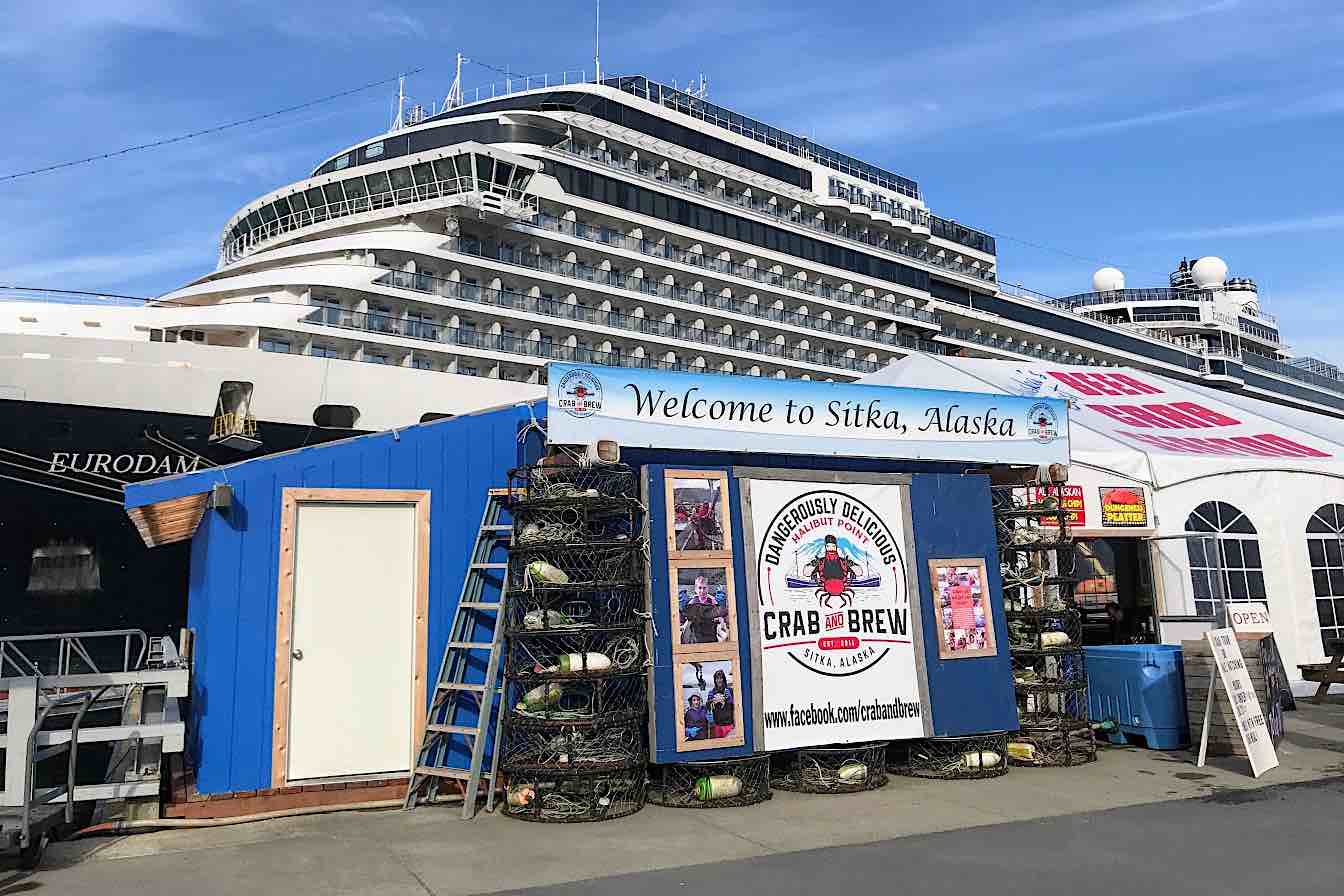 20 Things to Do in Sitka, Alaska in One Day
The hardest decision to make when you only have a short time to spend, is to decide what to do with only one day in Sitka. Do you want an expensive shore excursion or a day on your own to wander this sleepy, artsy, fish-forward city loaded with history and nature?
There are so many things to do in Sitka that you'll probably want to return again as soon as possible.
Did you watch the movie, "The Proposal"? Spoiler alert: The movie was almost entirely filmed in Massachusetts, not Sitka. Even the downtown scene wasn't shot in Sitka. But there are clips here and there so watch the movie before and after your cruise.
A Little Sitka History
Sitka has a 10,000 year-old history that began when Tlingit people settled in Southeast Alaska. Once the capital of Russian America in 1808, Sitka was the site of the Alaska Purchase on March 30, 1867. That's when the United States bought Alaska from the Russians for $7.2 million.
Located on the western side of Baranof Island, Sitka sits at open water on the Pacific Ocean. There's a rich and diverse heritage that's clear as soon as you disembark your cruise ship.
Where Your Ship Docks in Sitka
How to Get into Town
Most likely your large ship will dock about 6 miles north from town at what the locals call the Old Sitka Dock. It was recently renamed Sitka Sound Cruise Terminal. There's a complimentary shuttle bus that runs back and forth about every 10 minutes to the center of town.
If your smaller ship tenders in Sitka Sound, it's only a five-minute boat ride into town. It's a great location.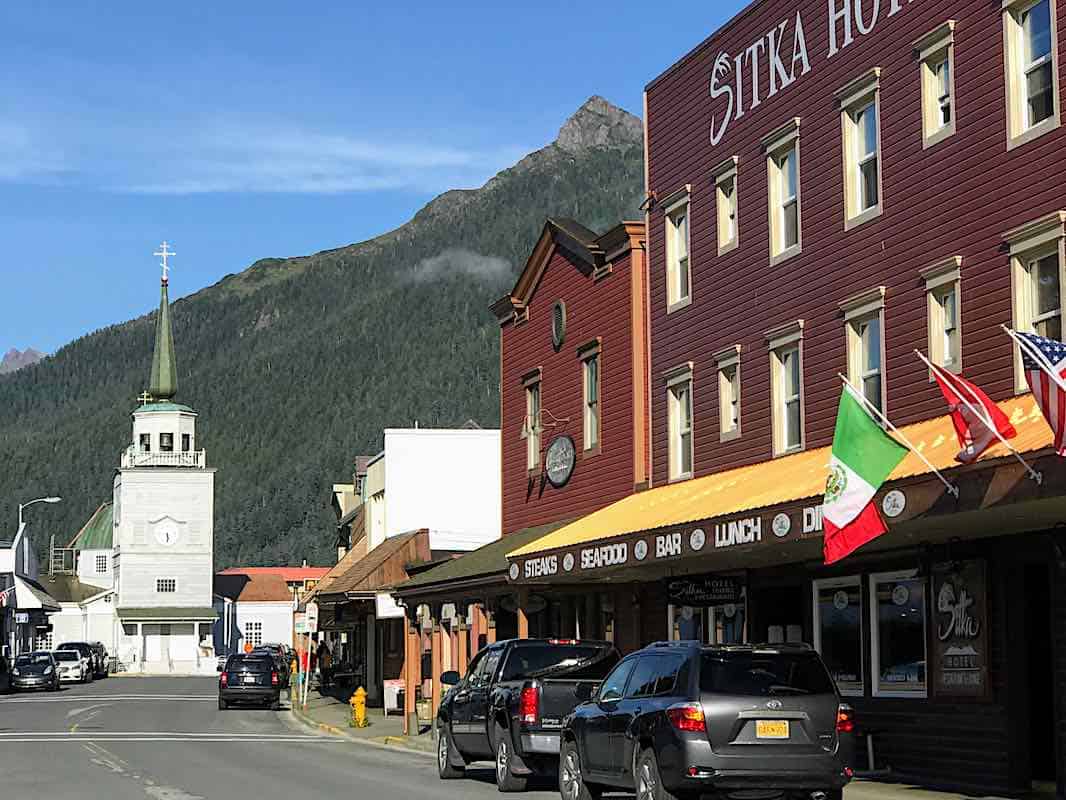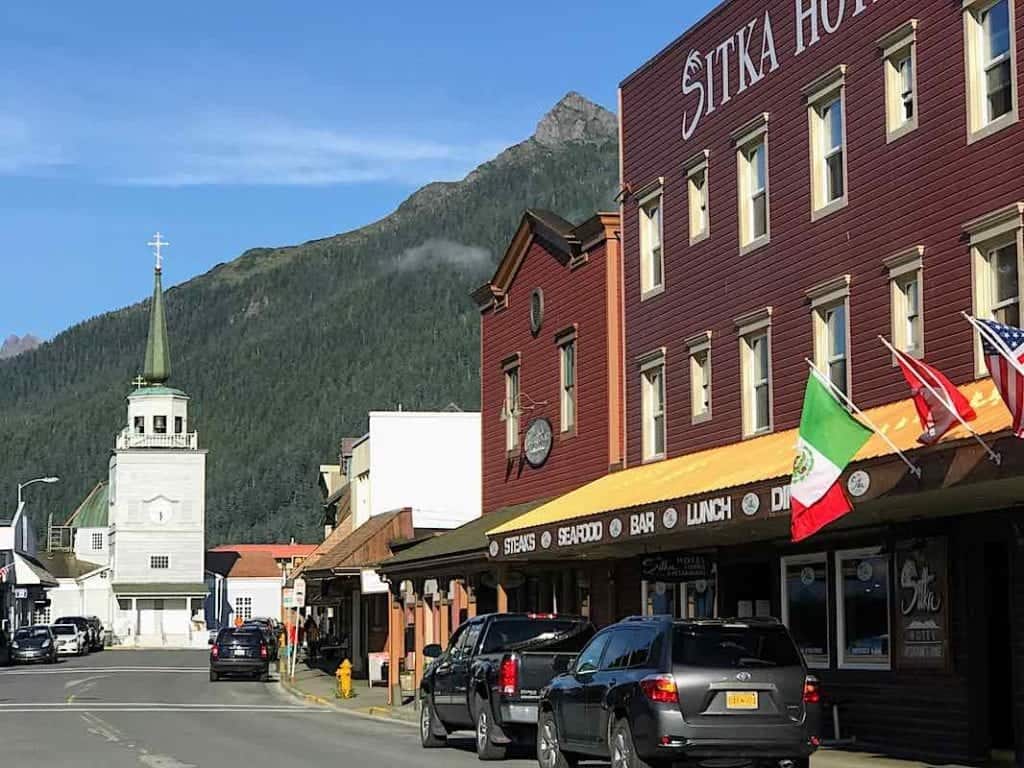 It's a small downtown, but not lacking in places to shop, eat, and see. You won't find Sitka streets crammed with 12,000 cruise ship tourists and you won't see those familiar Caribbean jewelry stores or over-crowded tourist bars.
Instead, locally-owned shops line the main street. Look for beautiful Alaskan artwork and stop for a banana split at the old-fashioned Harry Race Pharmacy and Soda Shop. Bring home hand-made knitted woolen apparel or a box of artisan chocolates or sea salt.
Not all Alaska Inside Passage cruises make a port call at Sitka. The location is somewhat outside of cruise ship traffic patterns. In 2018, fewer than 160 ships visited Sitka from mid-May to very early October. Most days there was only one ship in town. On days when there were two or three ships docked and anchored, they were smaller ships.
In 2022, the town of less than 8,000 year-round residents expects close to 480,000 cruise ship passengers to arrive.
Ready to hit the ground running?
Best Things to Do in Sitka, Alaska
1. Fortress of the Bear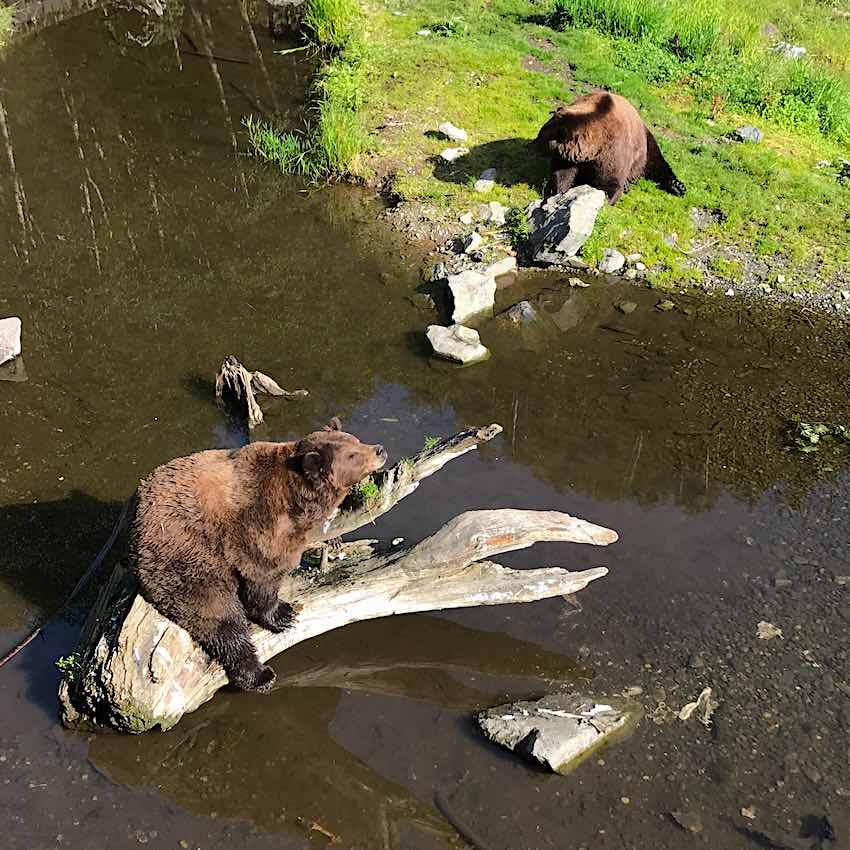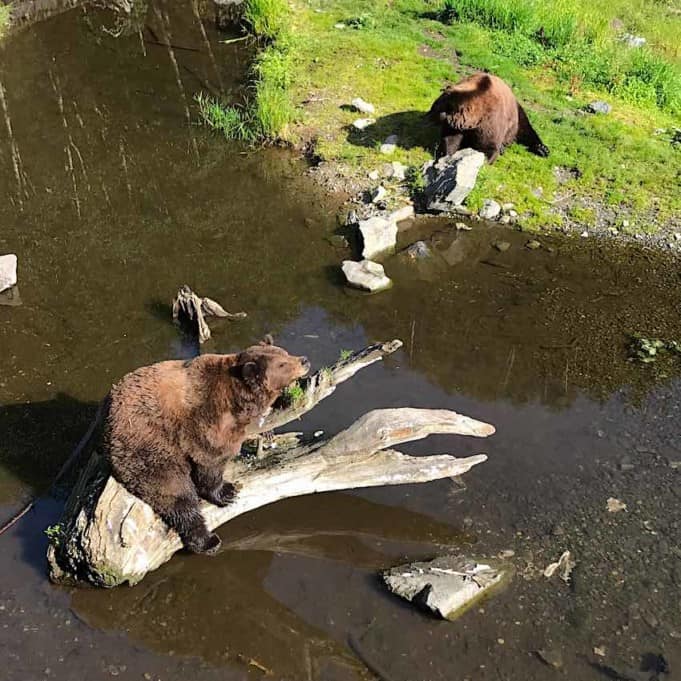 It's a scenic five mile drive from downtown Sitka to this three-quarter acre bear rescue center. Run by bear-loving volunteers, visitors get a view from above of the bears in a natural habitat. There are half-hour guided tours that offer insight into the history of the rescue center.
The guide will point out and name each of the bears and their individual personalities. Before you leave, stop by the gift shop – proceeds go to the rescue center.
Read next: Do you need a passport for an Alaska cruise?
What to Do in Downtown Sitka
2. Walk up Baranof Castle Hill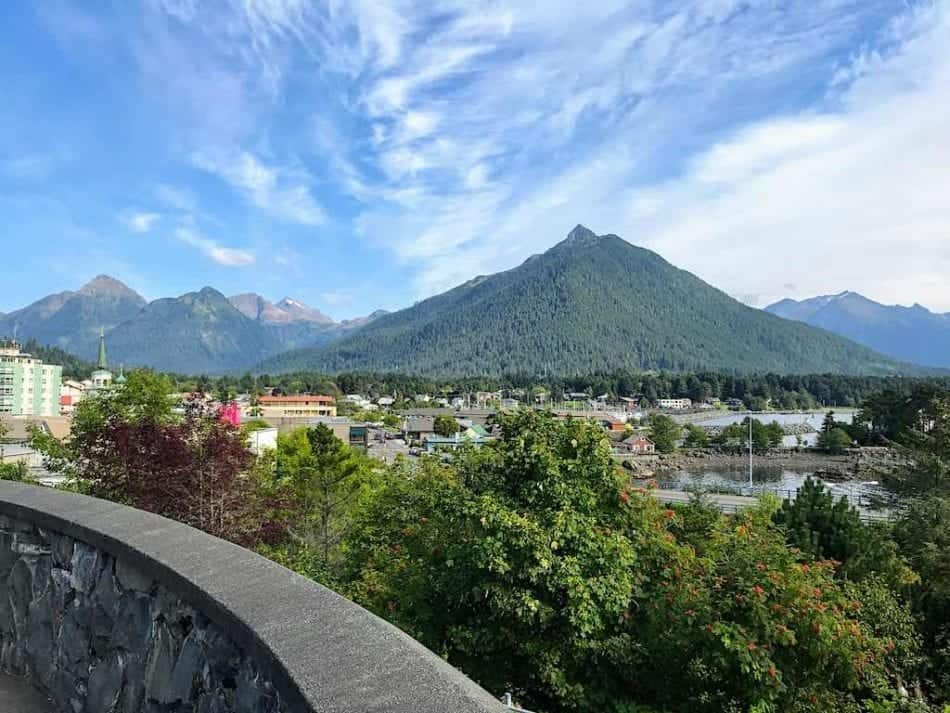 Castle Hill is significant in Alaska history. Here once stood an important and strategic fortification built by the Tlingit Natives. Following the Russian massacre of the Tlingits, they occupied this site from 1804-1867.
It was at the top of Castle Hill in 1867 that the transfer of Alaska from Russia to the United States took place. Today, there is a wide, accessible walkway that leads to the top or take the more challenging stairway. The view from the top, especially at sunset, provides a beautiful overlook of Sitka Sound. It's worth the climb to also see the 450-foot long cable-stayed bridge over the channel.
3. St. Michael's Cathedral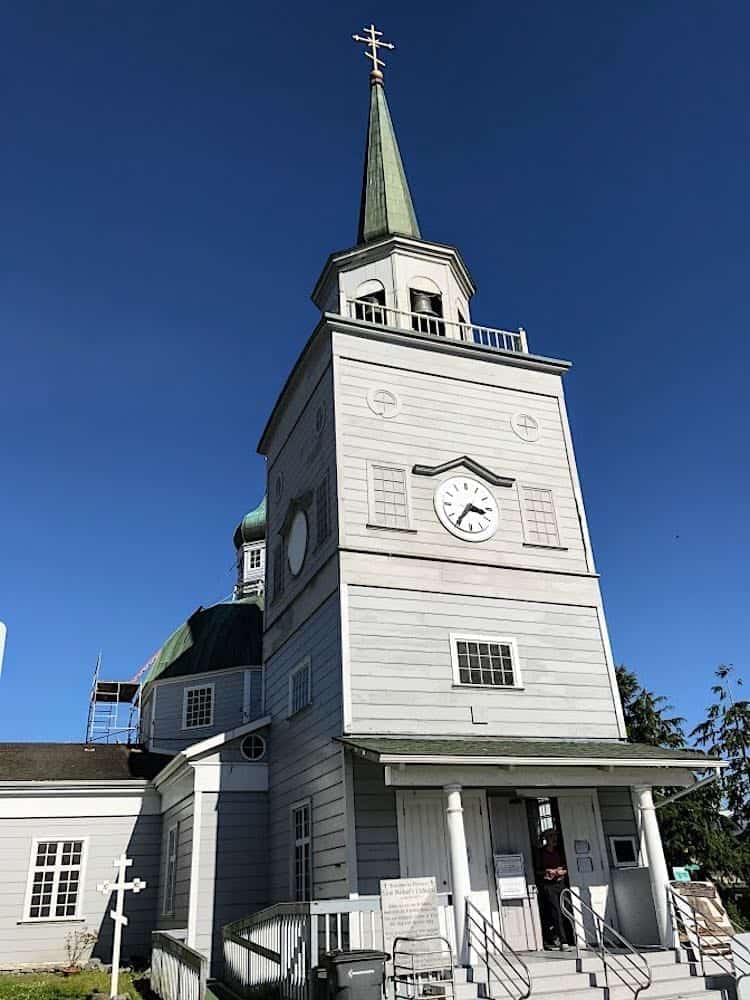 This Russian Orthodox cathedral is a replica of the original church building built in 1848 and destroyed by a fire in 1966. St. Michael's Cathedral requests a donation if you want to enter the church. It's used to repair and maintain the structure.
4. Sitka Historical Museum
Run by the Sitka Historical Society, the Sitka History Museum is a treasure trove of over 8,000 artifacts, hundreds of works of art and thousands of historic photos that showcase the early days of Sitka. You could spend hours in this small museum learning about Tlingit, Russian and American history through the incredible collections of everything early Sitka.
5. Russian Bishop's House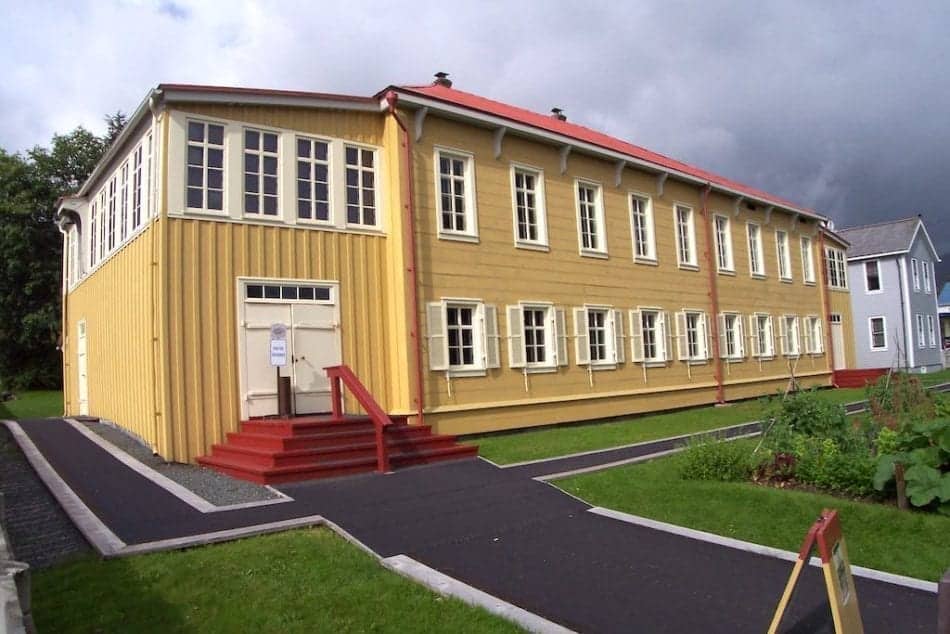 One of the few remaining buildings of Russian colonial architecture in North America, the log house was completed in 1842. It was home to the Russian Orthodox Church that presided over an area from California to Kamchatka in Siberia for over 125 years.
After the Bishop's House closed in 1969, it was purchased by the National Park Service and restored to how it would have looked in 1853. It's interesting to step inside and see how people lived during the time of Russian-America.
A Short Walk from Downtown Sitka
6. Sheldon Jackson State Museum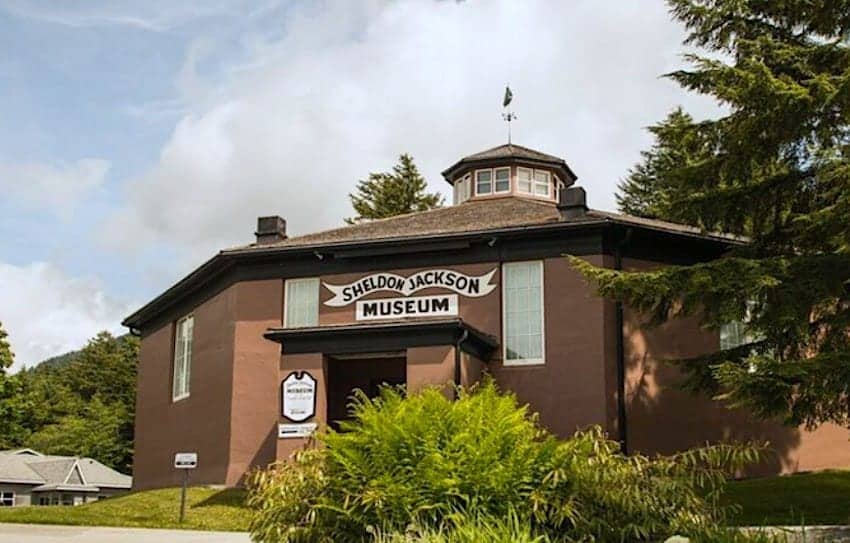 When the Rev. Dr. Sheldon Jackson decided to build a museum to display his collection of Alaskan artifacts, little could he have imagined it would end up on the National Register of Historical Places in 1972. Not only is the Sheldon Jackson Museum the oldest museum in Alaska, it's also the first concrete building in the state.
Inside, visitors can view contains the museum's collection of objects from each of Alaska's Native groups including Tlingit, Haida, Tsimshian, Aleut, Alutiiq, Yup'ik, Inupiat and Athabascan.
7. Sitka Sound Science Center
As their mission statement says, they're "dedicated to increasing understanding and awareness of terrestrial and aquatic ecosystems of Alaska through education and research". Visitors can explore the Molly O. Ahlgren aquarium and reach into the touch tanks and feel some of the sea creatures that inhabit tidal pools.
Listen to whale songs and view enormous whale bones from a killer whale. The Sheldon Jackson Hatchery is salmon hatchery under the auspices of the Alaska Department of Fish and Game. There's a gift shop, too.
8. Sitka National Historical Park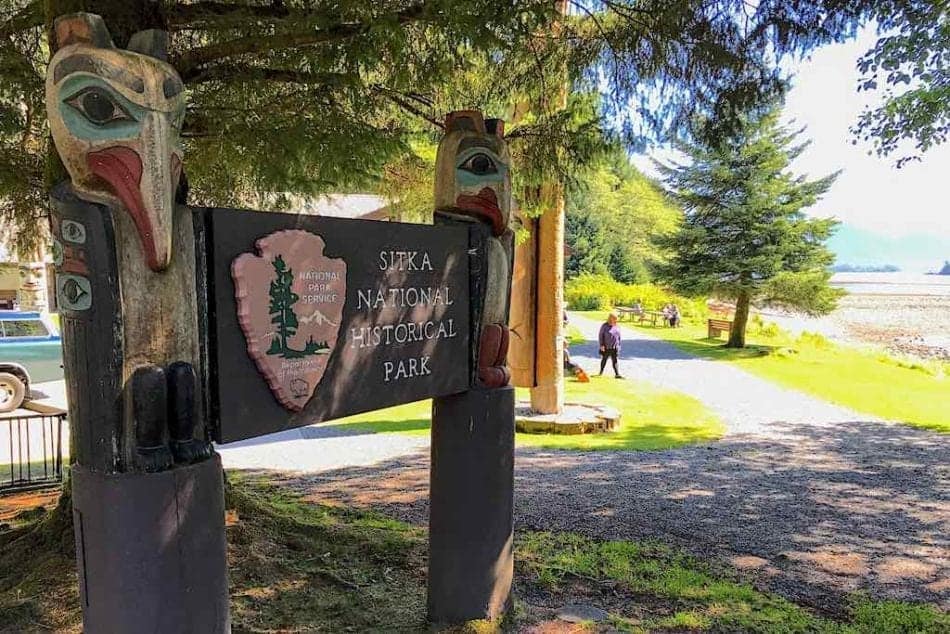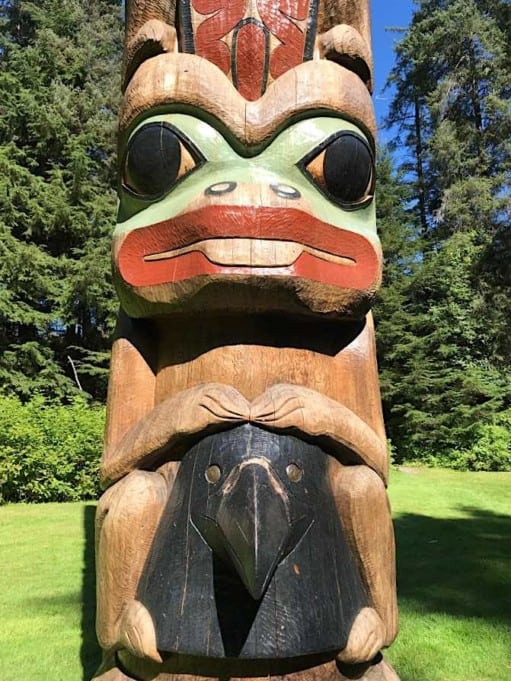 Still walking distance from downtown, Totem Park is the main attraction at the 107-acre Sitka National Historical Park. It's also Alaska's oldest national park. It is the site of the final battle of 1804 between the Tlingit and Russians.
There's something for everyone here. Join a ranger-led interpretive walk and hear about the history of the Tlingit and the beautiful totem poles. Stop in the Visitor's Center and get up to speed on the park's history, Tlingit and Haida cultures and watch a short film about the park's history.
9. Alaska Raptor Center
Definitely a must-see. The Raptor Center rehabilitates injured birds of prey from across Alaska including eagles, hawks, falcons and owls. The goal of the Raptor Center is to reintroduce injured birds back into the wild. Sadly, many cannot be released and will live out their lives at this facility.
There's a 20,000 square-foot flight training center where you can watch eagles fly right past, behind a glass barrier. View birds that are brought here from all over Alaska. Stop in the gift shop where you're sure to find something unique to bring home.
10. Pioneer Home
Located at the corner of Lincoln and Katlian streets, this stately building was once a log barracks built by the Russians in the 1800s. Now the Sitka Pioneer Home is an assisted living facility. Walk through the beautifully manicured gardens in front of the Home and be sure to visit the gift shop. Take a look in the shop for Alaska arts and crafts souvenirs made by the residents.
Have a Drink with the Locals
11. Pioneer Bar (do
NOT

ring the bell!)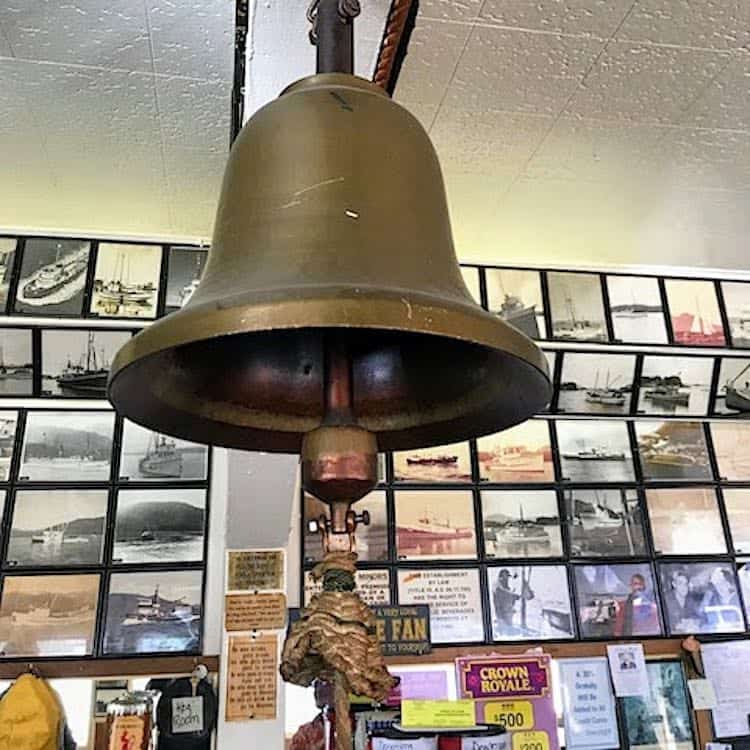 Pioneer Bar is a real local hangout. Tourists beware. If you ring the bell, you'll end up buying drinks for every customer in the bar.
12. Harry's Soda Shop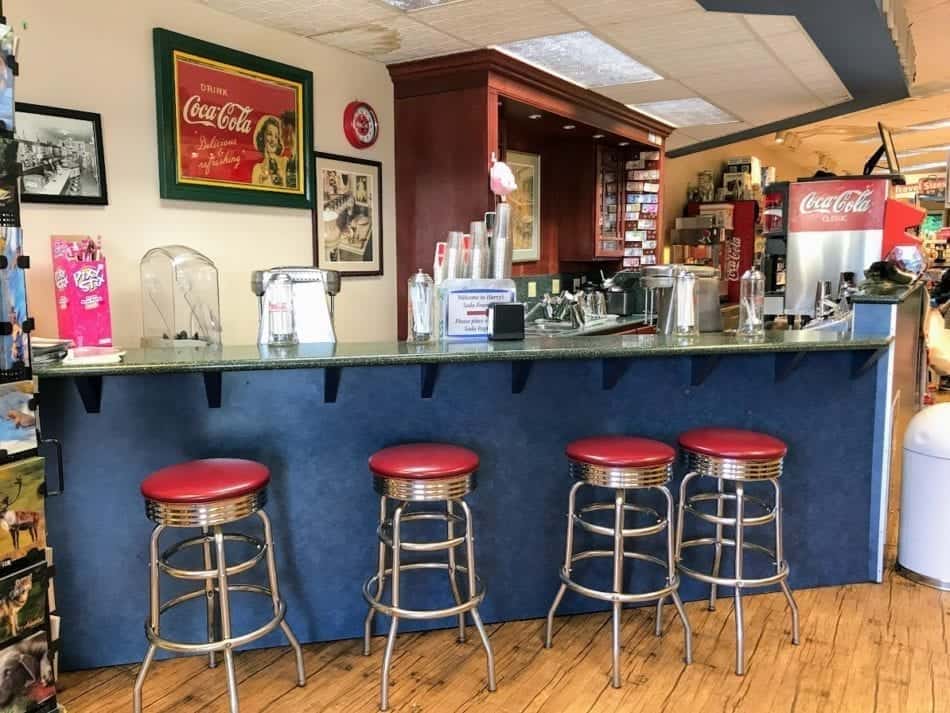 This is probably my favorite place in Sitka. Harry's Soda Shop is located in the middle of downtown on Lincoln Street, in the same building as Harry Race Pharmacy. You really should allow a little time for an afternoon ice cream. Then, after your treat, shop for Alaska-made souvenirs. Plus, there's a camera and equipment shop the back of the Harry's and the pharmacy store.
13. Highliner Coffee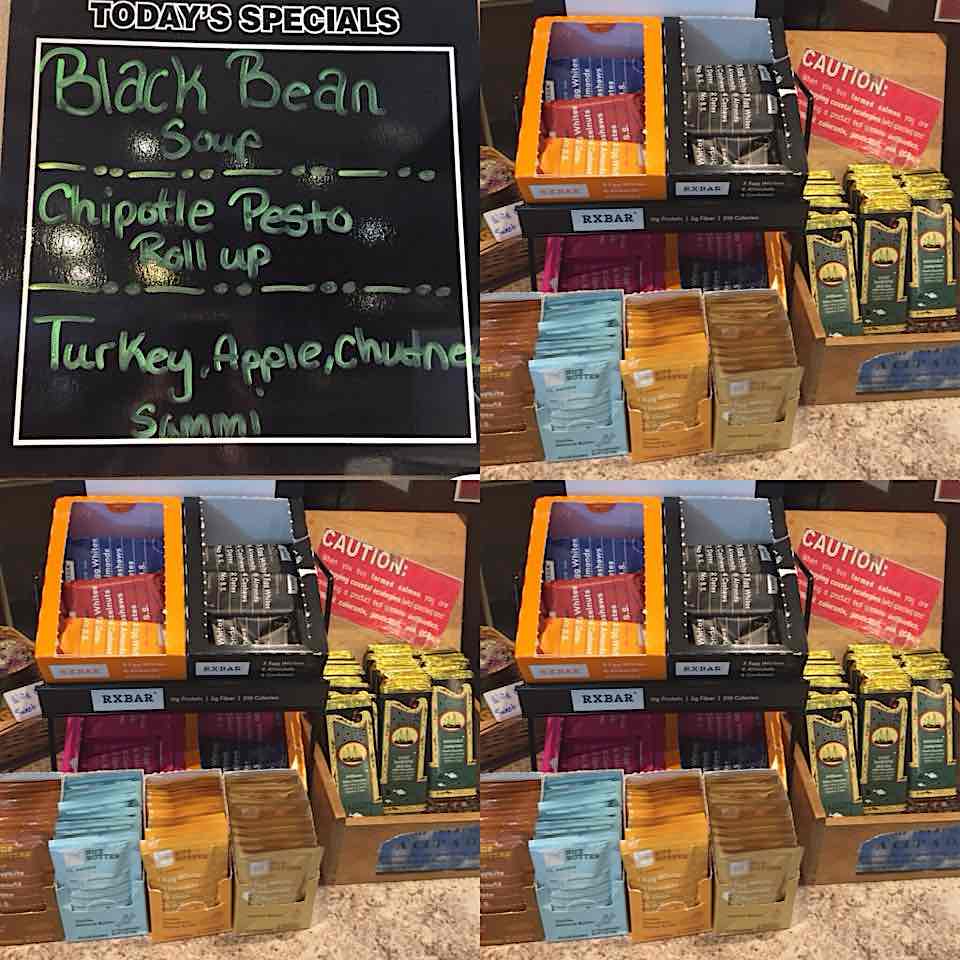 Finally, for a late afternoon pick-me-up including fresh-baked pastries, head over to Highliner Coffee. In kind of an odd location, you'll find Highliner in a small strip mall, next to the fire station on Seward Street.
Where to Go Shopping in Sitka
14. Alaska Pure Sea Salt
What started as an accidental salt creation when a pan of sea water was left out all night on a stove, has become a fast-growing entrepreneurial business in Sitka. Have a taste of the different salt flavors, but bring home a packet of their Alder Smoked Sea Salt. Located on Lincoln Street.
15. Old Harbor Books and Back Door Café
Also with their main entrance on Lincoln Street, Old Harbor Books has that certain book store smell that you just don't find much very often. Through a walkway at the back of the store is the aptly-named Back Door Café. Seems like a throwback to the 1960s. It's a very inviting, totally laid-back coffee house. Buy a book and go to the café and relax for a hour before you head back to the ship.
16. Chocolate Moose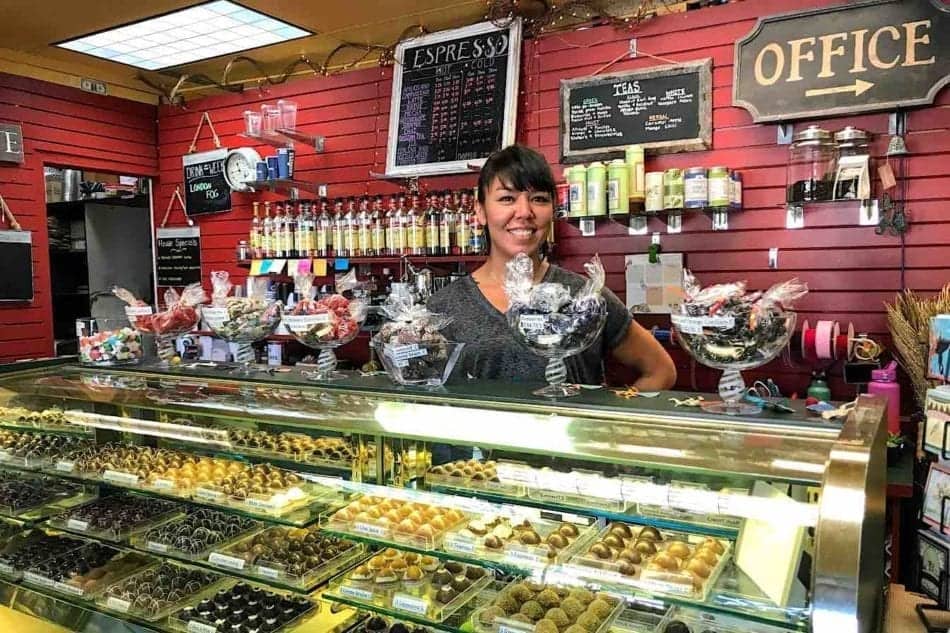 You may not need any more caffeine, but you can always use a bite of homemade chocolate. But just in case, Chocolate Moose also has espresso.
Where to Eat in Sitka
There really is a Sitka culinary scene and it's not to be missed. Don't leave without indulging in a meal. With fresh seafood at their doorstep year-round, it practically jumps out of the water and onto your plate. I think the people of Sitka have created at least four million ways to prepare salmon!
17. Beak Restaurant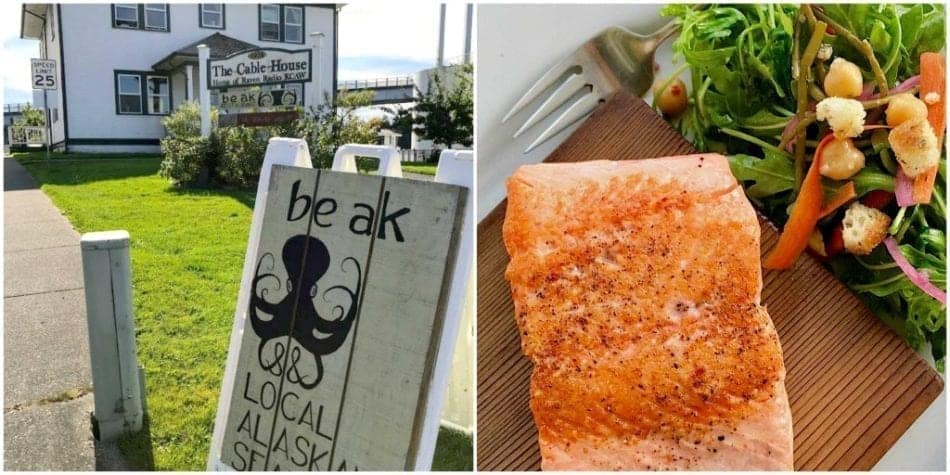 Located on your left as you walk towards the harbor, enjoy a meal at Beak on their covered patio. For something really different, order the fried salmon skin.
18. Little Tokyo Sushi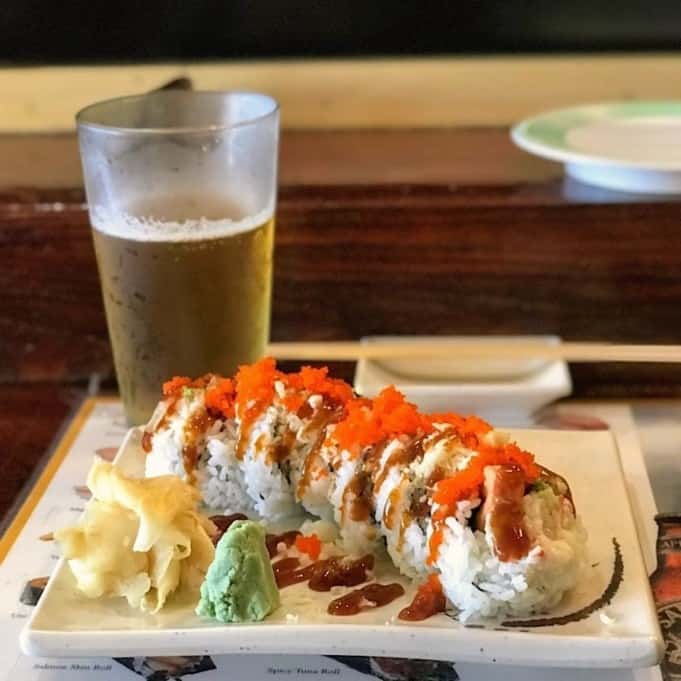 Seriously good sushi at this downtown shop. All types of working locals were heading in on their lunch break so I decided to try it. It's not Jiro Dreams of Sushi, but for a local, friendly sushi place, it's fine.
19. Mean Queen in the Totem Square Hotel and Marina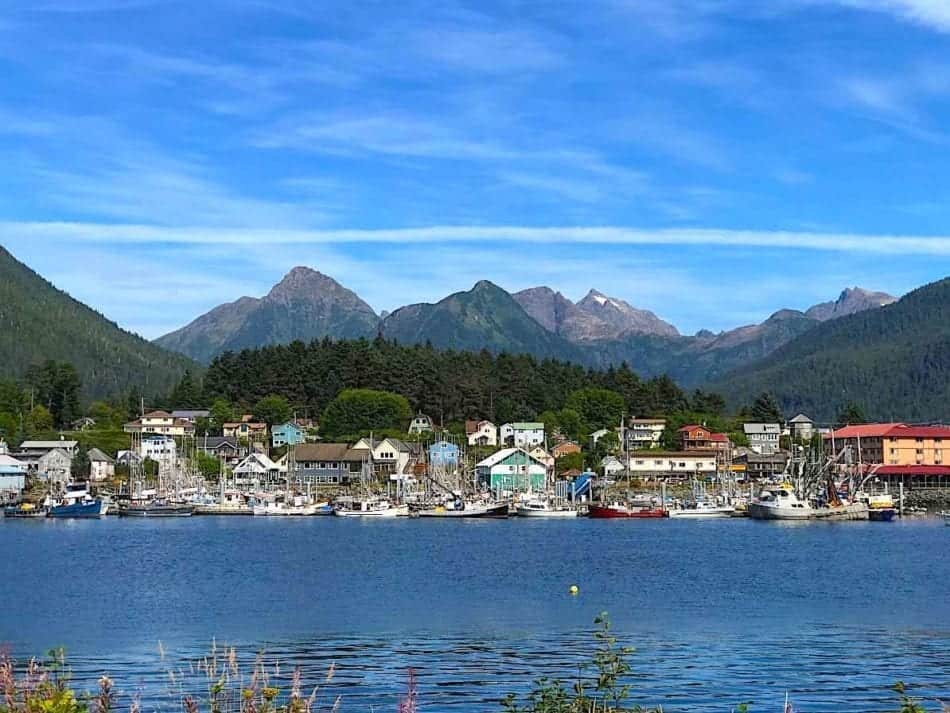 The restaurant is in the peach-colored building with the red roof, all the way on the right in the photo. Freshly cooked you-know-what plus a really good seafood chowder. It's the view from your table on the patio that completes the picture.
Last but not least…
20. Sitka Airport Diner – Nugget Restaurant
On my first visit, I had no clue what to do in Sitka. From its beautiful national parks and cultural and science museums to locally-made arts and crafts galleries and wildlife encounters, you'll want to revisit again.
Maybe it's the arts scene and the un-touristy vibe. For whatever reason, Sitka somehow gets under your skin and calls you to return.
I hope my list of the best things to do in Sitka, Alaska help you to appreciate this wonderful little town at the edge of the Pacific.
Related Articles by Cruise Maven
PLEASE PIN AND SHARE ON YOUR FAVORITE BOARDS!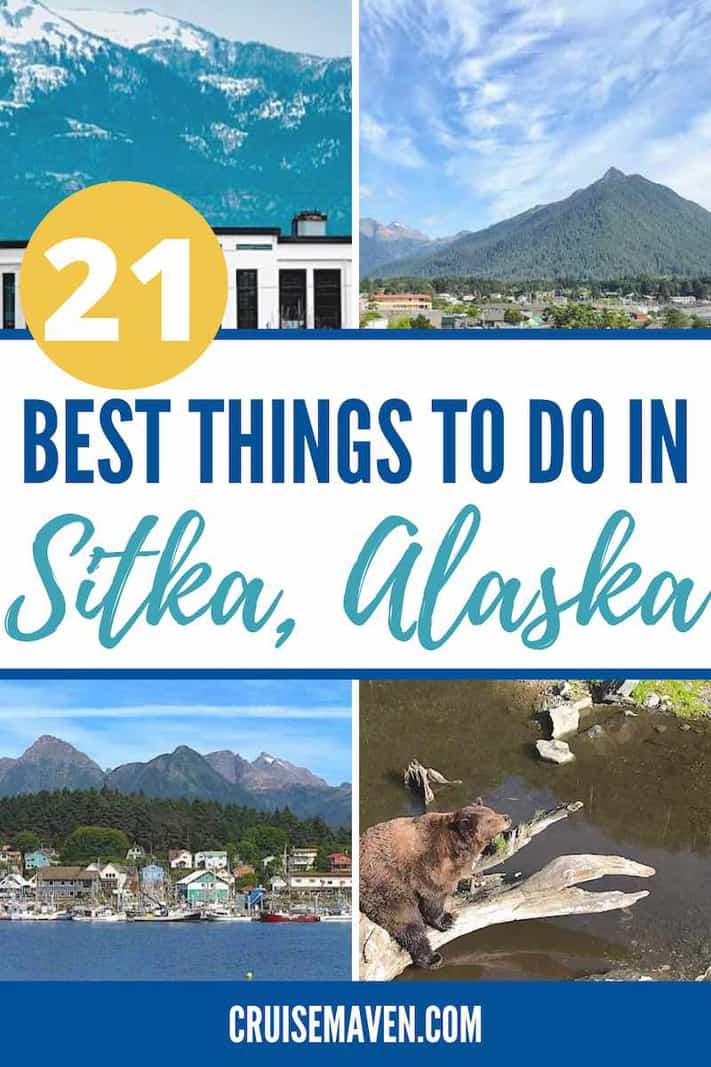 I'm the editor and creator of CruiseMaven.com, a solo traveler cruising the world on waves and wheels, collecting recipes along the way.  I hope my articles and photos entertain, advise and inspire you to travel the world without flying.  Take a breath…stop for a local meal and a glass of wine along the way.