If you're expecting tiny Sitka to be another Alaska cruise port lined with the same glaring jewelry and watch stores that you find in the Caribbean, you'll be wonderfully surprised. Located on the western edge of Baranof Island, one visit and you'll understand why this town was once nicknamed the "Paris of the Pacific."
This small community of barely 8,000 people is keenly intent on keeping Sitka as a small town. Shop owners know the locals and everyone is pretty darn friendly. So friendly that many cars will stop for pedestrians at clearly-marked designated crosswalks. But always check before stepping off the curb!
After you read through this Sitka overview, dive right in to my 21 Best Things to Do in Sitka post. With knowing a little bit more about Sitka first, it'll be easier to plan your day.
Sitka, Alaska Overview – Getting Around Town
This overview article will get you familiar with how to get to downtown from the Sitka cruise port, what to around town on your own, wifi, dining and shore excursion suggestions.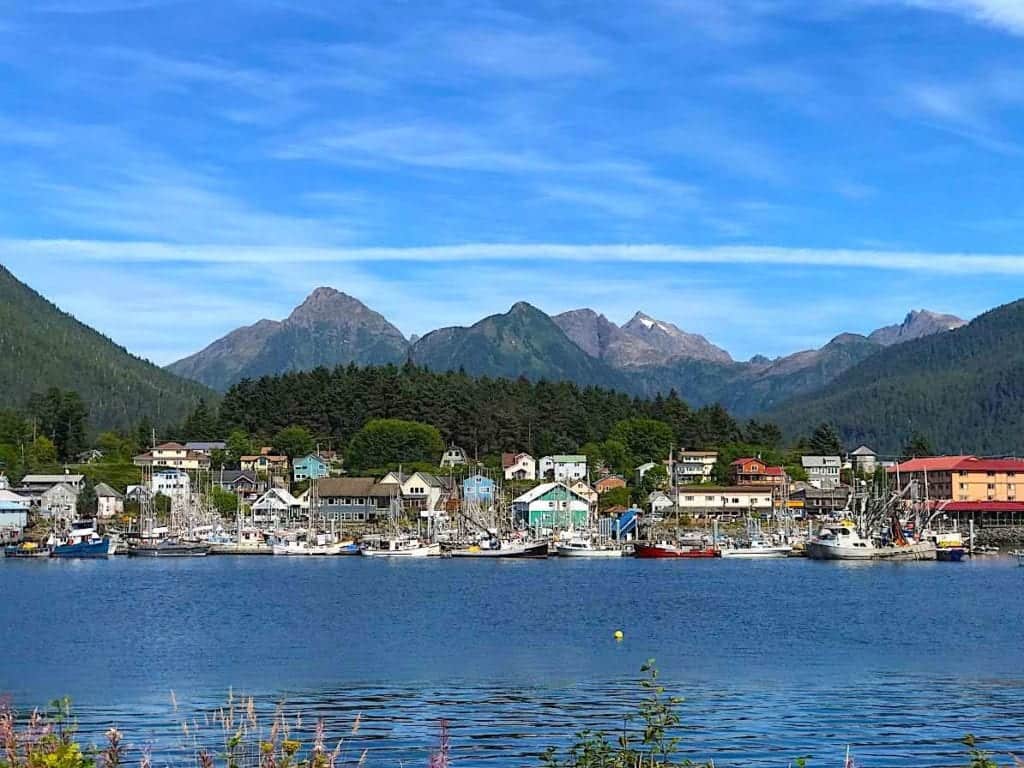 Sitka's Colorful and Diverse History
Sitka's native history dates back thousands of years. Home to the Kiksadi clan of the indigenous Tlingit people until the mid-18th century, when Russian explorers ventured across the Pacific. What they found was an inhabited island rich in natural resources from sea to mountains. Graced with a temperate climate, teeming with salmon and other fish, the Russians set their sights on the sea otter trade.
For 135-years, the town of Sitka became known as the capital of the Russian Empire in Alaska. The territorial Russian governor, Alexander Baranof, with an agreement with the Tlingit chief, aggressively built a fort and out-buildings in hopes of financial gain from the fur trade and other endeavors.
This didn't sit well with the Tlingit people and a bloody uprising took place. In 1804 Russian reinforcements stormed ashore in revenge for the attack two years prior. Russian forces succeeded in driving the native Tlingit from their ancestral home, to resettle on the other side of the island.
It wasn't long before the prosperous Russians had depleted much of what they fought to claim; plush sea otter pelts. The furry creatures were nearly wiped out from over-hunting.
With no hope for economic gain, Russia decided to sell Alaska to the United States. The sale price was $7.2 million or roughly two-cents an acre. The land transfer was finalized on October 18, 1867 and is now called Alaska Day. It's a major celebration day in Sitka.
Visitors can meander through Sitka National Historic Park, learn more about Sitka's history and stand at the locations where the bloody battles raged.
READ NEXT: What to Pack for an Alaska Cruise & Packing List

Where Your Ship Will Dock – Cruise Port Info
Sitka has two places for ships to dock; Old Sitka Dock (just renamed Sitka Sound Cruise Terminal) and Crescent Harbor. About six miles out from the city's downtown, Old Sitka Dock is where most large cruise ships tie-up; from Grand Princess to NatGeo expedition ships.
Among luxury cruise lines, Seabourn will usually drop anchor at Crescent Harbor while Silversea heads to Old Sitka Dock.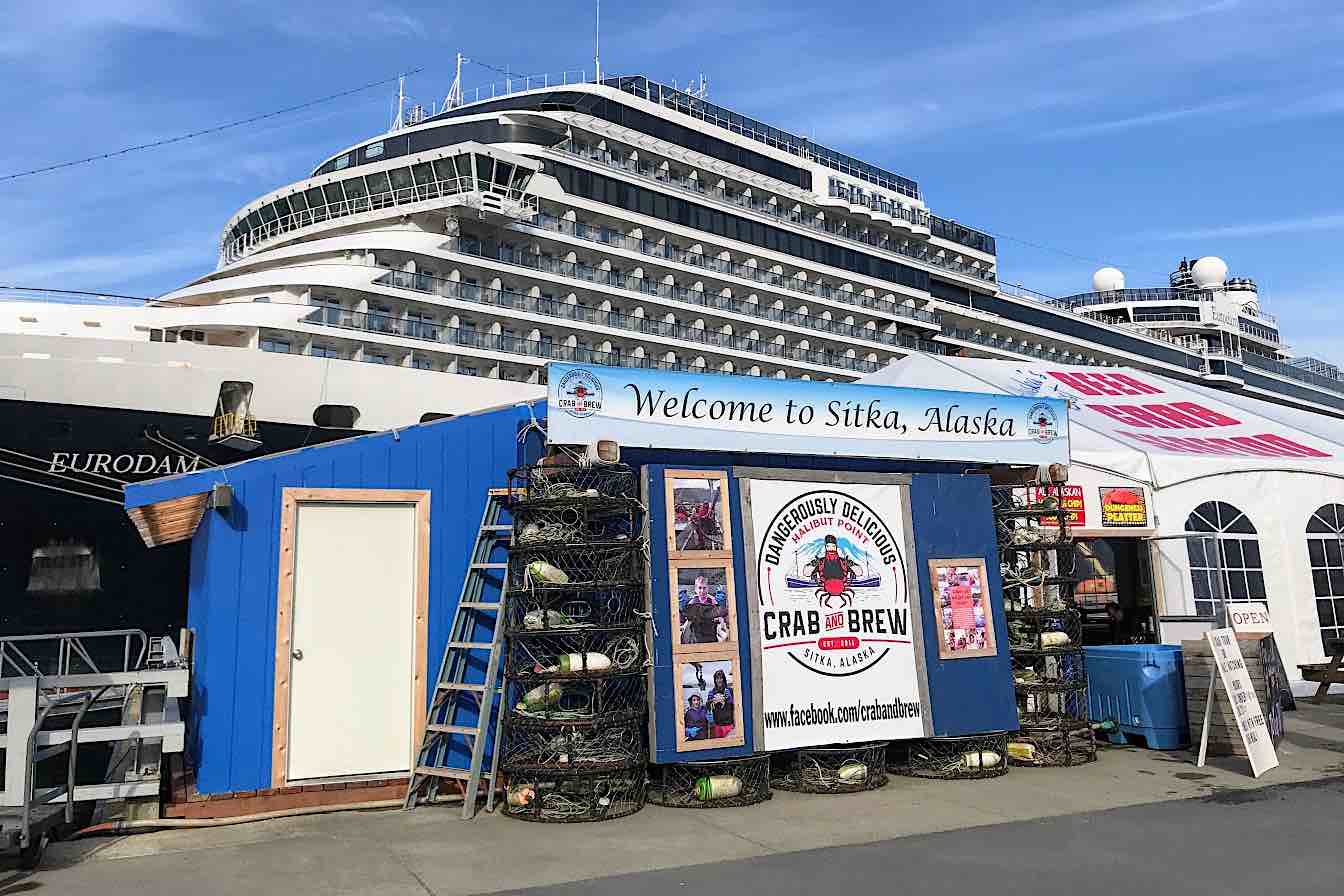 The city provides clean and efficient complimentary motor coach shuttles to and from the dock to downtown. It's about a 12 minute scenic drive and the shuttles depart from the dock every 15 minutes. You'll be dropped off in front of Harrigan Centennial Hall in the heart of downtown.
If you've arranged a pre-paid shore excursion, you ticket will have the exact meeting place. You will join your excursion group as you exit the cruise terminal. The other meeting point will be in front of the Harrigan Centennial Hall.
READ MORE: 21 Things to Do in Sitka Alaska Without Buying a Cruise Line Shore Excursion
If your ship is scheduled for Crescent Harbor, that means it will be anchored offshore and you'll use your ship's lifeboats to come into town. Crescent Harbor is located downtown so when you debark from the tender, you'll be at Harrigan Centennial Hall, too. In that case, you'll join your shore excursion group there.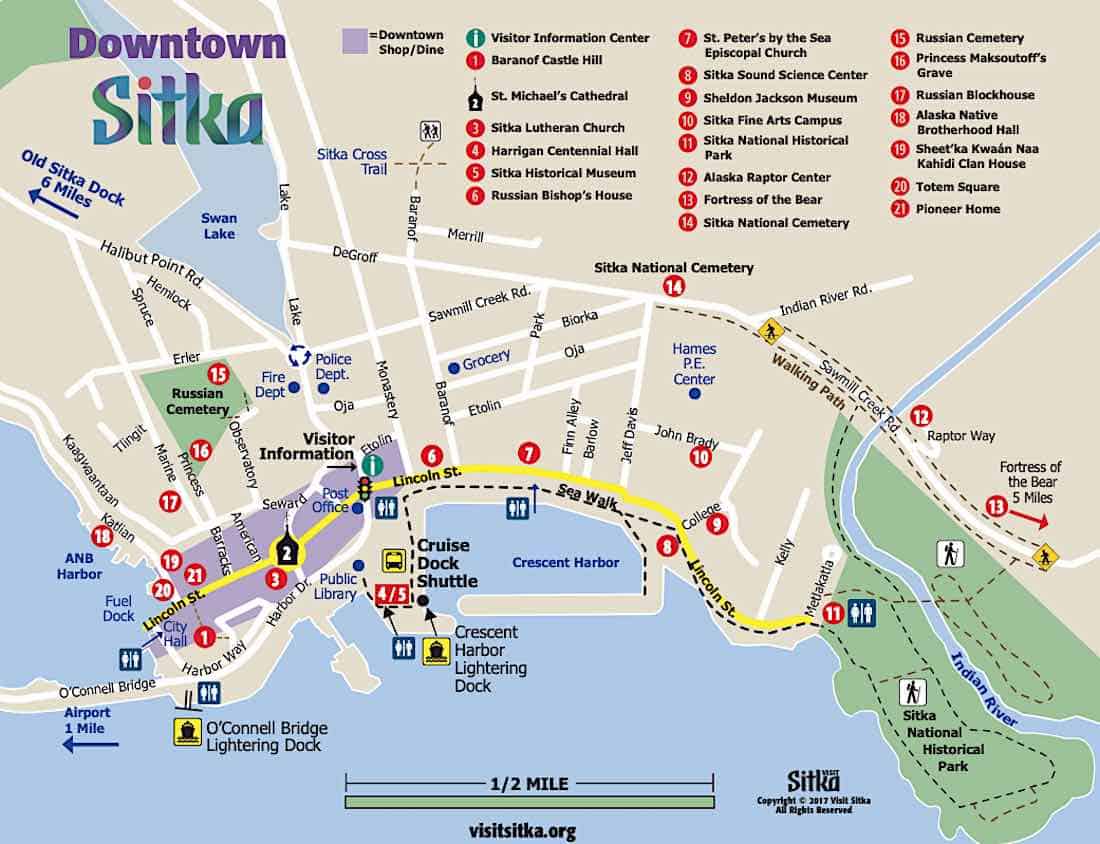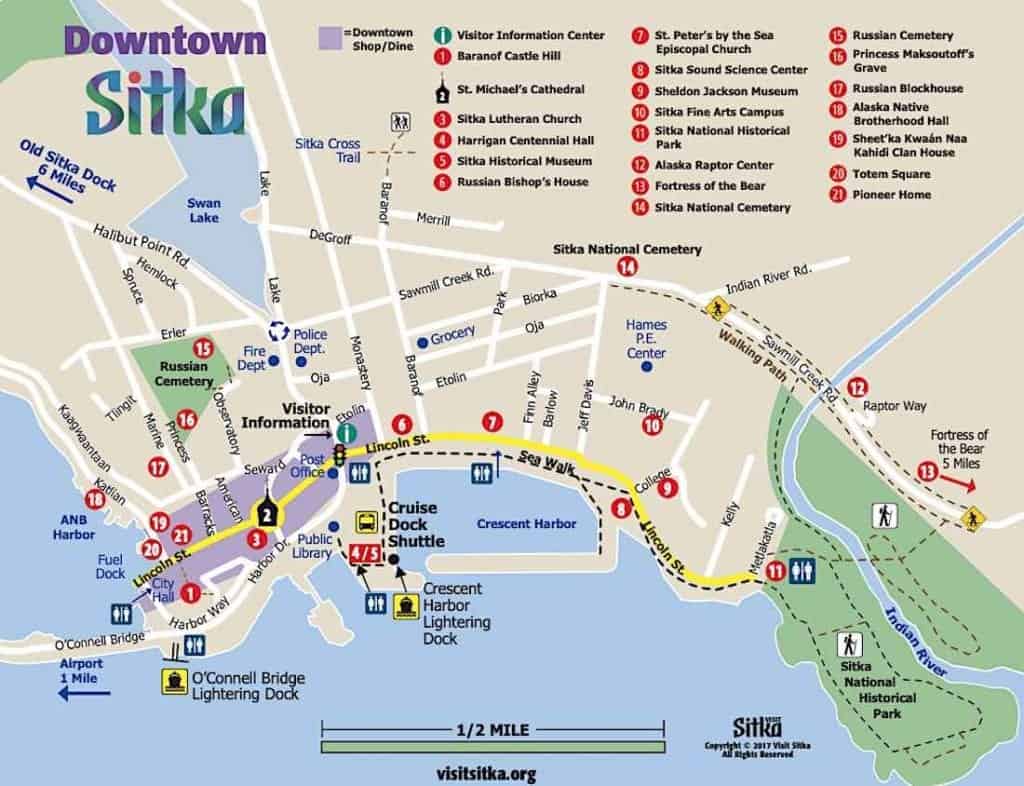 Transportation in Town
You can try to call a taxi to pick you up at the Old Sitka Dock but cell service out there is nearly non-existent. And trying to call a Sitka taxi service is notoriously futile. Instead, take the free shuttle into town. You'll find taxis out front of Centennial Hall. Don't count on any Uber or Lyft ride shares.
There's the Sitka bus service (ridesitka.com) and you can pick up a bus schedule at the Visitor's Center in Centennial Hall or across the street at the Sitka Chamber.

Wifi and Cell Service in Sitka
Sitka offers free wifi in many downtown locations. Remember, no matter how remote Alaska feels, you're still in the United States. Whatever phone carrier you have at home, should provide service in Sitka. AT&T has the best reception in most areas in town. The local wifi service is provided by GCI and isn't always have the best connectivity.

Sitka Shore Excursions Overview
Nestled between snowcapped mountains and the Pacific Ocean, many of Sitka's shore excursions are meant to bring you closer to the island's natural beauty. Here's a list of some of the most popular shore excursions to do in Sitka. Most shore excursions are available through your cruise ship while some others are offered by local vendors at Centennial Hall.
By now you probably realize that Alaska is expensive. Whether a cruise or a land tour, nothing's cheap and this includes most shore excursions. On the flip side, a cruise to Alaska is quite often a bucket list experience and people save up for years so they can do all the flight-seeing and whale watching that's offered. Don't skimp on shore experiences if possible.
I'm convinced there is no such thing as a bad shore excursion in Alaska. I've tried quite a few (and paid for most on my own dime) and there aren't any that were a disappointment. That said, everyone has different expectations but it's hard to find anything to complain about on an Alaska shore excursion. Here are a few of my favorite "what to do in Sitka" shore excursions.
Best Sitka Shore Excursions (through your ship or 3rd party seller)
Anything outdoors. Unfortunately, some excursions aren't adaptable for someone who's mobility-impaired or requires a wheelchair. Aside from that, some of my favorite Sitka shore excursions of course involve being on the water.
Sea otter quests, wildlife quests and any "quest" will get you out onto a small tour boat.
Bike and hike, kayaking and scenic cruises are a great way to experience some of Sitka's beauty.
If you're more land-based, there's a haunted ghost walk, a pedal pub crawl, and a painting class.
Two attractions not to be missed are Fortress of the Bear and the Alaska Raptor Center. These two are usually included on an all-around Sitka type of tour. If you love bears, Fortress should definitely be on your list.
Allen Marine Tours runs many of the whale-watching excursions. Family-owned and operated, try their three-hour Sea Otter and Wildlife Quest. Guaranteed to see a whale, sea otter or bear or you get a $100 refund.
They also offer a Wildlife Quest and Fin Island Lodge tour which includes a sumptuous all-you-can-eat crab feast at their new private lodge.

What to Do in Sitka on Your Own
Sitka is one of those small towns where you can see almost all of the sights within walking distance on one day in port. From where the complimentary bus drops you off at Centennial Hall, pick up a Sitka walking map and head out on your own. The back of the map has a list of all the attractions that are within walking distance.
From Centennial Hall, it's a 10 minutes walk to the Sitka Sound Science Center. From there, you can stroll through the Sitka National Historical Park.
REMEMBER! READ MORE: 21 Best Things to Do in Sitka
Watch salmon jump right out of the water near the Sitka Sound Science Center, learn about Tlingit culture and experience their native dance at the Sheet'ka Kwaan Naa Kahidi Community House. There's plenty to do in town if you don't want to purchase a shore excursion.
If hiking is your thing and if your ship is in town for a full day, there are several hiking trails to explore. Trails range from easy to difficult and consider buying a can of bear spray for your hike.

Dining and Coffee Shops
It's not uncommon to overhear fellow cruise passengers say, "Why should I pay for a meal in port when I can have free food back on the ship?" Well, here's why. One of my favorite activities when I'm on a cruise is the chance to experience all types of local food in port.
Maybe I'm a bit jaded but after a while, I think cruise food gets monotonous. Plus, I think that a really great way to get to know a destination is to taste their food; whatever might be the local specialty.
In the case of Alaska, and especially in communities like Sitka where fishing is top of mind, I'm always on the lookout for whichever salmon is running (there are five species of salmon), or the fresh catch of the day. For a city with such a small, year-round population, where to eat in Sitka includes over a dozen restaurants and eateries.
Unfortunately, if you only have one day in Sitka, it's really important to know your choices ahead of time. Or at least try to narrow down your food search. Here are some of my favorite places where to eat in Sitka.
Light Snacks
Ludvig's Chowder Cart – Located within the Sitka Sound Science Center, this is literally a food cart. An offshoot of award-winning Ludvig's Bistro, the food cart serves Ludvig's renown seafood chowder by the gallons every day. Slightly spicy, not too creamy-thick, this is one of the best chowders I've eaten. There are also freshly-made baguette sandwiches, an assortment of cold drinks and picnic-type tables to sit at and enjoy your lunch.
Ashmo's – One of several food trucks in town, or as they are called here, "mobile food units." Serving fresh, local seafood, you can find Ashmo's white food truck parked along Lincoln Street, the main thoroughfare through downtown.
Captain JuJu's – Another seafood mobile unit, Captain JuJu's is owned by a local fishing family and they cook up what they've caught that morning. Their truck is a pumpkin-orange color and sort of tucked away around the corner and across from St. Michael's Cathedral, on Seward Street. If you like nachos, their halibut nachos are fabulous.
Harry Race Soda Shop – I would be totally remiss if I didn't mention Harry Race's Soda Shop. Belly up to the soda fountain and sit down on one of the old-time swivel bar stools. How about a house-specialty – a decadent banana split?
Order an ice cream sundae with hot fudge, peanuts or a dozen other toppings. I nearly fainted when I saw on the menu a cold drink from my midwest childhood. It's called a Green River. This concoction is a mix of soda water and lime syrup. Sounds gross now, but as a kid, it was the best, especially during a hot and humid Chicago summer. A stop at the old-fashioned soda shop is a wonderful way to cap off your day in Sitka.
Pel'Meni – Authentic Russian dumplings at the most inconspicuous restaurant. A mere $7 will get you a container of 16 little dumplings and your choice of four toppings.
Where to Eat in Sitka – Full Meal
If you're getting hungry, there are plenty of diverse choices where to eat in Sitka. From cold snacks and fresh-caught salmon to a hot fudge sundae and Russian dumplings, there's something for everyone.
Backdoor Café
– Literally, the entrance is a back door, in back of Old Harbor Books, also on Lincoln Street. It's kind of a throwback coffee shop, one in which I feel pretty comfortable. All ages congregate there. The coffee's good, the soups are hot and there's one or two lunch specials every day.
Bayview Pub – Upstairs in the building across from Centennial Hall on Lincoln Street. Known for their rockfish, salmon burgers and tacos. Also, one of the few places in town to get a Baranof Brew…beer made in Sitka.
Beak – Walk along Lincoln Street for about four blocks towards the end of the strip. When you see the suspension bridge in the distance, Beak is practically right in front of you, on your left.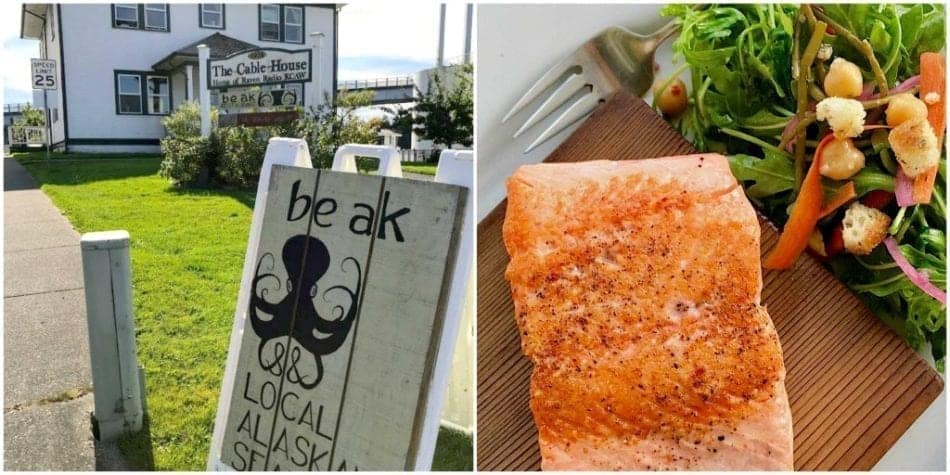 It's in the old white-sided house on the corner. Enter around the back of the building, at the outdoor patio. Great salmon, fried salmon skin, everything is excellent. Brunch served on the weekends.
Fisheye Organic Café – Right in back and across the street from the entrance to the Westmark Hotel, Fisheye Cafe is a favorite lunch spot for locals. If you're missing your daily shot of wheatgrass or just long for something organic, this is your place. Aside from a couple of daily specials, they also offer made-to-order crêpes (buckwheat or white flour) with a variety of fillings.
Halibut Point Crab & Chowder – Family-owned, what looks like a big, white circus tent is actually one of the best crab restaurants in town. And out of town, in this case. As soon as you step off your ship at the Old Sitka Dock, you can't miss it. A lot of cruisers will stop here for a late lunch after a shore excursion. Or a quick beer and chowder before sailing away.
Longliner – A little off the beaten path but well worth it. If you're stopping to watch the Naa Kahidi Tlingit dancers perform at the Sheet'ka Kwaan Naa Kahidi Community House on Katlian St., Longliners is just a couple of blocks further ahead. Recently under new ownership, they've added a deliciously extensive brunch menu, serving until 2PM.
Ludvig's Bistro & Wine Bar – Sitka's only upscale Mediterranean restaurant is open for dinner at 4:30pm and is a great choice if your ship has a late departure. Reservations are necessary. Located on Katlian Street, between the Naa Kahidi Community House and Longliner.
Mean Queen – There are now two locations for casual dining. The original Mean Queen is located on Harbor Drive, just before the bridge across Sitka Sound. Great for pizza, salad and wings. The second and newer location is at Totem Square, across from Pioneer House, on Katlian. Enter through the hotel. There's plenty of outdoor seating and a great view of the harbor. Here you can get chowders, burgers, salads and nachos.
Sitka Hotel Restaurant – You can't miss this western-looking building with Sitka Hotel in big white letters on the old-time faux front. Fresh fish and seafood, high-quality steaks and of course, chowder are the mainstays.
This place tends to get very crowded when the big ships are in town, so plan on either an early or late lunch. It's also popular with local Sitkans on their lunch break.
Sitka Pel'Meni – This tiny downtown restaurant has been serving thousands of little Russian Dumplings for over 20 years. A go-to place for locals, Pel'Meni offers two varieties of stuffed dumplings: meat or potato. They're served in to-go boxes along with choice of different sauce toppings.
Located diagonally across the street St. Michael's Russian Orthodox Cathedral right in the center of downtown. And surprisingly, not over-crowded on port days. Yet.
Westmark Hotel Dining – A long-time landmark, and part of the Princess Cruises and Holland America hotel collection, it's the outdoor deck that draws a crowd. Serving fresh local seafood, burgers, salads and some really good desserts.
Where to Get Coffee in Sitka
Highliner Coffee – Local hangout with fast wifi, Highliner servers coffee and espresso, plus baked goods, soups and sandwiches.
Back Door Café – Literally located at the back door of Old Harbor Books, you can also enter around the back of the building, in the alley. In addition to terrific coffee and assorted teas, they also make fresh pies, cakes, soups and one lunch entreé.

Where to Shop in Sitka
Shopping in Sitka is pretty simple. Downtown is barely four blocks long and one block wide. From the shuttle bus drop point in front of Harrigan Centennial Hall, you're on Lincoln Street, the main downtown drag. There are a a couple of very nice upscale shops right across from Centennial Hall, opposite the harbor.
If you head in the opposite direction of the boat harbor, that's where the majority of shops are located. You can find Sitka-branded souvenirs and Alaska t-shirts or head to Old Harbor Books and step back in time at this cozy book store.
Just about every shop is locally owned. You won't find any Diamonds International, Del Sol or Little Switzerlands.
Feel free to simply browse but it will be difficult not to pick up some truly made-in-Sitka souvenirs. Some of these shops are Wintersong for lotions and unique gifts, Alaska Pure Sea Salt, 57 Peaks leggings. Any shop with the word "Gallery" in it, is worth a visit, too. Shopping in Sitka is simple, convenient and way too enticing.

These are just some of the reasons why I love this place. Sitka is delightfully different, curiously quirky and one of the most special places you'll ever visit, whether on a cruise or a land-based vacation.
Related Articles by Cruise Maven
I'm the editor and creator of CruiseMaven.com, a solo traveler cruising the world on waves and wheels, collecting recipes along the way.  I hope my articles and photos entertain, advise and inspire you to travel the world without flying.  Take a breath…stop for a local meal and a glass of wine along the way.