When Victory Cruise Lines debuts the new Ocean Victory in 2022, it will mark the start of new Southeast Alaska expedition cruises.
Accommodating only 186 passengers, Ocean Victory will offer unique 12- and 13-day cruises between Vancouver, British Columbia and Sitka, Alaska.
Onboard enrichment will include the opportunity to observe research students from California Polytechnic University and discussions with Native Alaskans. Along the route, there'll be expedition leaders for kayak and Zodiac excursions from the ship.
Victory Cruise Lines to Offer Alaska Expedition Cruises
With a scheduled 2021 inaugural Alaska cruise season scrubbed, Victory Cruise Lines announced that their Ocean Victory will begin Alaska expedition cruises in summer 2022. Built as a polar-class ship, Ocean Victory has all the features of a luxury ship on a smaller scale.
Sporting only 93 staterooms, there are also hydraulic observation platforms for wildlife viewing, and a mudroom with 5 Zodiac boarding areas.
READ NEXT: Getting Around Sitka – Map and Port Guide
Highlights of Ocean Victory's Alaska Expedition Cruises
Anan Creek Bear and Wildlife Observatory
Following a port call to Wrangell (rumor has it Wyatt Earp was here for 10 days en route to Nome), a jet boat ride brings intrepid travelers to the Anan trailhead for a hike to the Observatory.
One of the largest salmon runs in the state occurs along the Stikine River, luring Alaska Brown Bears, eagles, seals and more to feed.
Five Finger Lighthouse
On one of five rocky islands in Frederick Sound stands the historic Five Finger Lighthouse. The original Five Finger Lighthouse was completed and activated in 1902, and was considered to be Alaska's first staffed lighthouse.
Unfortunately, after an incredibly cold and windy December week in 1933, a fire broke out in the main structure and destroyed the lighthouse. The nearby boathouse and carpenter shop were unaffected by the fire.
In December 1935, a new art deco-style lighthouse was built and activated. Today, the lighthouse is primarily used by whale researchers who track over 100 humpback whales every year. Frederick Sound also provides migratory passage for Orcas, Stellar Sea Lion, eagles and all sorts of seabirds and song birds.
Kake – Community Hall and Tlingit Culture
Not far from Wrangell Island is Kupreanof Island, home to the small Tlingit community of Kake. A short walk from the dock to the Community Hall, Tlingits wearing traditional Native attire greet guests. Carving or weaving demonstrations are ongoing.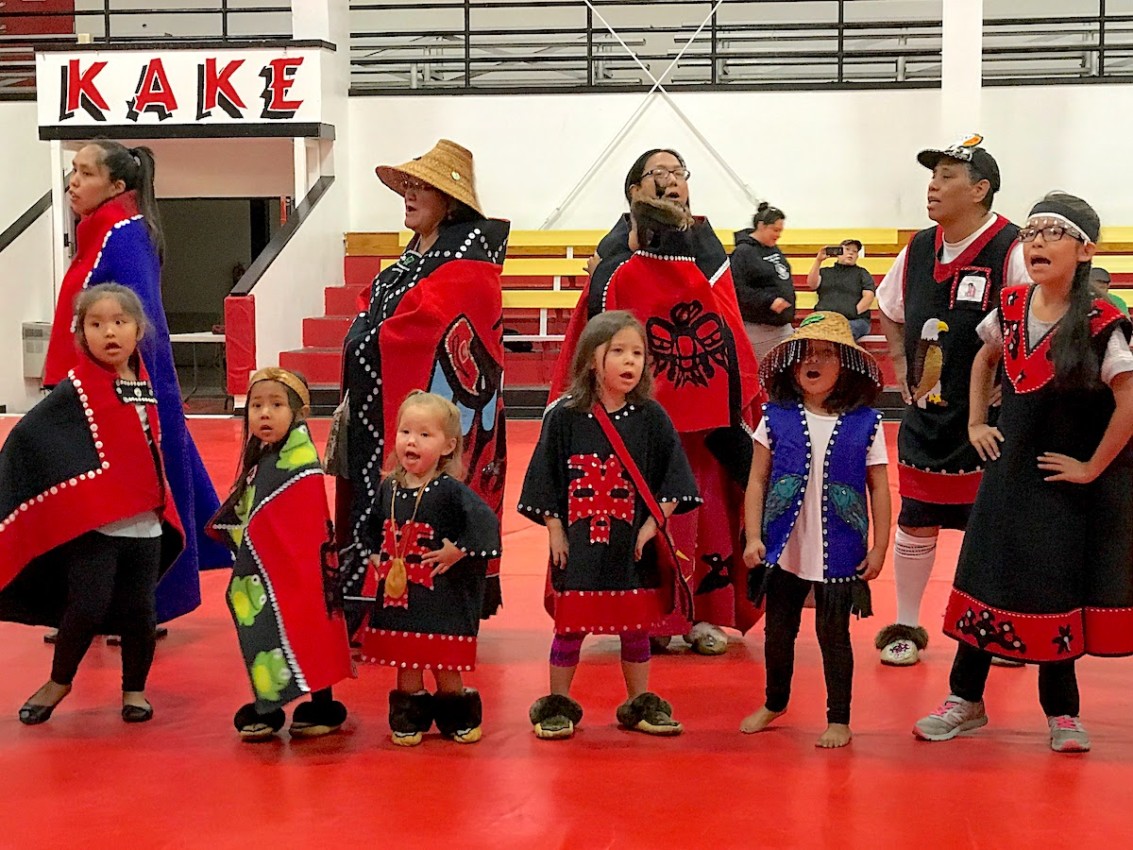 Then the drumbeat begins and a performance of traditional dance is followed by an invitation to join the dancers on the gymnasium floor.
Several tables with homemade crafts and foods are available for purchase.
Petersburg
Nicknamed, "Little Norway" and "the town that fish built", Petersburg is steeped in Norwegian ancestry. In 1897, Norwegian fisherman Peter Buschmann, built the area's first cannery using the clean glacial ice from nearby LeConte Glacier for packing.
Downtown Petersburg has a couple of excellent very casual eateries to sample the local catch. The hub of Norwegian-themed activity takes place at the Son's of Norway Hall. High school kids, dressed in Norway's official colors of blue and white, perform traditional Norwegian dances for visitors.
Cruising the Waterfall Coast
On the opposite side of Sitka that faces the Pacific Ocean, Baranof island's eastern side features an amazing amount of waterfalls, big and small.
Fed from the mountains, cascading waterfalls provide plenty of viewing, including dozens of "oohs" and "ahhs". Guests can explore the coastline by kayak or Zodiac.
Alaska Expedition Cruise Itineraries
The new 12- and 13-day expedition cruises aboard Ocean Victory between Vancouver, B.C. and Sitka, Alaska begin May 2022 and run through September.
Itineraries and scenic cruising includes:
Vancouver, B.C.,
Cruising the Canadian Inside Passage with Fiordland viewing
Ketchikan
Metlakatla
Misty Fjords National Monument
Wrangell and the Stikine River Wilderness
Waterfall Coast on Baranof Island
Petersburg and LeConte Glacier
cruising Tracy Arm and Endicott Glacier
Kake/Frederick Sound
Five Finger Lighthouse,
Sitka, Alaska.
Departures from either Vancouver and Sitka include one pre-cruise hotel night.
I'm the editor and creator of CruiseMaven.com, a solo traveler cruising the world on waves and wheels, collecting recipes along the way.  I hope my articles and photos entertain, advise and inspire you to travel the world without flying.  Take a breath…stop for a local meal and a glass of wine along the way.