Fred. Olsen is a UK-based, family-owned cruise line in its fifth generation. It began operations more than 170 years ago in Norway with two ships. Now the cruise line offers British cruisers a mid-size fleet of four ships to explore the modern world in classic, comfortable style.
Though not technically offering river cruises in Europe, Fred. Olsen does manage to get its passengers into the heart of Europe, including Christmas Market cruises, through canals and waterways. That's why this cruise line is included in our river cruise line list.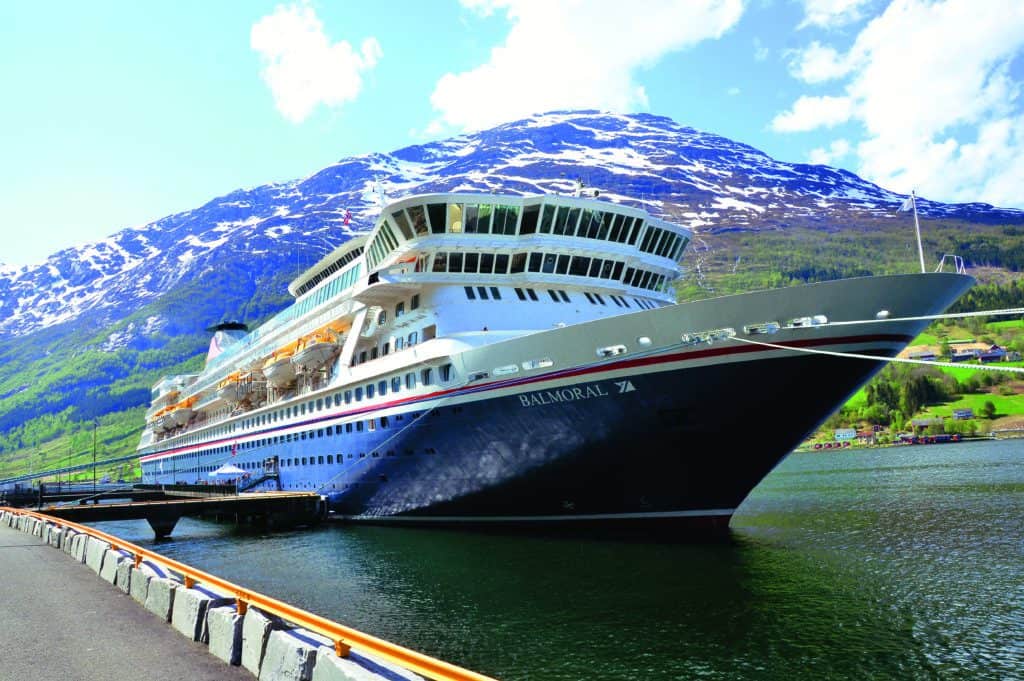 Fred. Olsen Cruise Lines Review
You won't find the latest tech or trends onboard, but Fred. Olsen prides itself on offering a slightly more intimate version of ocean cruising, distinguished by comparatively low passenger counts and friendly crew. The size of its vessels also allows the cruise line to navigate some unusual places like Greece's Corinth Canal.
With plentiful departure ports around the United Kingdom and amenities like in-cabin tea kettles, it's a cruise line largely curated for Brits.
A fly-cruise program also gets guests into the heart of cities like Bridgetown or Havana for more time in port. A childcare program is in place during peak seasons, but families are the exception among the much older couples who primarily sail Fred. Olsen.
Fred. Olsen Ships
There are four ships in the Fred. Olsen fleet:
Braemar was built in 1993, joined Fred. Olsen in 2001, was stretched in 2008, and totally refurbished in 2017.
Balmoral was built in 1988, purchased and stretched in 2007, and was refurbished as recently as 2019.
Two former Holland America ships renamed Borealis and Bolette joined the line in September 2020, replacing Boudicca and Black Watch that were retired.
How Many Passengers
All ships in the Fred. Olsen fleet are considered small to mid-sized for oceangoing vessels — a single Royal Caribbean Oasis-class ship could carry the capacity of all four of Fred.'s ships combined.
Borealis carries 1,360 passengers; Bolette carries 1,338 passengers; Balmoral has a capacity for 1,325 passengers; and the petite Braemar carries just 924 guests at standard capacity.
Ships' Personality
Fred. Olsen Cruise Lines is thoroughly British, meaning the majority of its passengers are British, many departure ports are in the UK, and the focus of entertainment onboard is on traditional activities like tea, quizzes, bridge, and piano recitals.
Fred. Olsen prides itself on maintaining a small-ship atmosphere aboard and in port, and passengers prioritize friendly service and creature comforts over the latest thrills and frills.
Fellow Passengers
You'll mainly find Brits onboard, with the occasional rare sighting of North Americans or Europeans. Multigenerational groups do sail Fred. Olsen — during peak holiday seasons, the line offers a kids' club for children ages 5 to 11 called Little Skippers — but the line's demographic skews older toward the over-65 crowd. A respectable number of solo cruisers also vacation with Fred. Olsen.
Fred. Olsen Ship Accommodations
There are five self-explanatory categories of cabins on offer across the Fred. Olsen fleet: Interior, Porthole, Picture Window, Balcony, and Suite. Borealis and Bolette have 10 passenger decks apiece, while Balmoral has seven and Braemar has six.
Each cabin includes a desk, phone, mini-fridge, hair dryer, interactive smart TV, climate control, and coffee and tea maker. Interior rooms range from 130 to 160 square feet; Porthole or Ocean View cabins range from 140 to 165 square feet; Ocean View cabins with a picture window are available in sizes up to 200 square feet; Balcony cabins range from 140 to 225 square feet; and Suites measure up to 550 square feet, but start with a 150-square-foot Single Suite.
Dining
Each Fred. Olsen ship has two to three main dining rooms that accommodate a buffet and a la carte breakfast and lunch, along with plated five-course dinners included in the cruise fare. Dress codes still apply on Fred. Olsen, so while the daytime is casual, dinner is a more formal affair. On dedicated formal nights, ties are required for gentleman to gain access to the main dining rooms.
For something more casual, there is a buffet venue open for breakfast, lunch, and dinner across the fleet. On Balmoral and Braemar it's called the Palms Café, while on Borealis and Bolette, it's The View. A limited room service menu is also complimentary onboard.
Alternative Dining Options
You know you're sailing a British line when the specialty dining options are just £5 while the premium afternoon tea is twice that at £10.
On Bolette and Borealis, the additional-fee specialty dining venue is Colours & Tastes, that offers up Asian-fusion dishes, while on Balmoral and Braemar it's The Grill, a more traditional steakhouse-style restaurant.
Vasco is a complimentary specialty dining option on Bolette and Borealis serving modern Goan-Indian cuisine and named after Vasco Da Gama, who was reportedly the first European to reach India.
On Balmoral, The Poolside is a free specialty dining option that transforms the Palms Café into an evening barbecue, cooked to order.
While a daily afternoon tea is complimentary, the premium option is offered a few times per sailing in the Observatory Lounge and provides guests with white glove service, piano accompaniment, deluxe scones, pastries, and sandwiches, and premium teas by Taylors of Harrogate.
Onboard Amenities
There is a theater and plenty of bars and lounges found on each Fred. Olsen ship, but the cruise line relies on simple pleasures to while away the hours onboard. Think top-deck activities like walking on the track, golf putting, table tennis, or deck games. Inside, cruisers can take advantage of the onboard fitness facility and classes like yoga (additional fee), get a treatment at the spa, play a game of cards or a quiz, or participate in a singalong, Latin dance class, or cooking demonstration. By night there are music and shows, but hosted ballroom dancing is one of the line's most popular pastimes.
On the sun deck cruisers will find two swimming pools and two hot tubs on each ship, as well as plenty of loungers.
For Whom This Cruise Line is Best
Fred. Olsen is ideal for mature Brits looking for a reasonably priced and relaxed voyage from a variety of convenient UK departure ports. It's not recommended for anyone looking for high-energy nightlife or the bells and whistles of cruising's largest ships, especially when traveling with tweens and teens.
Is Alcohol Included? No But…
Beverages are not included in the standard cruise fare on Fred. Olsen. However, an all-inclusive drinks package starting from £19 per person, per night (£35 on specialty sailings and cruises of five nights or less). This covers a selection of soft drinks, beer, a choice of three wine varietals plus cava, house spirits, and the cocktail of the day.
Guests with the drinks package save 50 percent on any premium wine (excluding Champagne and sparkling wine), spirits, or branded drinks and bottled water.
Gratuities
Tips are not included in the cruise fare. Fred. Olsen passengers are recommended to provide a gratuity of £5 pounds per person, per day, for all guests 12 years and older.
Where Fred. Olsen Cruises Go
Fred. Olsen offers cruises from seven UK departure ports (six in England and one in Scotland) to destinations including the Baltics, Norway, the Canaries, the Med, the British Isles and even the Caribbean.
The fly-cruise program brings guests straight into the action, for a variety of offerings including voyages from Barbados and Cuba. An annual world cruise takes place onboard the Borealis, from 80 to 100 days, and calls on ports across continents much further afield, like Asia and Africa.
If you want to mimic a Europe river cruise or a Christmas Markets cruise on a Fred. Olsen cruise ship, then you'll need to choose the departures that include Germany in the itinerary.
Brittany Chrusciel has covered the cruise industry for many years, formerly as Cruise Critic's Destinations Editor, and has been quoted in publications such as Skift, USA Today, and the LA Times. She is a proud alumnus of Semester at Sea, where she circumnavigated the globe while studying writing, Spanish, and political science. Her favorite river cruise experiences so far have been visiting the Christmas markets with her German grandmother, and Portugal's Douro River.