Formerly known as Emerald Waterways, the Europe river cruise line entered the market in 2014. Recently rebranded as Emerald Cruises, they also now incorporate yacht cruises under their new moniker.
Part of the Scenic Group, Emerald Cruises is under the same umbrella as Scenic Luxury Cruises & Tours, and Australian cruise division Evergreen Cruises & Tours.
Headquartered in Switzerland, Emerald Cruises is still a relatively young river cruise line compared to the competition and is considered a value brand due to its competitive pricing.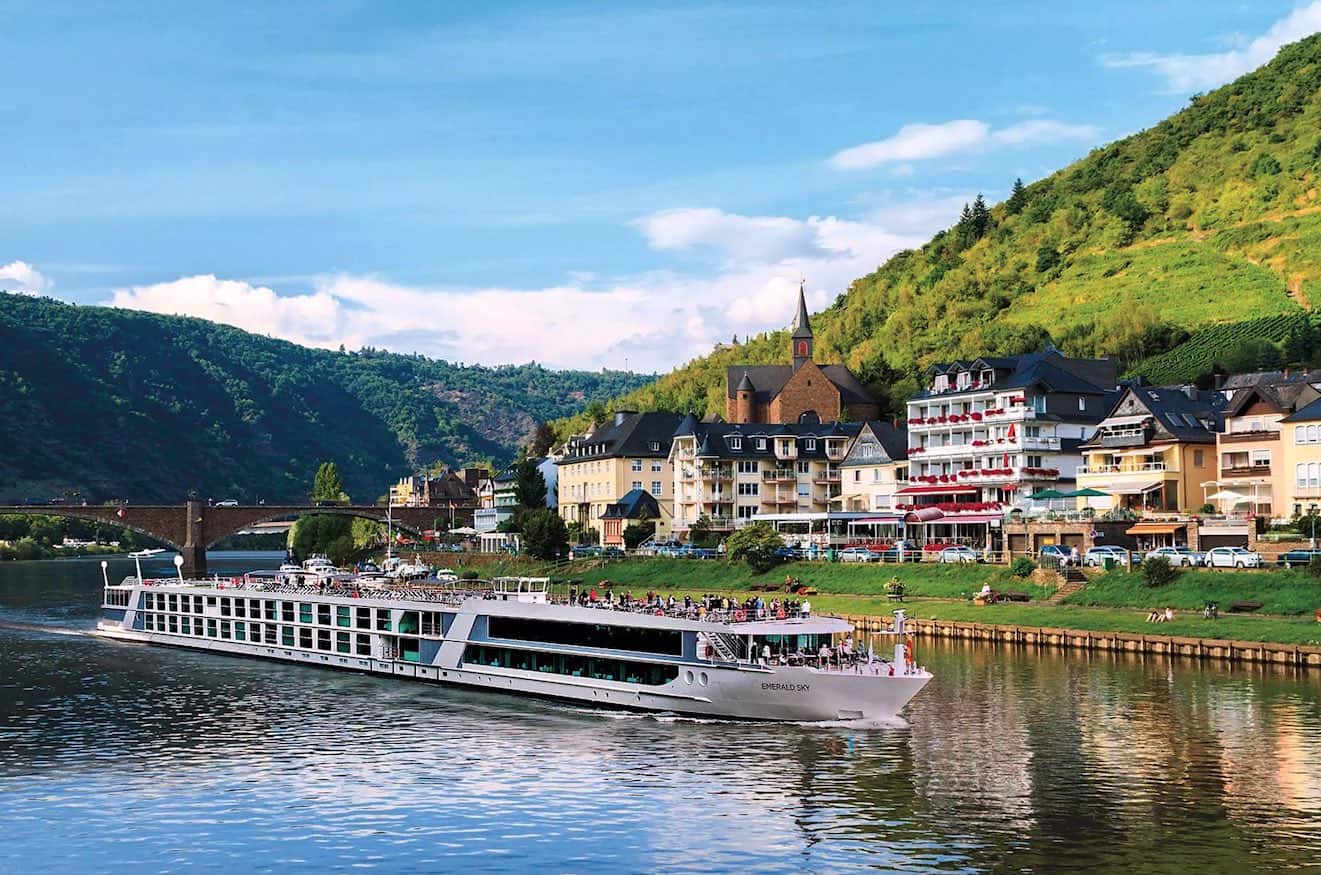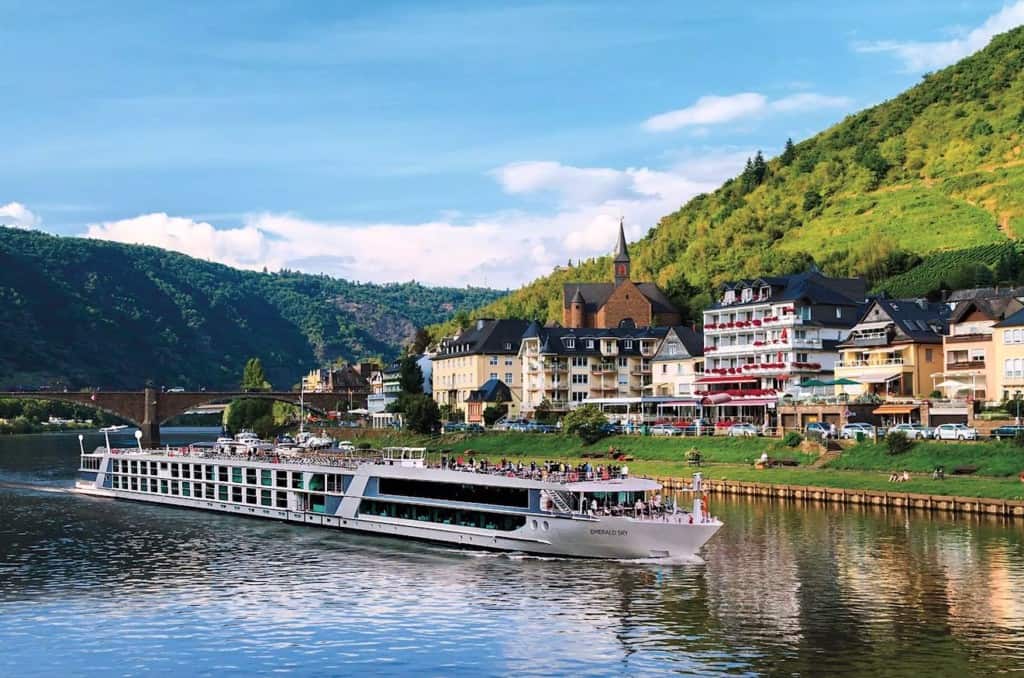 Emerald Cruises Review
River cruises are offered on eight rivers throughout Europe. Emerald's super-yacht product, set to debut in 2022 with Emerald Azzurra, differentiates the brand with an oceangoing option.
Joining the fray of river cruise companies with active excursions, Emerald provides its guests with a fleet of bicycles for use on most sailings. Guests have a choice of complimentary excursions that include at least one active option in each port.
A dedicated activity manager is on each ship coordinating guest experiences ashore and onboard, from fitness classes to evening amusements.
READ MORE: The Best Time of Year for A Europe River Cruise
Emerald Cruises River Ships
Emerald owns nine river ships, referred to by the line as Star-Ships. One of those is a chartered ship that sails the Volga River in Russia. The 410 foot-long MS Nizhny Novgorod was refurbished in 2019.
The fleet of river ships include Emerald Dawn, Emerald Destiny, Emerald Harmony, Emerald Luna, Emerald Liberté, Emerald Radiance, Emerald Sky, Emerald Star, and Emerald Sun.
Emerald Dawn, Sun, Luna, Destiny, Sky, and Star run about 443 feet in length and sail Europe's Rhine, Main, Danube, and Moselle rivers.
Emerald Liberté is 361 feet long and plies the French waterways of the Rhône and Saône. Emerald Radiance was purpose-built for Portugal's Douro River at 292 feet long. Emerald Harmony is the line's dedicated ship on the Mekong River, measuring 239 feet long.
Emerald's mega-yacht, Emerald Azzurra, and it runs 361 feet long.
RELATED: How to Pack for a Spring Europe River Cruise
Onboard Emerald Cruises River Ships
Emerald's six primary ships on the popular Rhine, Danube, and its tributaries accommodate 180 passengers in 91 cabins. The smaller Emerald Luna has a scant 92 cabins.
Emerald Liberté hosts up to 132 passengers in 67 cabins, while Emerald Radiance has the capacity for 112 guests in 52 cabins. On the Mekong, you'll sail onboard Harmony with 84 total guests in 42 cabins.
The greatest capacity on an Emerald ship is its chartered vessel, Nizhny Novgorod, which can accommodate 204 passengers with 106 cabins. The Yacht Emerald Azzurra carries 100 guests in 50 cabins.
Children over the age of 12 are allowed onboard all Emerald's river ships. Any passenger 21 years or younger must room with an adult over the age of 21. Family groups are welcome onboard, but there are no dedicated activities for children.
Cabin Details
Emerald Cruises' Star-Ships generally offer four cabin categories spread across four decks: Standard Cabins (Deck 1), Panorama Balcony Suites (Decks 2 and 3), Owner's Suites (Deck 3), and Grand Balcony Suites (Deck 3).
Seven of Emerald's river ships also offer two 117-square-foot staterooms for solo travelers. These do not require a single supplement and excludes Emerald Radiance and Emerald Harmony.
Riverview Suites are featured on Emerald Radiance, at a whopping 300-square-feet with views along two walls of your cabin.
Emerald Azzurra offers staterooms closer to an oceangoing ship, with categories like Oceanview, Balcony, Deluxe Balcony Suite, Terrace Suite, Yacht Suite, and Owner's Suite — a staggering 1,162 square-feet.
Cabin options on Nizhny Novgorod include Twin (142 square feet), Double Deluxe (167 square feet), or Suite (298 square feet).
Emerald Cruises' Personality
To say "cheap and cheerful" would be selling the river cruise line short, though good value and friendly service both apply. We like that dedicated ships in France, Portugal, and Southeast Asia are custom fit to each destination, and the experience including the cuisine reflects the itinerary.
The onboard ambiance is casual and comfortable across the fleet. There are no formal nights other than the welcome aboard and farewell dinners.
Fellow Passengers
Emerald Cruises primarily attracts North American and British passengers. You'll find a smattering of Aussies and New Zealanders who have crossed over. Expect to mix with lively retirees as well as a handful of working professionals on any given sailing.
Dining Aboard Emerald Cruises
An Emerald Cruises review wouldn't be complete without mentioning the dining. As with most river cruise lines, basic choices are uniform across their river ships. Dining venues include the Reflections Restaurant, where a destination-inspired multi-course meal is served at dinner. A plentiful buffet for breakfast and lunch are also offered at Reflections.
There's the Horizon Bar and Lounge for a casual bite and Sky Barbecue on the top deck and serves hot off the grill, weather permitting.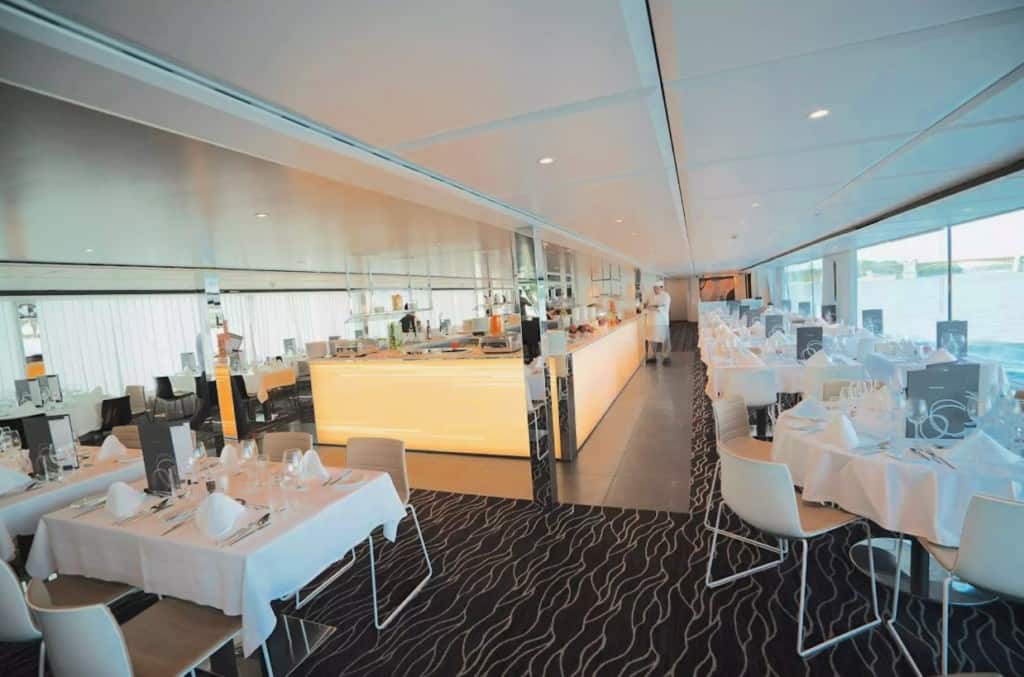 Guests can also enjoy light fare for breakfast and lunch at The Terrace, on Deck 3. On Emerald Harmony, there is the Lotus Lounge in place of the barbecue, offering tea and snacks on Deck 2.
Once again, Emerald has thought about solo travelers. They've included tables for two in the dining room, for those that prefer a quiet meal alone.
Emerald's chartered ship sailing the Volga offers two restaurants and two relaxed bar areas.
Alternative Dining Options
There are no specialty or additional-fee dining options found on any of Emerald's ships.
Onboard Amenities
Emerald Star-Ships' signature amenity is a convertible heated pool that transforms into a cinema by night with a retractable roof. Due to their smaller size, the pool does not convert on Emerald Harmony or Radiance.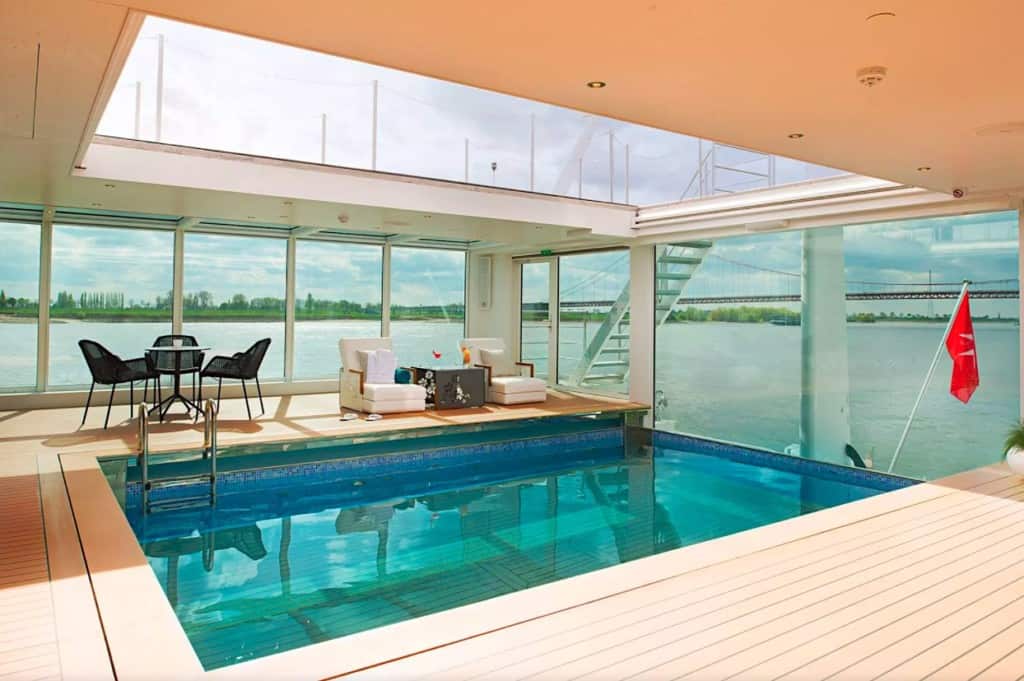 Apart from this fancy feature, river ships feature a sun deck with lounge chairs, a walking track, a putting green, and a small fitness center onboard with both machines and weights.
Nearby is a spa treatment room and a hair salon. Most river ships also offer use of bicycles on a sign-up basis. There is also a small souvenir shop onboard selling logo items as well as local wares.
Emerald River Cruises are Best For…
First-timers looking to explore some of the world's most popular rivers; friends, couples, or adult families who want to sail in comfort but don't require luxury. It's also appealing to cruisers who are yacht-curious but whose entry point is mid-market river cruising.
Included Alcohol and Beverages
Wine, beer, and soft drinks are included at lunch and dinner, as well as unlimited tea and coffee. An onboard sommelier handpicks local wines to feature each evening, and recommended premium and rare wines are available for an additional charge, as are cocktails.
Depending on the region, special tasting events might take place such as a port tasting while sailing the Douro. A variety of drink packages are offered for a fee.
Gratuities
A true perk of Emerald Cruises is that all gratuities are included in the price of their river cruises. No surprises at the end of your trip.
Where Emerald River Cruises Go
To recap, Emerald's river cruises traverse Europe and includes voyages on the Danube, Main, Rhine, Rhône, Saône, Mosel and Douro. Emerald offers country-intensive sailings in France (Rhône) and Portugal (Douro). You'll also find Emerald cruising the Mekong in Southeast Asia and Russia's Volga River.
Brittany Chrusciel has covered the cruise industry for many years, formerly as Cruise Critic's Destinations Editor, and has been quoted in publications such as Skift, USA Today, and the LA Times. She is a proud alumnus of Semester at Sea, where she circumnavigated the globe while studying writing, Spanish, and political science. Her favorite river cruise experiences so far have been visiting the Christmas markets with her German grandmother, and Portugal's Douro River.