If you've always wanted to cruise the Panama Canal, Holland America is ramping up their options. Beginning in 2022 and continuing into 2023 the cruise line is sending four cruise ships on full and partial Panama Canal cruises.
With four ships slated for this special itinerary, choosing your Panama Canal cruise just got easier.
A Panama Canal cruise was on my cruise bucket list for many years. Finally, just before the pandemic hit, I completed a full Panama Canal transit, from Fort Lauderdale to Los Angeles. In short, it was spectacular.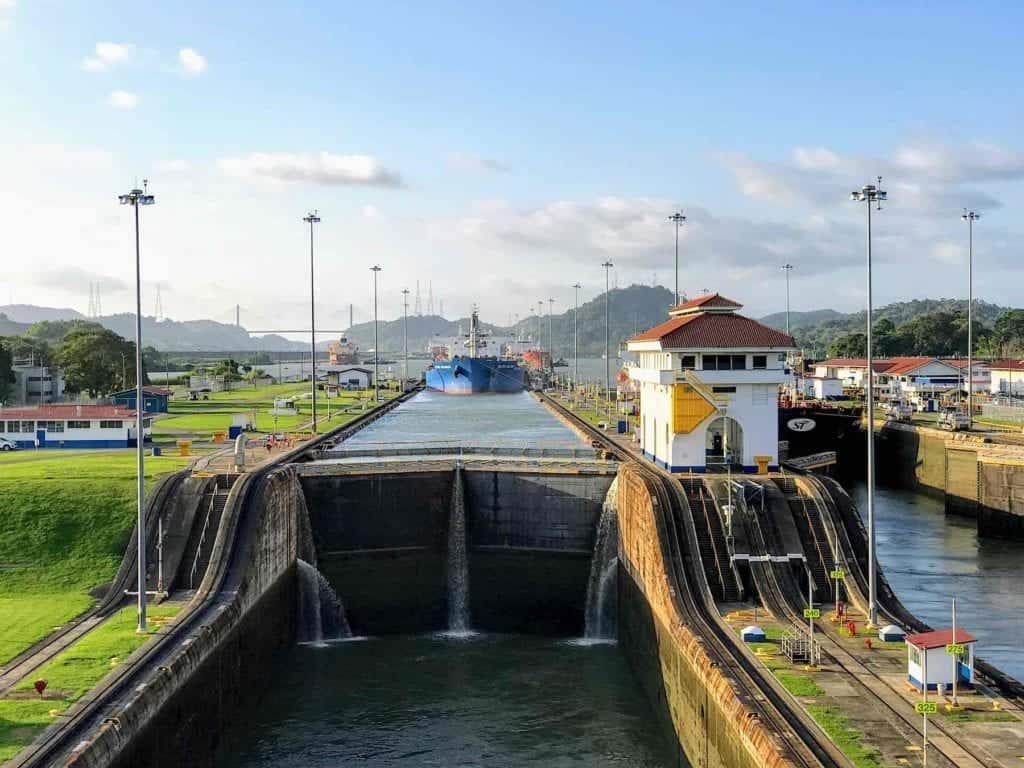 New Holland America Panama Canal Cruises for 2022-2023
Beginning in fall of 2022, Holland America's Eurodam, Nieuw Amsterdam, Volendam and Zuiderdam will offer a total of seven full transit Panama Canal cruises. The eight-hour daylight transit between the Atlantic and Pacific oceans is definitely part of the bucket-list cruise experience.
In those eight hours, you'll cruise through what took 35 years to build. Meanwhile, onboard enrichment lecturers will share the history and construction of the Panama Canal. For me, it was important to attend these events just to satisfy my curiosity how the canal was built.
Holland America's four ships will offer full transit, coast-to-coast cruises that range in length from 14 to 23 days. The longer cruises begin or end further north in Seattle or Vancouver.
READ MORE: Things to Do in Cartagena, Colombia on a Day in Port
From the west coast, departure ports include Vancouver, British Columbia; Seattle, Washington and San Diego, California. East coast departures will originate in Fort Lauderdale, Florida.
During the cruise, port calls include stops in Central America and the Caribbean. So you're really combining a Panama Canal cruise with some of the less-visited Central America cruise ports.
Choose Your Holland America Panama Canal Cruise
Trying to decide on a full Panama Canal coast-to-coast transit or a partial transit round-trip from Florida? Of course if time allows, the 14-to-23 days cruise is the bucket list itinerary.
But if you can't get away for that much time or if budget is a consideration, Holland America has several excellent choices. And you'll still go through almost all of the Panama Canal, too. Plus Caribbean ports, too.
READ NEXT: How to Choose Your Panama Canal Cruise Itinerary
Partial Panama Canal Transit and Gatun Lake
Combine a 10- or 11-day Caribbean cruise with a partial canal transit aboard Eurodam and Volendam roundtrip from Fort Lauderdale. You'll visit tropical ports on your way to Gatun Lake and still spend a day of scenic cruising throughout the canal.
Partial Panama Canal cruise highlights:
EURODAM: Fall 2022 and Spring 2023 – Take a Sunfarer cruise for 10- or 11-day Panama Canal voyage roundtrip from Fort Lauderdale. Spend time at Gatun Lake and add port calls in Costa Rica, Columbia and the Caribbean.
VOLENDAM: Holiday cruise 2022 – Dec. 17 departure on a 10-day Panama Canal Sunfarer itinerary roundtrip from Fort Lauderdale. In addition, this cruise includes time at Gatun Lake during the partial Panama Canal transit. This cruise can be combined with a seven-day eastern Caribbean itinerary.
Full Transit Coast-to-Coast Panama Canal Cruise
EURODAM
October 8, 2022: Depart from Seattle for 21 days or Oct. 9 from Vancouver for 20 days or Oct. 13 from San Diego for 16 days on full transits to Fort Lauderdale. Ports of call include Mexico, Guatemala, Nicaragua, Costa Rica and Aruba.
April 9, 2023: Depart from Fort Lauderdale transiting to San Diego for 15 days, Vancouver for 19 days or Seattle in 20 days. Ports of call include Mexico, Guatemala, Nicaragua, Costa Rica and Colombia, plus an evening departure from Victoria, B.C.
NIEUW AMSTERDAM
Oct. 2, 2022: Depart from Vancouver for 23 days or Oct. 8 from San Diego for a 17-day cruise transiting to Fort Lauderdale. Ports of call include Mexico, Guatemala, Nicaragua, Costa Rica, Aruba and California. On the longer cruise, there will be an evening sail away after a visit to San Francisco, California. On the Atlantic side, the cruise will visit Half Moon Cay, Holland America Line's private island in the Bahamas.
April 9, 2023: Depart from Fort Lauderdale transiting to San Diego in 17 days or Vancouver for a 21-day cruise. Ports of call include Mexico, Nicaragua, Costa Rica, Colombia, Aruba and Turks and Caicos. Vancouver departures add an evening sail away from Victoria. B.C.
VOLENDAM
April 15, 2023: Fort Lauderdale transiting to San Diego for 17 days or from Vancouver in 21 days. Ports include destinations in Turks & Caicos, Aruba, Colombia, Costa Rica, Nicaragua and Mexico. Vancouver guests will also have an evening departure from Victoria.
ZUIDERDAM
Nov. 17, 2022, and April 4, 2023: Depart from San Diego transiting to Fort Lauderdale in 14 days with port calls in Colombia, Nicaragua, Mexico, Costa Rica and Guatemala.
Named "Best in the Panama Canal and Central America"
Holland America Line was named the first choice for Panama Canal cruises by Cruise Critic's 2019 Cruisers' Choice Destination Awards. I'd cast my vote for Holland America for Alaska cruises, too.
READ MORE: Holland America Eurodam Alaska Cruise Review
How Much Does a Holland America Panama Canal Cruise Cost?
Panama Canal cruise prices begin at $2,469 per person based on double occupancy on a 14-day sailing. Prices include Holland America's "Have it All" premium package.
This includes two shore excursions, a Signature Beverage Package, two nights specialty dining in Pinnacle Grill, Canaletto or Tamarind (depending on ship), and a Wi-Fi Surf Package throughout the cruise.
However, if the almost-all inclusive add-on isn't for you, cruise-only standard fares start at $1,909 per person, double occupancy. Taxes, fees and port expenses are additional.
I'm the editor and creator of CruiseMaven.com, a solo traveler cruising the world on waves and wheels, collecting recipes along the way.  I hope my articles and photos entertain, advise and inspire you to travel the world without flying.  Take a breath…stop for a local meal and a glass of wine along the way.