Probably the most aggravating aspect of a cruise is the pre-cruise clustered safety drill known as muster. Royal Caribbean Group now has a new way to conduct a muster drill. It's called Muster 2.0.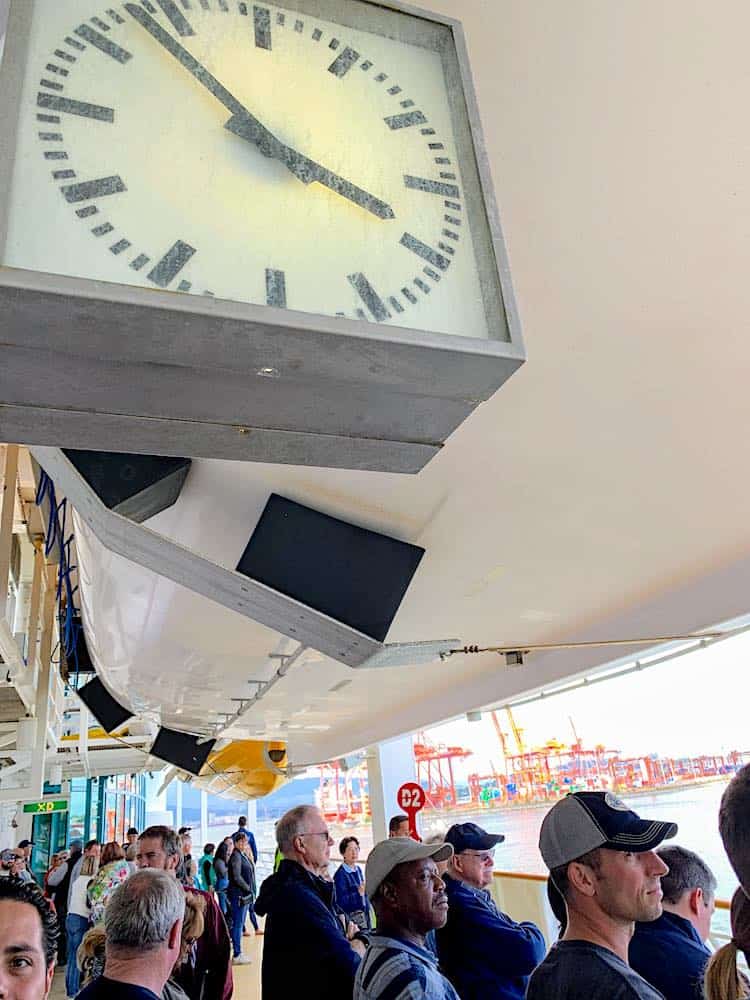 Royal Caribbean Group explains Muster 2.0 program
Group muster drills will soon be an unpleasant memory, according to Royal Caribbean Group. This is all part of the cruise company's plan to safely return to cruising during and after the COVID-19 pandemic. Muster 2.0 was developed in joint partnership between Royal Caribbean Group and Norwegian Cruise Line and their newly-formed Healthy Sail panel of experts.
Muster 2.0 uses a new technology, called eMuster, that guests can access on their mobile devices or stateroom TVs. The virtual drill will be completed individually rather than in a packed-like-sardines formation on deck or in lounges.
No more hiding in your stateroom bathroom or pretending to be asleep. Instead, before the ship leaves the port, you are required to review the information and complete the steps needed to pass muster. Literally.
Available on your mobile device or screen, there will be information on how to properly put on and use a life jacket. It will also tell you where to go in case of emergency. Basically, you can get a head start on your cruise and simply sip your sailaway cocktail while reviewing your eMuster procedure.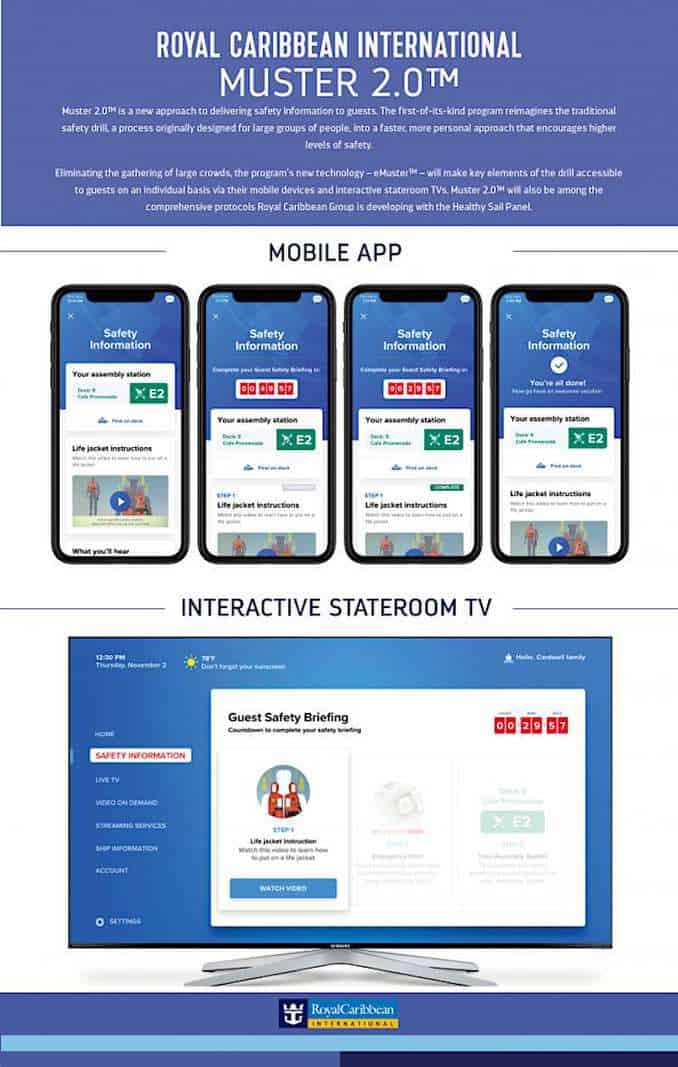 Once you've reviewed the safety information, you'll need to visit your assigned muster assembly station. There, a crew member will double-check that you've completed and answered all the questions. All of these steps must be completed before the ship can sail. It's required by international maritime law.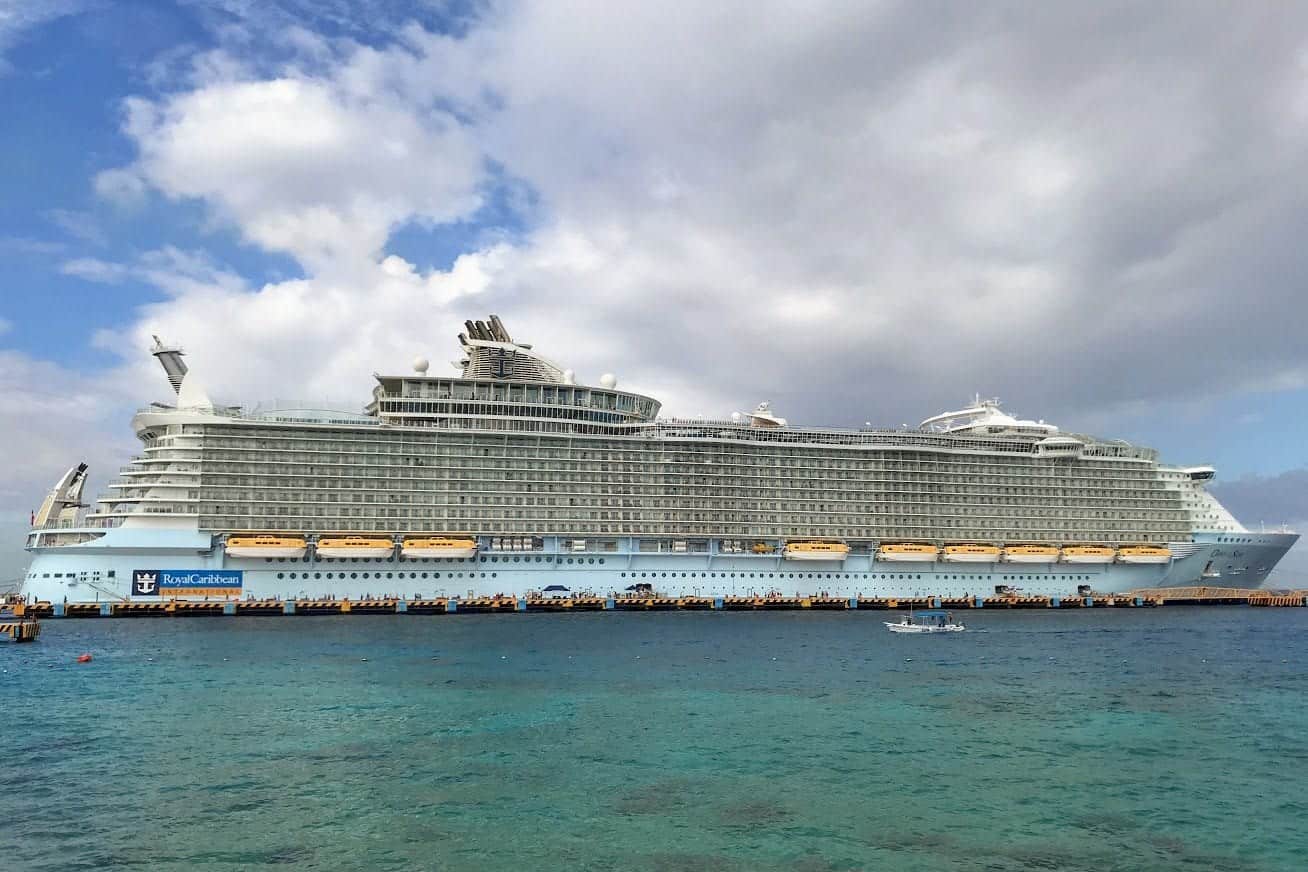 "The health and safety of our guests and crew are our number one priority, and the development of this new muster process is an elegant solution to an outdated, unpopular process," said Richard Fain, chairman and CEO, Royal Caribbean Group. "The fact that this will also save guests time and allow the ship to operate without pause means that we can increase health, safety and guest satisfaction simultaneously."
The last time that Royal Caribbean announced a new muster drill was nearly a decade ago. That was when Oasis of the Seas removed life jackets from staterooms to muster stations.
Though Royal Caribbean Group states that this plan has been in the works for over a year, it's more than coincidental that this new muster drill-light is being introduced during the pandemic and when cruise lines are itching for CDC approval to sail.
"This new process represents the kind of innovation that the Healthy Sail Panel is focusing on as part of its mission to enhance the health and safety of cruising," said former Utah Gov. Mike Leavitt, co-chair of the Healthy Sail Panel. "It shows that we can accomplish a lot if we try to think outside the box on safety."
Royal Caribbean Group (the new collective name for Royal Caribbean, Celebrity Cruises, Azamara and Silversea) has been issued a U.S. patent and awaiting patents in other global cruise markets. As one would hope, RCG has received approval on its new muster technology from the U.S. Coast Guard, international regulators and other authorities.
"Muster 2.0 represents a natural extension of our mission to improve our guests' vacation experiences by removing points of friction," said Jay Schneider, Royal Caribbean Group's senior vice president of digital. "In this instance, what's most convenient for our guests is also the safest option in light of needing to reimagine social spaces in the wake of COVID-19."
New Muster 2.0 expands to more cruise lines
You'll find Muster 2.0 on three of Royal Caribbean Group's cruise lines; Royal Caribbean, Celebrity and Azamara. Plus Royal Caribbean Group is offering their patented muster drill to other cruise lines. They also said they'll waive patent license fees during the pandemic.
READ MORE: Competing cruise lines pair up for return to cruising plan
As a collaborator in the Healthy Sail Panel, Norwegian Cruise Line Holdings has been granted a patent license. This will bring Muster 2.0 to Norwegian Cruise Line, Oceania Cruises and Regent Seven Seas Cruises. Under the Royal Caribbean Group umbrella, TUI Cruises GmbH in Europe also has been given access to use the new muster technology.
Muster 2.0 had a test run
Back in January 2020, Muster 2.0 was first tested on Royal Caribbean's Symphony of the Seas. While not the actual muster drill en mass, guests were able to participate in the future eMuster drill. According to Royal Caribbean Group, guests who took part in the mock drill preferred that over the traditional line up in the hot sun. Doing this on their own showed "better comprehension and retention of the safety information."
Related articles by Cruise Maven
I'm the editor and creator of CruiseMaven.com, a solo traveler cruising the world on waves and wheels, collecting recipes along the way.  I hope my articles and photos entertain, advise and inspire you to travel the world without flying.  Take a breath…stop for a local meal and a glass of wine along the way.