The expression, "What's old is new again" popped into my head as I boarded Holland America's Maasdam for an extended Alaska cruise. My last experience aboard the smallest ship in their fleet was way back in 2012 on a 10-night Canada New England voyage.
Since then, Maasdam underwent a huge refurbishment in 2016. I was excited and curious to see what changes were made and check out the upgraded furnishings.
Maasdam Cruise Ship Review and Photos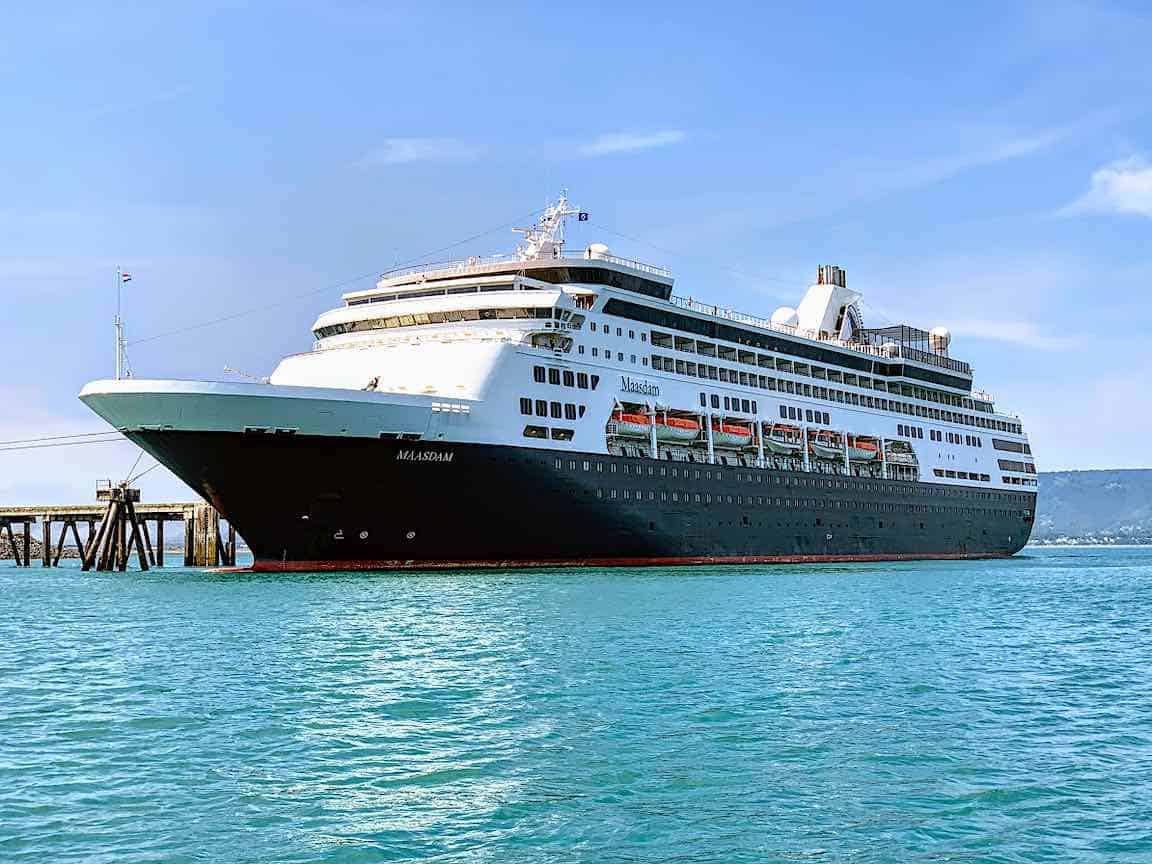 Fast Facts – Holland America Maasdam
Inaugural: 1993
Refurbished: 2016
Passengers: 1,258
Crew: 569
Dining Options: Six, plus ice cream bar and complimentary room service
Self-serve laundromat: Yes, three on various decks.
Wrap-around promenade: Yes. Four times around is a mile.

Welcome Aboard Holland America's Maasdam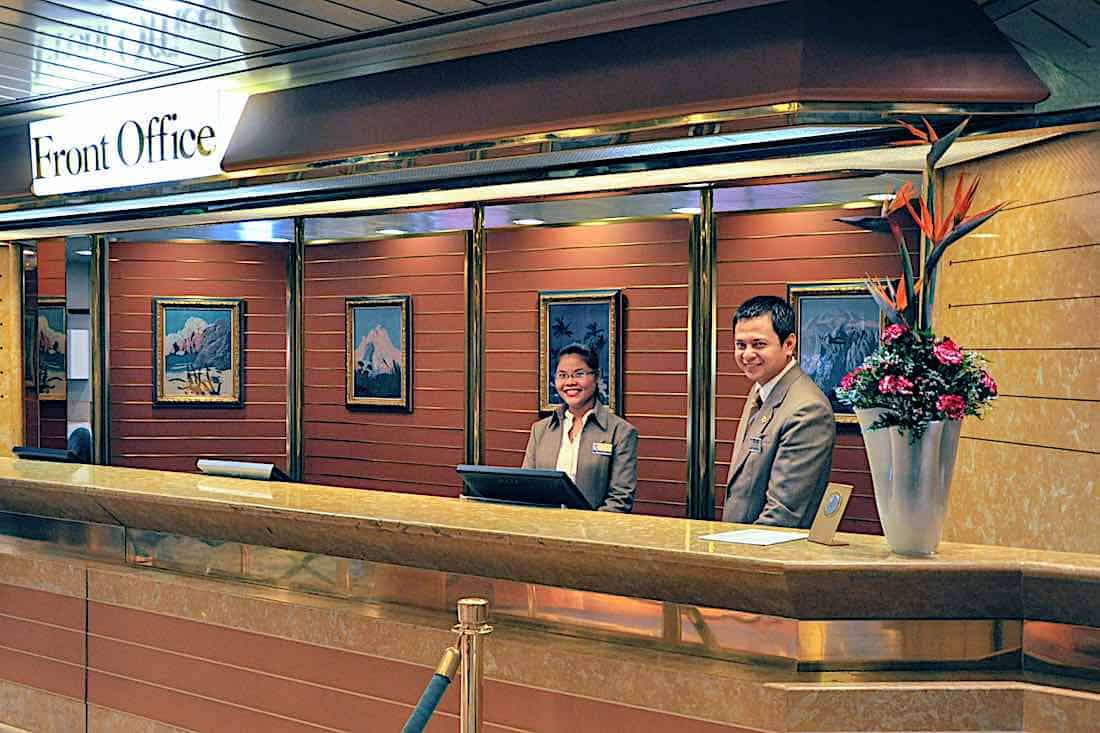 My First Impressions
EMBARKATION EXPERIENCE
If you ever have a chance to cruise from San Francisco (and I hope everyone does) arrive a day or two before. That said, keep in mind that San Francisco is super-expensive. I was able to get a good hotel deal across the bay in Emeryville at the Courtyard by Marriott for under $160 on the HotelTonight app. From the Courtyard to the historic port was about a 35-minute Uber ride of $40 or so plus tip.
One of the joys of small(er) ship cruising is the ease and speed of embarkation. Today was no exception. The port staff was helpful and very friendly as I made my way through the sunlit terminal. No wait to scan my luggage and maybe a one minute wait in line to check-in. I was on board the ship and in my stateroom within 20 minutes from when I arrived.
Maasdam is a much-loved older ship with very dedicated past passengers. Part of the reason could be because the ship imparts a feeling of spaciousness and comfort yet still has all the features that seasoned cruisers expect. You'll find that Maasdam has an uncomplicated deck plan, a wide wraparound promenade and plenty of elevators so there's rarely a wait.
The Filipino and Indonesian staff are helpful and friendly. A wide variety of evening entertainment includes magicians, comedians, singers and dancers, and two big production shows. Often, noted entertainers board the ship in one port for a one-night-only performance and leave the ship in the next port.
There's supervised care at Club Hal, for ages 3-17 years old. Separate age-appropriate activities and youth centers have pirate treasure hunts and arts and crafts for the younger kids to sports competitions, Wii and a teen night club for teens, all with supervision.
As on many older ships, aboard Maasdam you won't find a million balcony staterooms. In fact, only suites have balconies. There's an odd little class of staterooms called, Lanai saterooms. Each stateroom has a sliding glass door that leads onto the Promenade Deck instead of a balcony.
Luckily, the glass sliding doors are well-tinted so passersby can't see inside…during the day. At night, it's a good idea to keep the drapes closed.
Maasdam Review: My Oceanview Stateroom
Located on A Deck (the lowest deck), my stateroom was absolute midship, port side # 774. Great location, especially for going ashore. The deck for the gangway was just below. We'd have plenty of shore days on this long cruise and it's nice to have easy access back to your stateroom after a day ashore.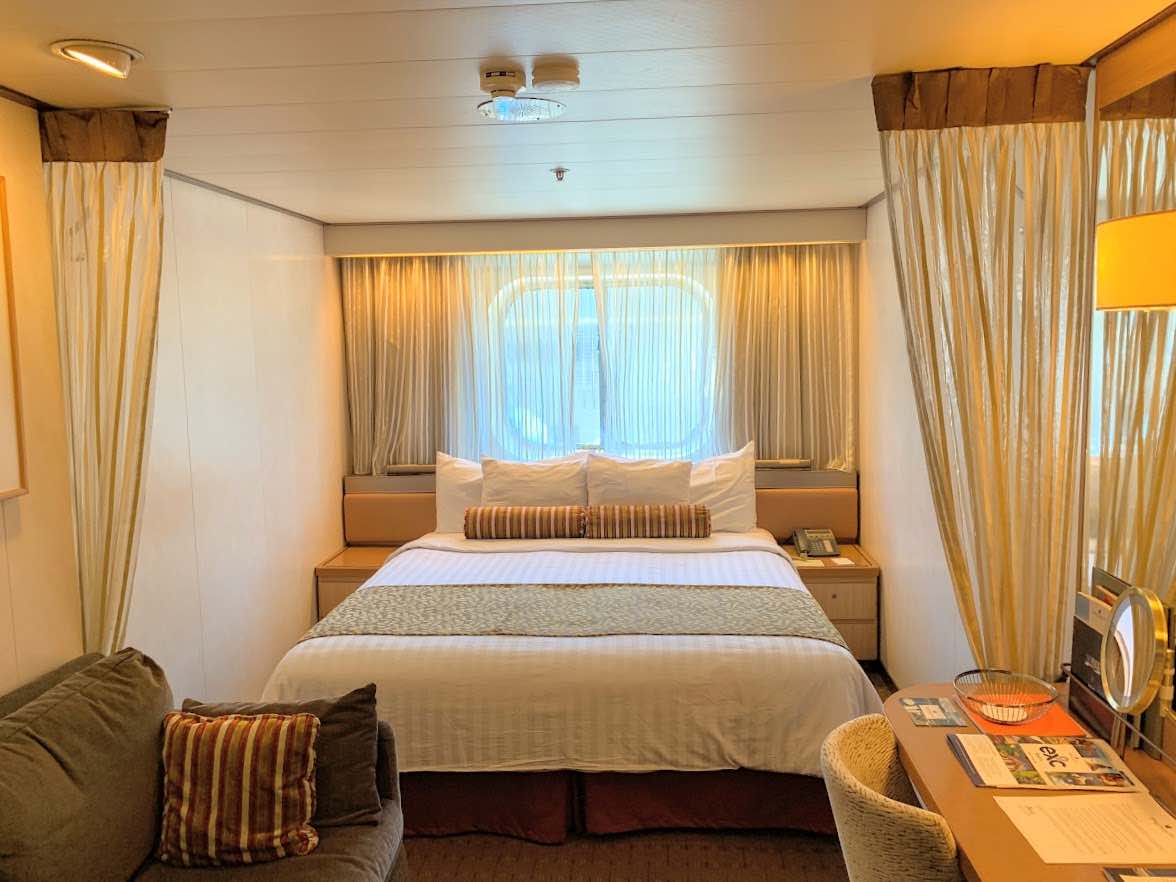 There's that old saying, "once you've had a balcony stateroom, you're spoiled forever." Well, it's partially true. But when you are on a ship where only suites have a balcony, suddenly you don't feel so left out. I think nearly every day I curled up in the curve of the large picture window and just watched the spectacular Alaskan scenery.
Every stateroom has a DVD/CD player and you can borrow from a huge selection of DVDs and CDs at the Front Desk. Every stateroom has a safe, too.
Another perk of being on this low deck, especially in Alaska, I was nearly at eye-level with passing sea otters, Stellar seals and oh…an occasional whale. Great stateroom location.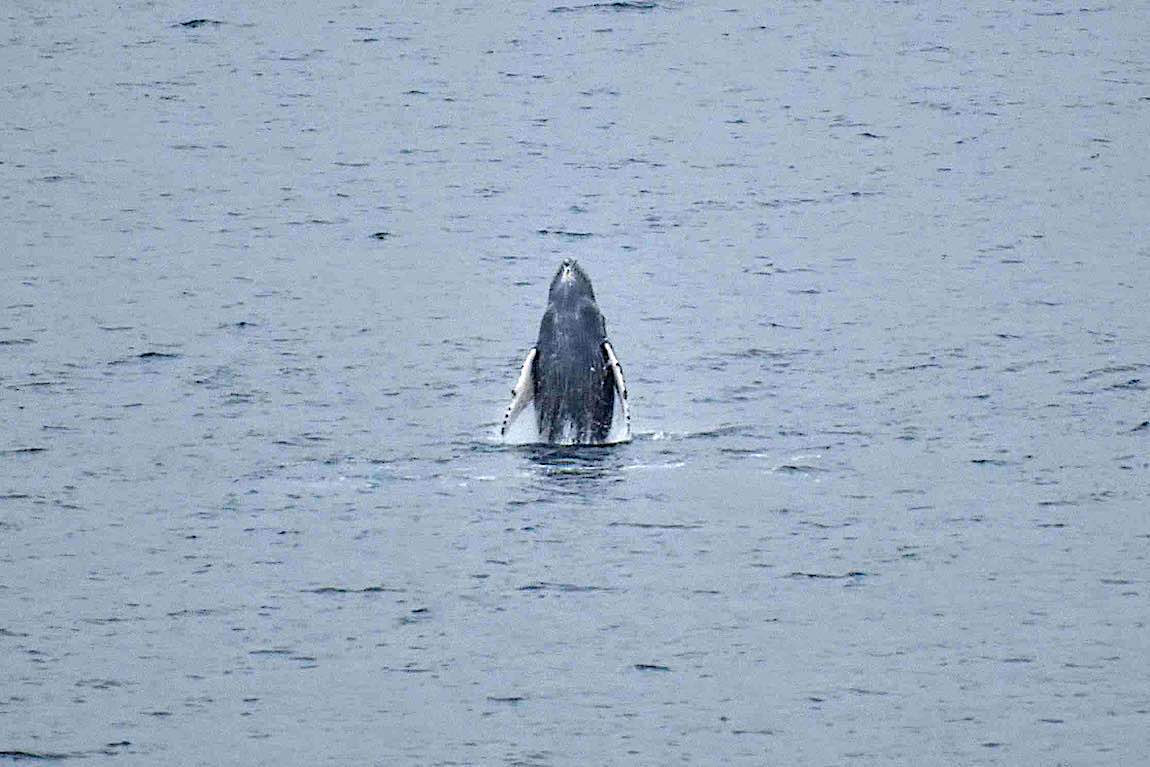 Another nice feature about any standard Maasdam accommodation is the long desk/vanity area. Plenty of storage and countertop space. If you were sharing this room, the divider curtain to the closet and bathroom offer privacy.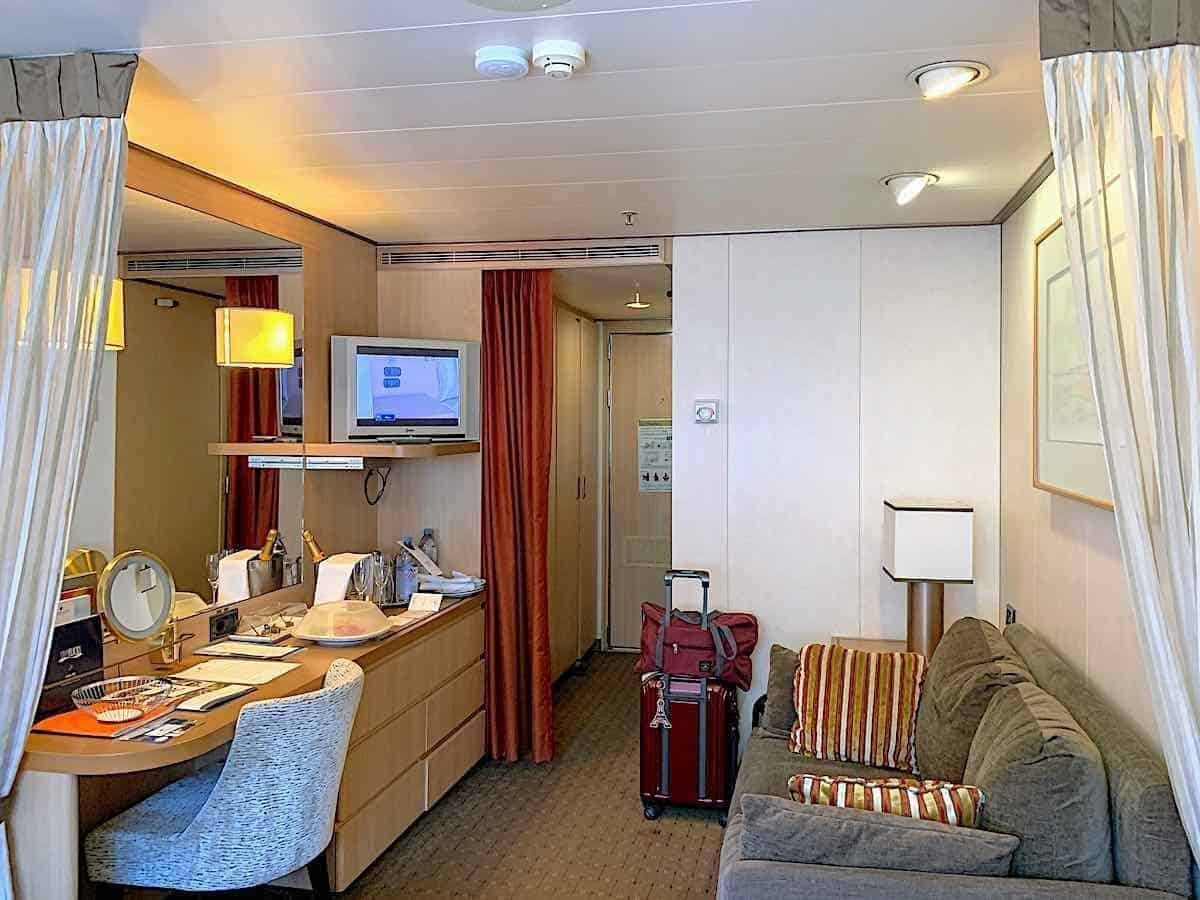 Ah…a bathtub. At one time, all staterooms on Holland America ships had bathtubs. Sadly, unless you have a suite, they've disappeared on the newer ships.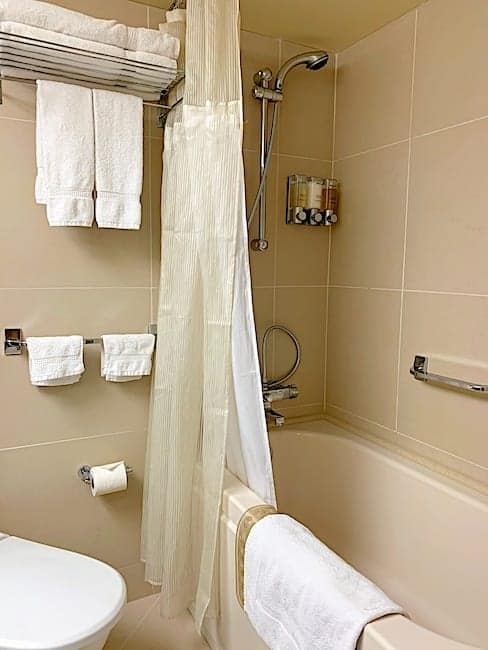 It took me a couple of minutes and then I remembered. On Maasdam, as on other Holland America ships, too, the hair dryer is in the dresser drawer. Also, another make-up mirror.

Dining on Maasdam
On the first night, I signed up for late dining with assigned tables at 8pm. Over the years, I've made up a game. I call it First Night Main Dining Room Roulette.
Basically, I follow the waiter as I'm led to the table, passing by other tables with people seated whom I think would be good tablemates. It almost never fails that when I reach my assigned table for 10, there are only four or five other passengers seated. At a table that size, even when you scooch together, conversation reverts to almost yelling to be heard over dining room clatter.
The first night here was no different than previous ventures. As the waiter sidled up to the table and reached for my chair, I said, "Excuse me," and gently pivoted for a quick exit to the Lido Buffet. The others at the table for 10 were a family of three and I would be the odd one out. I'd try again another night.
Where to Eat
You'll find six sit-down restaurants on Maasdam:
The Dining Room (Main Dining Room) – Included
Lido Buffet – Included
Pinnacle Grill – $39pp
Rudi's Sel de Mer Pop-up – $49pp
Canaletto Italian – $19pp
Dive-In – Included
24-Hour Room Service – Included
Explorations Cafe – $ for Specialty Coffee & Tea; complimentary snacks
Pizza Bar – Included
Ice Cream – Included
If you want to go the traditional route in The Dining Room, fixed seatings are at 5:45pm and 8:00pm. I like that there's plenty of time for the folks in first seating to enjoy their dinner and not feel rushed.
For those who prefer their own schedule, Flexible Open Dining is available between 5:15pm and 9:00pm. With a non-fixed dining time, simply call dining reservations on board or head to The Dining Room during dining hours.
READ NEXT: How to pack for an Alaska cruise
Here are a few of my favorite meals from Maasdam in July 2019…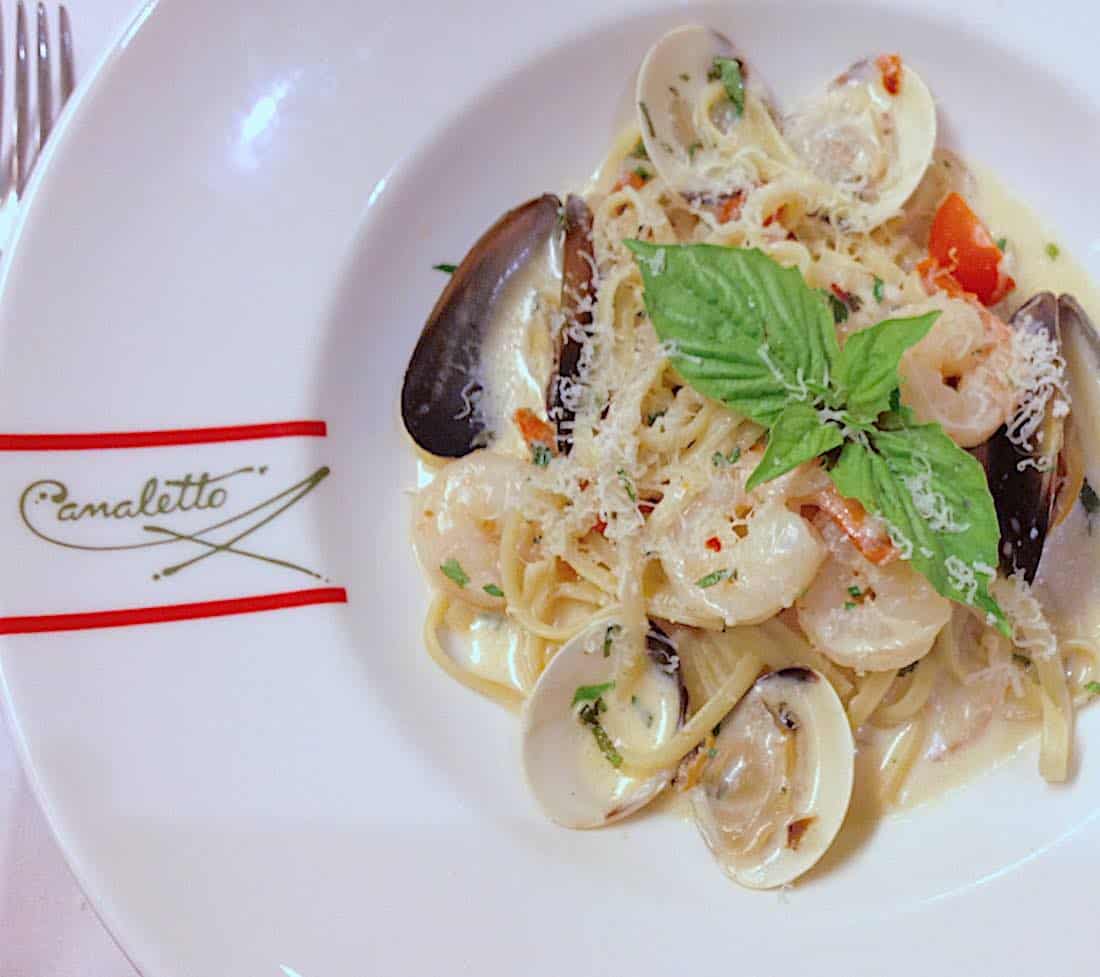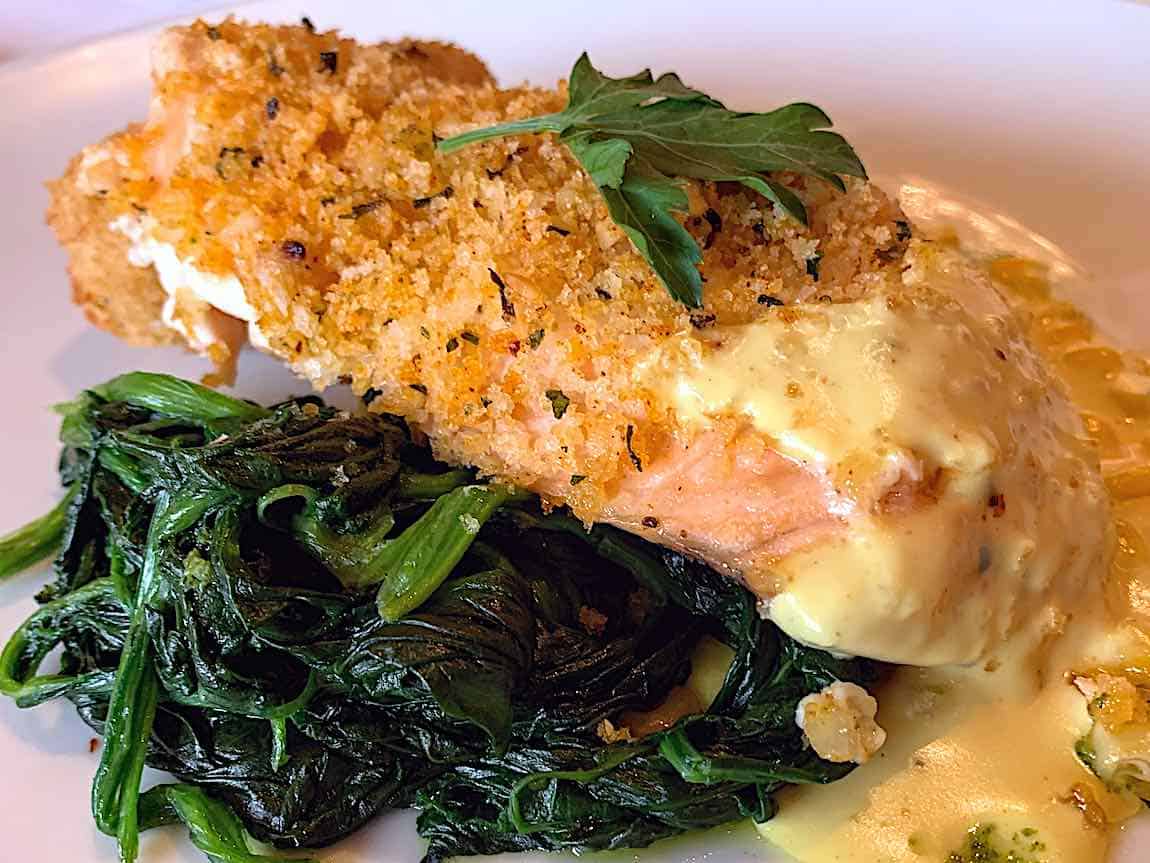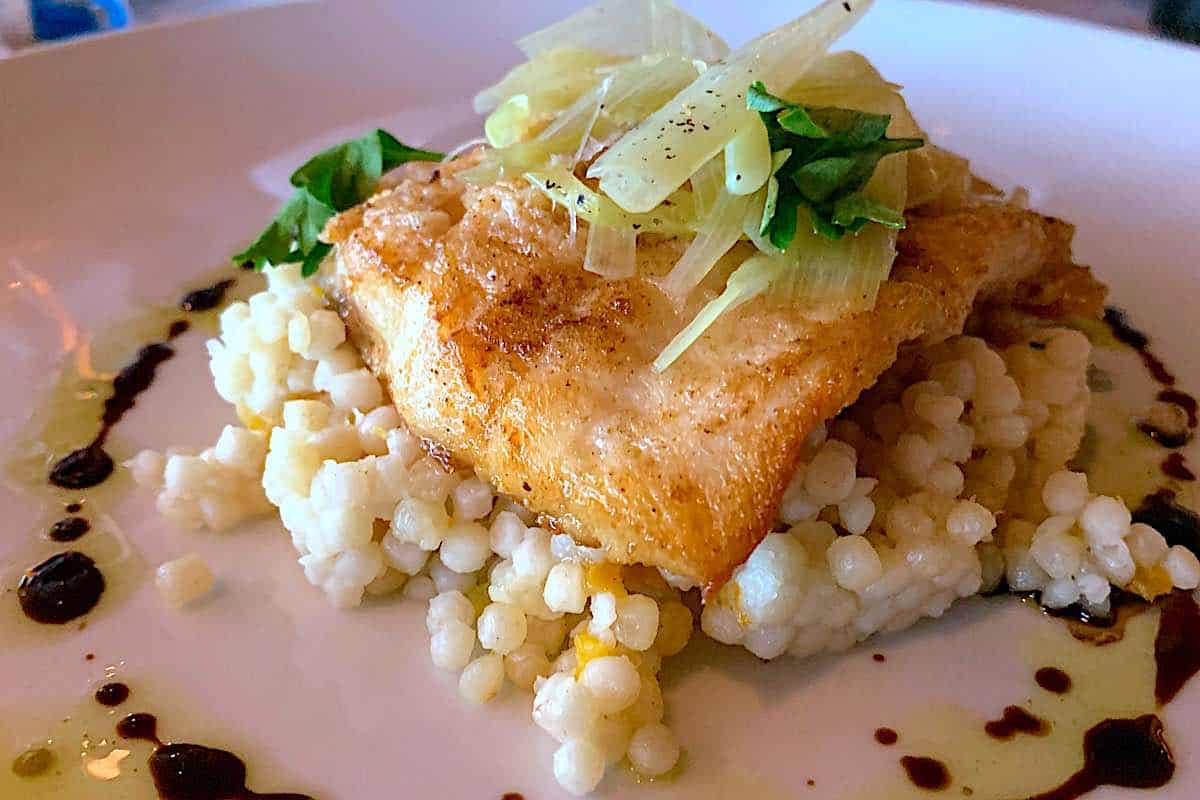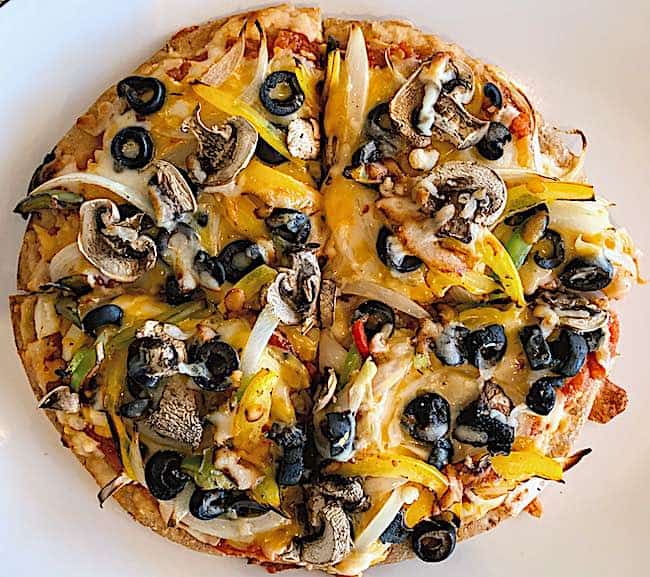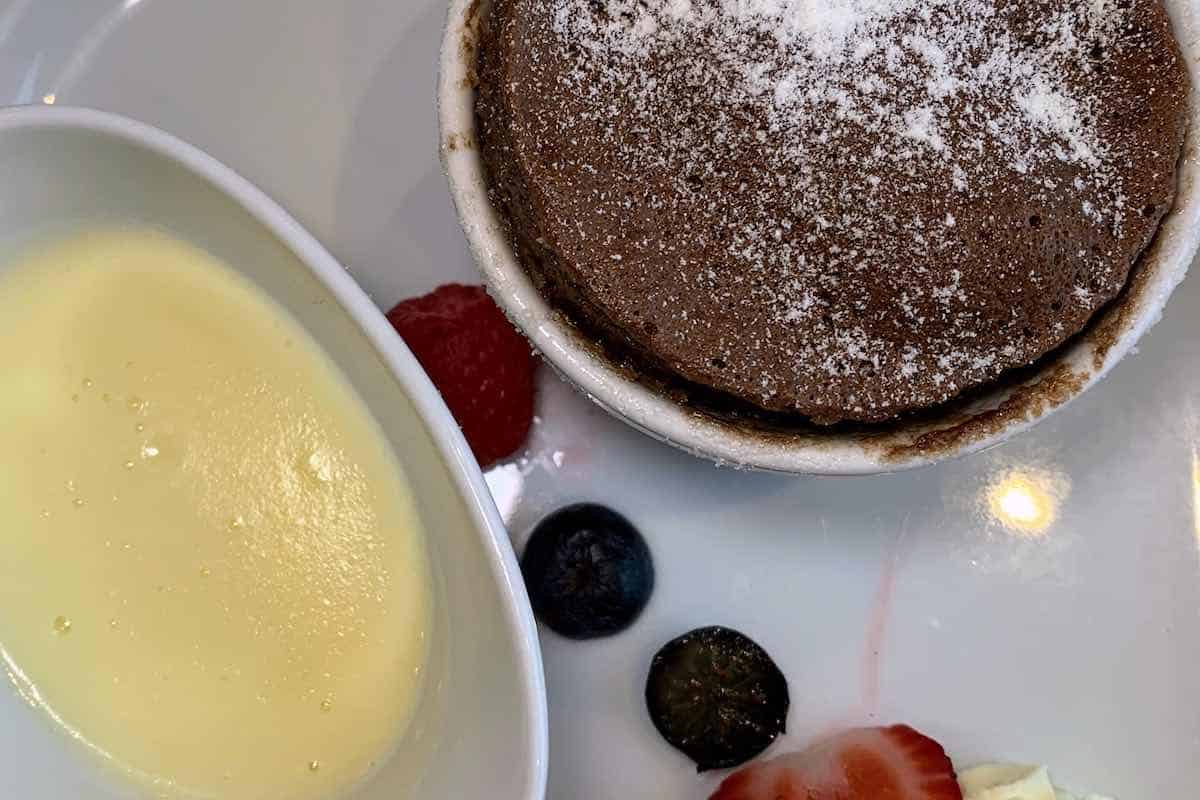 And finally, salmon, salmon and more salmon. We were in Alaska, after all.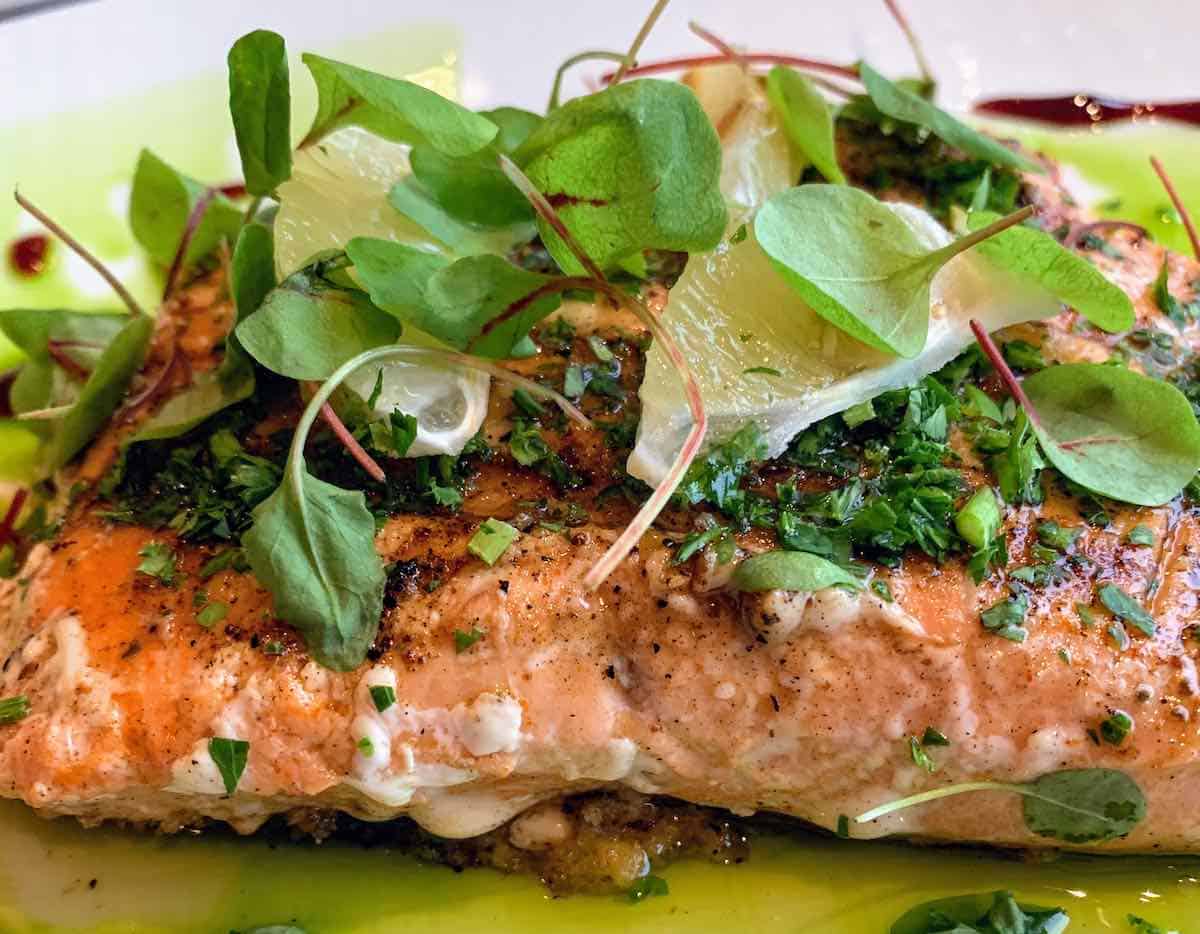 Maasdam Review: Available Accommodation Choices

With a modest selection of seven types of staterooms, choosing your accommodation isn't too complicated. Reminiscent from ships of yore, as I mentioned earlier, the unique Lanai staterooms have a sliding door that opens right onto the outdoor deck of the Lower Promenade. Included are two teak reclining chairs reserved only for the Lanai guests. Tinted glass prevents passersby from seeing inside the stateroom during the day.
INSIDE: Standard Inside and Spa Inside
OCEANVIEW: Standard Oceanview, Spa Oceanview, Porthole, Partial Oceanview and Fully Obstructed
LANAI
VISTA SUITE: Standard Vista Suite, Spa Vista Suite
NEPTUNE SUITE
PINNACLE SUITE
High above on Deck 10 you'll find the Vista, Neptune and Pinnacle Veranda Suites plus the impressive 1,273 sq. ft. Presidential Suite. The Concierge-staffed Neptune Lounge is a secluded retreat serving complimentary beverages and light fare, accessible only to the upper level Suite guests.
Following the 2016 refurbishment, Maasdam now has Spa suites and staterooms with a choice of inside, oceanview or balcony. Spa accommodation amenities include an iPod docking station, yoga mats and a special countertop water carafe.
Interior staterooms are comfortable with good lighting and plenty of closet and storage space. The bathrooms aren't enormous, but definitely well designed with sufficient countertop area.
Also included in the ship-wide refurbishment are those wonderful Signature Dream Beds, soft Egyptian cotton sheets, flat panel TVs and DVD/CD players. DVD and CD rentals are free and available at the Front Desk.
READ NEXT: Holland America Nieuw Statendam Balcony Stateroom Review

Public Rooms
Just because Maasdam is small, doesn't mean the ship lacks activities or public spaces. With six bars and lounges, a dedicated movie theater, full spa and fitness areas and even a library, in 21-days, I still didn't get to spend time in every place during the cruise.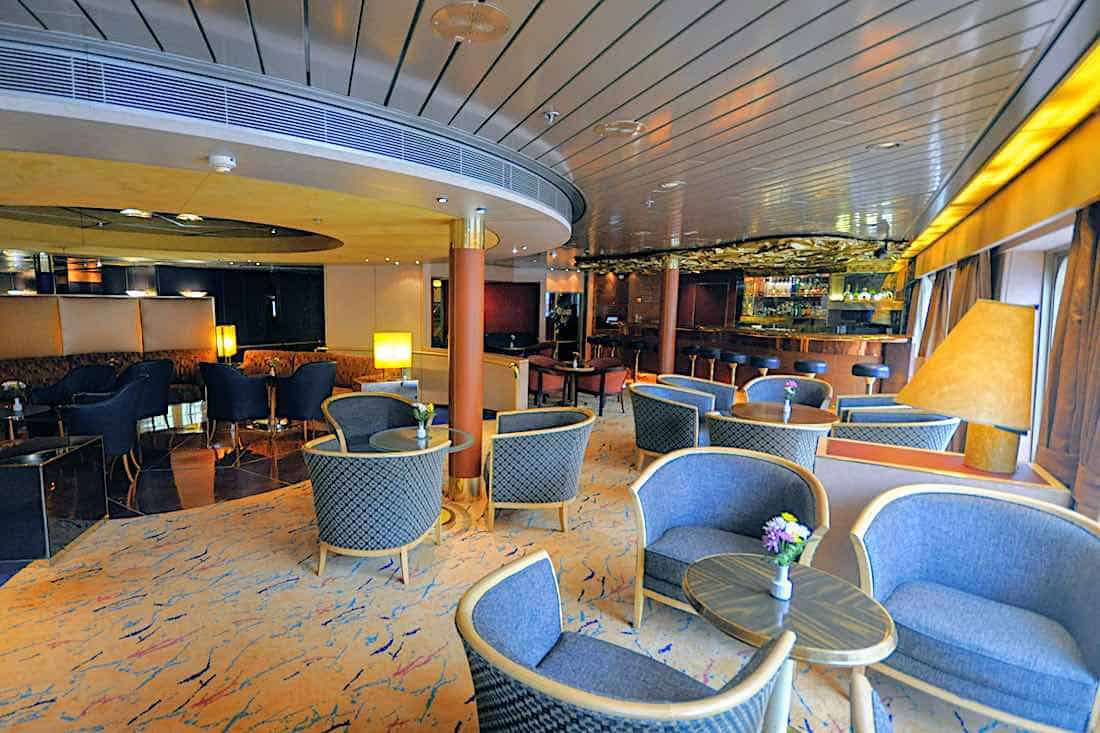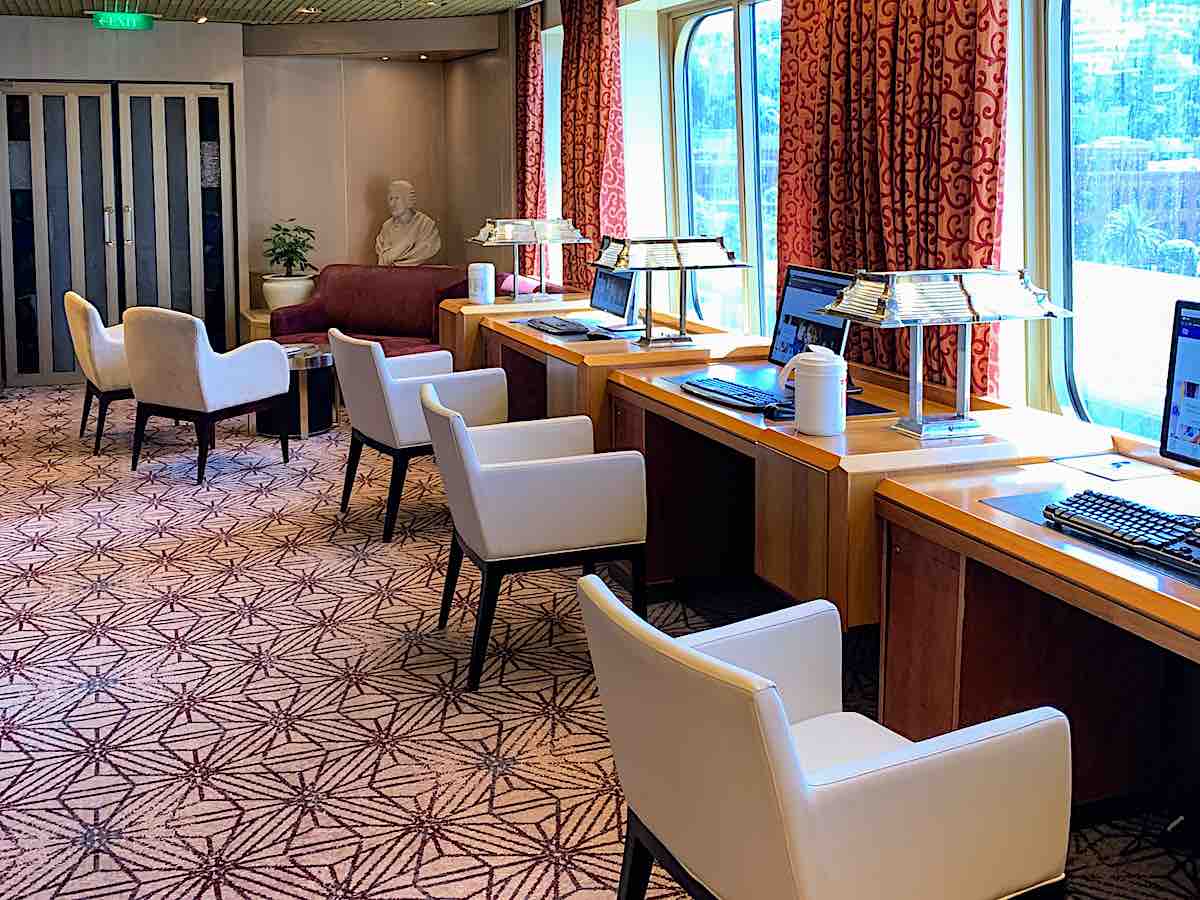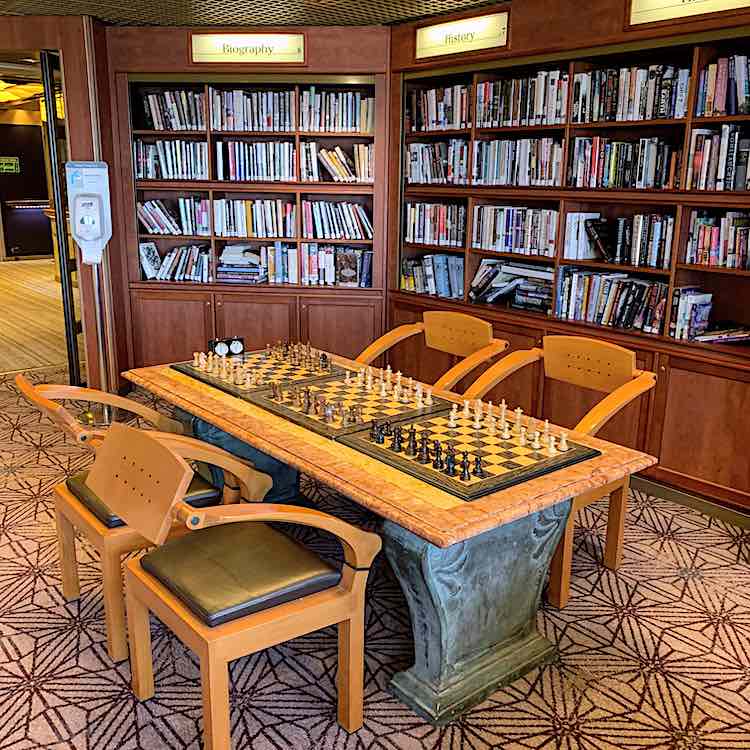 Of course there's the usual glitzy casino that didn't seem to ever have too many people at the tables or machines. On these longer, port intensive/cultural itineraries, that's usually the case.
Maasdam is one of the few ships anywhere, and one of six in Holland America's fleet, that still has a dedicated movie theater. On this cruise, not only were there movies on both port and sea days, but the enrichment lectures were also held there.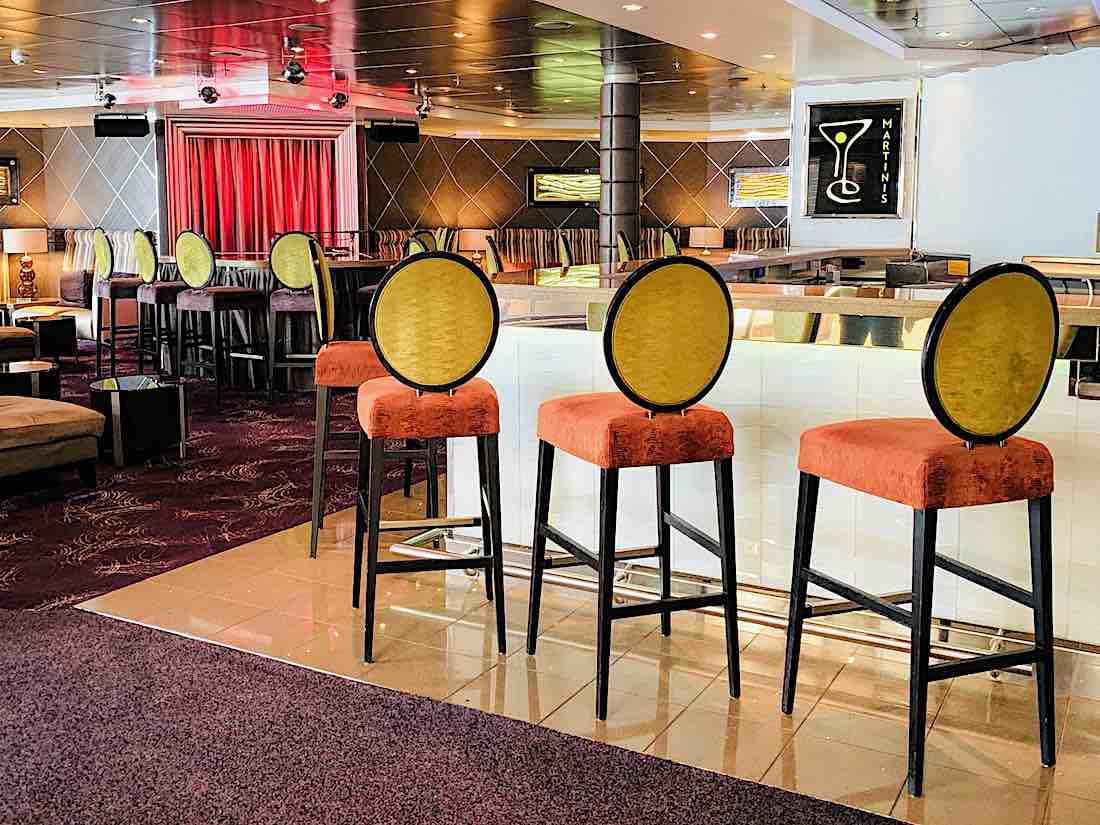 Greenhouse Spa and Salon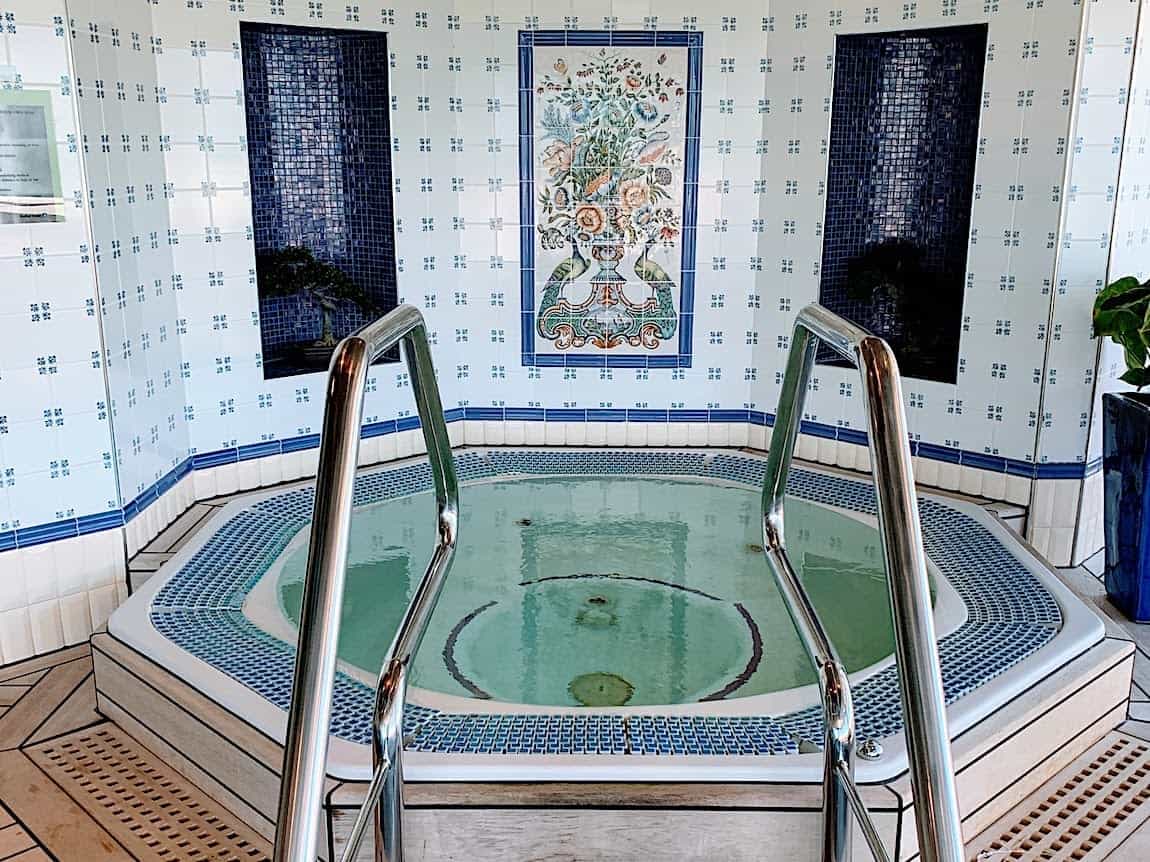 Entertainment
This particular Maasdam cruise was one of Holland America's In-Depth Cruises. These voyages have a focus and theme…this one of course being Alaska. From whales and sea life to Native culture and tales of exploration and the Gold Rush, lectures were excellent and eventually, standing room only.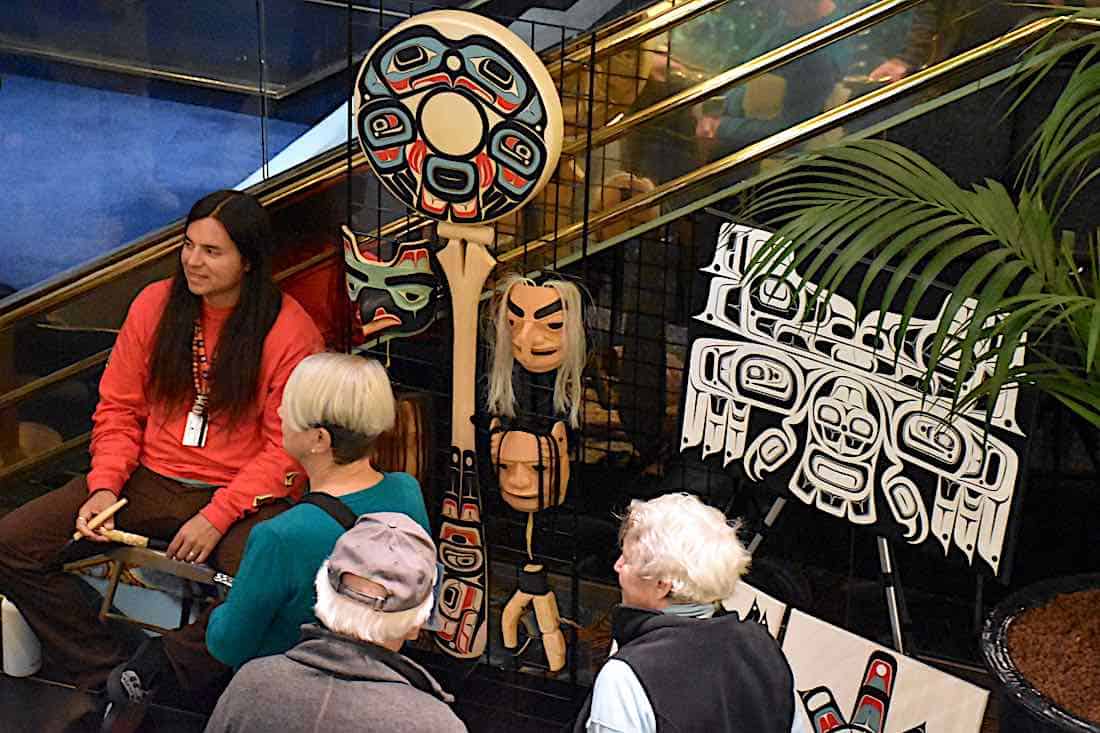 MainStage / World Stage Theater had production shows throughout the cruise. Performers would join the ship at one port and leave at the next. One night would be a concert pianist and violinist, another would be a comedian, then a Holland America musical production, and so on.
Two highlights stand out in my mind and definitely worth a mention in this ship review. The first, and always my favorite, is the BBC Earth Experience. In a partnership with BBC Earth, Holland America showcases outstanding nature-themed films accompanied by live on-stage orchestration. It's one show you simply don't want to miss. And it's usually a once-a-cruise event.
READ NEXT: Holland America Eurodam Review 2019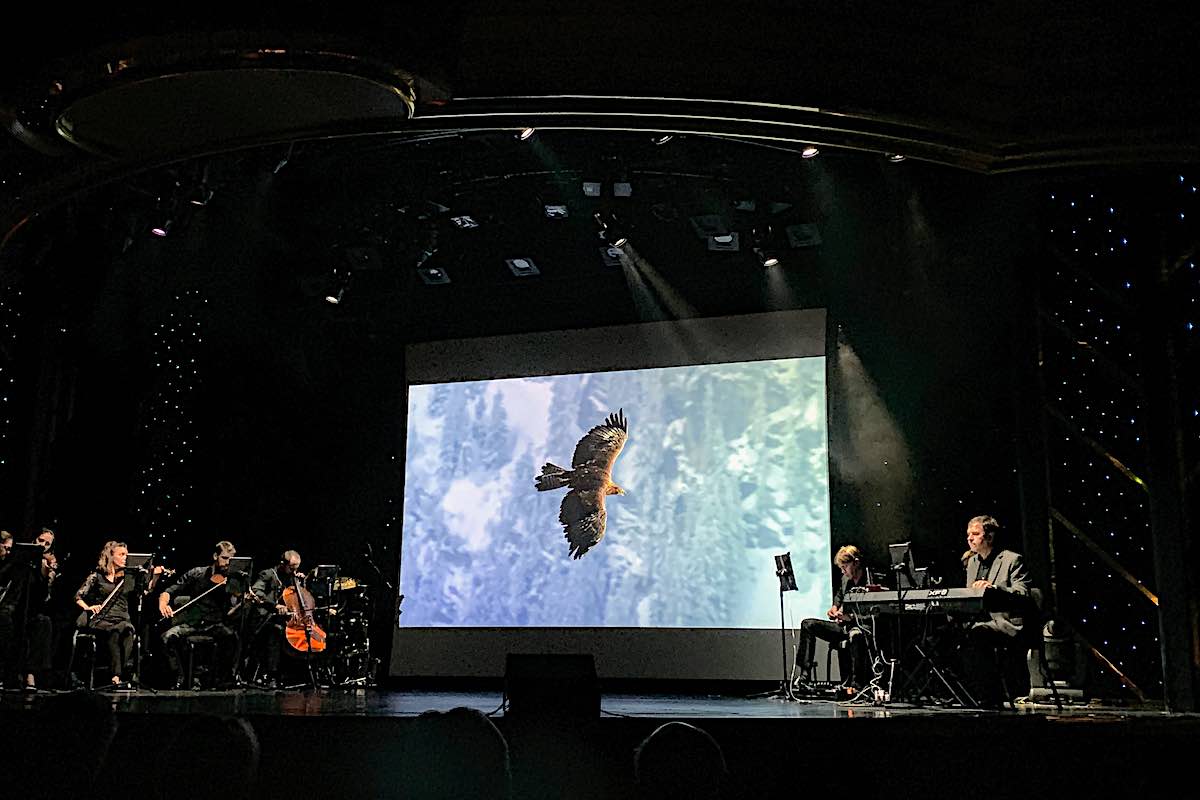 Outdoor Areas and Pools
You won't find breakneck-speed water slides or a brightly colored aqua park here. Instead, no matter what the weather, you can relax in a lounge chair under the sliding dome-covered pool.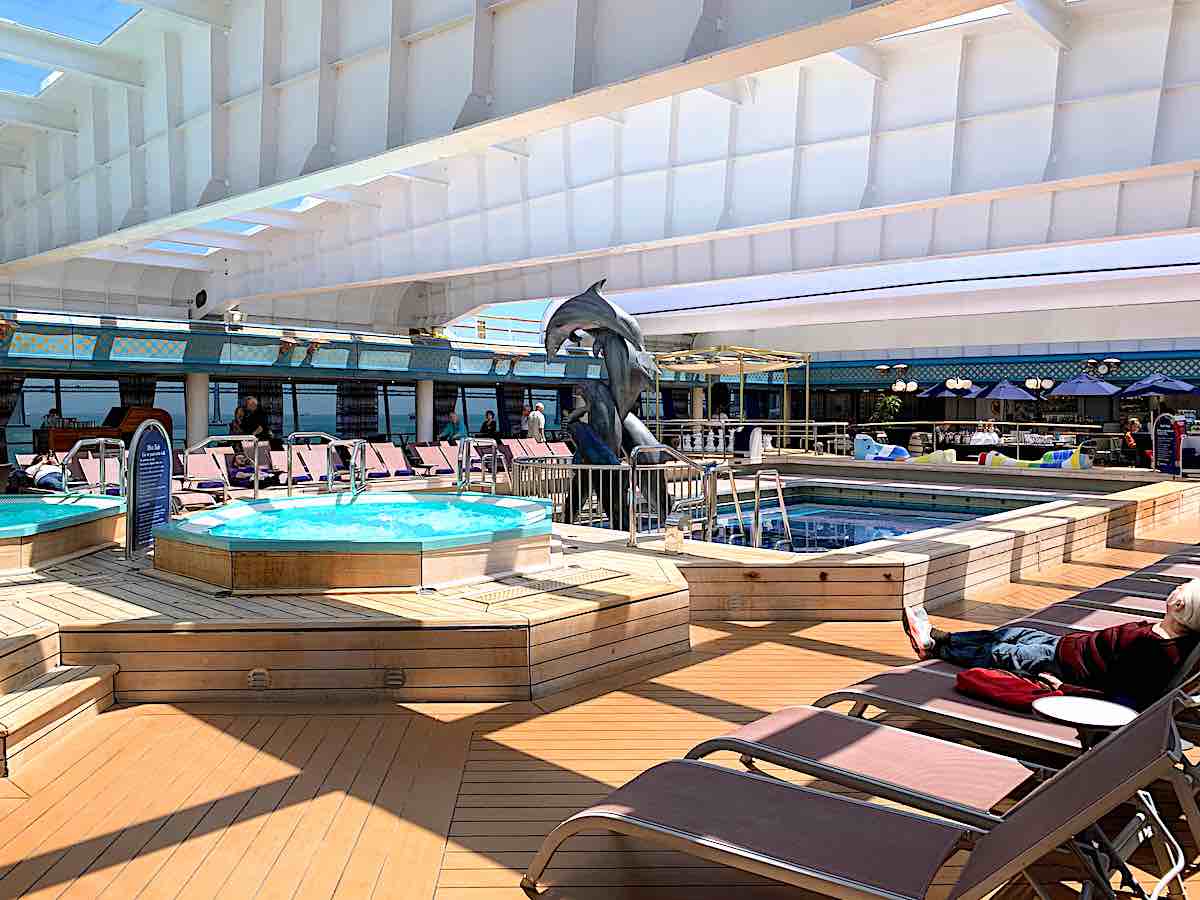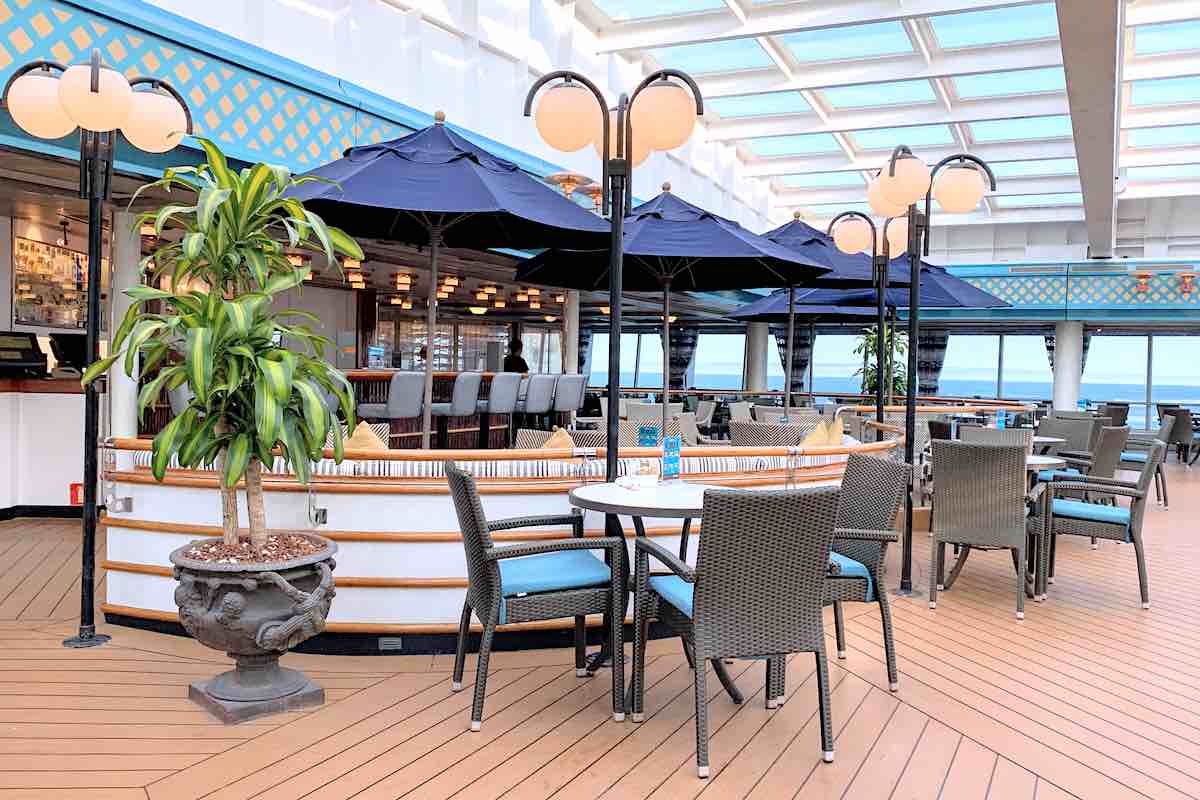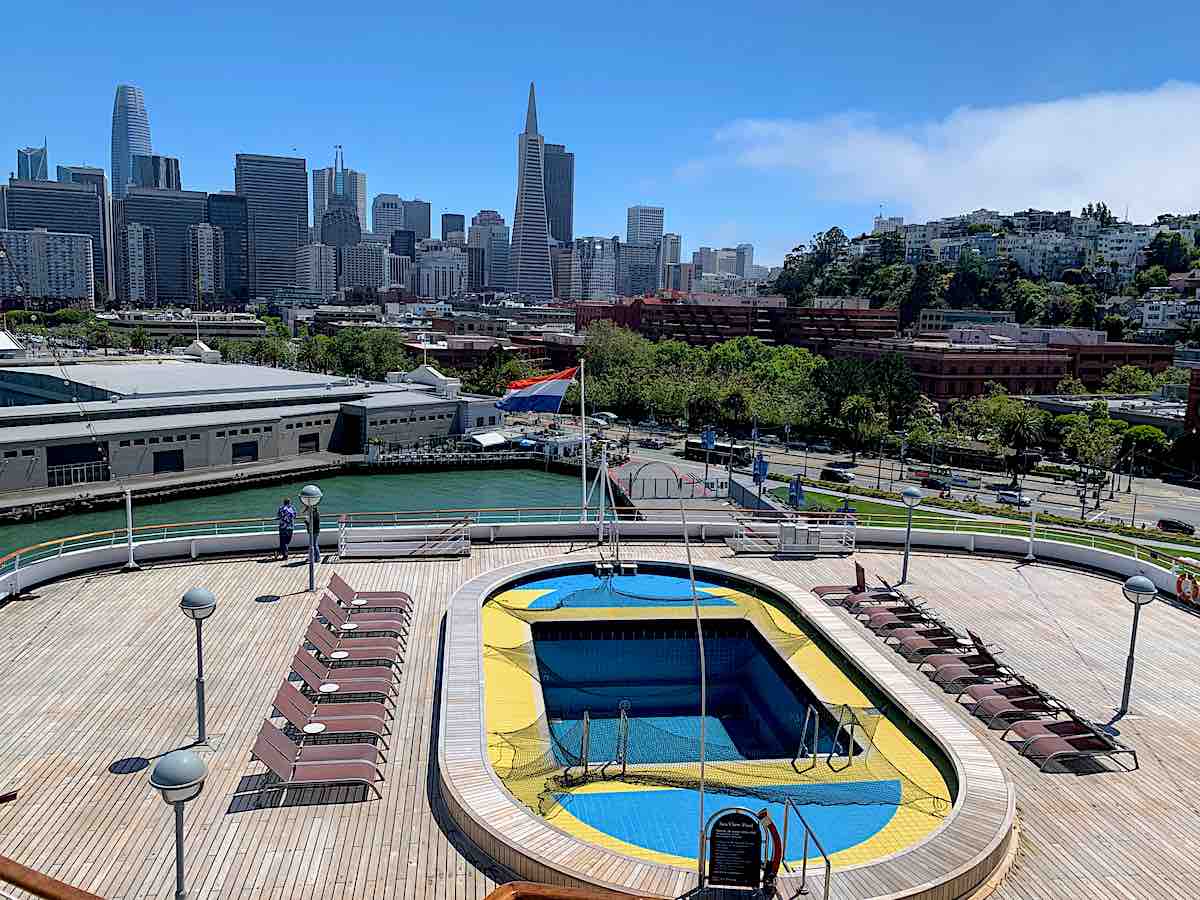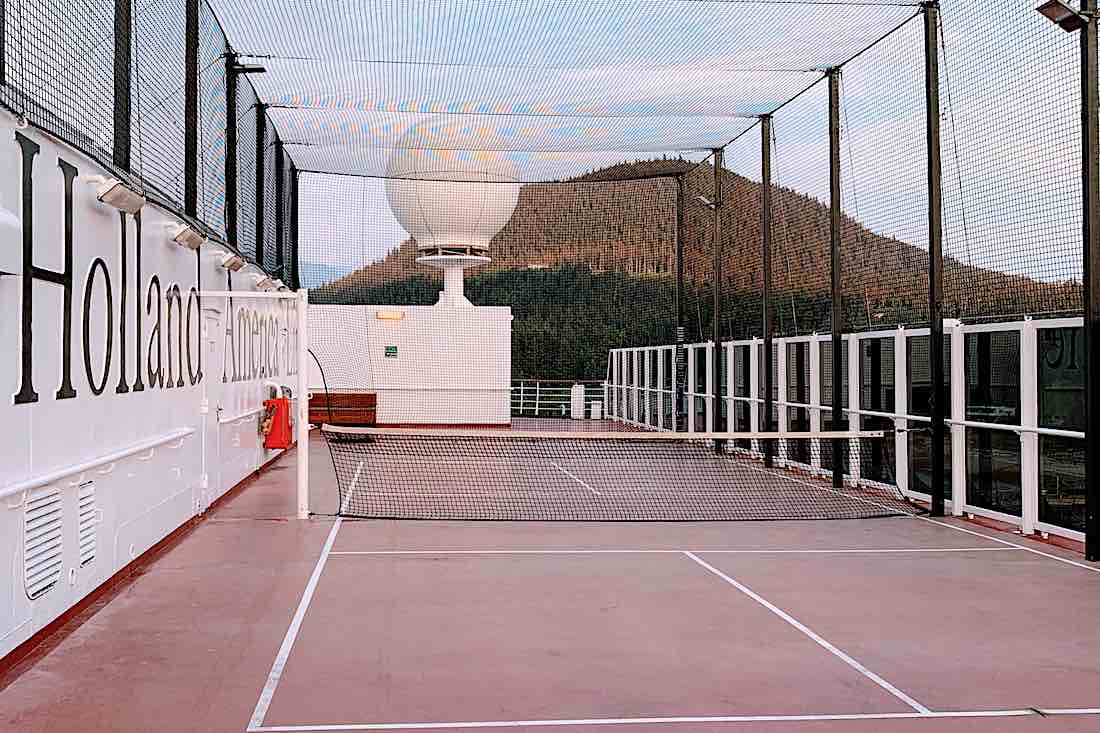 Cruise Maven Loves:
Museum-quality artwork throughout the ship.
Filipino and Indonesian staff are always helpful, friendly and ready to assist mobility-impaired guests.
Neptune Lounge for the Deluxe Veranda Suite and Presidential Suite guests.
The Filipino or Indonesian Talent Show, scheduled for once every cruise.
Holland America's signature bread pudding and vanilla sauce, at the Lido lunch buffet. Yum!
Canaletto, the Italian specialty restaurant in the Lido Buffet.
The Pub Crawl! Even if you don't drink a lot, just to tag along is worth the fee.
Self-service launderettes.
A moveable dome over the Lido pool so you can swim and relax even in Alaska!
Onboard Zodiacs (for use in warmer climates)
What's Onboard for Kids
I don't think there were even five kids on this cruise. The EXC In-Depth voyages are geared for adults and so Club Hal wasn't in operation. But for other "regular" cruises, here's what you can expect.
Club HAL activities keep kids and teens, from 3 to 17 years old, busy at sea and port days. To participate, the little ones must be potty trained. On port days, Club HAL is open from 8am – 4pm. Group lunch is provided with advance sign-up.
Club HAL After Hours, 10pm – 12am, is $5.00 per child per hour. On sea days outside of Club HAL hours, in-cabin babysitting may be possible. Enquire at the front desk. Special needs children are with other kids in the same chronological age.
The HAL Kids Culinary Workshop offers hands-on cooking lessons. Located in the Culinary Arts Center, cooking techniques and food safety are emphasized. No additional fee to participate in this hour-long activity.

Maasdam Ship Review – Bottom Line
I'd have to end my Maasdam ship review by saying that for those who want a memorable cruise without a lot of blaring announcements, drink-hawking and wet t-shirt contests, Maasdam fits the bill. If you choose one of the EXC In-Depth cruises, shoreside activities cover a wider range and include several more energetic/strenous excursions.
The Main Dining Room is still very popular with its traditional main and second seatings. Holland America's "As You Wish" dining was nice to have on longer port days. At least once every sailing, the Pinnacle Grill transforms into Rudi Sodamin's Sel de Mer, a signature Holland America restaurant.
You'll love this ship (and an EXC In-Depth cruise) if:
You like smaller ships with a retro feel
You're most interested in a real cruise experience instead of belly-flop contests at the pool
Traveling with older, well-traveled and unpretentious passengers
Having only a half-dozen dining options is not a big deal
You love to walk – the wraparound promenade is wide and has directional signs!
Maasdam isn't for you if:
You absolutely must have a balcony but a suite is out of your price range
An enormous tv screen in your stateroom is a necessity
You look forward to elaborately-themed, slightly raucous late-night pool parties
An Atrium Bar is your favorite watering hole on larger ships
You're onboard for Party Town. Here, they roll up the carpet around 11pm.
Cruise Maven's Insider Tips
Attend one of the many Windows-based Digital Workshops but arrive 15 minutes early to ensure you get a computer station.
For a reservation at your desired time, book your Specialty Restaurant on embarkation day or even before your cruise.
Try to avoid a cabin directly across from a launderette if you like an afternoon nap. But for convenience, it's a great location.
Some aft cabins on the lowest decks may feel some engine vibration.
Be patient at the Lido Buffet. Your ship's restaurant staff does the serving. Best practice to lessen the spread of illness.
An all-vegan OR vegetarian dinner menu is available upon request.
Watch for laundry special offers mid-way and towards the end of your cruise.
Whatever itinerary you choose, Maasdam is a great way to experience modern cruising with a bit of an old-fashioned flair on a smaller ship.
Disclosure: I was a guest onboard Maasdam and as always, all opinions are my own. I was under no obligation to sugar-coat my review and as such, I hope you understand that cruise reviews are subjective. Just because there's something I do or do not like, doesn't mean you will feel the same. My goal is to present the facts and figures to help you make the best decision when you reserve your cruise.
Please Pin and Share!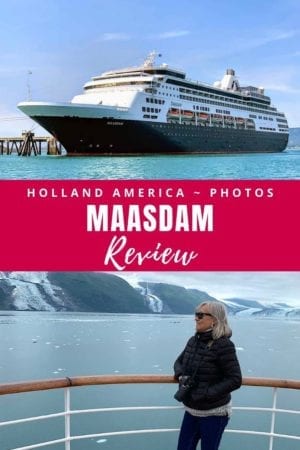 I'm the editor and creator of CruiseMaven.com, a solo traveler cruising the world on waves and wheels, collecting recipes along the way.  I hope my articles and photos entertain, advise and inspire you to travel the world without flying.  Take a breath…stop for a local meal and a glass of wine along the way.