Note:  Carnival Pride underwent a short dry dock in February 2019. The chapel was removed and a Michael's Craft Center took its place. Everything else is the same – dining, activities, pool etc.
Three reasons why I chose the Carnival Pride.
1. The appeal of a Tampa departure.
Tampa's cruise passenger demographic during the winter (except for school holidays) tends to attract an older, retired crowd from the surrounding area as well as snowbirds from the Midwest. I had a lot of work to do and would welcome a slower paced week.
2. A $75 million Funship 2.0 makeover.
It had been years since I was on the Carnival Pride so it was time for a Carnival Pride review. There's new carpeting and stateroom upgrades, the addition of Guy's Burger Joint, the BlueIguana Cantina, RedFrog Pub and BlueIguana Rum Bar. The George Lopez Comedy Club was added as well as one of my favorite new Carnival concepts, the Taste Bar.
3.  The Annual Cayman Cookout.
The Carnival Pride my first choice between two cruises from Florida that would arrive in Grand Cayman on the exact day of an international culinary event that I wanted to attend.
Port of Tampa Embarkation
If you haven't cruised from the port of Tampa, you should try it. The adjacent car parking structure is a breeze.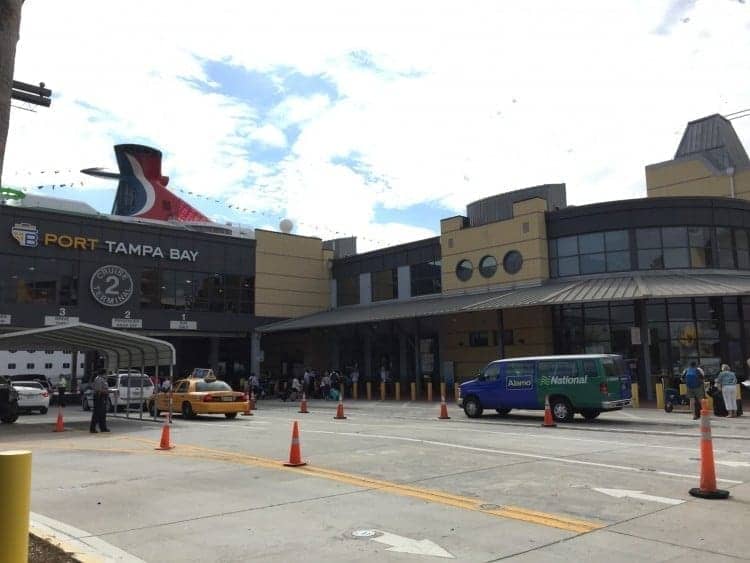 Many hotels in the area, Hampton Inn, Holiday Inn Express, Marriott Courtyard and more, offer a pre-cruise hotel package that includes breakfast, free parking during your cruise, and a shuttle to/from the port. I stayed at the Marriott Courtyard Westshore and I'd gladly stay there again.
Boarding the Carnival Pride, from shuttle drop-off at the port at noon to walking into my room took less than 25 minutes. I dreaded a mid-day boarding but Carnival had plenty of staff to facilitate the rush, which actually seemed to be closer to 2pm.
Our Itinerary
For a 7-night cruise, we covered four ports; Costa Maya, Belize, Mahogany Bay (an island off the coast of Honduras) and Grand Cayman. All ports were in the same vicinity along the coast of Mexico and Central America and then over to Grand Cayman, with sea days as bookends to the itinerary.
First Impressions
From the moment I stepped aboard, there was no mistaking I was on a Carnival ship. Guests are greeted with a rainbow of vivid colors, a red-glass-roofed atrium with brass-trimmed glass elevators and a huge semi-circular bar. There's a DJ getting the sailaway party started and people are dancing even before the ship leaves port.
The themed dècor is kind of Renaissance meets ancient Greece and Rome. Whether along the hallways or adorning the pools and spa, there are reminders and replicas of Mediterranean paintings and statues. Unusual and very interesting, contemporary glassworks are encased in the corners of each stairwell. Worth the time to look at them, even though the artists' names are not listed.
Stateroom
My balcony stateroom looked very familiar. The Carnival Pride (built in 2002) is one four Carnival's Spirit Class ships on which I've sailed many times. From the peach and orange stateroom interior color and aqua bathroom countertop to the desktop and closet space, it's all the same on all the Spirit Class ships.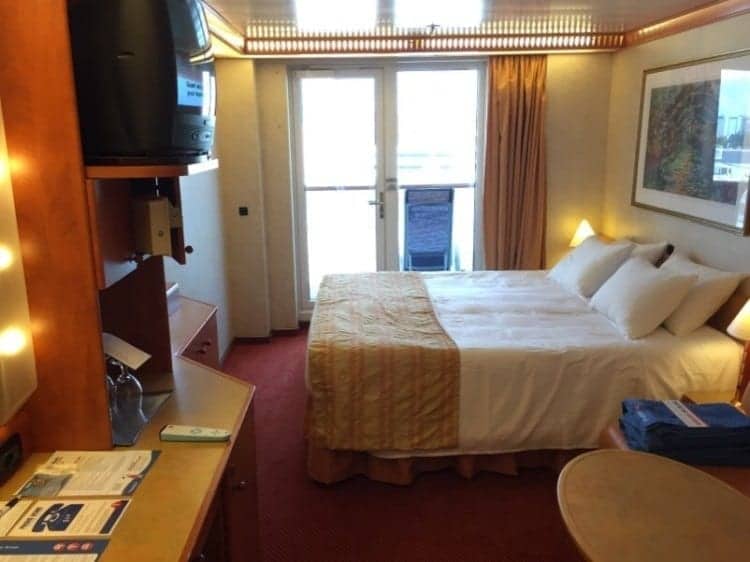 On the balcony, one chair was fixed upright and the other could recline. A small table made it easy to enjoy a room service coffee in the morning and a glass of wine and snacks before dinner.
The bathroom had ample space and the shower sported a new shower-head and curtain. Plenty of storage for two people.
Outdoors
There's the adults-only Serenity pool and relaxation area with plenty of hammocks, padded loungers and sitting areas. A midship pool with a retractable roof was handy on our rainy day in Belize. Over at Carnival Waterworks water park, I didn't try either of the awesome twisty water slides. At night along the pool deck is the large screen Seaside Theatre featuring themed movie nights. Soft ice cream and yogurt are available around the clock, located at two stations near the pool.
Food and Dining
It's the same Lido food buffet that I've seen a zillion times, yet it still takes me a couple of days to get my bearings. There is always a choice of crispy-crust pizzas and on-request Caesar salad.
Outdoors at lunch time around the Lido pool is Guy's Burger Joint, open until 6-6:30pm. BlueIguana Cantina Tacos and Burritos offers a pick-out-what-you-want filling and an excellent toppings bar, complete with nearly two dozen hot sauces to choose.
My favorite Carnival dining venue is Bonsai Sushi and I ate there three of the seven nights. Reasonably priced, the sushi and sashimi are amazingly fresh, beautifully yet simply presented and larger-than-usual portions. Depending upon what I selected, my dinners ranged from $10 to $14 dollars. This included a small salad, sushi dish, a sampler bite, hot green tea and dessert. Best value around.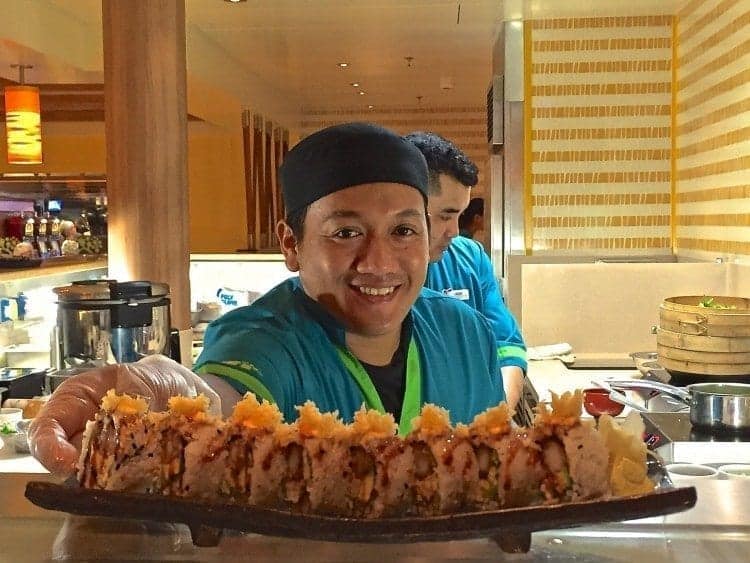 In the evenings, the Lido Buffet offered almost all of the same options as the Normandie main dining room. A nice break if you want "dining room food" in a casual atmosphere. There's also 24/7 room service. On the last formal night, I dined at David's, a reservations-requested upscale (and very good) steakhouse. The fee was $35 per person.
But as I always do on cruises, I tagged my door handle with my breakfast request before I went to bed. Out of courtesy (and convenience for me) before I went to sleep, I set out a couple of dollars on the table so that when my breakfast was delivered I didn't have to fumble for a gratuity for the room service person.
Entertainment
There's plenty to do in the evenings. On a couple of nights, I walked through but didn't stop in the casino; it was a bit too smoky-smelling (though not smoke-filled) for me. Instead, I headed down to deck one to the George Lopez Comedy Club to listen to a hilarious comedienne from Minnesota. Several other male comedians rotated performances throughout the cruise, with evening and late night adults-only shows.
Playlist Productions stages four full-blown theatrical shows, with flashy but not risqué costumes. One night the show was "80's Pop to the Max," another was a Motown-style revue called, "Heart of Soul." Two more new shows plus a variety of entertainers on the non-Playlist nights filled the Taj Mahal Theater.
Carnival has a partnership with Hasbro, so families are entertained with Hasbro the Game Show on several occasions. I stuck to the dazzling Playlist Productions plus a couple of the comedy shows and enjoyed all of them.
Conclusion
Smaller than some of the newer Carnival ships, the Pride offers a relaxing week-long cruise. With four consecutive port days flanked by two sea days, there's a lot to do on land and plenty of shore excursion choices. For me, staying on board for half of the day in Belize while the ship emptied out, added to my relaxation.
I never heard anyone hawking a "Gold by the Inch" sale, although there were two lunchtime announcements for art auctions. I wasn't approached to buy $10 drinks in souvenir glasses or pushy photographers. It seemed like onboard sales pitches had been downplayed and the once-intrusive marketing was nearly non-existent.
Going with my assumption that Tampa departures equate to older guests and this wasn't a school holiday week, I didn't notice many teenagers. A few families with infants may have taken part in Seuss at Sea (as in Dr. Seuss) activities and themed Seuss character breakfasts ($). Of course, the passenger mix will vary from sailing to sailing especially during holidays.
Carnival has done much to improve their image over the last year or so. From better personalized service and upgraded food quality (except for the packaged yogurt!) to diverse dining venues and less raucous energy.
The Carnival Pride is but one example of how this cruise line is working hard to overcome a few rough bouts of negative publicity. With insightful, new leadership at the helm, exciting new ships on the horizon and an overall drastic improvement, I'd cruise again on Carnival without hesitation.
Disclosure:  In the spirit of full-disclosure, I was a guest of Carnival Cruise Line aboard the Carnival Pride. My goal is to present the facts as unbiased as possible. However, all opinions, statements and sentiments given are my own. If I don't like something, it doesn't mean that others won't enjoy it. And just because I'm crazy about something, doesn't guarantee others will like it.
For more information visit: Carnival Cruise Line

I'm the editor and creator of CruiseMaven.com, a solo traveler cruising the world on waves and wheels, collecting recipes along the way.  I hope my articles and photos entertain, advise and inspire you to travel the world without flying.  Take a breath…stop for a local meal and a glass of wine along the way.