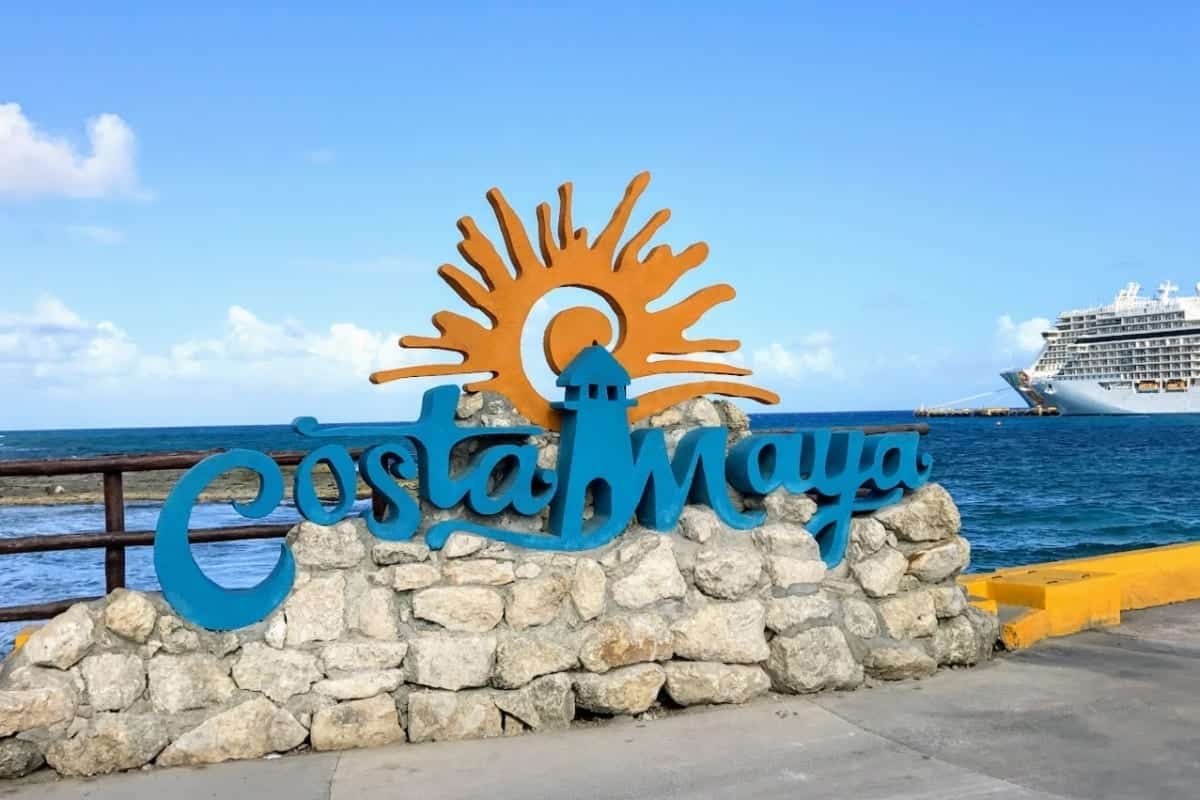 Costa Maya was once an area of rural fishing villages.  In 2002, this region was transformed into a popular cruise ship destination.  After a year's closure following Hurricane Dean's devastating impact in 2007, the re-built cruise port of Costa Maya has been growing ever since.
If you're not in the mood for a day-long, expensive shore excursion to visit the Mayan pyramids, I have a solution.  Most people wonder, "what's there to do?"  My answer is "Plenty!" And it's cheap, too.
After you walk the lengthy pier from your ship to the port's colorful Disney-esque entrance, here's what to do.  Follow the pedestrian walk along your right side, past the little shops until the grand staircase is on your right.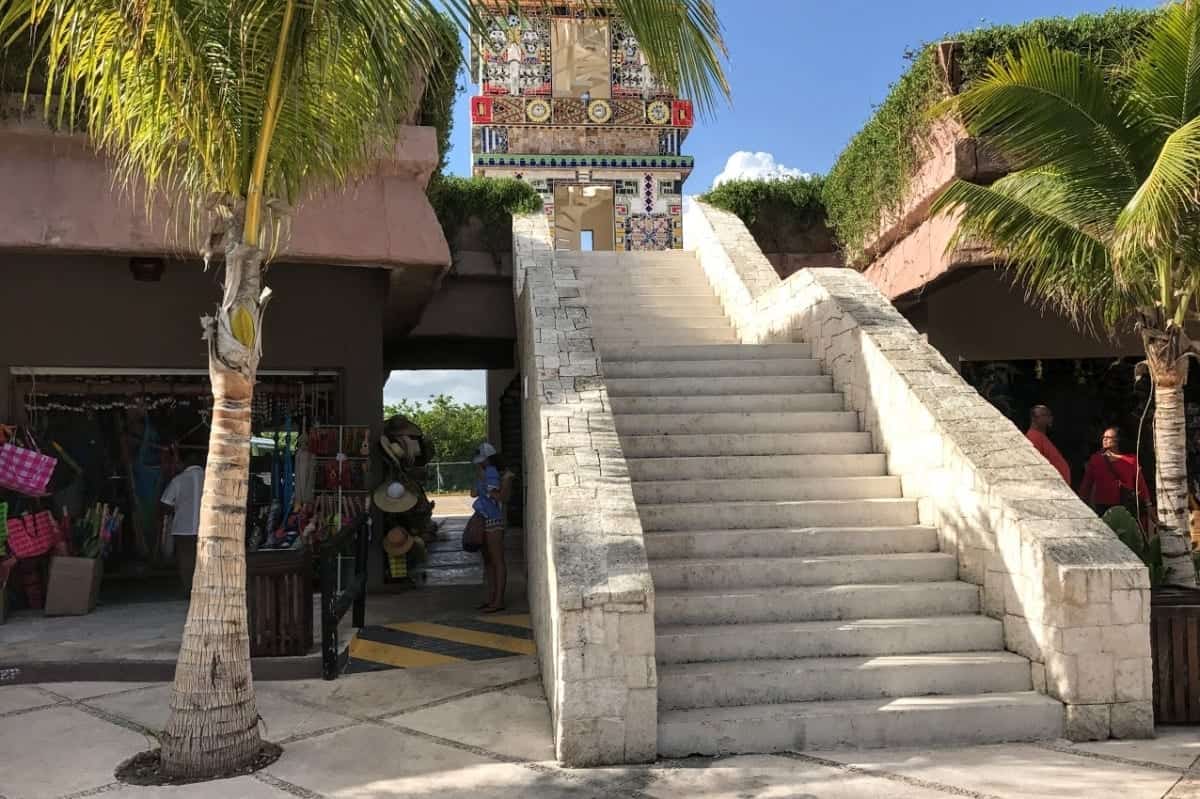 See the little path?  Walk through there and when you emerge, you'll notice a makeshift table under a long awning.  Head over there and you'll have two choices both at the same price.
You can either buy a $3 trolley ticket or take a $3 taxi ride (all per person).  Tell whomever is driving that you want to go to 40 Canons Hotel or in Spanish, simply, Cuarenta Canones.  It's 10-15 minutes to the last stop at the end of the road.
If you have no back or neck issues, the trolley is kind of fun as it happily bounces along the bumpy roads. Taxis of course provide a much smoother ride but not quite as much fun.
Enter the whitewashed breezeway at 40 Canons and walk towards the beach.  You can't miss it.
And then there's this – 40 Canons Beach Club.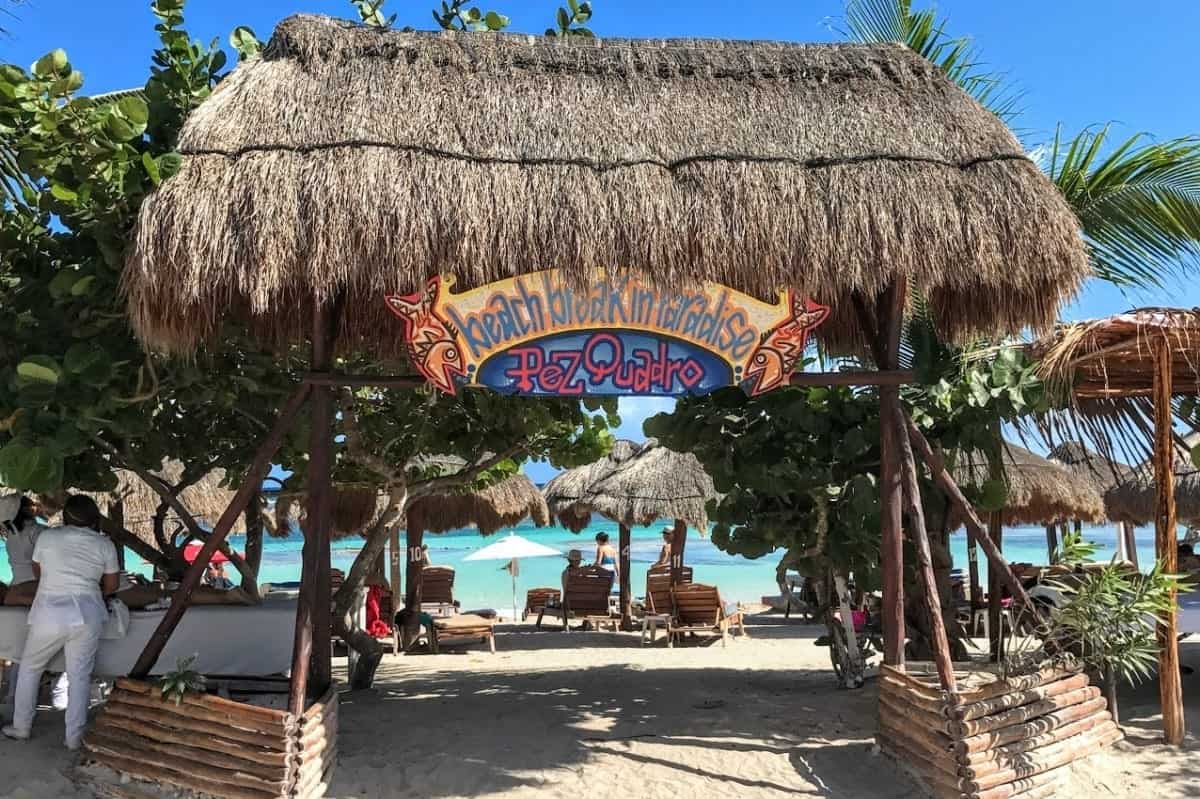 and this…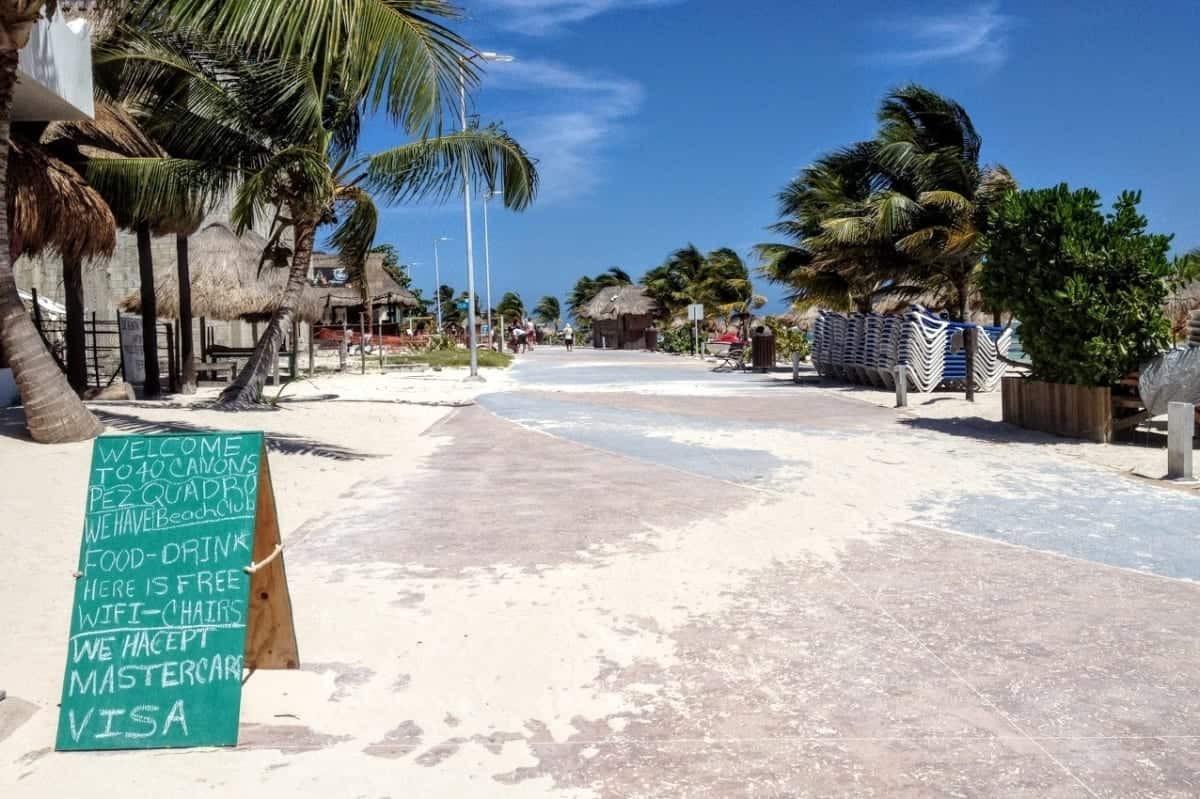 Spend the day on the beach – there are several beach clubs along this stretch of promenade. Pez Quadro, part of 40 Canons, has an All You Can Drink package which includes a meal, wifi and a laundry list of inclusions.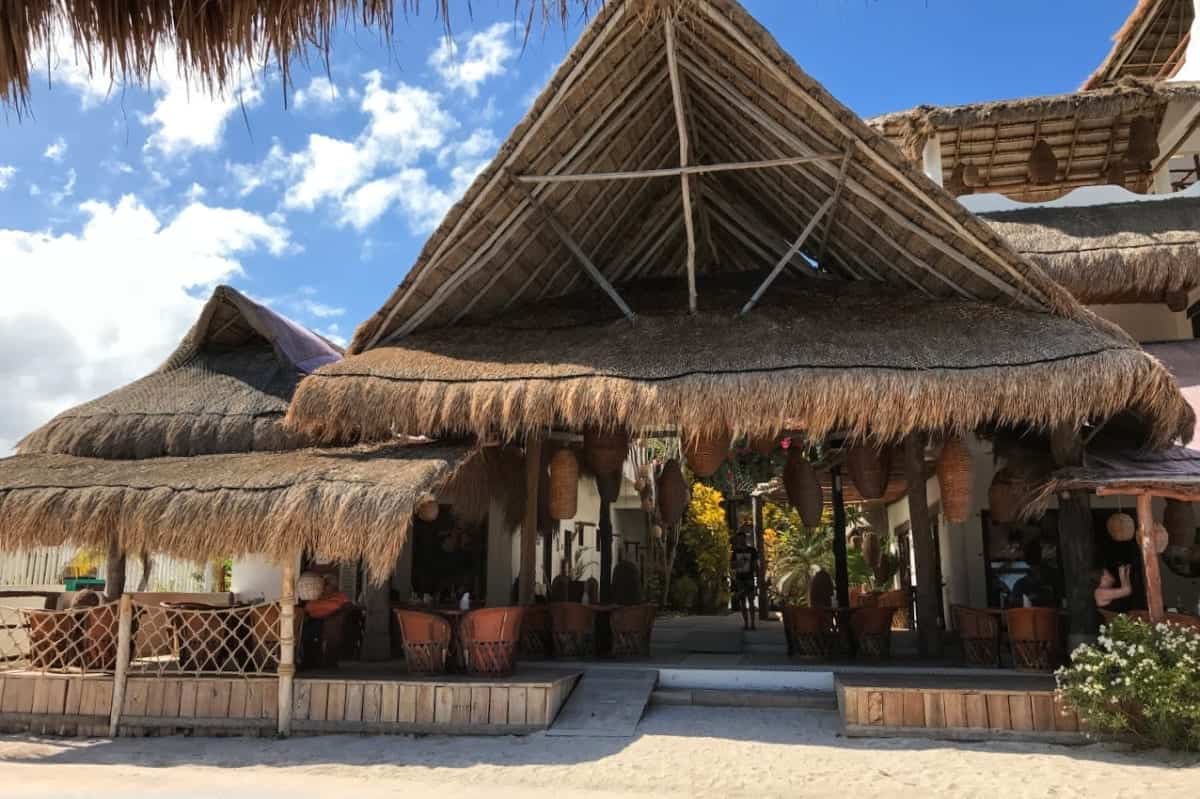 Sponsored Link
Personally, I always go to the outdoor dining area at the hotel for a fabulous lunch.  Actually, you can choose Italian or Mexican.  The owners are Italian and serve traditional Italian meals.
I love the shrimp fajitas.  Guacamole is awesome, too…everything there is good.  A full lunch with a drink will run from $12 to $30 depending of course if you order a fresh-caught lobster or a cheese quesadilla.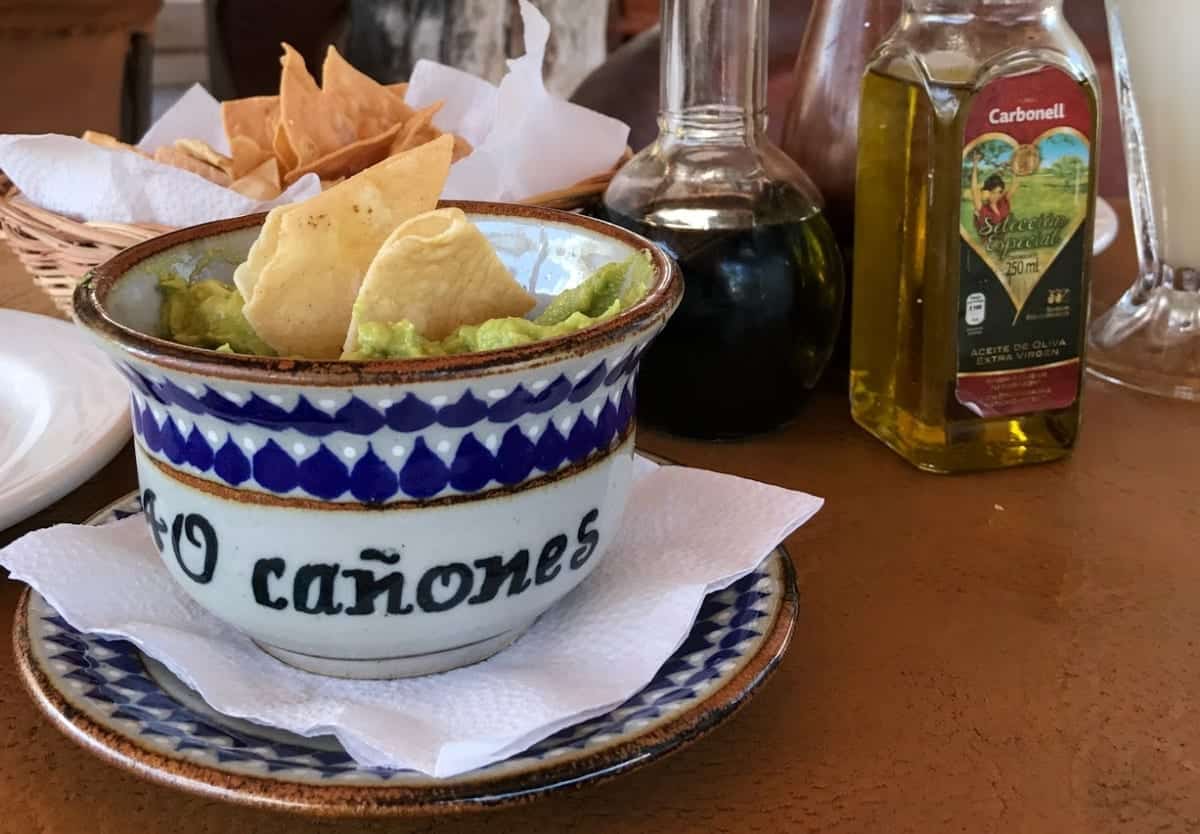 Take a walk along the promenade after lunch…maybe set yourself down on a beach chair and take a brief siesta.  You'll find the beach and town quiet, peaceful and pretty much undeveloped.
When it's time to head back to your ship (be sure to allow at least an hour) just walk back to the road through the hotel.  Taxis are usually available but leave enough time just in case you have to wait.
As you drive back (for a short distance it's a different route) look for these rainbow-colored cabanas.
Once back at the cruise port, just follow the crowds out towards the pier.  You can buy any last minute souvenirs from the hundreds of stalls and shops at the complex.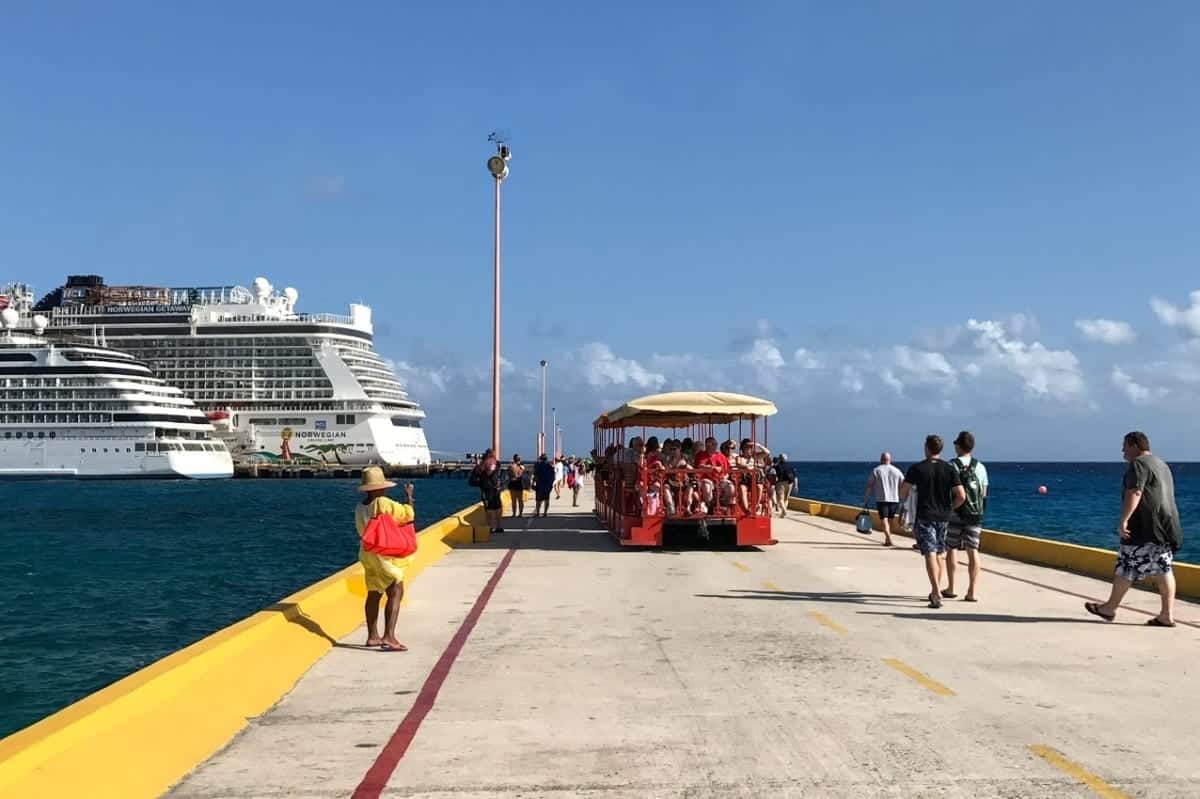 Too tired to walk?  There's a complimentary trolley that shuttles back and forth from the entrance to the end of the dock.
Seriously now….you could have this…

Or you could have this…it's your vacation.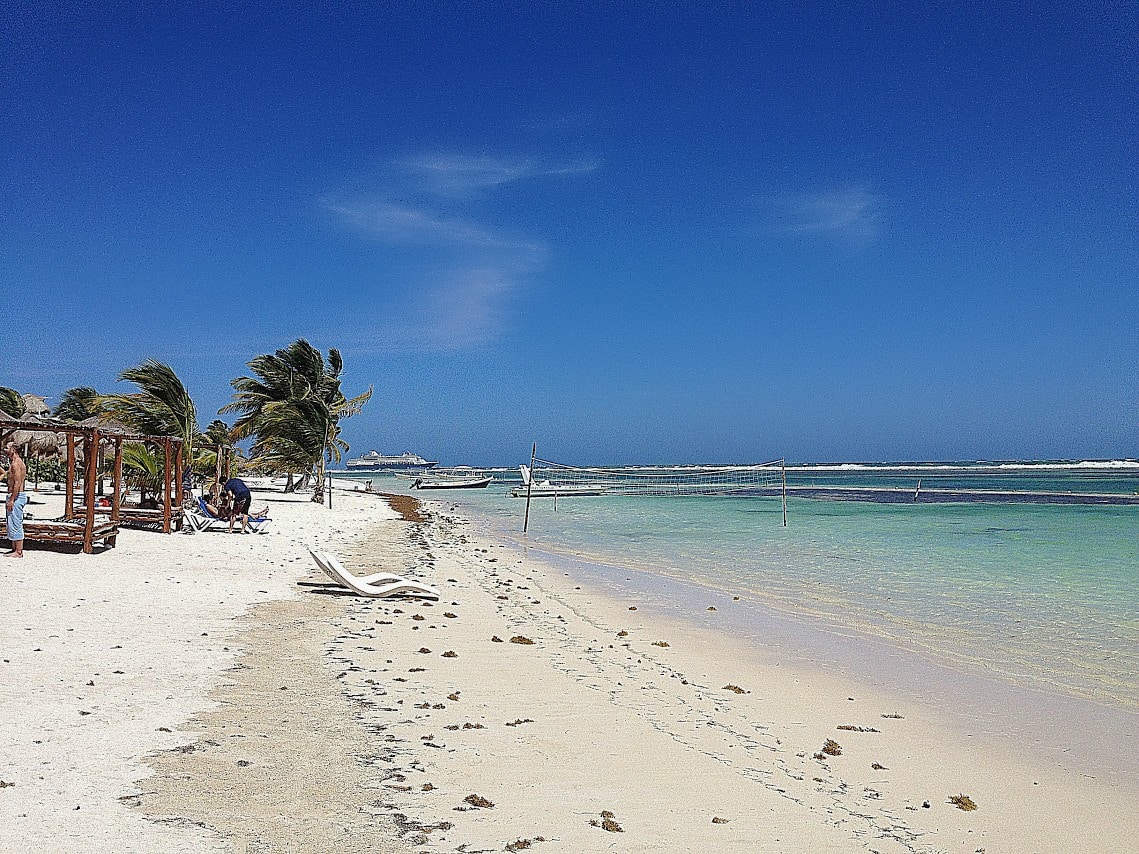 PIN and SAVE FOR LATER!