There are so many things to do that it's tough to decide the best things to do in Cozumel, especially when you only have one day in port.
Here are our best suggestions on what to do in Cozumel in only one day.
Almost all short cruises from South Florida or the Gulf states plus Western Caribbean itineraries include a visit to Cozumel. This year, Cozumel expects nearly 4 million cruise passengers. It's no wonder why.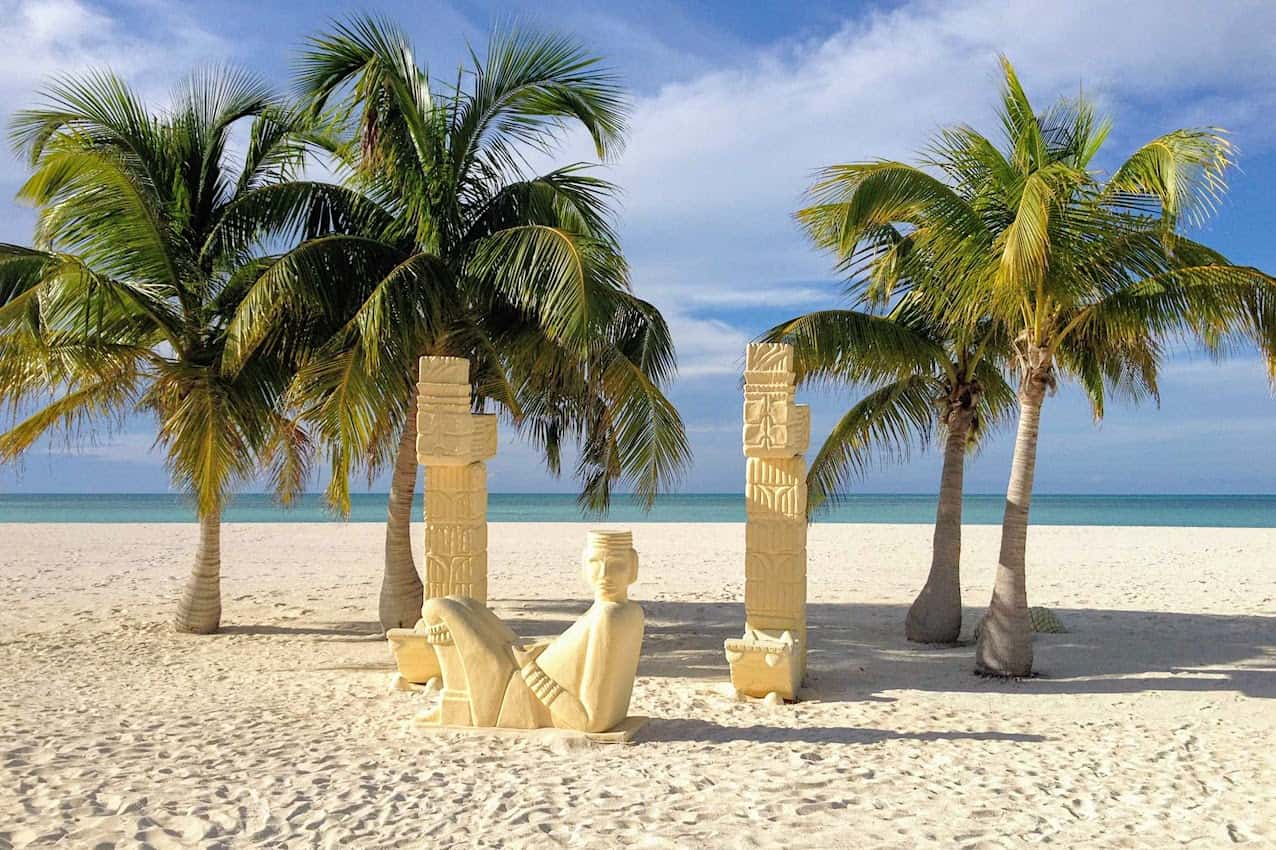 It's hard to believe that this diverse, laid-back island in the Yucatan Peninsula is just 12 miles off the east coast of mainland Mexico. It's also a jumping off point for a ferry to Playa del Carmen on the mainland and excursions to the Mayan Ruins.
Best Things to Do in Cozumel
I love a day in Cozumel. From gorgeous uncrowded secluded beaches or famous beach clubs to world-class snorkeling or discovering authentic Mexican cuisine, there's so much to do in Cozumel on a cruise day. I've narrowed down the list to places I've seen, dined, shopped, and shore tours I've taken.
READ NEXT: Cozumel Snorkeling Tour with Lunch Review
Since your cruise ship is stopping in Cozumel for only one day, you better make the most your time! So let's get started. Here are my picks for some of the best things to do in Cozumel and what makes this tiny island so unique.
A Little History of Cozumel May Help You Decide
Though nearly a 3,000 year-old civilization, Cozumel was a commercial and ceremonial center during the classic Mayan period about 250 to 900 A.D. During this time the Mayans created many of its sacred archeological sites dotted across the island.
Mayans would travel to and from the mainland by canoe and considered this land to have religious significance.
Cozumel was also once a refuge for pirates and trading ships, giving them a place to replenish and feel protected by the dangerous coral reef. Eventually, in 1518, with the first Spanish expedition, the Spaniards occupy the land, finally making it the most prominent island inhabited by Mexico.
Now, Cozumel is a thriving tourist location for its beautiful sandy beaches, excellent snorkeling and diving, cuisine and much more.
Where Your Ship Might Dock in Cozumel
Your cruise ship will dock at one of three Cozumel cruise ports, all located on the island's western side. These include Punta Langosta, International pier, and Puerta Maya. Where you dock could depend on what cruise line you are sailing.
Think of Punta Langosta as the downtown pier. The International Pier is three miles south, and then Puerta Maya is the furthest outside of town, nearly five miles away. From Puerta Maya, it's too far to walk into town, but you're closer to the beach clubs.
Punta Langosta
Punta Langosta is Cozumel's local downtown pier. If your ship docks at this port, you will be in the center of it all and only a few minutes walk to downtown San Miguel, the largest city on the island.
Leaving the ship, kiosks and vendors will filter you through the Punta Langosta Mall full of shops and restaurants. And souvenir stands. Almost all Norwegian Cruise Line ships will dock here, assuming there's space. Plus, Disney and MSC also use this port.
Punta Langosta Mall has all the usual Caribbean shops; Cariloha, Del Sol, Diamonds International, Colombian Emeralds. Take time to venture into the smaller shops. Be prepared to haggle for the price; it's what they do. But don't try to bargain too low – everyone has to earn a living.
If you need any drugstore items, there is at least one pharmacy in the mall. There's no haggling over prices at any of the pharmacies.
International Pier
The International Pier is the middle-island cruise ship port. You'll probably dock here if you're cruising with Royal Caribbean or Celebrity.
You can still walk to Punta Langosta and San Miguel from this port, but it's usually too hot to walk into town and back to your ship. For a few dollars, it's easier to hop into a taxi for the ride downtown or back to your ship.
The shopping mall across the street, Royal Village Shopping Mall, gets mixed reviews from customers. All the usual Caribbean shops are here, too.
If you decide to walk into town, the pedestrian sidewalk is reasonably wide on the sea side. Along the way, you'll see waterfront restaurants and bars on the other side of the street but be extra careful when you cross the busy road.
The International Pier is also home to colorful architectural sites and a giant shopping center and places to eat and drink. This is the only drawback to cruising with Royal Caribbean and brands.
Punta Langosta and Puerta Maya have a nicer infrastructure complex. Maybe that will change.
Puerta Maya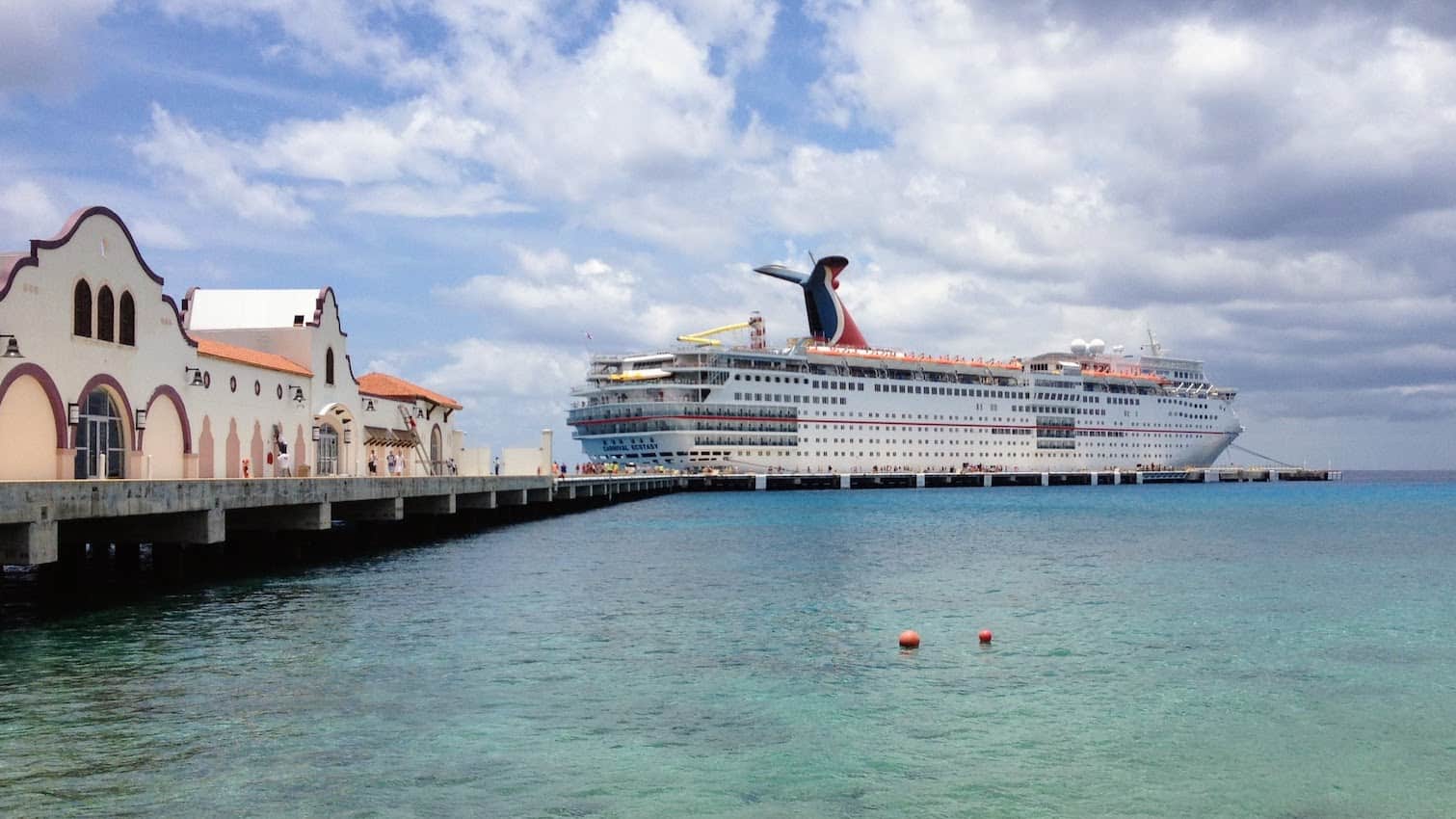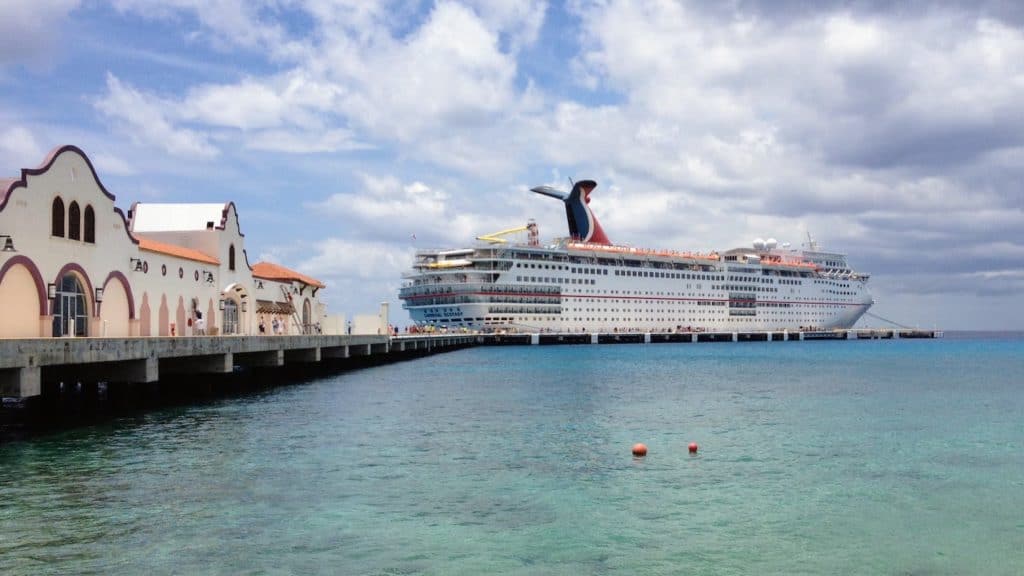 The farthest port from downtown San Miguel is Puerta Maya, about five miles south. This is where Carnival ships dock and most of their brands dock here, too.
After you leave your ship, you'll find a lush garden full of flowers and plants and the most extensive shopping mall out of all three ports. There are at least 50 shops plus pop-up kiosk-type vendor stands. And of course, a pharmacy.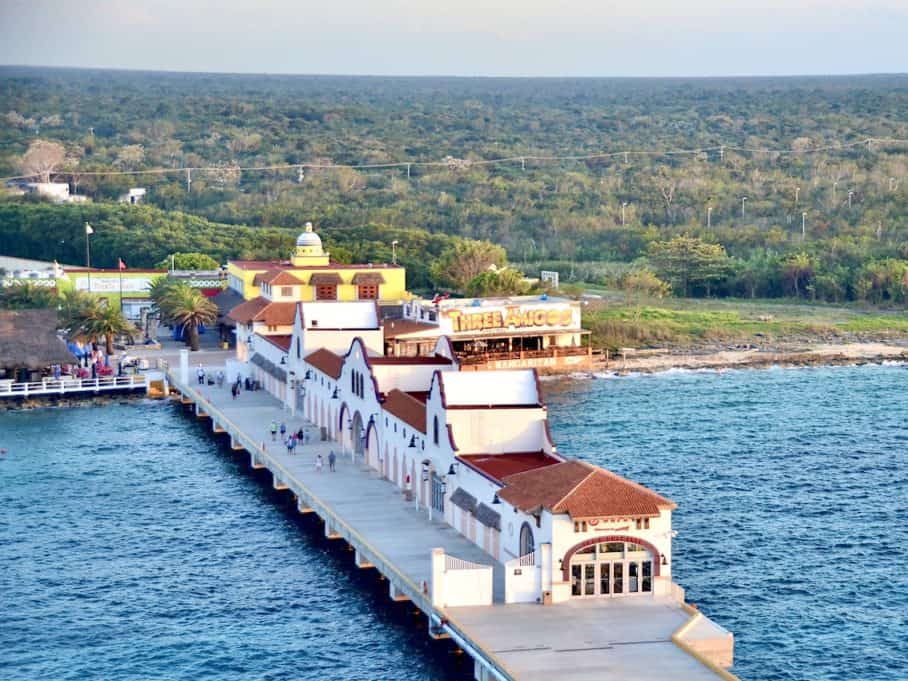 Puerta Maya is home to popular restaurants like The Three Amigos bar and a newer Pancho's Backyard plus lots of colorful photo ops.
If you want to head out on your own, there's a car rental agency located near the taxi stand.
Best Places for Lunch in San Miguel, Cozumel
If you love food, you'll be happy to learn that Cozumel has some fabulous places to eat. If you're like me, when I travel, I want to make sure to sample the best authentic food I can find. Cozumel has several restaurants that won't disappoint.
When you only have one day to spare, it's helpful to know exactly where to eat in Cozumel. Here are some fantastic suggestions! And yes, I've been to all of them.
Pancho's Backyard
Pancho's Backyard, in the heart of downtown San Miguel, is adjacent to Los Cinco Solas shopping arcade. The decor is traditional Mexican style with woven leather seats and bright colors. Just keeping walking north along the waterfront and you'll find Pancho's Backyard.
Local musicians play the sounds of Mexico for a fantastic ambiance. Not to worry, it's not a noisy mariachi band. Instead, there are usually three people quietly playing guitar and accompanying instruments.
There's also the newer Pancho's Backyard down by Carnival's pier, Puerto Maya. But I prefer the Pancho's to the north at Los Cinco Solas small shopping mall.
If you're looking for dessert, it's a short taxi ride to the nearby Kakao Chocolate Factory.
Pescaderia
Pescaderia is considered a hidden gem a bit outside of Centro San Miguel. This restaurant features fresh seafood dishes, including their famous ceviche, which is a must-try! Or try the local catch, prepared whole and served family-style.
Pescaderia also plays live music and is known for its accommodating and amiable owners and staff. This family-run restaurant has gluten-free options and reasonable prices for its high-quality food.
Panaderia la Cozumelena
Since 1962, Panaderia la Cozumelena has been serving delicious coffee and breakfast to its patrons. The menu has something for everyone, including light fruit and smoothies to substantial breakfasts.
Order a cafe de olla, coffee with cinnamon, and you'll also receive pan dulce, a sweet and traditional Mexican bread. This place is the perfect place to break your fast when docking early for a day in Cozumel.
Cozumel Beach Clubs
What's the number one thing you should do when visiting Cozumel? Go to the beach! If you're looking to enjoy a full beach/pool day, there are a ton of beach clubs from which to choose.
Here are a few suggestions! Keep in mind that the most popular and sandy beaches are all on the island's west side.
That's where you'll find the lively beach clubs, major hotels, and some of the best dive and snorkeling sites in the world.
Mr. Sanchos Beach Club
Mr. Sanchos Beach Club, located about 20 minutes from downtown San Miguel, offers an all-inclusive day pass to travelers looking to get the most out of the relaxing beach life in Cozumel.
All the cruise ships sell Mr. Sanchos beach shore excursions, so don't be surprised at the number of cruise passengers homesteading their beach chairs.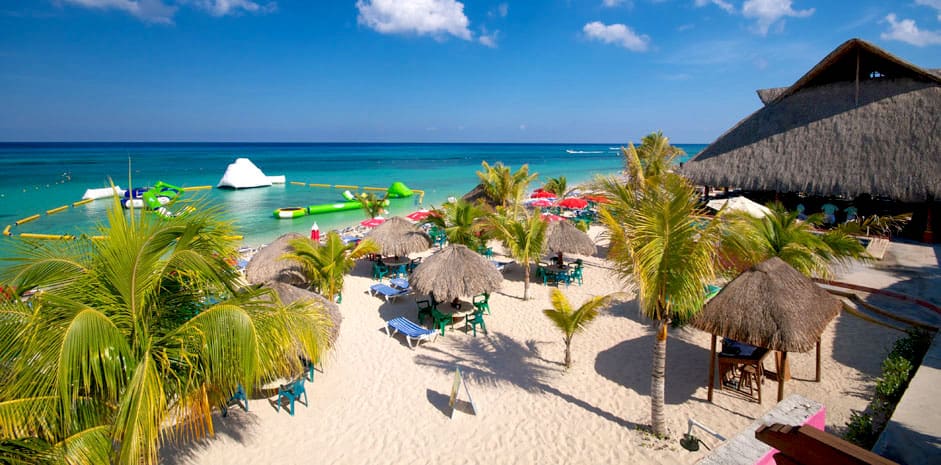 A day pass includes all of your food and drink as well as access to their two pools, beach palapas, and activities such as kayaking, water sports, and more. You can even add on horseback riding, parasailing, and the use of a wave runner.
Paradise Beach Club
Paradise Beach Club is another option when looking for an all-inclusive excursion with unlimited drinks and food. Enjoy their enormous heated pool and cute boutique shopping stores to pick up your souvenirs.
This particular club also features a Fun Day pass which includes access to their ocean water park with inflatable trampolines, slides, and more.
This pass also gives you access to kayaks, stand-up paddleboards, and snorkeling gear.
Cabana Beach Club
If you're looking for a more private experience, Cabana Beach might be the best place for you. At this beach club, you'll enjoy your private VIP cabana that can hold up to six guests.
You'll also have access to concierge service for food, drinks, and activities. There are also many events held at this particular club, including live music and dance parties. If you're looking for a private and premiere experience, the Cabana Beach Club is it!
Also included with your entrance fee is access for snorkeling in the nearby Chankanaab Eco Park.
Isla Pasión (Passion Island)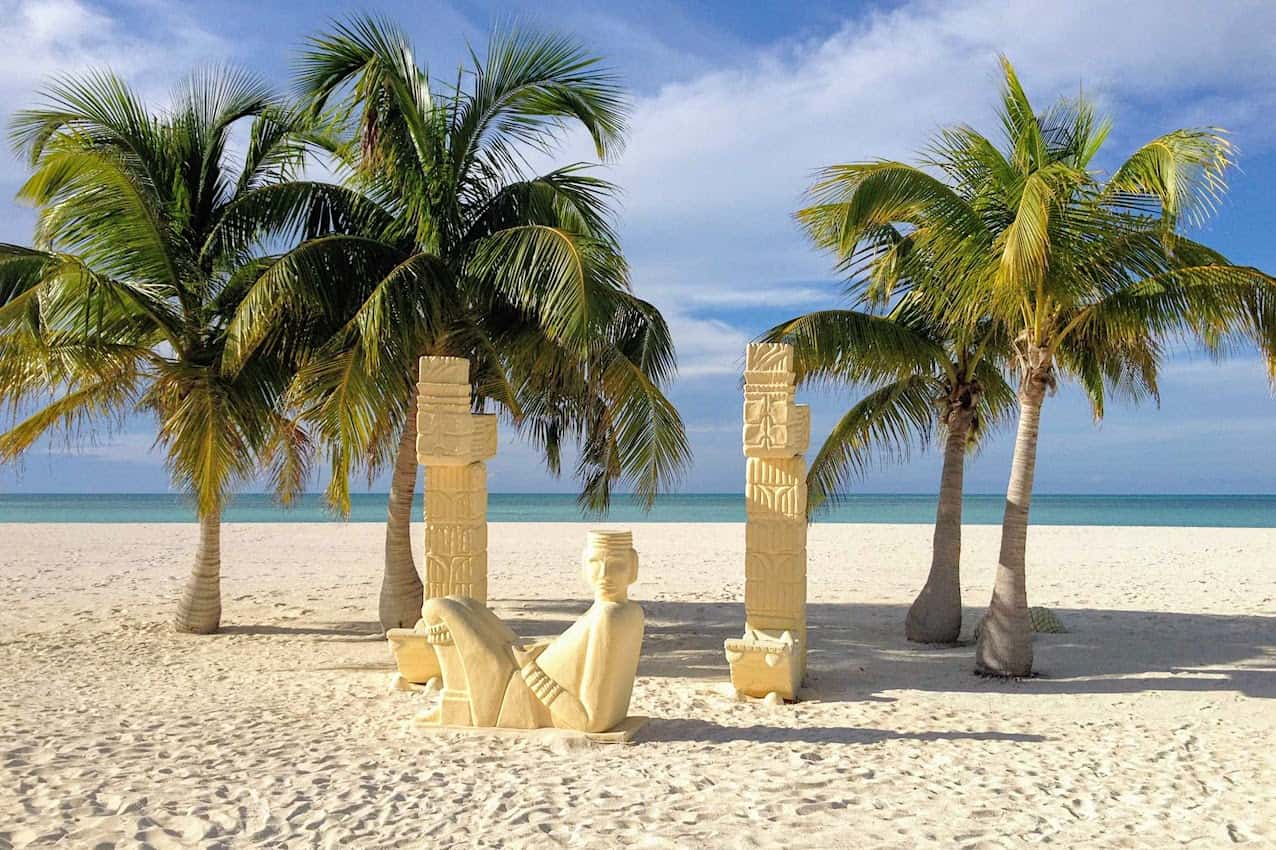 The private island of Isla Pasión is located at the north end of Cozumel, reachable by boat. Tours to this secluded beach are offered by all the cruise lines.
Included with the tour package are lounge chairs, hammocks, a water park, plus lunch and beverages. If you really want to get away from the crowds and stay on the west (calmer seas) side of Cozumel, this is a great choice.
Best Snorkeling Locations
While snorkeling isn't my go-to sport, snorkeling is one of the best activities you can do in these warm Caribbean waters. Cozumel is known for its incredible and plentiful coral reefs, and following are a few of the best snorkeling locations in Cozumel and possibly the world.
Dzul Ha at The Money Bar
This location, near the Puerta Maya and International piers, could be the best location for snorkeling in all of Cozumel.
There's plenty of sea life with large schools of tropical fish and an excellent chance to view turtles and manta rays! It's also a very uncrowded beach club with great food and lounge chairs.
Playa Corona
Playa Corona is an excellent spot for snorkeling in shallow waters. Without the need for a boat ride to get to some great snorkeling, it's a fan favorite!
Spot schools of fish and enjoy the local restaurant when you've become waterlogged and need a break!
Chankanaab Eco Park
At this popular spot, you'll be sure to see lobster, colorful coral, manta rays, and much more. The mild currents in this area make for an abundance of tropical fish.
You won't have to dive too deep to see all that you'd want to see on a snorkeling excursion.
Best Uncrowded Beaches on the "Other" Side
Most people gravitate towards the west side of Cozumel because of San Miguel, the many beach clubs, and all the three cruise ports along the coast.
However, the other side of Cozumel is beautiful, more rugged looking, and much more private if you're looking to get away from the crowds.
On the east side of the island, tourists come for the bars and restaurants, narrow beaches, and gorgeous views of the rugged eastern coastline.
If you're looking for a quieter place to relax and enjoy a good book without interruption, try visiting one of these options on the "other" side of the island.
Punta Sur Ecological Beach Park
At the southern tip of Cozumel Island, this eco-reserve is a protected lagoon teeming with wild birds and crocodiles. Climb to the top of the lighthouse for beautiful views of the island.
Here on the east side of Cozumel and the Caribbean Sea, you'll feel like you're on your private beach. You can rent 4x4s and head out on your own.
Some rentals also include a stop for lunch and a beverage and time to relax on the beach.
This could be one of the best things to do in Cozumel on a cruise. Especially if you want to get away from the hub-bub of downtown and usually thousands of cruise passengers.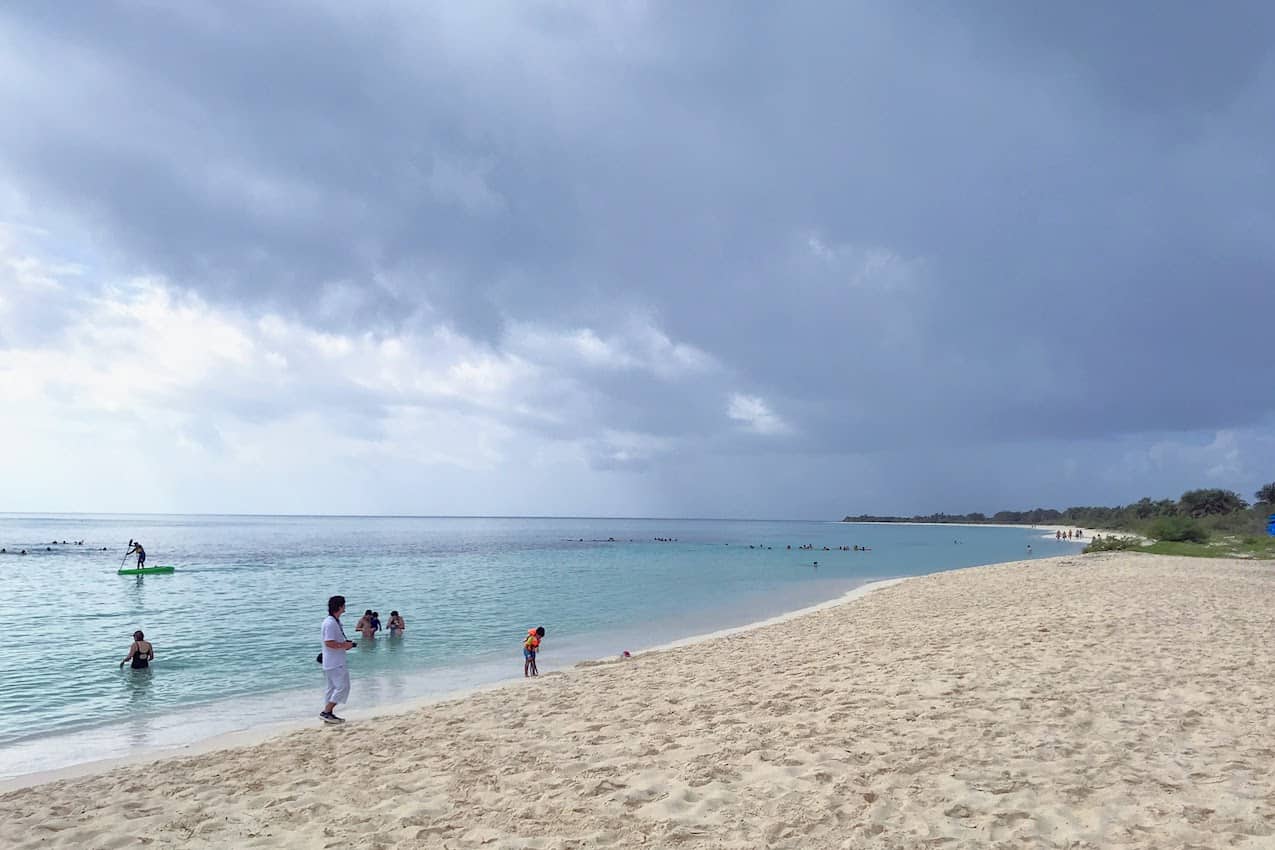 Playa Punta Morena
Talk about private! This beach is tucked away on the less popular east side of the island. Here, you can rent a hammock or lounger or use your belongings for sitting privately and spending time alone in paradise.
Playa Chen Rio and Chen Rio Restaurant
Playa Chen Rio beach is a great escape and one of the only really nice soft, sandy beaches on this side of the island.
Have lunch at Chen Rio's as you overlook the waves crashing against the magnificent rocks along the shore. The palapa-inspired decor gives you an authentic tropical island experience. There's an extensive menu to peruse and a sandy path down to the sea for exploring after lunch.
Coconuts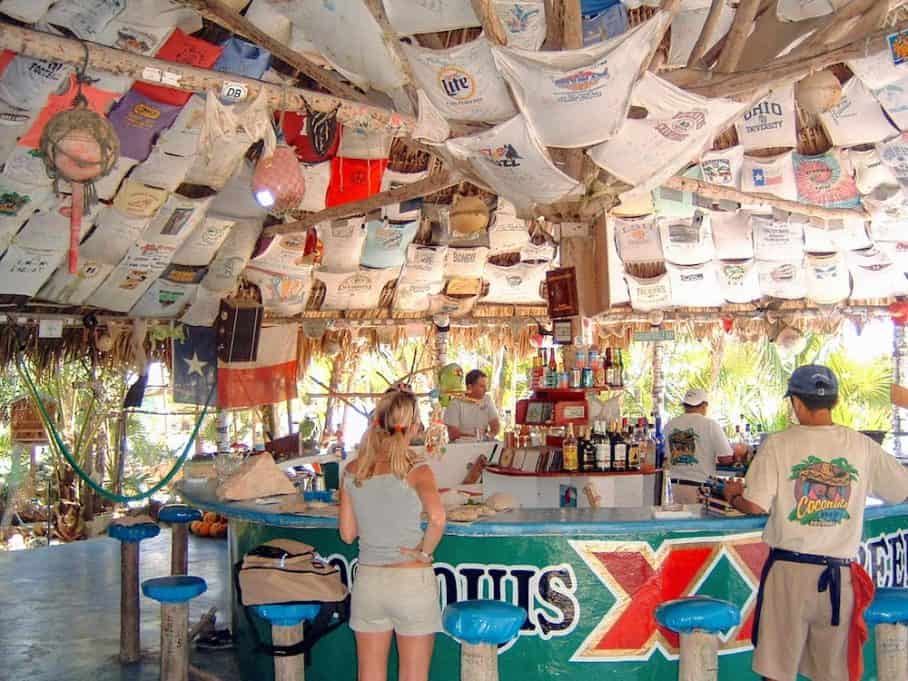 For a break from the action, located between Chen Rio and Punta Morena, ascend the stone stairs up to one of my favorite bars in Cozumel.
With stunning views of the Caribbean Sea and excellent drinks and snacks, this is a great way to end your day in Cozumel.
There's also a sandy walking path down to the rocky, limestone beach. Not for swimming.
Best Shopping in Cozumel
Something about traveling makes you want to shop! Of course, you'll want to pick up some great souvenirs for your loved ones at home and also something for yourself to remember the trip.
Head to one of these shopping locations to find your favorite souvenirs.
Los Cinco Solas
Known in English as the Five Sons, this shopping center is a souvenir hunter's dream.
Considered one of the best shopping destinations in all of Cozumel, this area is where you'll find the best selection of beautifully hand-crafted gifts and pottery on the entire island.
While some of the items may be a bit expensive, it's worth it for the quality and uniqueness.
Remember, if you have lunch at Pancho's Backyard at the north end of town, you'll be right there at Los Cinco Solas.
MegaMart
In need of sunscreen or other last-minute items that you forgot to pack? Are you looking for some unique spices? Look no further than MegaMart.
With tons of fresh fruit, vegetables, and to-go snacks, you'll find it hard not to walk away with something delicious. It's like a Walmart but more fun!
But remember, only unopened packs of food, coffee, spices, etc., are allowed back on the ship.
El Mercado
El Mercado is a colorful, open-air area full of little eateries and small shops. This local market is the perfect place to try all different types of local flavors, especially on a budget.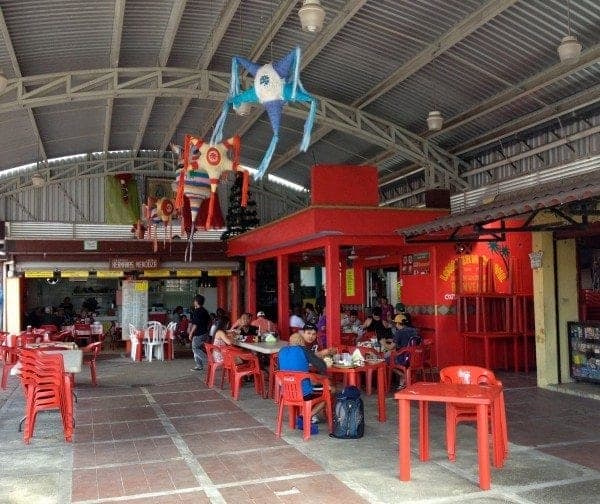 Spend a couple of hours walking around for some fresh ready-to-eat meals! But you can't bring the fruit back to your ship.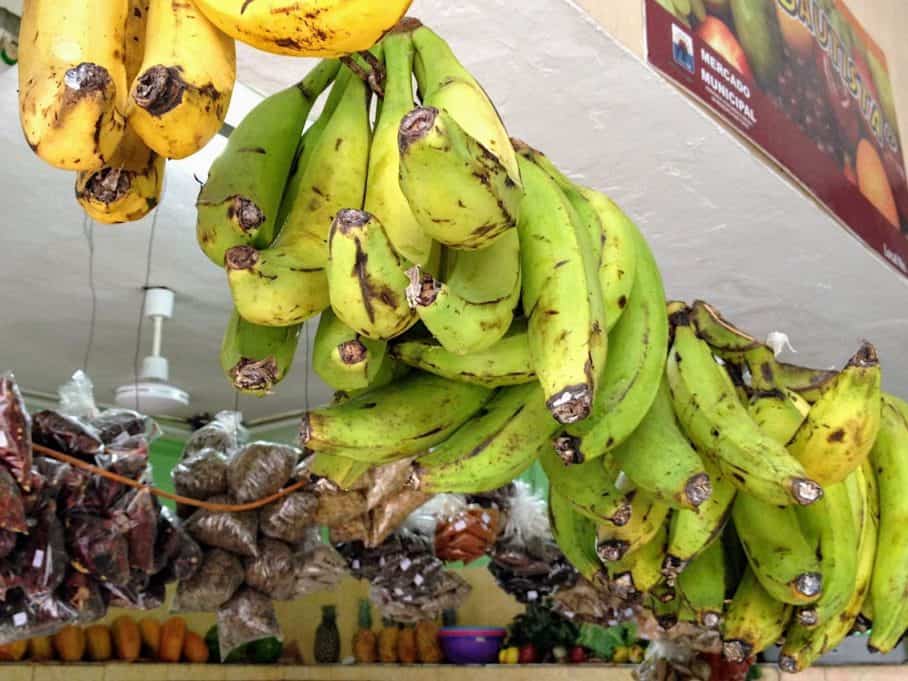 Punta Langosta Mall
Located right next to the Punta Langosta cruise port, you'll find all of the souvenirs you need.
Visit as soon as you dock or while you're waiting to board after your day ashore. This area is full of big-name shops but also local Mexican vendors as well as a pharmacy.
Similar to Puerto Maya, it's a tourist's shopping haven.
Getting Around Cozumel Island
If you want to enjoy the most of Cozumel on your cruise, you'll need a proper way to get around. Consider renting a taxi when you get off your cruise ship to take you downtown for a fair price.
If you want to go to the east side of the island, it might be better to rent a car instead of paying for the higher cab fare.
Or, walk up to a cab driver and ask how much he'd charge for a 1/2 day of touring.
A couple of years ago, for $50 USD, our driver took three of us all around the island, with stops at Chen Rio, Coconuts, and a couple of other places.
If you're feeling more adventurous, consider renting an ATV to explore the island!
Cozumel Conclusion
To try and do many of the best things to do in Cozumel on a cruise, you really need to maximize your time. Cozumel is an incredible island with tons of unique and interesting activities and places to explore.
Be sure to leave some time to taste the local flavors from some of the best restaurants in the area, sip a cold margarita while you relax on some of the Caribbean's best beaches.
You'll see colorful tiny tropical fish swimming right up to the shoreline. But go snorkeling at the reefs, and you'll be astounded at the variety of underwater activities and beauty.
Now that you know the best things to do in Cozumel in one day, it's time to plan your cruise with our favorite cruise tips!
More Mexico Travel Inspiration and Ideas!
I'm the editor and creator of CruiseMaven.com, a solo traveler cruising the world on waves and wheels, collecting recipes along the way.  I hope my articles and photos entertain, advise and inspire you to travel the world without flying.  Take a breath…stop for a local meal and a glass of wine along the way.