Explore the Wild Side of Cozumel
Mention Cozumel and immediately someone says something like, "Oh, yeah, don't miss Carlos and Charlie's tequila party." But Cozumel is so much more than hanging in downtown San Miguel or climbing an "iceberg" water float at Mr. Sancho's. Or even more than sipping Coronas on a catamaran.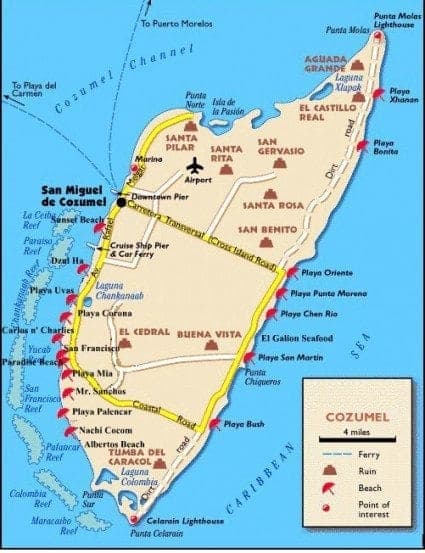 Where you'll dock in Cozumel
Your ship will dock at one of three ports: Punta Langosta Pier (the downtown pier), you can walk to downtown San Miguel ; International Pier is further south (about 5 miles) and almost walkable into town; last is Puerta Maya Pier and requires a taxi to and from downtown San Miguel.
Getting to the "Other Side" of Cozumel.
The easiest way to independently see what's hiding on the eastern side of Cozumel is to hire a taxi at the port. Negotiate the price before you get in if you want your driver to take you on a bar-hop or beach experience. I paid $50 to visit four beach bars in an afternoon. Of course you can rent a jeep, too.
Simply turn right from any port; you'll be going south on the one and only main road that circles half of the island.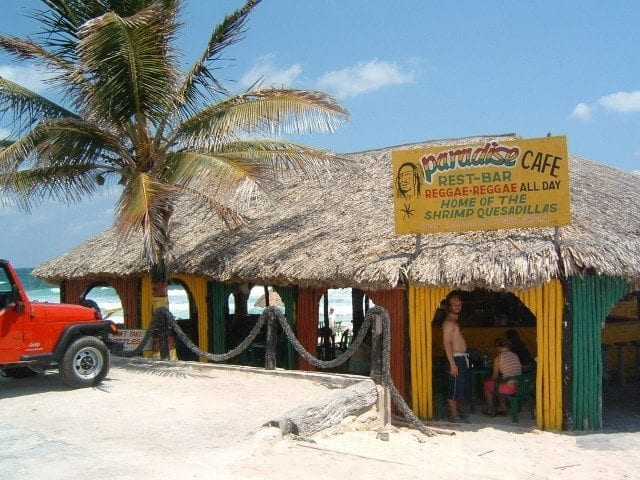 Paradise Café – Bob Marley Bars
This is the first stop on your "Other Side" tour. Paradise Café is located on the southeast tip of Cozumel and looks a bit more like a roadside stand in Jamaica than Cozumel. But don't let that fool you. The food is good, the atmosphere is laid-back (as are all beach bar/restaurants in Cozumel) and the drinks are cold. The entrance to Punta Sur National Park is just a few hundred feet away.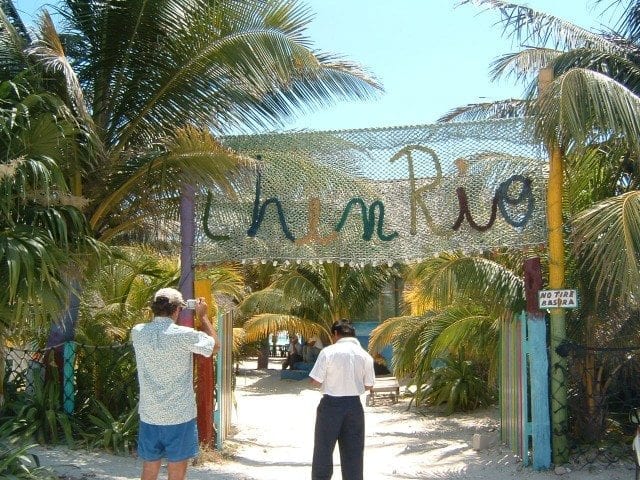 Chen Rio
Easy access from the road, Chen Rio's is easy, breezy and has a swim-able beach due to the protective cove location. Maybe a little bit more expensive than the previous two places to eat, but worth it especially if you want to wade in the water or relax after eating. Ample portions make the prices seem quite reasonable, however.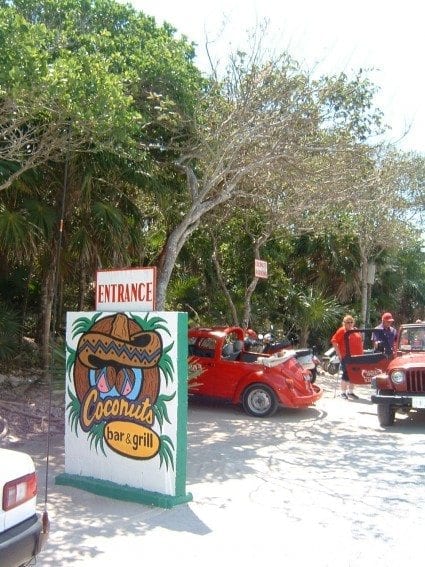 Coconuts
Continue north and slightly hidden from the road is Coconuts. Perched high on a cliff, there is a long flight of rocky steps to climb to get to the entrance. Once at the top, you are rewarded with a most spectacular view of the rugged coastline. Tables surround the colorful bar and are usually plentiful. It's the view that's the draw, as well as the nachos and ice cold beer. The main dishes are pretty good, too. There's even a small walking path with even more exceptional views, just exercise caution when walking around. Not only is it a long way down, but the rocky path is unforgiving should your leg brush up against the rough edges.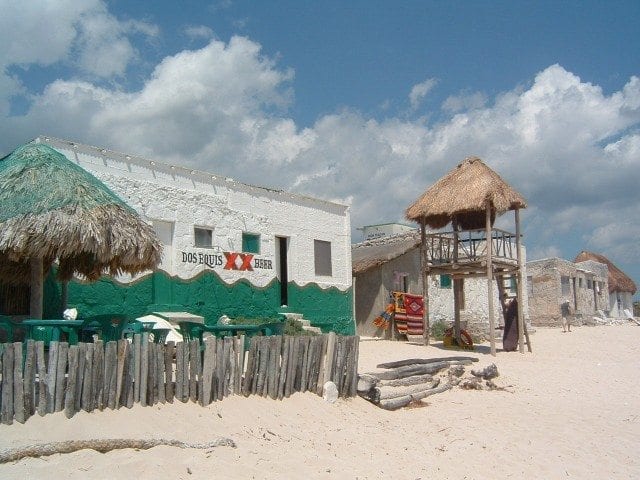 Before Hurricane Wilma
Punta Morena today. Photo credit: Punta Morena Facebook page.
Punta Morena
Combine the beach clubs on the west side with the east side ambiance over here and you have a sort of Punta Morena beach club. With a large, segmented swimming pool, bar and semi-enclosed restaurant, it's a bit like coming back to civilization, if that's what appeals to you. Again, as in all of the other places mentioned, you can't go wrong ordering snacks, lunch or drinks. There are a few well-placed shaded hammocks to relax in after lunch.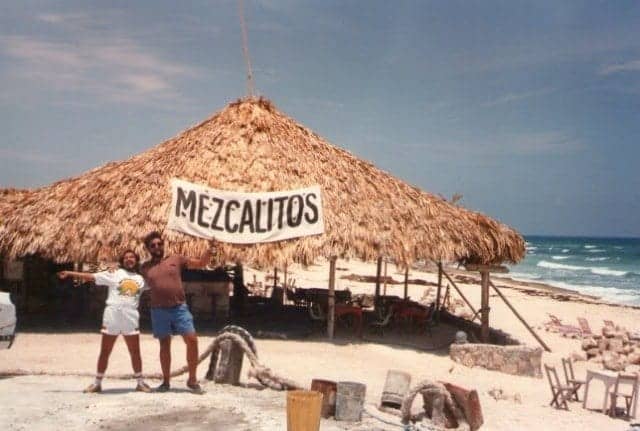 Photo credit: Mezcalitos
Mezcalitos
Last stop going north along the highway before the road bends westward to downtown is Mezcalitos. Since 1979 and family-owned, Mezcalitos is kind of a landmark, end of the road beach bar and restaurant. Known for their delicious shrimp dishes and super-size Margaritas. Add in some beach volleyball and you'll definitely make new friends here.
Time to head back to your ship. Once you are back on the main highway, the Transversal Road, it's a quick 10 minute drive back to San Miguel.
Do one or do all of the beaches on the "Other Side" of Cozumel; a good time is had no matter where you choose.
READ MORE TRAVEL INSPIRATION: More Best Things to Do in Cozumel in One Day
Important Advice
Keep an eye on the clock and allow extra time to return back to your ship. Especially if you are docked at Puerta Maya Pier.
The "Other Side" is the ocean side of Cozumel and there can be some pretty rough surf accompanied by rip currents and strong undertows. If uncertain, check the beach flags and if you see green, that's the go ahead that it's safe. Always use caution – there usually isn't a lifeguard.
Bring sunscreen! The clean air, bright white sand and glaring sun all add up to a pretty nasty sunburn if you're not careful.
Last, take plenty of photos. The scenery is beautiful and you'll want to tell all your friends back home about your amazing day in Cozumel. Or maybe you won't…just to help keep this pristine and secluded shoreline from becoming overrun with tourists…for now.
Photo credit: Sherry Laskin – all except the map (Wikipedia); Mezcalitos and Punta Morena's new photo.
N.B. My photos were taken in a time span from 2004 – 2010. A popular travel website that linked to my article received several mean-spirited comments due to the fact that my photo of Punta Morena was outdated. Others readers commented that it was nice to see how it used to look prior to 2005 Hurricane Wilma. I apologize if I offended anyone by using an "outdated" photo of which I was unaware.
My objective was to point out and create an awareness for the spectacular "other" side of Cozumel which many cruise passengers may never see if they only purchase cruise lines' shore excursions.
I'm the editor and creator of CruiseMaven.com, a solo traveler cruising the world on waves and wheels, collecting recipes along the way.  I hope my articles and photos entertain, advise and inspire you to travel the world without flying.  Take a breath…stop for a local meal and a glass of wine along the way.