How to get from the Venice train station to San Basilio Cruise Terminal is a question that readers frequently ask. Probably because thinking about getting around a city without any cars, buses or taxis is a bit confusing. So here goes.
Take a good look at the map above.
You can also enlarge your screen view for a closer view. San Basilio is NOT the main cruise ship terminal in Venice. As you can see in the map above, the main cruise terminal is way off to the left. It's huge. San Basilio, front and center, is where smaller ships dock.
If you plan to arrive into Venice by train, (see the arrow for the bridge to the mainland..that's what you crossed to get to Venice) you can see the train station nearby, above and a little to the left of center.
You'll need a ticket to ride the Vaporetto. You want the #2 Vaporetto.
Inside Santa Lucia station there is an information booth where you can pick up a map and purchase your ticket. But if the line or crowds are too thick…read on…
As you exit Santa Lucia station, you will face the water. If you have heavy luggage (heaven forbid!) there are ramps on both sides of the stairs in front of you.
When you've reached the bottom of the ramp or stairs, the vaporetto floating boarding stations are also in front of you (see map again). Signs will say, "Ferrovia" – that means "train station" in Italian. That's where you are now. That's also the stop where you board or disembark the Vaporetto for Santa Lucia station. Signs won't say "Santa Lucia Vaporetto".
Click here to read about my train adventure from London to Venice and 24-hours of non-stop travel to get there.
You can purchase your ticket to San Basilio there, at the two ticket stands in front of the station. If you're confused, don't worry. Simply ask the ticket agent for a ticket to San Basilio Maritima.
Remember: To get to San Basilio Cruise Terminal, you want the #2 Vaporetto. It will take about 25 minutes to get to the port.
Getting from San Basilio Cruise Terminal to Santa Lucia Train Station
Sounds simple now, doesn't it? It's pretty much the reverse except:
Depending upon your cruise line, a shuttle may or may not be provided as you exit the ship. However, your luggage will be transported to the main terminal; it's the long terracotta-colored roofed building.
At the far end of the cruise terminal, is the main entrance/exit door.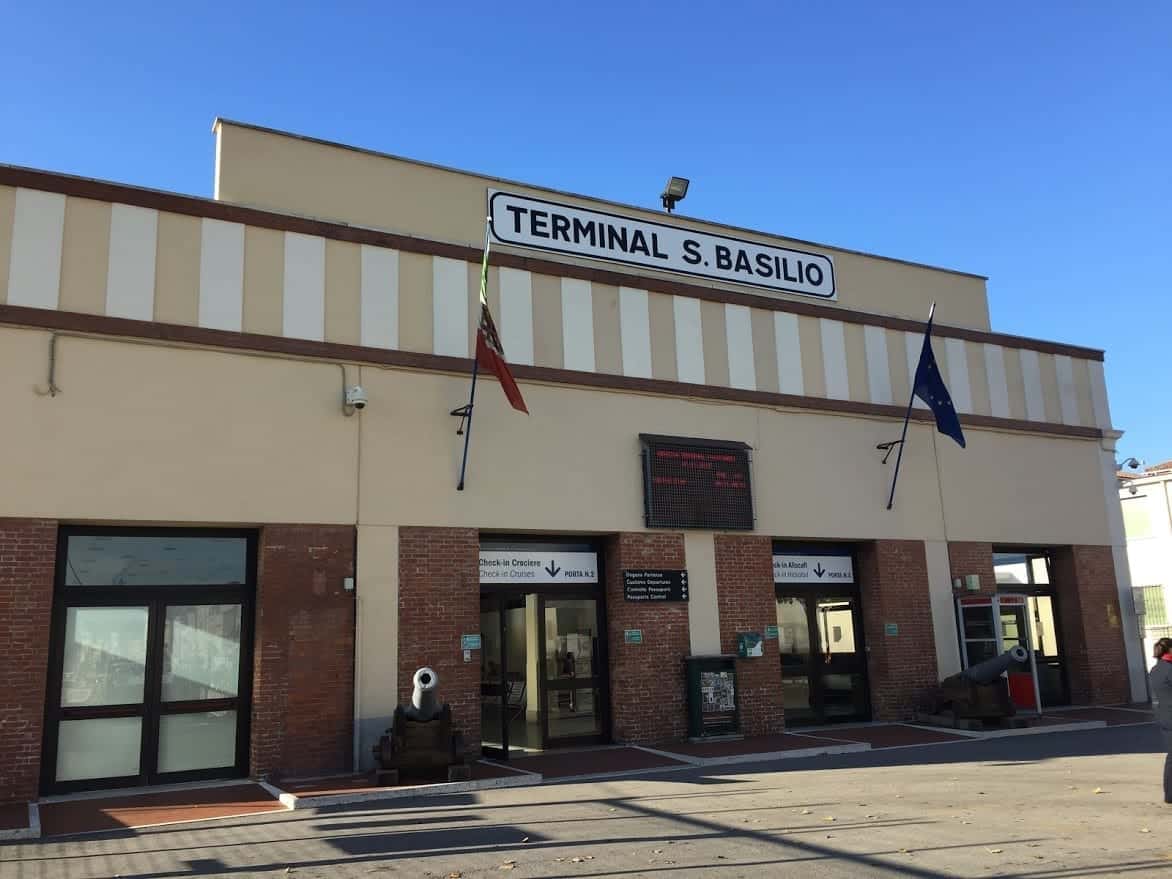 As you exit, you'll face towards the path that leads to the Venice. You'll find a small foot bridge a few yards from the entrance. Cross the bridge and you're right at the San Basilio vaporetto stop.
But if you need a ticket for the #2 Vaporetto back to Santa Lucia train station…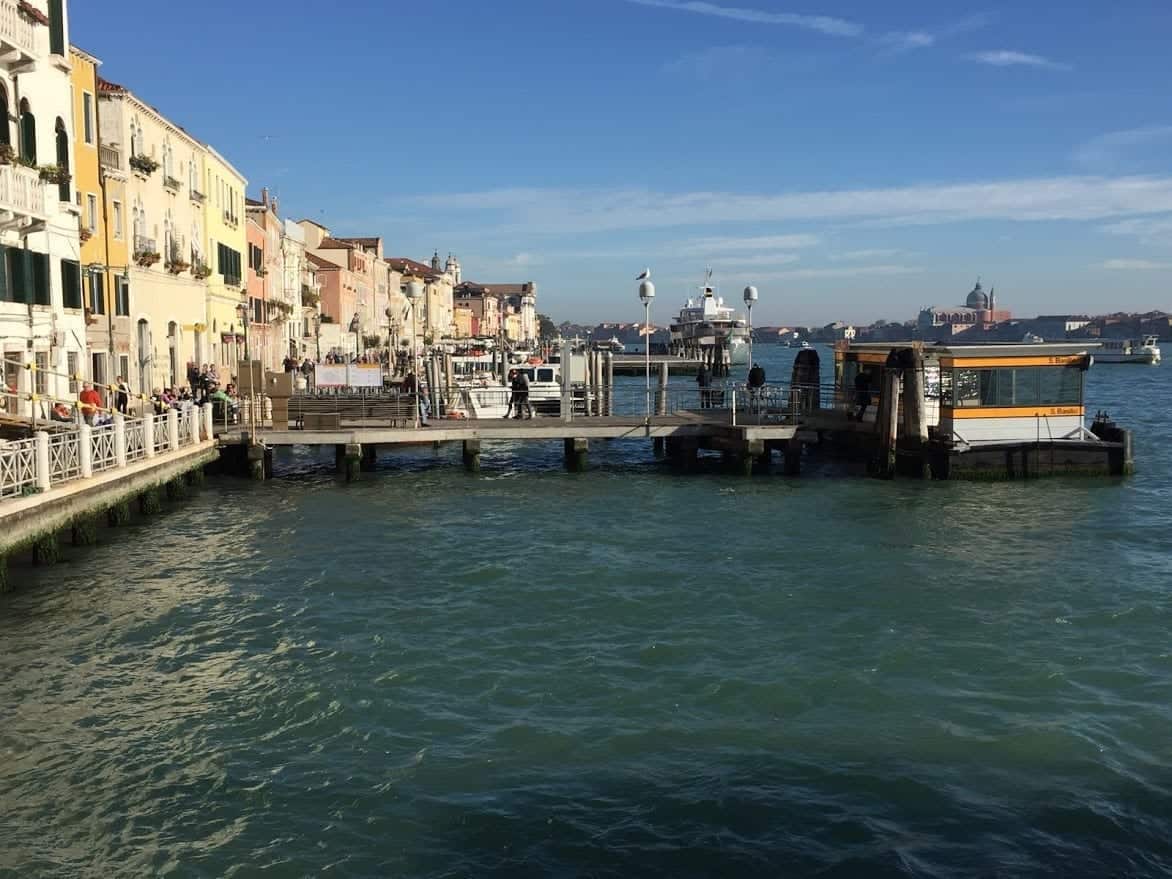 Keep walking straight ahead along the waterfront for about 10 minutes, past the vaporetto platform. You're looking for the vaporetto stop named, "Zattere". Tickets are sold at Zattere. To be sure to get the correct ticket, once again look for the word, "Ferrovia" – "train station" in Italian. If you happen to be docked for a while at San Basilio, you might do a test walk to Zattere and see if you are able to purchase you ticket in advance for your travel date.
Once again, it's about a 25 minute boat ride from San Basilio to Santa Lucia. Ferrovia is your stop so pay attention. When you see a lot of people hauling luggage off the vaporetto, it's a good chance that your at Ferrovia!
Walk from Santa Lucia to/from San Basilio
Technically, it is possible to walk between Santa Lucia train station and San Basilio cruise terminal. But I would strongly advise again it. There are many little bridges with lots of stairs to climb up, go across the bridge and down again. And you could get lost. Everyone says, "Oh, it's so much fun to get lost in Venice!" That's partly true. However, getting lost in Venice when you have a train or ship to catch and are hauling luggage with you isn't much fun.
If you insist on walking, I'd still suggest taking the vaporetto. Once you've checked into your ship, then go for a walk! Or arrive at the station, you can walk around there.
What to do at Santa Lucia station
Not much, really. I advise readers not to arrive at any train station in Europe more than 30 minutes prior to boarding. However, if the train begins at your terminal (such as in Venice) boarding will begin maybe 15 minutes before departure. Unless you have last minute shopping to do, you don't need to arrive any sooner. Guard your belongings and hold onto your luggage handles.
There's a café at the far left side of the train platform. If you're lucky, you might be able to grab a seat outside on the platform side, rather than inside the very busy café.
That's it! Have a wonderful time traversing through and seeing Venice. It's in my Top 3 list of major cities (Paris and Rome are included) to visit in Europe.

I'm the editor and creator of CruiseMaven.com, a solo traveler cruising the world on waves and wheels, collecting recipes along the way.  I hope my articles and photos entertain, advise and inspire you to travel the world without flying.  Take a breath…stop for a local meal and a glass of wine along the way.