Train food plus train station food, a good bottle of wine and finally, real food.
You have to be psyched to do this, especially if you've had a 39th birthday once or twice. To meet my cruise, I had to travel by train to Venice from Southampton. It required a lot of planning, a little luck and a good stomach.
By 8am I left the Queen Mary 2 and grabbed a taxi to the Southampton rail station. Within an hour, I was on the express train to London, I think it was Victoria Station. Or Waterloo.
Two and one-half hours later, I was in another taxi, going from whatever train station, to St. Pancras Station for my next train, the sleek and speedy Eurostar to Paris. Note to self: Next time buy the Cunard bus transfer!
My early morning departure from the Queen Mary 2 didn't allow me much time for the full breakfast to which I had become accustomed (love those English breakfasts!) So it was a welcome sight to be served my en-seat luncheon aboard the Eurostar. I couldn't quite make out what everything was, but I was pretty sure that the gelatinous goo on the right was some kind of flan. The meat in the middle looked suspiciously like pork, so I bypassed that, tried a couple of the noodles, picked at the green stuff and polished off the wine.
Paris meant I had to again haul my too-heavy suitcases up another train platform and thank goodness a nice woman offered to help. I must have looked awful lying there, crying on the cement floor (not really but I'm sure I looked pathetic.)
Hailed another taxi to go to the next train station, Gare du Lyon, for my overnight Thello train to Venice. Yes, Venice. Along the way, my taxi driver (who charged me 80 Euro for a 20 minute ride!) veered out of the way to pick up his daughter at a different train station. She was almost fluent in English and along with my hideous version of some kind of French, we struck up a pigeon conversation about her school and classes. Finally we sort of arrived at Gare du Lyon.
When I saw how far I had to walk from the taxi to inside the train station, the taxi-driver's teenage daughter volunteered to pull one of my suitcases into the station with me and made sure I was on the right platform. Yes, I handsomely tipped her dad before we said goodbye, despite being overcharged for the ride between stations. The price to pay for being a tourist, I suppose.
I was early. Yes, me. Early. There's a famous restaurant at this train station, Le Train Bleu, that I had planned on for dinner, but with so much luggage and so little strength, I opted for the commuters version, L'Express Bleu. Sort of a coffee shop edition of the real thing. Being a bit too jittery, I fell back on good ol' comfort food, a Croque Monsieur; grilled cheese sandwich with fries. Actually, was a Croque Mademoiselle without the ham.
Nervously watching the departures board every 8-10 seconds, when my train was announced, I paid the bill and heaved all four bags through the doors, across the station and out to the platform.
Within 20 minutes our train pulled in and everyone without a sleeper crowded to board. With a little help from strangers, all four bags made it onboard and one by one I wheeled, dragged or carried each one to my room.
The conductor handed out a little slip which entitled me to a free welcome aboard cocktail which I promptly downed. I bought a small bottle of wine and a package of cheese and crackers and headed back to my room. I didn't finish the snack, but I certainly enjoyed the wine.
I woke up during the night, peeked out of the window and there we were, in the Italian Alps, a full moon illuminating the snow-capped mountains. Perfect timing. I went right back to sleep.
By morning we were well into Italy, just a couple of hours to Venice. There wouldn't be time for breakfast until I arrived at my hotel which I hoped, if we were on time, would be about 10am. We were. It was.
Waiting for me at the train in Venice was my hired meet and greet to escort me to the water taxi at the foot of the train station. I was in Venice.
At 10am we arrived at the private dock for the Hotel Danieli. I checked in and was treated to the most wonderfully strong, steamy, foamy cappuccino in all of Italy. Or so it seemed.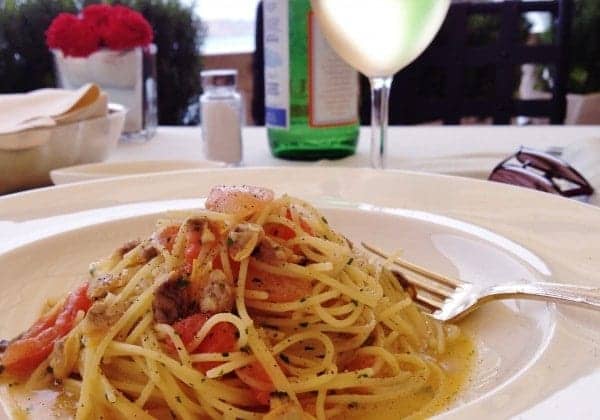 But the real treat was after I checked into my room; lunch on the rooftop of the hotel, overlooking the Grand Canal.
I had arrived.
Photo credit: Sherry Laskin, except Le Train Bleu and L'Express Bleu credits to Le Train Bleu.
I'm the editor and creator of CruiseMaven.com, a solo traveler cruising the world on waves and wheels, collecting recipes along the way.  I hope my articles and photos entertain, advise and inspire you to travel the world without flying.  Take a breath…stop for a local meal and a glass of wine along the way.