You're sailing on another western Caribbean cruise heading back to Ocho Rios, Jamaica. On your last visit here, you climbed all 300-feet of Dunn's River Falls, drove the winding roads through Fern Gully rainforest, tried river-tubing and experienced zip-lining. But did you meet Lobster Dave?
When you've been there, done that and want something different to do in Ocho Rios, I have a suggestion. It's not for the timid or culinary-challenged. In fact, it's the type of place that Anthony Bourdain would have loved to visit. It's Lobster Dave and his lobster shack.
Located in an area known by the locals as Fisherman's Point, is a secluded seafood shack owned by the man who still goes by the nickname I gave him almost 20 years ago. It's Lobster Dave and his oceanfront "diner."
How I Met the Man I Would Nickname "Lobster Dave"
I met Dave in Ocho Rios, Jamaica on New Year's Day, 2002. I was on a Royal Caribbean cruise when one of my cruise friends mentioned that someone told him where to go for the best home-made, fresh lobster. The place was literally located behind the scenes in a small local fishing enclave in Ocho Rios, named Fisherman's Point.
When our ship docked in Ocho Rios, the temptation to find Dave's place was overwhelming. The two of us ventured out to find this hidden gem of a restaurant.
Not quite sure of where we were going, we found ourselves at the beach-side of Margaritaville. Knee-deep in the ocean, we gingerly stepped over jagged rocks and crumpled corrugated steel panels. Two security guards cautioned us about going to the "other side." We were on the trail for fresh lobster and didn't stop.
There, on the other side of the makeshift wall that separated Fisherman's Point from tourist-laden Margaritaville, was the lobster shack. To reach this secluded seafood shack, we had to carefully cross the swiftly-moving stream over a wobbly wood plank, feeling a little bit like a modern-day pirate.
And shack it was: no walls, no tables or electricity. And there was Dave, busy chopping herbs, vegetables and setting foil-wrapped stuffed lobsters on the grill.
Customers were almost all local people happily eating and chatting among themselves while sitting on plastic chairs. Maybe three or four land-based tourists were there, too. You could tell by their tote bags that said, "Sandals."
As local fishermen brought in their fresh-caught lobster, Dave would clean and stuff the lobster. Still wrapped in the cooking foil, the crustacean was served on a paper plate with some fresh pineapple on the side. Beer and soft drinks were also available for purchase.
Back then, Dave only charged $12 for the lobster. Chairs taken, I sat on newspaper on a block of cement and set my bottle of chilled Red Stripe on the ground.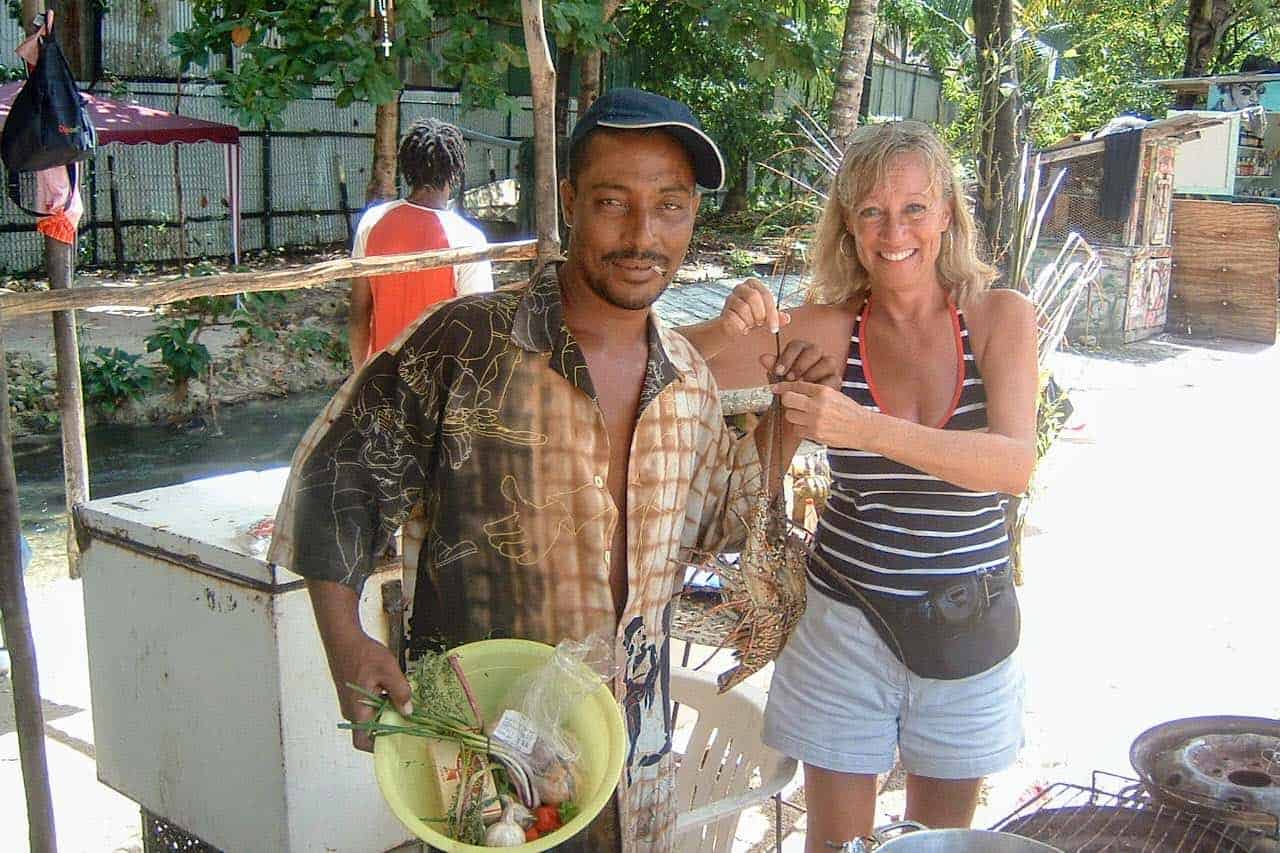 It was quite amazing to see how one man and a couple of his friends could make a restaurant from almost nothing. Food was cooked over an open grill, the freezer was filled with bags of ice and everyone seemed happy, despite the hot Jamaican sun that beat down on the fiberglass roof.
How Dave Became Known as Lobster Dave
How did Dave get his nickname? As my friend and I were leaving, I turned back and asked the chef/owner, "What was your name again?" "Dave," he replied. Quickly, I added, "Can I call you Lobster Dave?" "Let's call him 'Lobster Dave' " I said to my friend.
Soon after returning home, my friend published his article about finding this seafood shack in Ocho Rios and the chef/owner named "Lobster Dave." A celebrity was born.
Lobster Dave and the Upgraded Seafood Shack
I returned to Ocho Rios not too long ago and wanted to pay a visit Lobster Dave. While you still have to navigate behind the rickety-rusty partition, there was a small bridge with a railing to walk over the stream. Dave's restaurant had walls, light bulbs and a huge refrigerator and freezer.
Dave is always busy, chopping the vegetables and herbs, greeting customers and wearing his trademark plaid shirt. Immediately you notice the spicy aroma of onions, garlic and home-grown (literally…at his home) vegetables which comprise the garnish for the lobster.
Directions to Lobster Dave's from Ocho Rios Cruise Port
The directions to find this seafood haven were simple: exit the port, walk straight ahead to the shopping complex, Island Village.
Go up the ramp and follow the signs to Margaritaville. Once you get to Margaritaville, proceed through the restaurant and head towards the beach. When you reach the beach, look to your left. You'll see a partition as you face the water, separating Margaritaville and the unknown.
There are hired security guards who advise you that once you "cross over" the partition you are on your own. At the same time as the dire warning is delivered, you'll be approached by friendly locals from the "other side" offering to sell you necklaces or little carved trinkets.
Tell them you are there to visit Lobster Dave. They'll most likely offer you a hand to aid in stepping over some jagged rocks in several inches of water as well as to avoid any other debris that was washed down the stream from the mountains to the ocean.
How Much Will You Pay for a Meal at Lobster Dave's?
Be prepared to spend about $20 per person for a more-than-ample-sized stuffed lobster meal, plus your beverage at about $2-3 each. You'll sit at a picnic table beneath a translucent fiberglass roof and painted lattice for walls.
Plates are paper, beer is Red Stripe and soft drinks and water are icy cold. The lobster tail, stuffed with Dave's vegetable mélange is still cooked in tin foil over an open fire. Sometimes it's presented with a bit of breadfruit or pineapple on the side.
A cruise to Ocho Rios isn't complete without stopping by to order the succulent lobster painstakingly prepared by Lobster Dave himself. No matter what ship you are on, it's a wonderful change from the mass-produced frozen lobster tails on formal night. And totally different flavor from the cold-water lobsters in Maine.
Enjoy the Adventure – Eat at Lobster Dave's in Ocho Rios
Lunching at Lobster Dave's isn't for everyone nor do I recommend it for everyone. It's not wheelchair accessible nor for the unsure-footed person. Climbing around the fence can sometimes be a challenge during the rainy season as the water is deeper and the rocks are more concealed and very slippery. If you are easily offended by what some of the people are smoking, don't go.
With an open mind, a spirit of adventure and a quest for a real home-cooked Jamaican meal, you can't beat the experience at Lobster Dave's diner at Fisherman's Point.
I'm the editor and creator of CruiseMaven.com, a solo traveler cruising the world on waves and wheels, collecting recipes along the way.  I hope my articles and photos entertain, advise and inspire you to travel the world without flying.  Take a breath…stop for a local meal and a glass of wine along the way.