Anthony Bourdain (1956-2018)
We're all still in shock after hearing the news of his untimely death.  I've reposted our interview from January 2015. It's just so sad and surreal to listen to this and know he's gone.
It wasn't easy to arrive into Grand Cayman by ship on the exact day that Anthony Bourdain was giving a presentation at the Ritz Carlton on Seven Mile Beach.  Timing is everything.
The morning of the interview was probably the most nervous I had been since the last time I was on an airplane.  The Carnival Pride docked right on time and I took the first tender ashore.  Jumped into a taxi and headed to the Ritz Carlton.  It's an enormous property and finding my way through it to check in at the Events department threw me into a tizzy.  I was still early but I didn't want any mess-ups.
Hotel staff, along with the crew from each of the pop-up restaurants, were busy setting up for the event.  Tony, as he was being referred to here, was no where to be seen.  There was still about a half-hour until he would take the mic and stop at each of the dozen restaurant stands.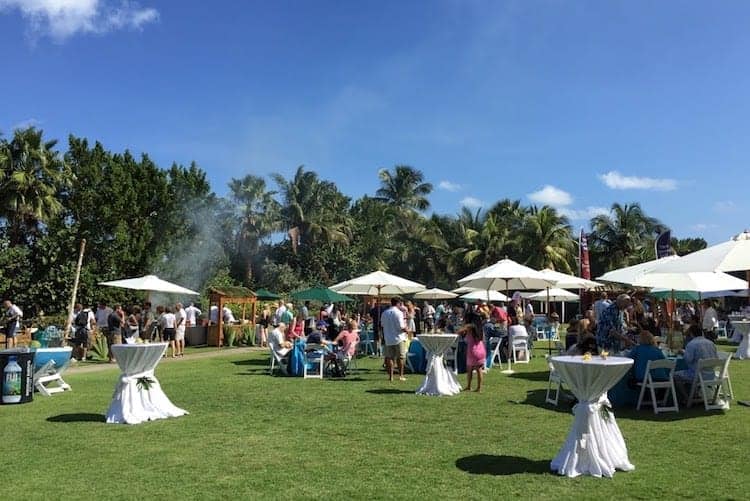 People who had paid quite a lot of money for an admission ticket slowly filed into the garden.  Soon, the familiar smell of stoked barbecue grills along with a trail of spices of all sorts filled the air.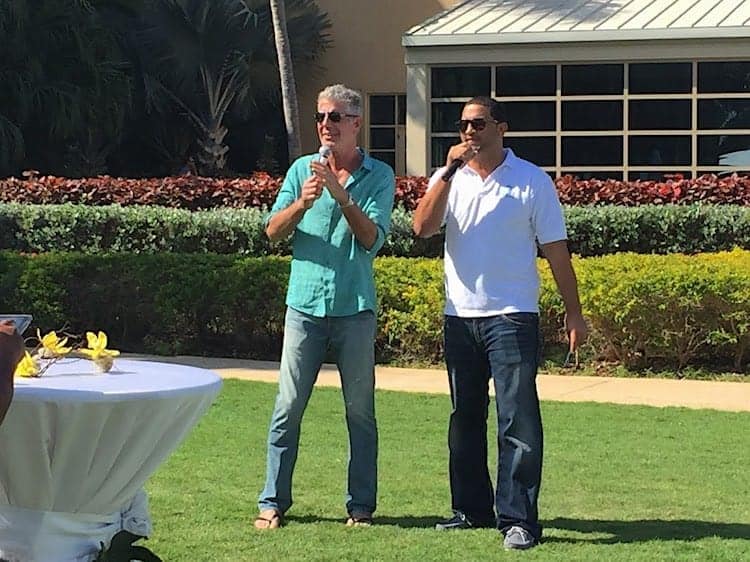 The Cayman Cookout event was started by Anthony Bourdain's long-time friend, Eric Ripert.  I didn't see him there that day.
Famous chefs, mostly unknown to me, would eventually show off their prized dishes while Anthony Bourdain would get a conversation going with them.  He named all of them.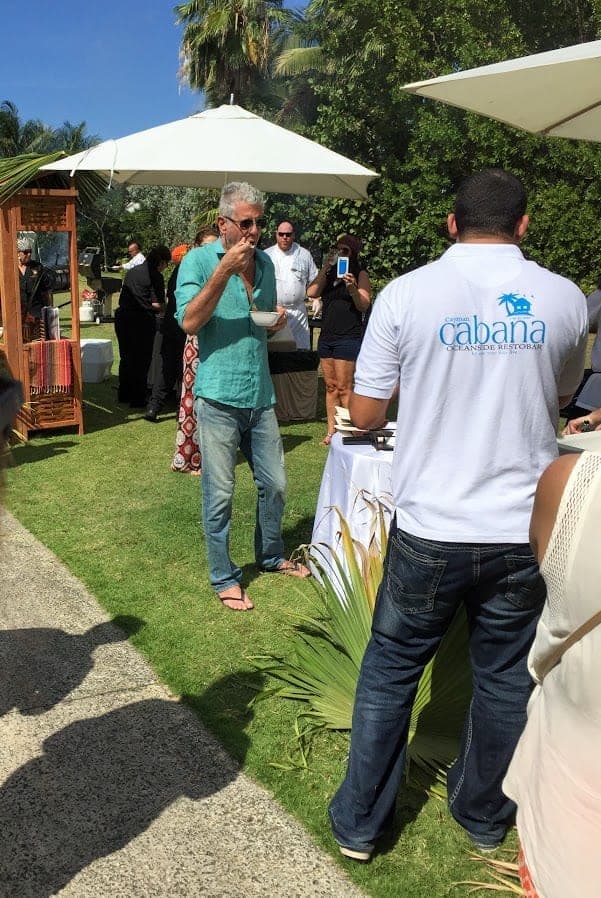 We talked about how he got his start, what he likes to cook with his daughter when they have company and his plans for the future.  We even talked about cruising.  When I hear his voice again now, it's so full of pep and energy, especially when the subject moves to sushi.  He was really into fitness and even traveled to this event with his Brazilian Jiu Jitsu instructor.
Nearly two hours later, under a bright blue sky and scorching Caribbean sun, the outdoor cookout event ended for the day.  Someone came and suggested I come wait inside the hotel while he changed clothes. We'd meet out at the beach instead of a press room.
I still can't believe that he granted me this interview.  To my shock, I was the only journalist to meet with him.  I envisioned the scene from Notting Hill when Hugh Grant finagles an interview with Julia Roberts.  In the movie, he's one of two dozen journalists jockeying for a position for a precious five minutes to interview her.
But no.  I was escorted outside to the beach by the hotel's event manager.  We were introduced, iPhone ready to record.  And so the interview began.
It's with great sadness at his passing as well as an incredible memory of having known him for a handful of minutes, that I'm re-sharing this interview.  Enjoy these few minutes with Anthony Bourdain.
Listen to the Cruise Maven  Travel Podcast:
We're on iTunes
Tune in to Stitcher Radio
Sherry is editor and creator of CruiseMaven.com. An expert on ocean and river cruises plus trains in the US and Europe, Sherry's goal is to share her experiences to entertain, inform and inspire readers to travel the world.