If your ship docks in Nassau, Bahamas, here's how to get to world-famous Paradise Island and Atlantis Hotel from Nassau cruise port, in easy step-by-step instructions. You don't need to buy a Nassau shore excursion to get there.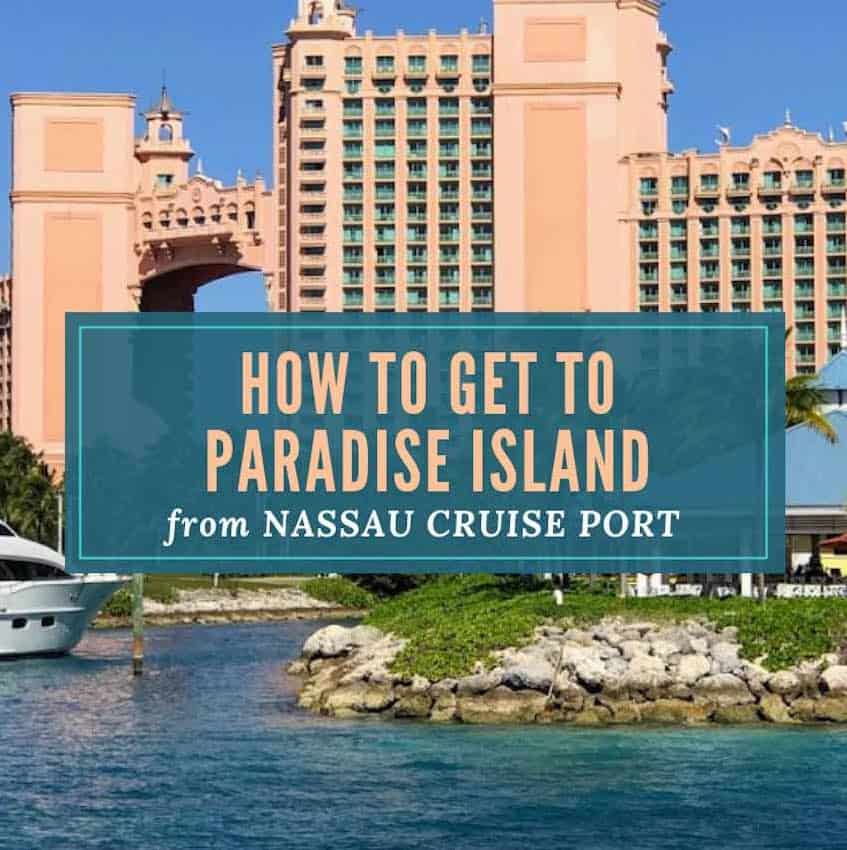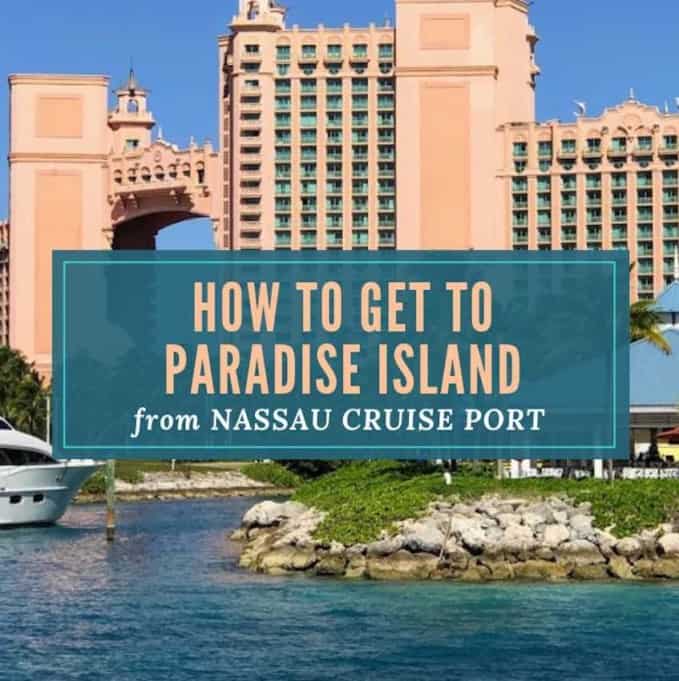 How to Get to Paradise Island from Nassau, Bahamas Cruise Port
If you are simply a curious cruiser who wants to see Paradise Island and Atlantis Resort, there's an easy way to get to Paradise Island from the Nassau cruise port. Take the Ferry Boat!
Of course, cruise ship shore excursions offer pricey packages to world-famous Atlantis Resort on Paradise Island. Excursions include the use its 141-acre Aquaventure water park complex and beautiful beaches. Do you need that?
Directions to the Ferry Boat to Paradise Island
Take a fun, inexpensive and informative 15-minute ferry boat ride right next to the cruise ship dock. The cost for a day at Atlantis is outrageous. Most people just want to see what's inside Atlantis Resort without using the hotel's beaches and other attractions.
How to Get to the Paradise Island Ferry
As you leave your ship, follow the crowd through Nassau's Festival Place Welcome Center. Keep walking and then go straight ahead when you exit the building.
Continue walking straight ahead until you reach the crosswalk. Don't cross the street but instead turn right. Follow the sidewalk along the waterfront. You'll see a bank across the street on your left and if you keep walking, eventually you'll be across from the Straw Market.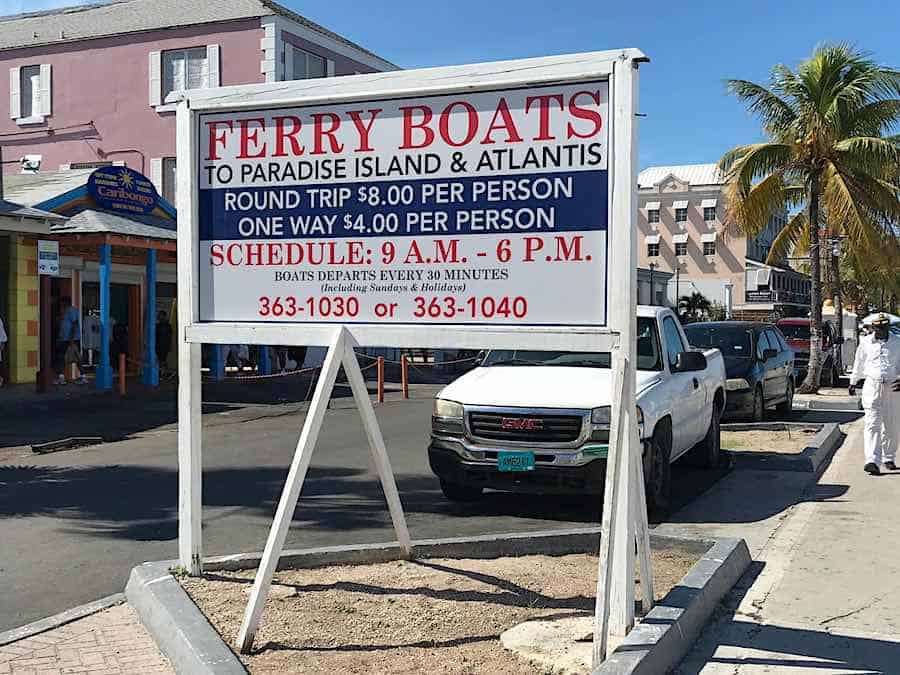 Within about 100 steps, you'll see a blue and white stand on the sidewalk with someone selling tickets for the ferry, Be sure to bring cash with you from the ship, including several $1 bills. They don't take credit cards.
How Much is the Ferry from Nassau to Paradise Island
The ferry charges $4 for one-way and $8 round-trip. Put your round-trip return ticket somewhere where it won't get blow away.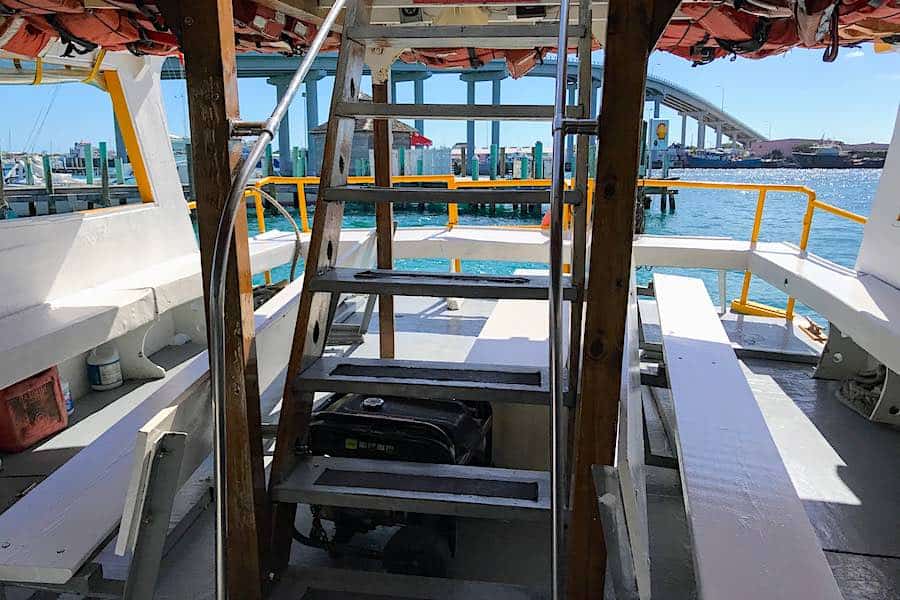 Once you have your ticket, you'll be shown to the ferry to board. If you like sun, go up the narrow ladder to the top deck. The views are beautiful from up there.
Keep in mind there's no covering so if you don't have sunscreen, this might not be the best place to sit for the 15-minute ride to Paradise Island. Also, hold on to your hat; it gets pretty breezy up top, too.
What to Bring to Paradise Island
Sunscreen
Cash in small bills for tips
Comfortable shoes or sandals
Hat or cap
Your ship's ID card AND your driver's license or government photo ID
During your short ferry boat ride from the Nassau Cruise Port to Paradise Island, a local Bahamian will provide a guided narration and point out homes of notable celebrities and quirky points of interest. It's customary to tip the guide, usually $1-$2 per person. He's not an official employee and this is how he earns a living.
Read next: 8 Tips to Book Your Own Shore Excursions
Directions From the Nassau Ferry Dock to Atlantis Resort
Once your ferry is docked, it's a 10-minute walk to the entrance of the Marina Village and Atlantis. Here's what to do:
From the ferry, follow the crowd. We docked to the left of Margaritaville and then walked under the toll bridge that connects Nassau with Paradise Island.
Just follow the sidewalk (and the crowd) until you reach the traffic light. Cross straight ahead, turn right and cross again. The entrance to Marina Village will be on your left, about 200-ft ahead.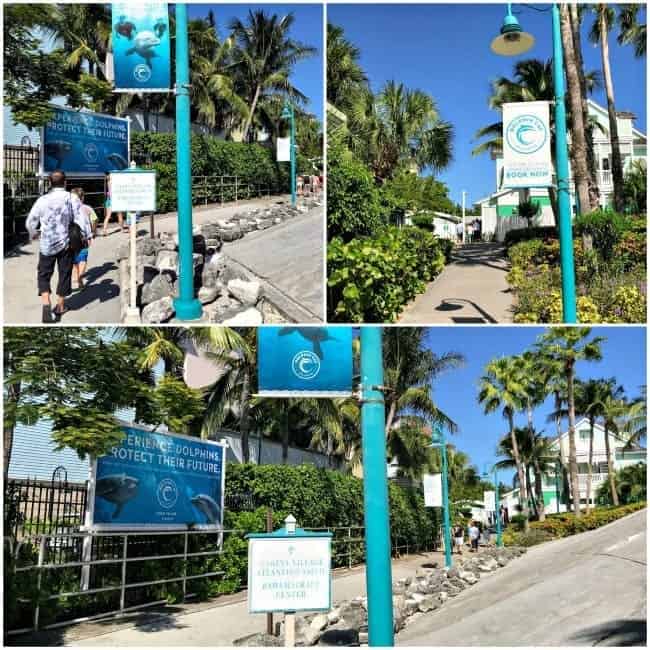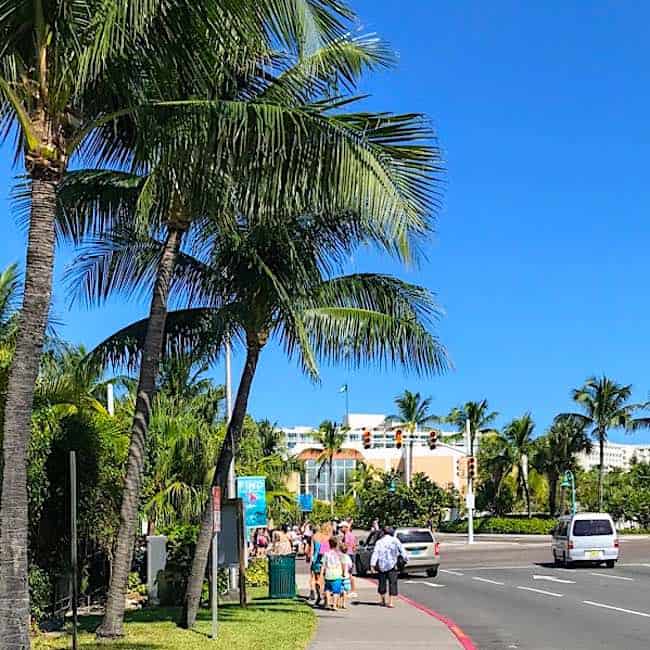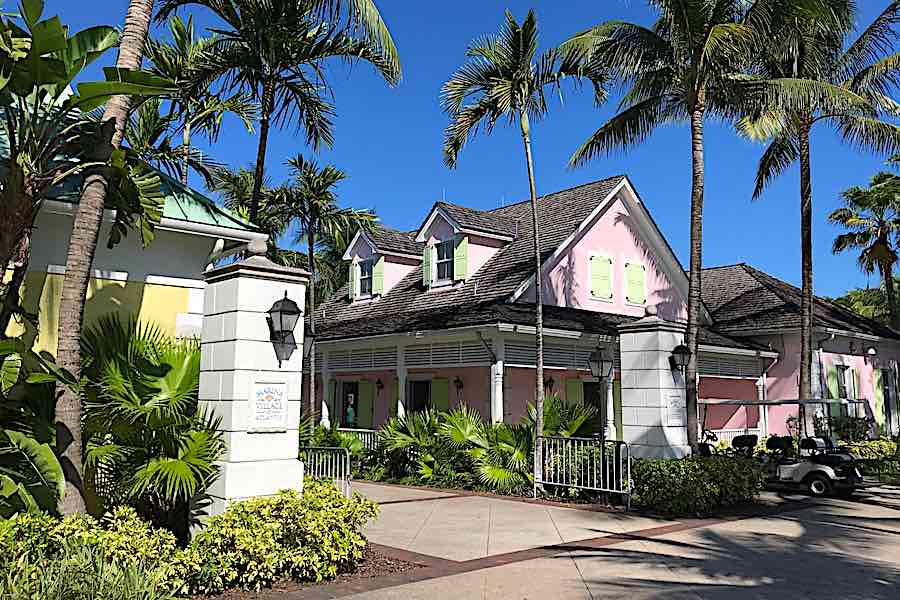 Turn left into in Marina Village and keep walking straight ahead. The path winds a bit to your left.
Keep walking and pretty soon you're at Atlantis. On your right is Murray's Deli and straight ahead is a wide stairway leading into a side entrance to the hotel.
How to Get Inside Atlantis Resort
You're allowed into Atlantis but you can't do much except pay a visit to the Casino, the designer shops and the restaurants. If you're not doing any of those things, plan on maybe 20-30 minutes inside, just to take a look around.
Outside, it's easy to spend another half-hour ogling the spectacular yachts in the marina. But don't lose track of time. If you're running late, you can always catch a taxi from Atlantis Hotel back to the port.
It'll run about $8-$10 for the ride but traffic at rush hour in downtown Nassau can come to a stand-still.
Going Back to Nassau by Ferry
Simply retrace your steps from Atlantis to the ferry boat. You might want to leave an hour or so for a snack and a drink at Margaritaville. The location is perfect – just a 5-minute walk to the ferry boarding area – and plenty of shade to relax and wind down your day.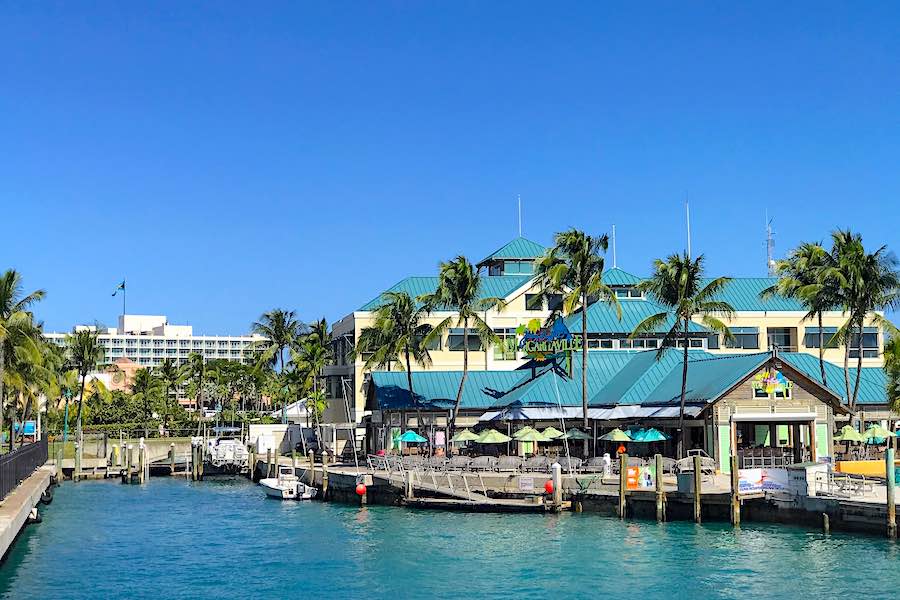 Depending on how many ships are in port, there will probably be a long line of people at the ferry boat for the return trip to Nassau. Remember…the ferry only runs every half-hour and the last ferry is at 6:00 p.m. Watch your time.
Back at Festival Place in Nassau, you will need to show the security guard your ship's ID card and a government-issued photo ID.
That's all there is to know to go from Nassau to Paradise Island and Atlantis Resort by ferry boat. Have a fun day at Paradise Island and Atlantis Hotel!
Please Pin and Share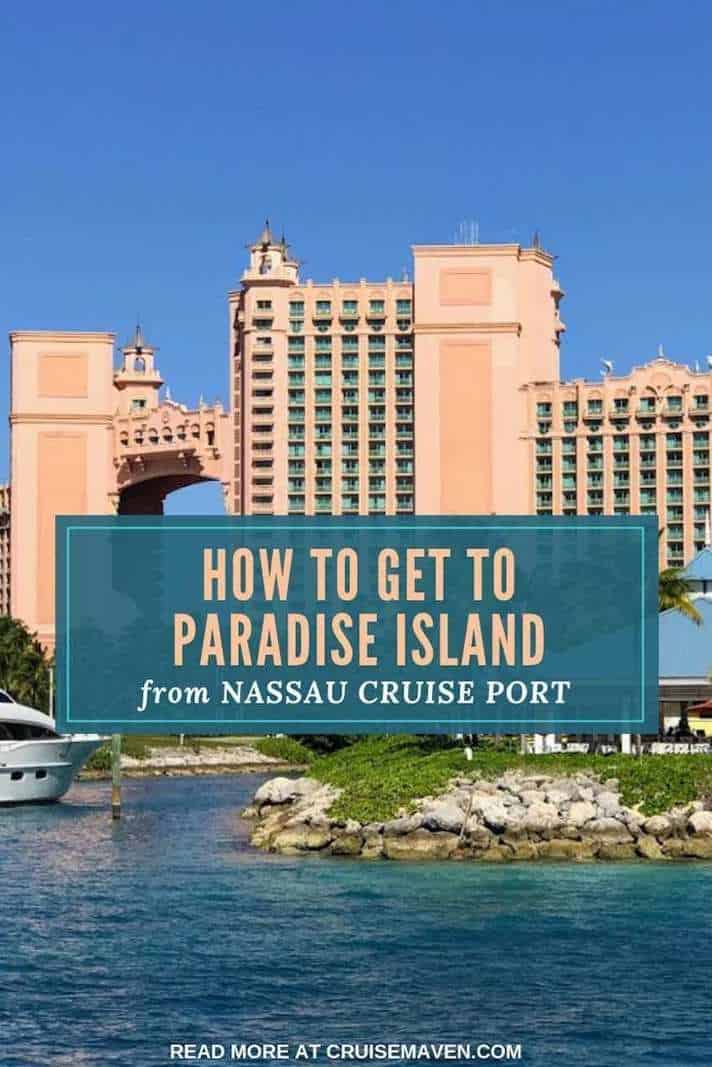 I'm the editor and creator of CruiseMaven.com, a solo traveler cruising the world on waves and wheels, collecting recipes along the way.  I hope my articles and photos entertain, advise and inspire you to travel the world without flying.  Take a breath…stop for a local meal and a glass of wine along the way.