You can find dozens of articles online written by people who have completed their first solo cruise. I enjoy their stories, but one solo cruise does not an expert make.
I've sailed on well over 200 cruises as a solo – while that may not make me an expert, I have learned some sage advice to share with others.
This article has the most important solo cruise tips I've learned over the years, so please keep reading. I hope it will inspire you to cruise solo, too.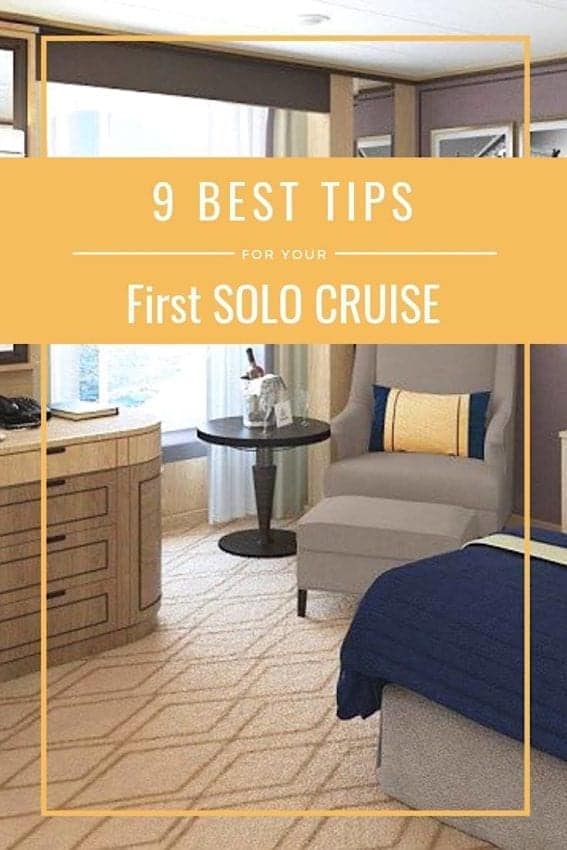 Not to say that I'm an expert, but I've really been there, done that and have been cruising solo for over decades, by choice.
My first solo cruise was a tester; a three-night trip to the Bahamas. I was hooked. Now 40-years later, here are my insider solo cruise secrets to get you on your way to cruising solo.
9 Top Tips for First-Time Solo Cruise. Plus a Bonus Tip!
1. Board the ship with a smile
Even if you're not the most intrepid traveler and have a string of doubts about cruising solo, hold your head high and act like you belong there. Why? Because you do!
Traveling solo is not a dreaded condition nor should it be perceived that way. Smile to the welcome aboard staff, to fellow passengers in the elevator and even at muster drill. It's a good way to get your solo cruise off to a great start.
2. Get to Know the Front Desk Staff
Except for after midnight, during dinner and show times, the front desk staff can be bombarded with guests, many of whom are there with unfounded complaints and unreasonable requests. Don't be like the rest of the herd. A little kindness goes a long way.
If you should need special assistance with anything, the front desk staff is your first stop. So it makes sense to be pleasant and polite.
Show your appreciation with a box of chocolates from the gift shop. Or stop at a bakery at your first port of call and bring back a sweet treat for the front desk people. A little kindness goes a long way.
3. Make Friends with a Bartender – Ladies, Listen Up.
Here's a "trick" I figured out several years ago. After the muster drill or when the evening bartenders start their shift, I scout out a bar that looks comfortable, has wifi and where the bartender seems to love his/her job.
My goal is to find my own "Cheers" for the duration of the cruise. Completing my bar-trials, I settle in on what I call my comfort zone.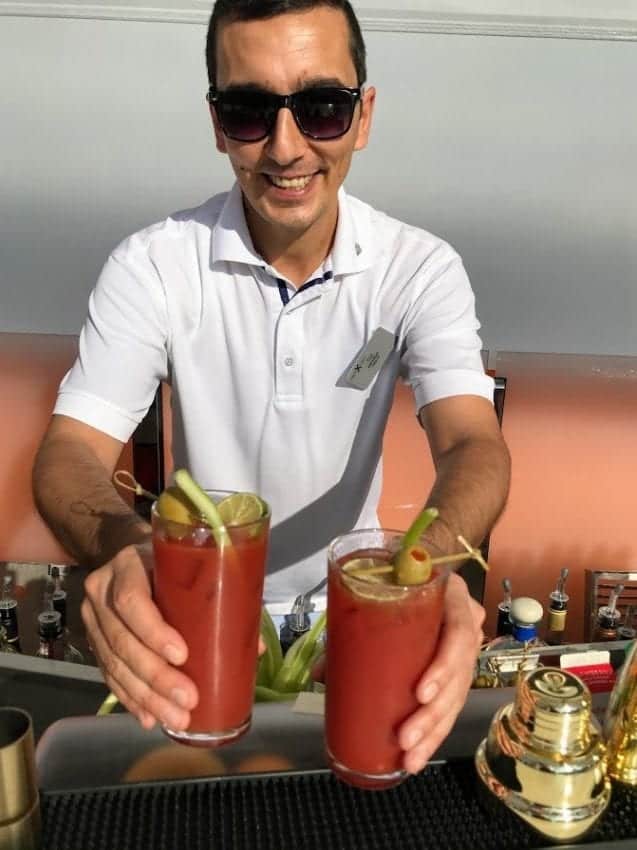 When the bartender serves my drink, I tip a $20 bill or the equivalent in Euros. A conversation ensues.
It's nice to have a place to go for a drink without being bothered by sloppy drunks or overly chatty bar-flies. My new bartender-friend has my back.
I don't want to spend sea days in my room and now I can sit at this bar, type, people-watch, sip and relax without un-wanted interruption.
4. Take an Onboard Class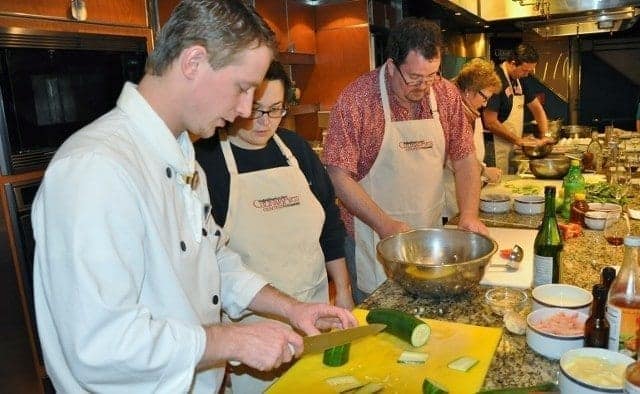 From Apple computer and dance lessons to culinary demonstrations and acting classes, there's something for everyone. Holland America Line and Oceania have hands-on cooking classes.
Wine, martini and/or whisky tastings are offered by almost every cruise line and are a sure way to meet your fellow passengers.
5. Sign Up for the Ship's Shore Excursions
Hop on a bus or walk a short distance with other cruise passengers to the destination is an excellent way to get acquainted in a hurry.
Especially if you are headed for a afternoon party boat cruise! There are excellent, independent shore excursion providers to use, too.
One thing I will note, however, on a Caribbean cruise, you might find more solo people from your ship going with the cruise line's excursions rather than a private tour operator.
While I enjoy going with private tours (l love the smaller group size), a new solo cruiser might benefit from a ship's tour as it may be the easiest and quickest way to meet your shipmates.
My experience, as a solo cruiser in an independent tour group, is that other ships' passengers may be in your group. But once you've tried your ship's tours as a solo, you're definitely ready to try one of the private tour companies.
This is only an observation…not a claim.
6. Participate in Group Events With Other Solo Cruisers
Test your wits at trivia, sing your lungs out at karaoke, or take part in silly pool deck competitions. Chances are you'll never see any of these people again, so have a go at something you'd never try at home.
7. Best Cruise Lines / Cruise Ships for Cruising Solo
Adding solo staterooms on new ships, or refurbishing older ships with a dozen or two solo cabins has become the norm. But is a smaller solo stateroom the best financial investment? Not always.
It's really important to carefully compare the total cost for a trendy solo stateroom vs. a full-size, double-occupancy stateroom.
I've found that when you can catch a sale or a promotion, a solo cruiser can grab a full-size stateroom for less or equal to the price of a solo cabin. Be careful and don't fall under the spell of a designated solo stateroom. There might be a better alternative.
Cruise Lines With Solo Staterooms
Norwegian Cruise Line
Norwegian Epic: Norwegian Epic was the first cruise ship to have an entire category dedicated to the solo cruisers. There are 128 Studio Staterooms and all are inside staterooms without a view.
There's a dedicated Studio Lounge just for solo travelers with continental breakfast, a full bar, televisions and a list of the day's solo guests' onboard activities.
Norwegian Escape and Norwegian Bliss: Almost-sister ships, each has 82 solo staterooms, all interior with a one-way window to the corridor.
Norwegian Breakaway and Norwegian Getaway: Sister ship with 59 Studio Staterooms, all interior with a one-way window to the corridor.
Pride of America: Four Studio Staterooms, same 99-100 square feet, all interior with a one-way window to the corridor.
Royal Caribbean
Ovation of the Seas and Quantum of the Seas: 28 solo staterooms Some are inside with a virtual balcony and "view", plus some actual balcony solo staterooms.
Anthem of the Seas – 26 solo staterooms, some inside with a virtual balcony, some actual balcony solo staterooms.
Harmony of the Seas – 15 inside and oceanview staterooms.
Adventure of the Seas – Five solo staterooms, all interior.
Brilliance, Jewel, Radiance and Serenade of the Seas each have three interior solo staterooms.
Celebrity Cruises
Celebrity Edge – their new ship launched last November, Celebrity Edge has 16 solo staterooms. Four are on the lifeboat deck and 12 solo staterooms have a clear view of the ocean and Edge's Infinite Veranda.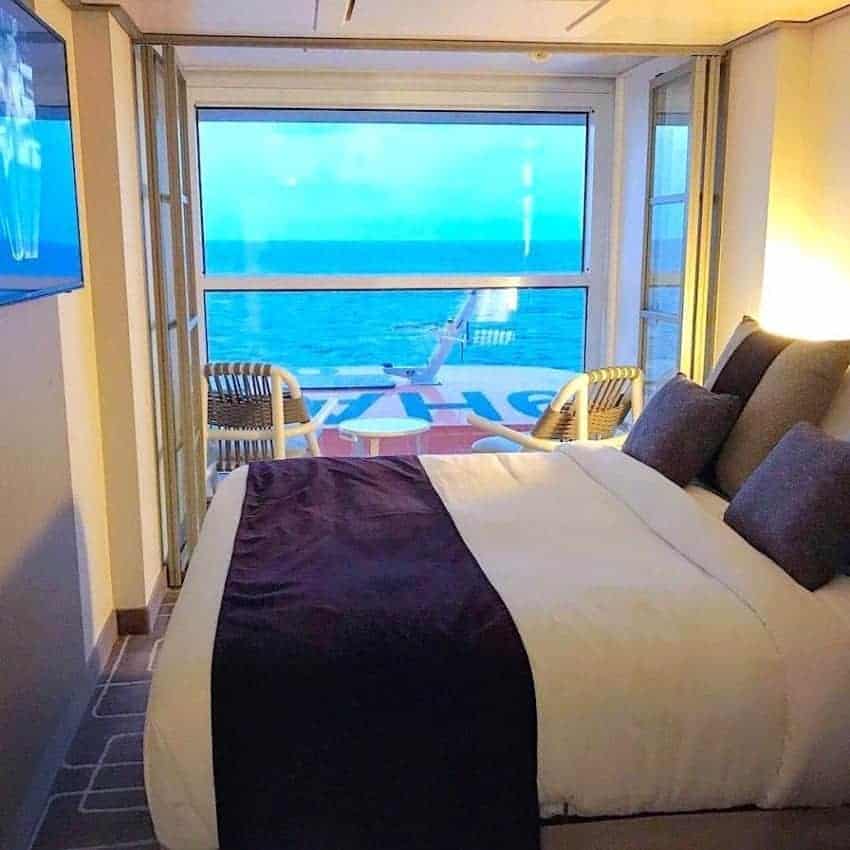 Holland America solo
Koningsdam – 12 oceanview solo staterooms located at the bow on the Main Deck.
Nieuw Statendam – newest Holland America ship and sister to Koningsdam, it also has 12 oceanview solo staterooms Main Deck.
Take a look at my review of the Holland America solo staterooms here.
Cunard
Cunard added 15 oceanview solo staterooms after the Queen Mary 2 "remastering" refurbishment in 2016.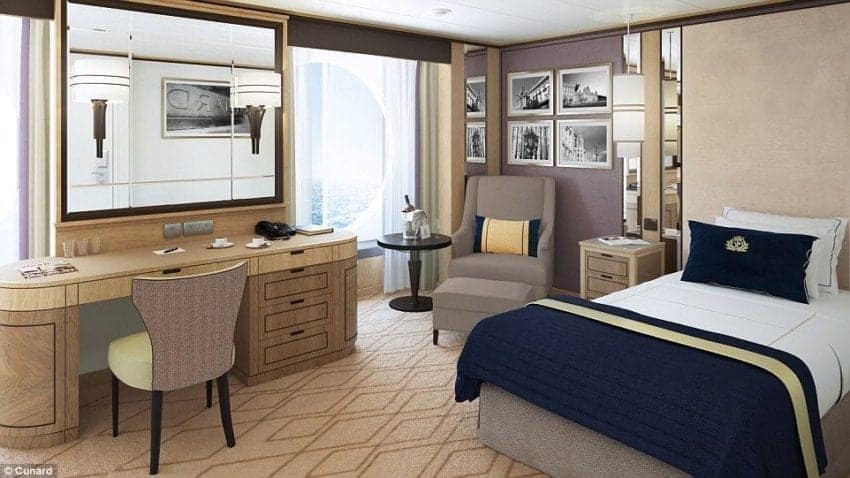 Carnival
There are no single passenger staterooms. But throughout the year, Carnival offers slightly discounted single supplements or on rare occasions might have a few cruises where they waive the single supplement.
8. How to Save Money as a Solo Cruiser
Traveling as a solo doesn't have to be expensive. But the cost can double due to the obnoxious single supplement that cruise lines charge a solo person in a double-occupancy stateroom.
If your vacation days and itinerary are flexible, look around and find the cruise line with the lowest single supplement promotion. Depending on the time of year and if the ship is not filling up, cruise lines may slash or on very, very rare occasions, waive the usual 200% single supplement.
Luxury cruise lines, like Crystal, Silversea and Seabourn offer greatly reduced or may even waive the single supplement on certain cruises. Star Clippers' upscale masted sailing ships also have a few single occupancy staterooms and from time to time, waive the single supplement.
9. Stay Safe
It's true that as a solo traveler, especially a female solo traveler, there is safety in numbers. The largest ships in the world are like mini floating cities.
While you don't have to worry about pickpockets onboard, once you step ashore you need to be aware of your surroundings. Not everyone you meet onboard may be playing with a full deck. Be careful giving out personal information like your stateroom number and home details.
If your solo dinner table-mates all get chummy and decide to trade personal info for getting intouch post-cruise, don't give out your home address!
Even under the guise of sending holiday and Christmas cards, don't do it. Instead, before your cruise, set up a new email account that you use only for people you meet on your travels.
Going Ashore at Night
When your ship is docked late in a port and you plan to spend an evening at a popular bar, maybe a Carlos and Charlie's or Señor Frog, think of a plan as to how you'll return to the ship late at night.
Watch for a group of cruise-people that are walking back to their ship and tag along. Stay with the group and don't straggle.
In many ports, where English is not the primary language, a taxi ride especially at night can be a challenge.
If you plan to take a taxi back to the ship, have the port address and ship name clearly written to show to the driver, in the local language. You could even draw a picture of the ship.
Once in Lisbon after a night of Fado and dinner, I and two shipmates stepped into a taxi only to learn that the driver didn't speak English.
When communications broke down and since we hadn't yet even closed the taxi door, we jumped away from the cab. Suddenly, the driver gets out and starts screaming at us to pay him. We hadn't gone anywhere!
When two of his burly buddies approached out of nowhere, my friends and I literally ran into a nearby restaurant to wait until they were gone. A word to the wise: be careful with late night taxis in foreign countries.
Can you imagine this same scenario if you were a solo female traveler?
Dining Solo on a Cruise – Bonus Tip!
Here's your dilemma: early or late seating, open seating, large table, small table, dine alone, food court, specialty restaurant. Whew. So many choices. What's a solo guest to do?
Large Table vs. Small Table
On some cruise lines, the maître d' or a computer matches solo passengers to dine together. Occasionally, though, I've been seated at a table for ten where I was the only non-coupled diner.
Once on formal night, though, I was the only one who showed up. No one said that they were all going to different specialty restaurants.
I immediately asked the head waiter for a table for one. He escorted me to a wonderful little table. This became "my" table for the duration of the cruise and was a highlight of my trip.
Avoid a Small Table at All Costs
My worst nightmare occurred when I was seated with one couple and another solo passenger. I had nothing in common with any of them, requested a table change after dinner and spent the rest of the cruise avoiding them at every turn.
Early or Late Dining
Early (or main) seating generally attracts an older or family crowd. Late dining is great, especially if you like to spend time in port until the gangway is hauled in.
With late seating, you don't have to scurry back to your room, shower/change and rush to the dining room. This is especially important on a European cruise. Hungry? Get a snack to tide you over until 8:30PM.
Food Court / Specialty Dining
If you're tired of making idle chatter with total strangers night after night (this is common on the "open" seating options) or just want to reflect on your day, opt for the food court or specialty dining.
For the food court option, I'd suggest bringing a book, laptop or some other object to stake out your solo table. Otherwise, you are left to your own devices to juggle a tray, beverage and your book while wandering aimlessly to find a table.
I think that dining alone at a specialty restaurant is a delight. You've paid for the experience so getting a solo table is easy. The wait staff is also super-attentive and eager to make this a positive experience. I just don't like it when the waitperson removes the extra place setting.
There's no reason not to enjoy your solo cruise dining experience. If it isn't wonderful one night…simply move on to another option for the next evening.
Once You Go, You Know
Solo cruising can become addictive. Do what you want when you want, dine anywhere at any time and use up all the closet space for yourself. Explore places you might never have seen if you hadn't taken a solo cruise. You're empowered.
Happy(solo) travels!
Please PIN to share with other solo travelers!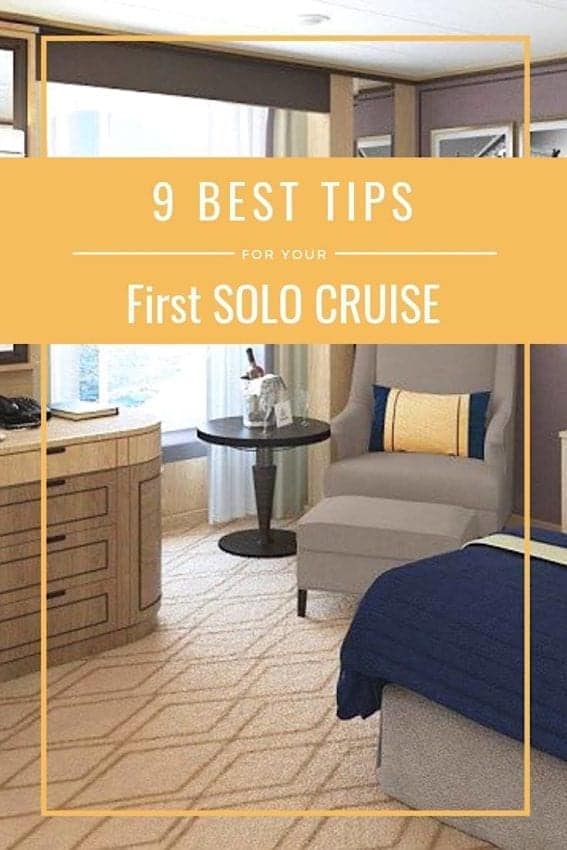 I'm the editor and creator of CruiseMaven.com, a solo traveler cruising the world on waves and wheels, collecting recipes along the way.  I hope my articles and photos entertain, advise and inspire you to travel the world without flying.  Take a breath…stop for a local meal and a glass of wine along the way.