It's all about "doubles." Double Dutch, double trouble, double whammy and when it comes to cruising, the ever-present double occupancy.
If you are new to solo cruising or if it's your umpteenth go at it, you probably have run into the dreaded Single Supplement. People cruise and travel solo for a variety of reasons, from business to a divorce celebration.
On average, almost all cruise lines…almost all of the time…charge a solo passenger 200% of the base cruise fare. Or even worse, they double-charge for the port fees and taxes!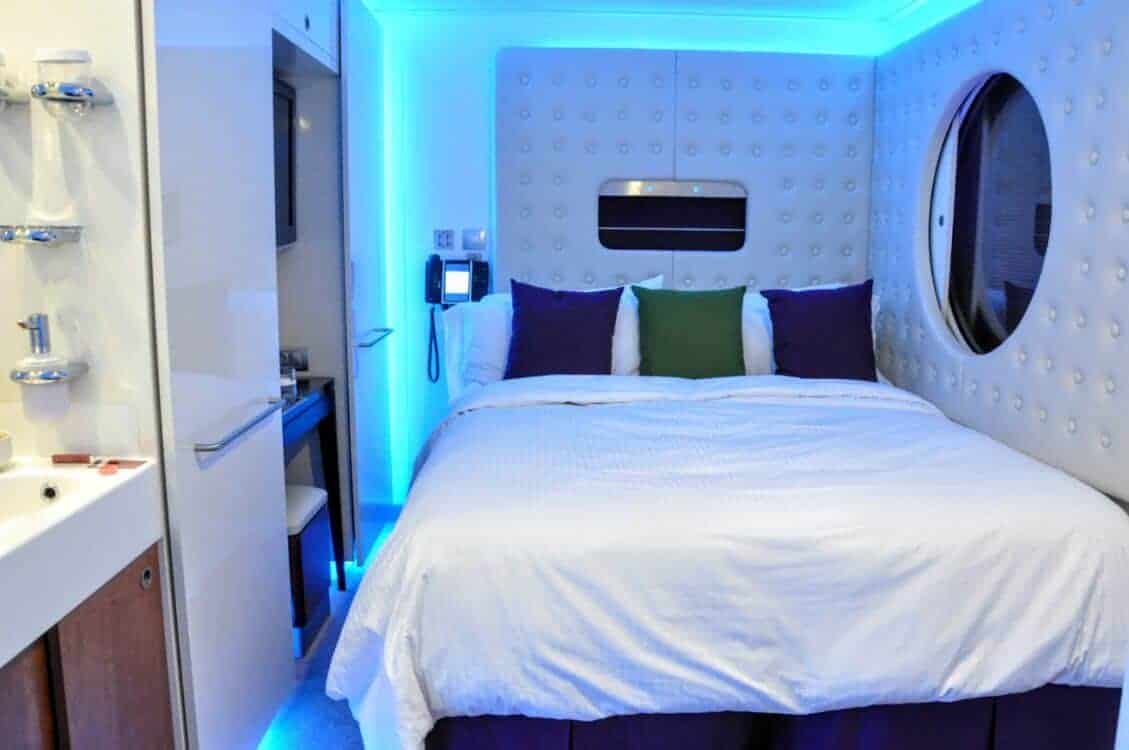 Norwegian Epic Studio Staterooms are Amazing
While you can do your homework or ask a travel agent to do it for you, it's a necessary evil to closely monitor cruise line pricing to "catch" a deal with a reduced single supplement.
It does happen on occasion. When faced with a plethora of unsold cabins on a particular sailing, a cruise line will reduce the supplement anywhere from 175% down to 25%. They do this to fill the ship. A less than full ship means less tips for their crew, less onboard revenue for the ship.
Until Norwegian Epic was launched in 2010, there was no option for the solo cruise passenger but to reserve a double occupancy cabin and pay the prevailing rate. Then came forward-thinking Norwegian Cruise Lines and their very innovative studio cabins.
Weighing in at a "whopping" 100 square feet, it sure sounds like it's way too small for anything but a walk-in closet.
Not so. Devised by an actual yacht design company, the one hundred and twenty-eight Studio cabins feature a full-size bed, flat panel TV, a "window" to the corridor (they are all inside staterooms), a desk, sink, shower and separate lavatory. There is ample storage space, too. Take a tour with me…
One really cool feature of the Studio Stateroom is the private key-card access to the two-story Studio Lounge. Comfortably furnished with plush sofas and chairs, you can enjoy 24 hour self-service coffee machine, watch TV or have an cocktail during their own exclusive "Happy Hour."
Don't expect for the Epic's Studio prices to be one-half of the cost of an inside stateroom, however. While still a good savings and the Studio experience is a lot of fun, there may be times when you can find an oceanview stateroom on the Epic or other cruise ships for the cost of the Studio. It all depends on capacity and time of year.
The Studio Lounge is a big reason to try this solo experience. That, and just staying in something so unique and kitsch as the Studios. But book early. The Studios have become very popular and with only 128 of them, they sell out seriously fast. Especially if you don't want one with an adjoining door.
Besides the Norwegian Epic, the newer Norwegian Breakaway, Norwegian Getaway and Norwegian Escape also have Studio Staterooms with 59, 59 and 82, respectively.
Other cruise lines with dedicated solo staterooms include: Costa, Cunard, Holland American and Royal Caribbean. Though not nearly the quantity found at Norwegian, it's a step in the right direction.

I'm the editor and creator of CruiseMaven.com, a solo traveler cruising the world on waves and wheels, collecting recipes along the way.  I hope my articles and photos entertain, advise and inspire you to travel the world without flying.  Take a breath…stop for a local meal and a glass of wine along the way.