A cruise in MSC Yacht Club class may spoil you for life.
Our motorcoach slowly and carefully lumbered through the busy streets of Toulon, France, making the tight turn into the yacht-sized port. Here was my first glimpse of the MSC Splendida, eighteen decks tall and towering over the private boats docked next to her. Somewhere high at the bow was the MSC Yacht Club.

From a distance, the ship looked like any sparkling white, enormous cruise ship you'd see in most ports. This cruise, however, I wouldn't be mixing and mingling with 4,000 passengers. My stateroom was located in the luxurious and private Yacht Club. That's where the amazing difference begins.
The MSC Splendida (along with the MSC Fantasia, MSC Preziosa and MSC Divina) sports an exclusive hideaway that rivals any small luxury ship afloat. If you haven't already heard the term, MSC calls the Yacht Club concept, "a ship within a ship" and they couldn't be more accurate.
There are only ninety-nine Yacht Club staterooms on the MSC Spendida, located at the very bow of the ship, mostly on decks 15 and 16. Insert your keycard into the elevator and it's a non-stop ride to your floor. As soon as you step off the elevator and into the Yacht Club, you'll think you were transported to a small private yacht.
The Top Sail lounge is your private retreat where you are greeted by name upon entering. This was by far my favorite hang-out for my week onboard. You couldn't ask for a more lovely location to relax and unwind after a busy day visiting amazing ancient and historic cities. Complimentary cocktails and hors d'oeuvres in hand, your view of the city from the Top Sail lounge at sailaway is breathtaking.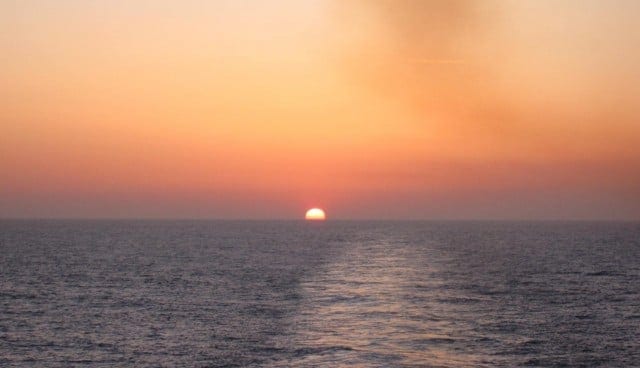 Since I generally choose to travel solo, a conspicuous table for one or a seat at a table for 10 is generally expected. As an MSC Yacht Club guest aboard the Splendida, the specialty restaurant, L'Olivo is complimentary and a gracious alternative to the main dining room, exclusively reserved for Yacht Club guests.
Marco, my waiter, managed to hold a window-side table for me every night. Each night, a glass of wine was waiting for me at my table, even before I was seated. O'livo, as is located at the very aft of the ship, overlooking the Mediterranean. At sunset, the view is spectacular.
Did I mention I had a private butler? Every Yacht Club stateroom includes a professionally trained butler at your beck and call. Having a butler is wonderful; seems he can't do enough to make your cruise as pleasant as possible. While always available, they are never intrusive or bothersome.
Whether replacing items from my complimentary mini-bar (yes, complimentary!) or just choosing a different pillow from the pillow menu, Vinod, my butler, was delightful, polite and intent on doing his "butlering." He even re-tied the sash on my bathrobe, which I had left hanging on a hook.
The MSC Splendida (one of the four Fantasia-class ships with the MSC Yacht Club) is a large ship, right between the size of Royal Caribbean's Oasis of the Seas and the Carnival Dream. At full capacity the MSC Splendida can carry up to 4300 passengers. But the Yacht Club, with only about 200 passengers, gives an entirely different feel to being on a mega-ship.
You'll never have to search for a seat in the Top Sail Lounge or stake out your pool-side lounge chair at 7am for a place at The One Pool, your private outdoor pool area. The One Pool also has The One Bar for an alfresco cocktail or even a morning bite, open from 7am to 7pm. Located on Deck 18 at the very bow, this spot also affords a perfect vantage point on a balmy sailaway evening.
The Top Sail Lounge on deck 15 is open 24 hrs and at various times during the day there is a light breakfast and lunch, tea time, pre-dinner snacks, light dinner and midnight snacks. The One Bar at the private pool is open from 7am – 7pm and you can enjoy the same light meals and beverages out there as in the Top Sail Lounge.
If you are planning a Mediterranean cruise and want to experience a slice of real Europe and travel in luxury without the typical luxury price tag, reserve a cabin in the MSC Yacht Club aboard the Italian-owned MSC Splendida or the MSC Fantasia, MSC Preziosa and MSC Divina. You'll be pampered and privileged as on no other mass market cruise line. The MSC Yacht Club offers a small ship feel with big ship amenities.
Insider tip: Choose a Yacht Club stateroom located on the same deck or one deck above the Concierge Desk and the Top Sail Lounge, if only for the convenience of proximity.
NB. This was a sponsored cruise, but my review was not influenced or tempered to appease anyone.

I'm the editor and creator of CruiseMaven.com, a solo traveler cruising the world on waves and wheels, collecting recipes along the way.  I hope my articles and photos entertain, advise and inspire you to travel the world without flying.  Take a breath…stop for a local meal and a glass of wine along the way.