Here's my Celebrity Edge ship review following the inaugural cruise. Those inaugural cruises, usually only 2 nights, don't give you much time to explore and review.
But I managed to pack as much into the short cruise and took as many photos as humanly possible. So keep reading for just about all the information you'd need to know what to expect aboard Celebrity Edge.
This is the first ship in Celebrity's new Edge Class of ships.
Celebrity Edge Review
From the cruise line that coined the phrase "Modern Luxury" over a decade ago, Celebrity Edge is one amazing ship. Its innovations truly push the envelope way to the edge.
Completed in October 2018 in France and now at its homeport of Fort Lauderdale, Celebrity Edge welcomed media and travel agents onboard for a two-night curiosity cruise.
While two nights isn't much time to fully get to know a new ship, you'd be surprised how much ground you can cover when pressed for time. There were stateroom tours, spa and fitness center tours, and a dine-around tasting at each of the main restaurants.
From the extremely and cleverly designed outer decks to the three-story glittering Grand Plaza, there wasn't much time to dawdle.
The first of four Edge class cruise ships, Celebrity Edge really has gone the distance. Not only in innovative concepts from dining options to fitness choices and relaxation but to visual entertainment experiences that are like nothing you've ever seen on a cruise ship. Or possibly anywhere.
So let's start the honest-to-goodness highlights of my Celebrity Edge review with real photos, not artist renderings.
Fast Facts:
Year built: 2018
Weight: 129,000 tons
Passengers: 2,908
Crew: 1,320
Staterooms: 1,467
Inside staterooms: 131
Solo staterooms: 16 – none inside
Dining venues: 27
Welcome aboard Celebrity Edge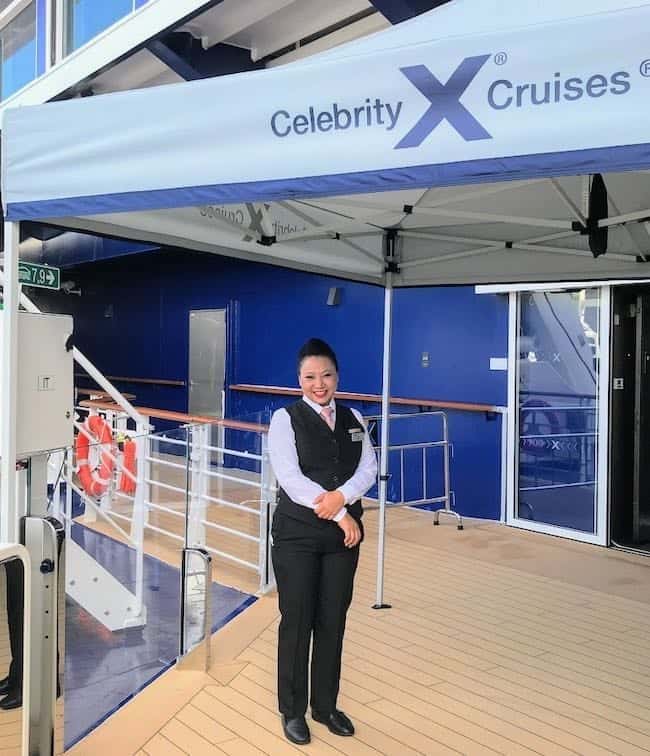 Public Rooms and Spaces
The first thing that hits you when you begin walking around is the Grand Plaza. An open, three-story venue with the key meeting place on the ship, the Martini Bar. There's also Café al Bacio and the Grand Plaza Café.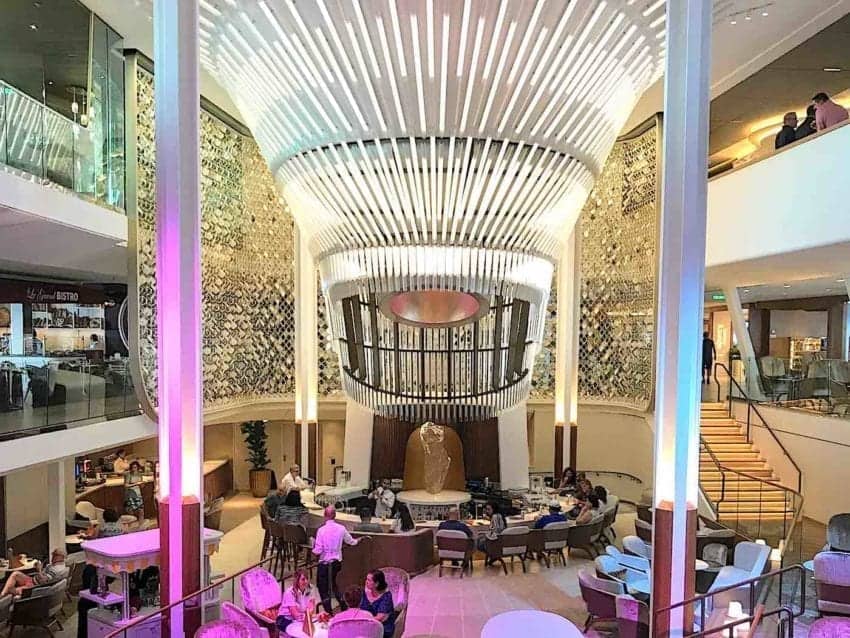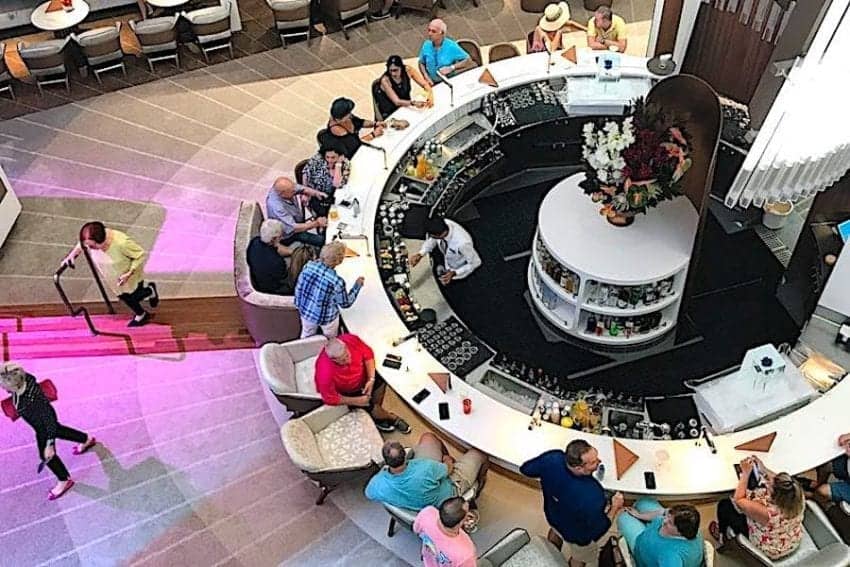 There are also several upscale shops including Tiffany's, Coach and an Apple store. Celebrity Cruises is an authorized Apple reseller.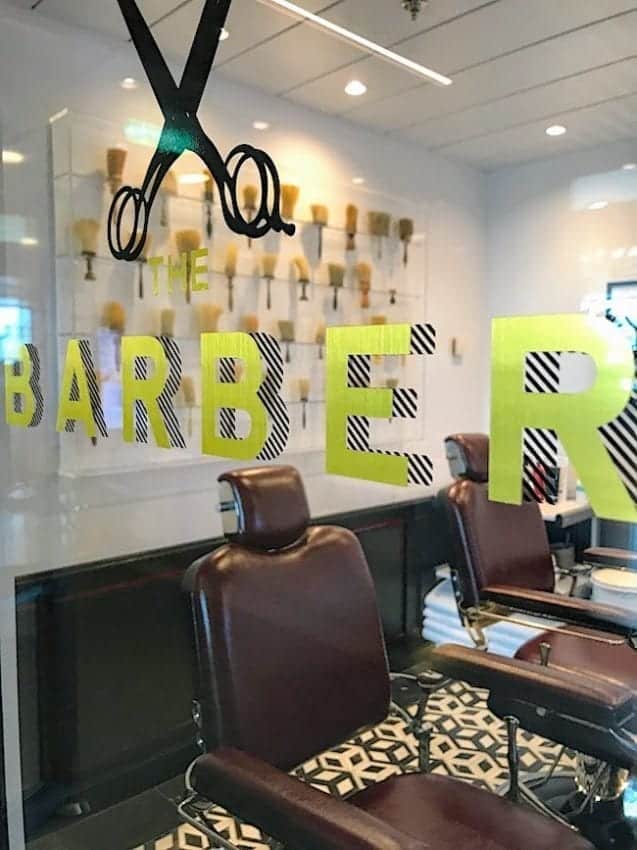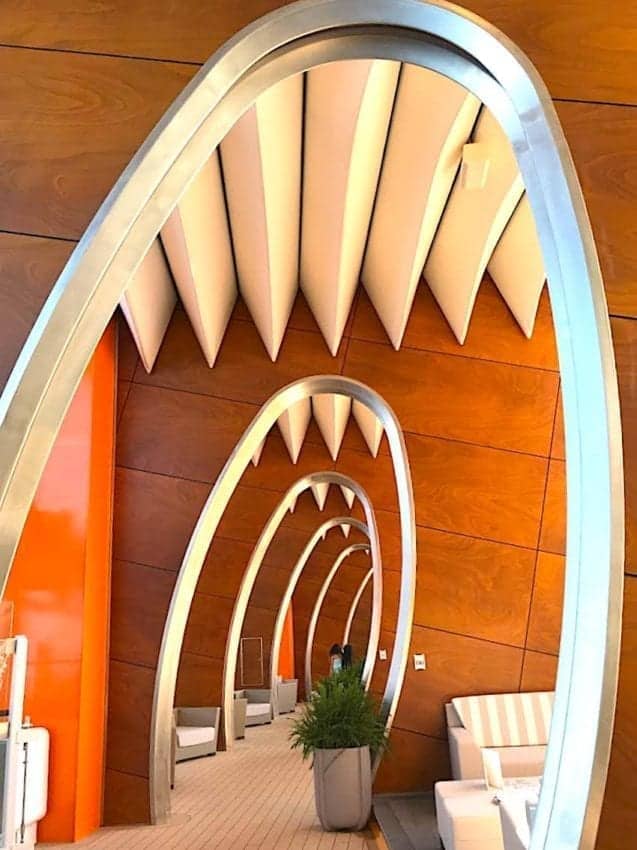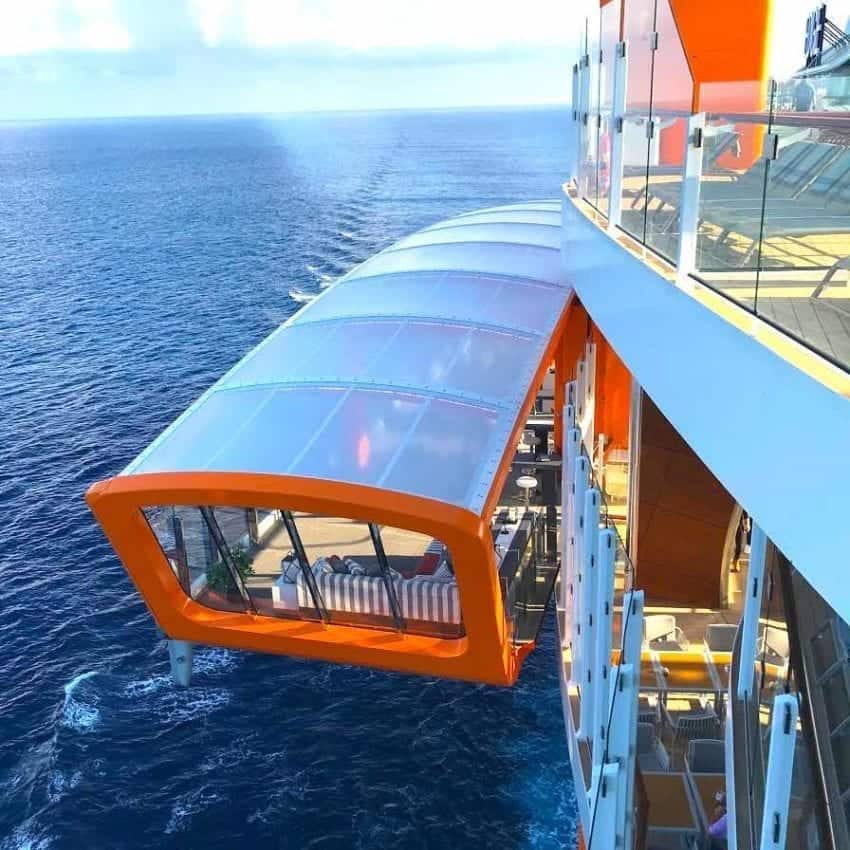 Celebrity Edge Staterooms
As you might imagine, there are dozens of stateroom categories, configurations and choices. I counted 20 categories ranging from the Iconic Suite at 1,892 sq. ft to the Edge Stateroom with Infinite Veranda (probably will be the most popular for a while) and inside staterooms, of which there are only 12.
There are a total of 25 wheelchair accessible staterooms, including two Sky Suites, eight with the Infinite veranda and three deluxe inside staterooms.
Here's my "Edge Stateroom with Infinite Veranda: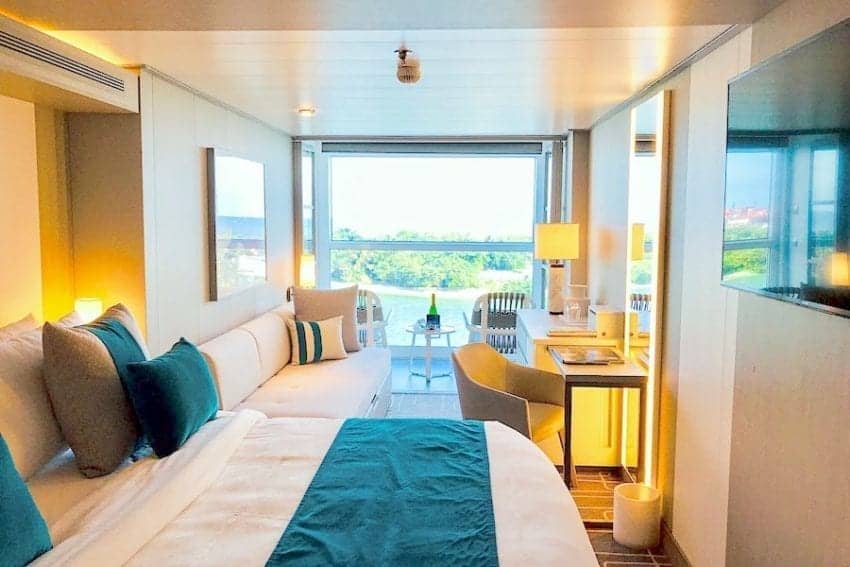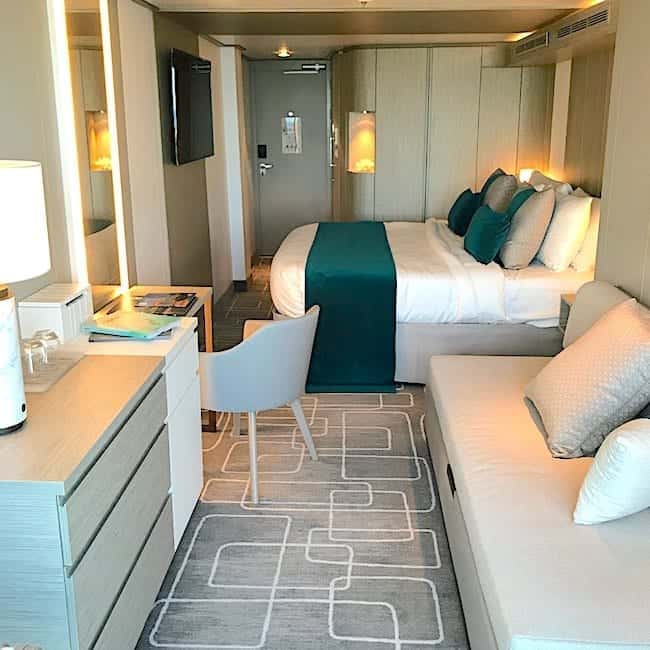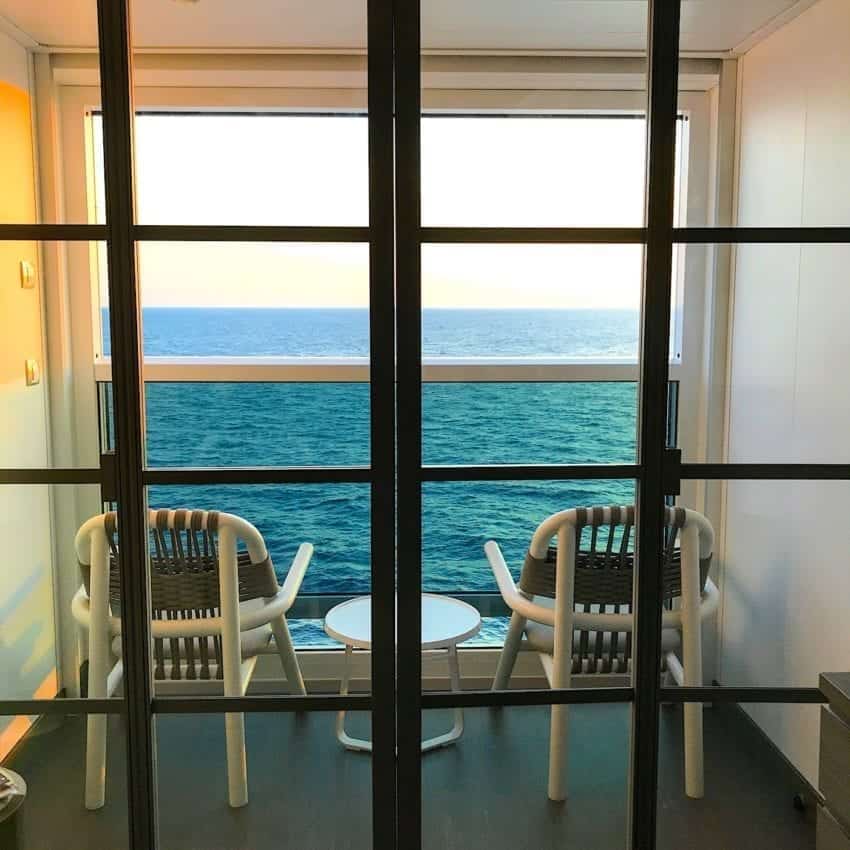 Two things I learned about the Infinite Veranda window:
1. It's ultimately controlled by someone on the bridge (so if it's bad weather, someone will lock it closed)
2. I took this photo when my window finally decided to work. It malfunctioned (or was controlled on the bridge) for most of my two-day cruise. It was like being in an oceanview stateroom with a fixed-closed window almost the entire time.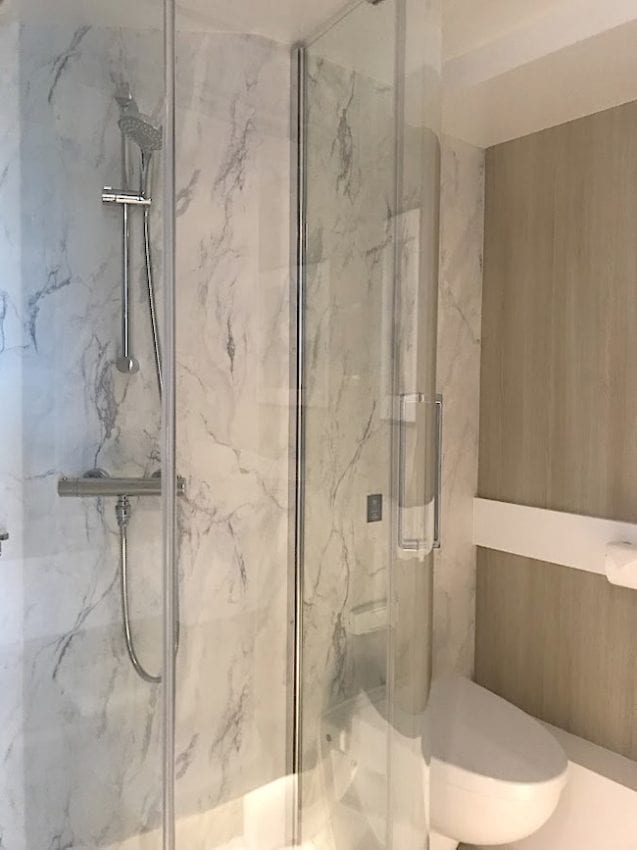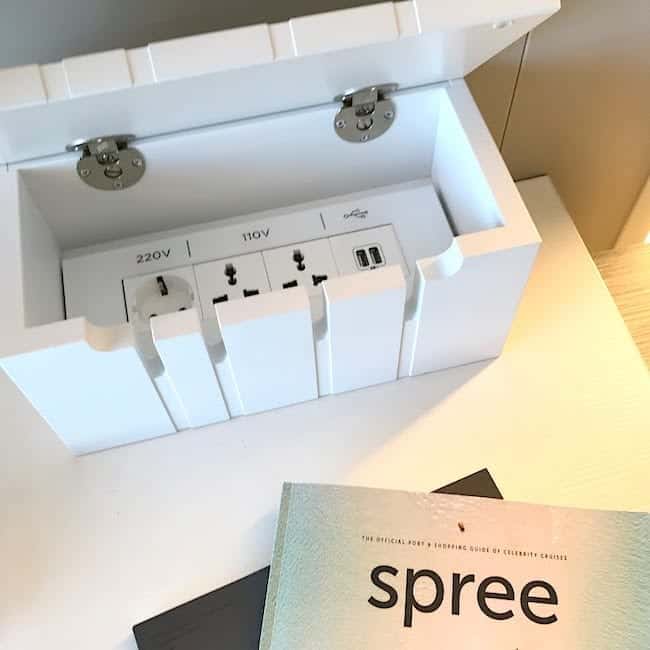 READ NEXT: Celebrity Goes Exploring the Galapagos in Luxury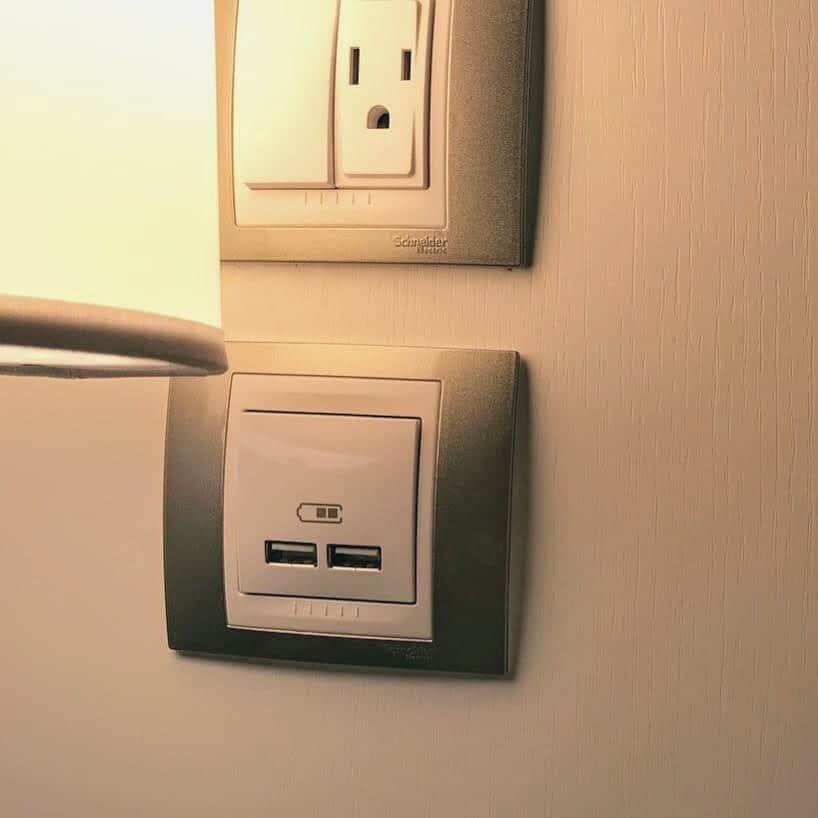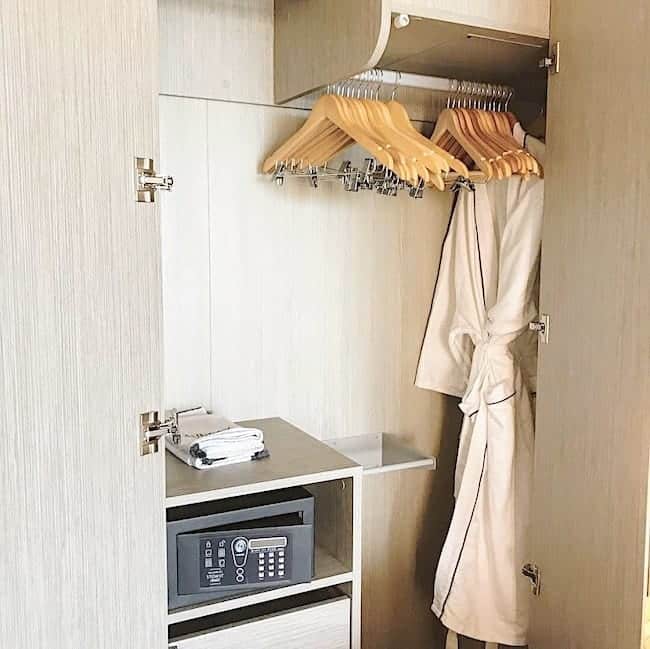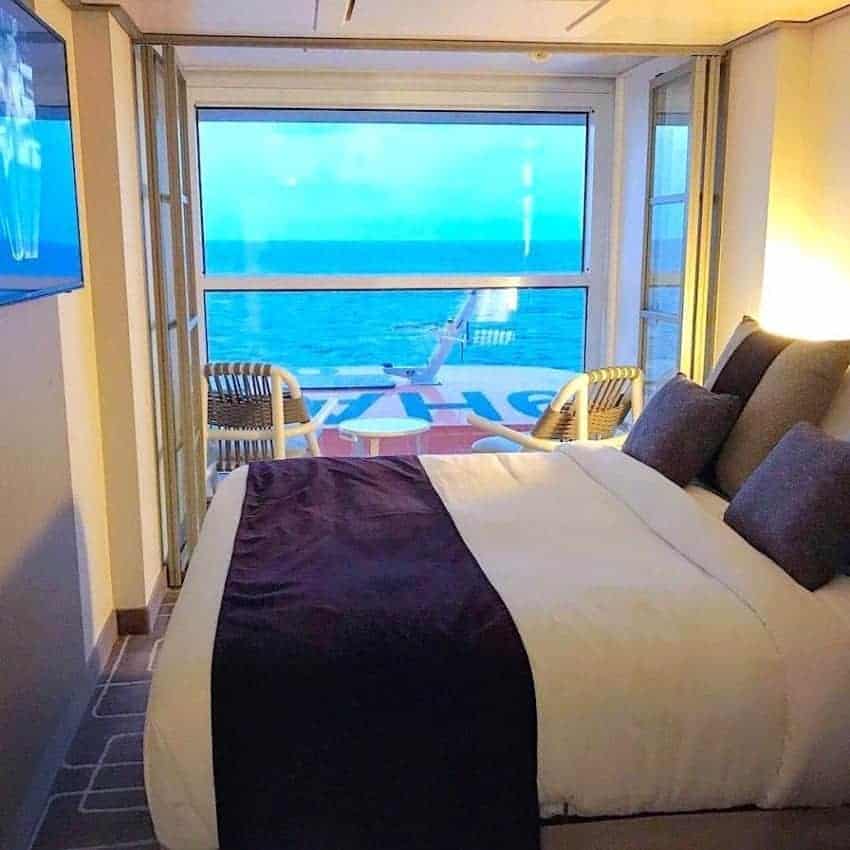 Celebrity Edge Review – Dining Options
In total, there are by my count 18 restaurants/places to eat onboard Celebrity Edge. Of those 18, seven charge a fee for speciality dining.
Fee-based:
Fine Cut Steakhouse
Le Grand Bistro
Le Petit Chef & Friends
Eden Restaurant
Raw on 5
Magic Carpet – an outdoor extension of Raw on 5 with a separate menu
Dinner on the Edge – Dine at the top of the ship on the Magic Carpet when in port. Reservations taken only when onboard.
Complimentary dining:
Main dining rooms: Normandie, Tuscan, Cyprus, Cosmopolitan
Spa Café
Eden Café
Oceanview Café – the Lido Buffet
Mast Grill
Rooftop Garden Grill
For Suite and Aqua Class Guests:
Luminae
Blu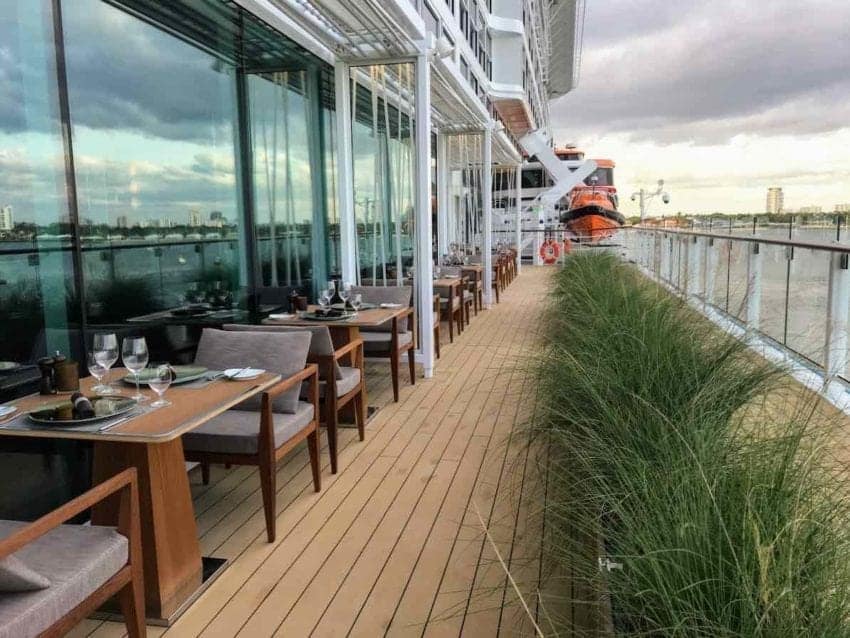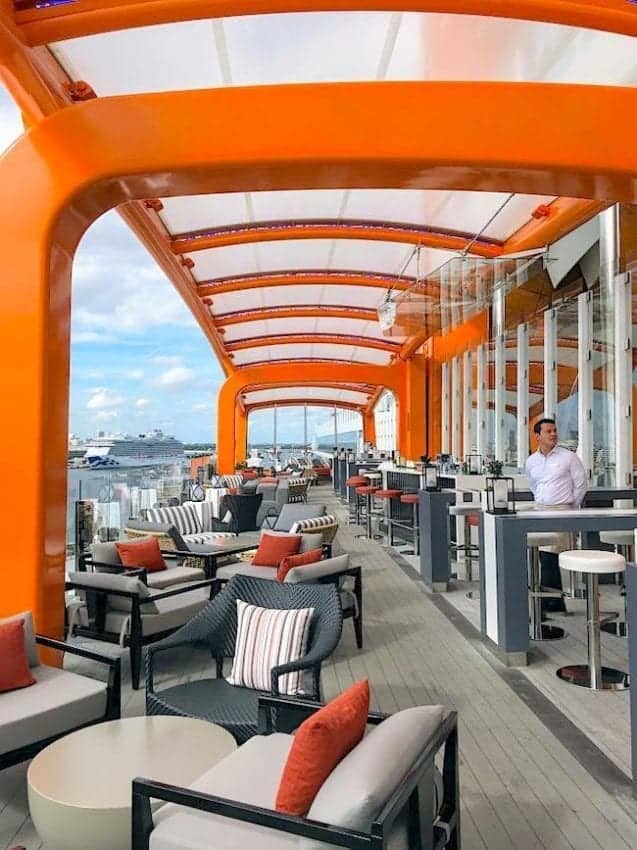 Bars and Lounges
Aside from the Martini Bar in the Grand Atrium pictured above, there are nine more bars and lounges scattered around the ship. Another Celebrity carry-over is my favorite…the Sunset Bar, located where else but at the very aft of the ship.
Relaxation:
For relaxing and simply doing nothing, Celebrity has you covered.
Parting Thoughts
This is just a preview of what you can expect on Celebrity Edge cruise ship. Celebrity spared no expense to create an almost fantasy-like cruise experience for guests over 21-years.
Families with small children will find Celebrity's Camp at Sea excels at keeping kids entertained. Activities range from S.T.E.M. experiments and demonstrations to culinary creating and arts and crafts.
Staterooms are very large and appear even more so because of the sleek furniture, pale colors and minimalist design. I wasn't all too comfy with the mattress, though. Maybe it starts out extra extra firm to last through several years of use.
Overall, I really liked my stateroom, except for my Infinite Verandah window not working 80% of the time.
It's always hard to get a feel for a new ship with only two days to experience what others spend a week investigating.
For example, the traffic flow at Oceanview Café was well-designed and shouldn't get too crazy at feeding times. Corridors seemed wider than usual, too. The ship's designers did a fantastic job with guest-to-space ratio.
There are only two elevator banks, forward and aft. At first I thought one more bank of elevators in the middle of the ship would have been a good idea. However, these elevators are enormous! They're fast, easy to know which buttons to press and six elevators in each bank.
Celebrity Edge is Best For:
The first guest demographic that comes to mind is the 35-50 age group. It's really such a cool ship, though, that unless you hate avant-garde concepts or 21st century technology, just about anyone will be wide-eyed at what they find onboard.
You won't find a low-key classical string quartet but if you venture into Eden, you'll experience trippy, other-worldly performance art.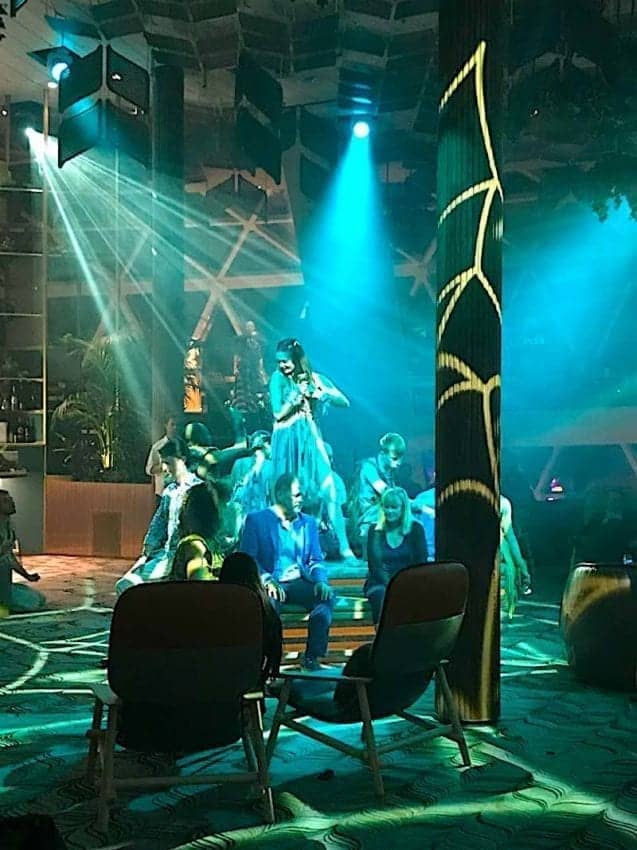 If you think you've seen and done it all, don't mind cruising with 2,900 other guests and like to spend days at sea on deck in the open air, Celebrity Edge might be the best choice for your next cruise. It's totally unique.
Please pin and share with others!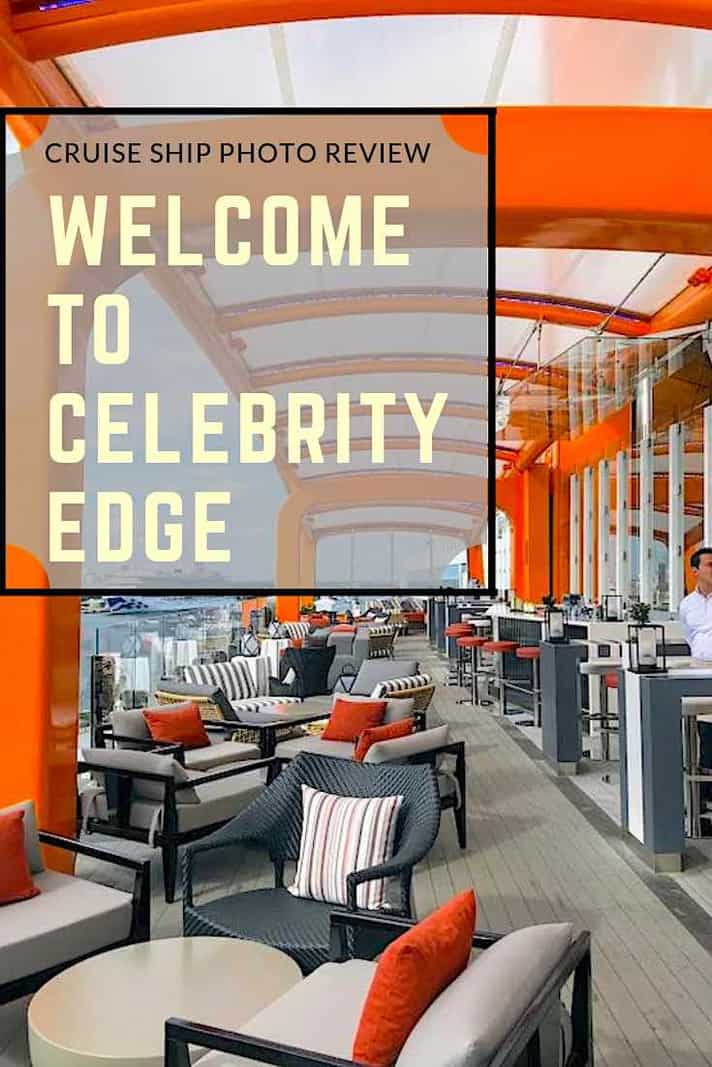 I'm the editor and creator of CruiseMaven.com, a solo traveler cruising the world on waves and wheels, collecting recipes along the way.  I hope my articles and photos entertain, advise and inspire you to travel the world without flying.  Take a breath…stop for a local meal and a glass of wine along the way.