Despite active volcanoes and emerging variants, we couldn't miss a chance to hop onboard an Azamara Journey cruise for a visit to the Canary Islands. This would be a new itinerary for me.
Azamara emerged from the pandemic under new ownership. I was interested to see what if any changes had happened with Azamara's familiar ambiance and service.
Mostly comprised of British passengers, this destination-intensive Canary Islands cruise would really be a unique experience.
Azamara Journey Ship Review
I always thought of Spain's Canary Islands as a Caribbean-type getaway for Europeans. For those from the U.S., a transatlantic flight followed by a layover then additional hours to get to the islands, seemed a tad too far for a quick escape.
Despite the new flight route from JFK to the island of Tenerife, many cruise departures are from Gran Canaria island.
Edged out from the Royal Caribbean umbrella, Azamara is by all accounts flourishing with the funds provided by Sycamore Group, a private equity firm. Onboard, the staff we spoke to seemed to agree that they were more empowered to make decisions on behalf of the ship.
For now, most of Azamara's operational changes are a direct result of cruising during the COVID-19 pandemic, in an effort to keep guests and crew safe.
Time — and the purpose-built Azamara Onward that debuted in spring 2022 — will tell what touches might differentiate from Azamara's signature atmosphere under Sycamore.
RELATED: Azamara Drops Most Pre-Cruise Covid Tests
A Canary Islands Cruise
Our Azamara Journey itinerary was a one-week Canary Islands cruise, roundtrip from Gran Canaria. The voyage squeezed six ports across five islands into eight days, and that meant no sea days.
Our cruise ports included:
Gran Canaria
Funchal, Madeira (Portugal)
Santa Cruz, La Palma
San Sebastian, La Gomera
Santa Cruz, Tenerife
Los Cristianos, Tenerife
Fast Facts – Azamara Journey
Year built: 2000
Year refurbished: 2016
Weight: 30,277 gross tons
Decks: 8
Passengers at double occupancy: 690
Crew: 408
Total staterooms: 345
COVID-19 Protocols
Prior to boarding Azamara Journey, passengers had to have a stack of important documents in their possession, including a number of negative COVID-19 test results.
Preparation for cruising during the pandemic begins at home, where passengers are asked to fill out boarding documents that include proof of vaccination.
Traveling through the Canary Islands, under jurisdiction of Spain, a form provided by Spain's Ministry of Health is also a requirement to enter the country.
Passports and Health Forms Required
Along with passports, passengers are expected to present this health form, boarding documents, and their vaccine card on a number of occasions as they navigate their way to the dock in Gran Canaria.
Transiting through Madrid on the way home helped us avoid lengthy border control lines until we were able to use Global Entry upon return to the U.S.
Azamara hosts its own rapid COVID-19 test onsite at the port, and a negative result is required to board. Once onboard, masks are required in all public areas of the ship, except while actively eating and drinking.
Welcome Aboard Azamara Journey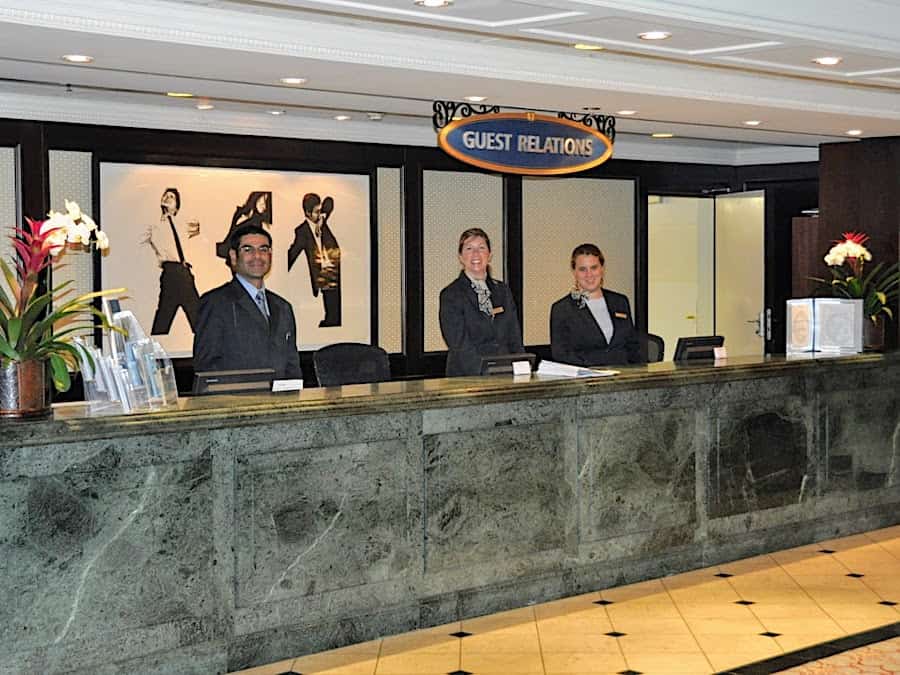 Embarkation has changed — perhaps forever — due to pandemic protocols. Some of the changes, including more paperwork and health checks, lead to long wait times in the sun at the port with nowhere to sit.
While others, including less formal lifeboat drills in small groups immediately upon embarkation — with Champagne! — were welcome adaptations.
Once our lifejacket demonstrator completed all necessary safety briefings, we were whisked to our cabin by an attendant. In our room, in addition to the usual brochures and welcome materials, were two blue cloth masks emblazoned with the Azamara logo.
We felt it was a nice touch that encouraged mask-wearing among guests.
INSIDER TIP: We were asked to sanitize your hands before each meal so be mindful of keeping your hands clean without drying them out. A good-quality hand cream can be a lifesaver.
First Impressions Azamara Journey
We sailed Azamara two years prior on the line's then-newest ship, Azamara Pursuit. This time, the entire ship was decorated in anticipation of Christmas.
Metallic ornaments kept it classy while the various gingerbread houses constructed by teams from around the ship — including a village with a working toy train — contributed to a fun and festive atmosphere.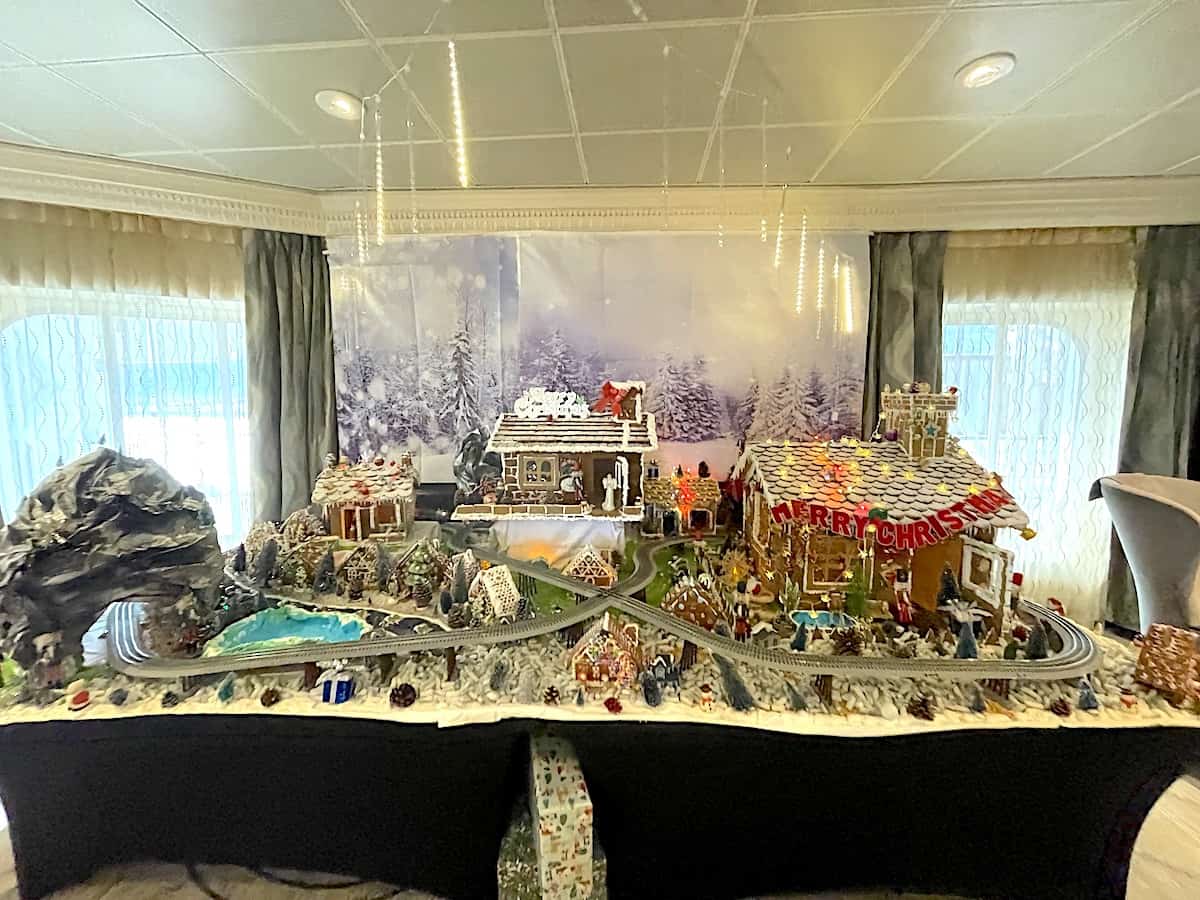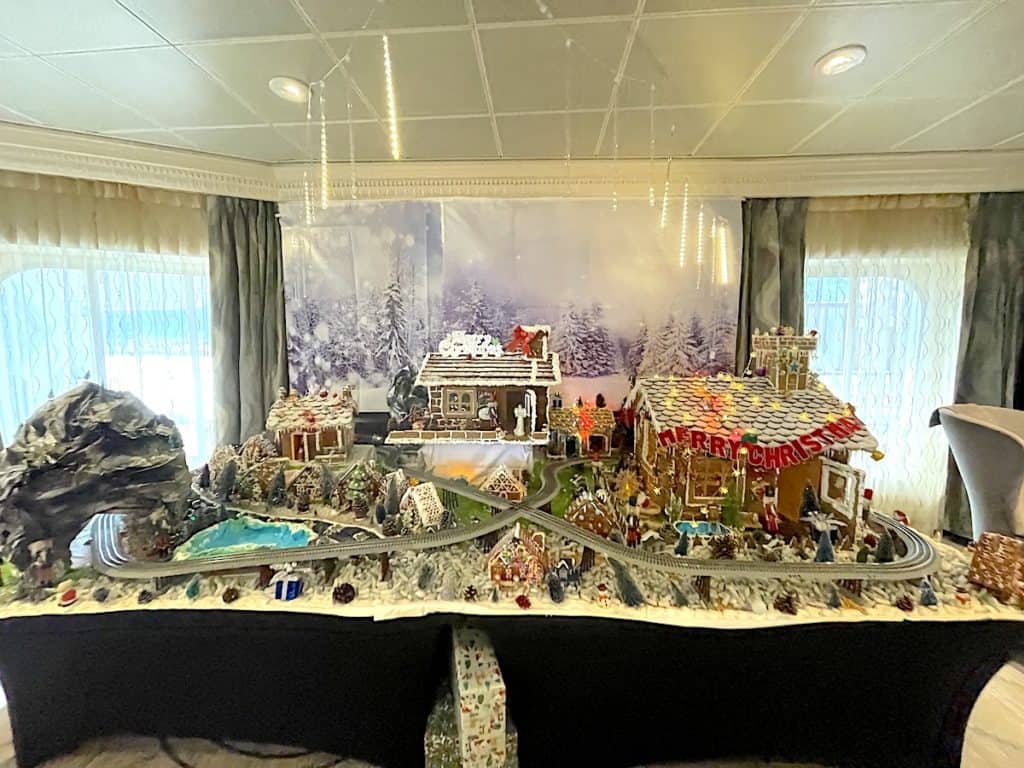 Despite the shift in time and seasons, boarding Journey felt a bit like coming home, an intentional mimicking of a nearly identical feel across the fleet of three (soon to be four) ships.
From the grand staircase to the main dining room and the classic library to the pool deck, we already had the sense that this ship was familiar.
But uniformity takes work, and changes meant to be rolled out to the ship during a dry dock in summer 2021, were now unavoidably taking place in December with passengers onboard.
Supply Chain Issues Were Noticeable
Supply-chain issues, that plagued many industries during the pandemic, left the ship without the proper carpeting in the Den on Deck 5 and new wallpaper in key passenger areas.
We didn't notice anything amiss during our first day onboard as construction crews were quietly roamed our hallways. They were quick to rip down wallpaper and replace it with new high-quality fabric from Japan.
The noise was surprisingly not much of an issue, though the lingering smell was a bit distracting.
While some new, high-quality touches are the result of a cash infusion into the company, other noticeable changes are the direct result of pandemic protocols.
Club Veranda Stateroom
We stayed in cabin 7079, your standard balcony room onboard an Azamara ship, and a comfortable way to sail the Canaries. With 175 square feet of space and a 40-square-foot balcony, two guests won't be cramped by any means.
One of our favorite features of an Azamara Veranda cabin is the size of its balcony furniture; comfortable seating and a large table mean a balcony breakfast or wine and cheese at sundown are not a hassle.
Our least favorite feature is still the tiny bathroom size. While functional, we could not imagine our 6'7 cruise director fitting in any way, shape, or form into the itty-bitty shower with a clingy shower curtain.
Three small shelves and no space by the sink were not quite enough for two women, so we kept many of our hair and makeup products on the desk, or in a bag that hung from the door; a major space-saver.
Inclusions in this class of cabin are typically standard, with terry robes and slippers. Although we received the leather card carrier which is always a nice touch, we didn't notice the tote bag that many others were sporting. Still, the small cruise line is more generous with logo items than others we know.
Stateroom Amenities
Rooms come equipped with both standard U.S. and European outlets, as well as USB ports under the bedside reading lamps. Technology quickly outpaces charging units, so be sure you have chargers that can be plugged into either of these. Hair dryers are provided in a drawer by the desk.
Beds can be combined for one queen or separated as two twins. We felt the linens and pillows were sufficiently comfortable. Other cabin features include a loveseat with a small round table, a desk with a chair and a large mirror. A flatscreen TV offers a handful of channels from international news and movies to what's happening around the ship.
Getting Organized in Our Stateroom
Closet space is limited, but two friends who overpacked for a single week were able to jam everything — just barely — into a few shelves and a small closet. Depending on how much you're looking to bring, be mindful of finite hanger space.
Toiletries in the bathroom include a bar of soap, shampoo, conditioner, and body lotion with a light, aloe vera and green tea scent. Elemis products are still provided in more premium cabins.
Much to the chagrin of our hotel director and longtime Azamara employee Tony Markey, the installation of water refill stations around the ship was still a work in progress.
Water, Water Everywhere But…
Unfortunately, that meant that in the meantime, water was provided to guests in now-taboo plastic bottles. Water was plentiful, both in our cabins and provided before or during shore excursions. The inability to move past plastic is a slight setback for Azamara's sustainability initiatives.
Azamara provides self-service washers and dryers, handy on longer voyages, but you must buy detergent. The laundry room is open 8 a.m. to 9 p.m. and is located across from stateroom 7076.
INSIDER TIP: Bring your own reusable bottle, and use the water provided on the ship; even if it's from a plastic bottle, you'll have more H20 with you and can ask the ship to recycle them.
Our Room Steward
Cleaning up behind two women is never an easy feat, but as kind as our room steward was, he also seemed a bit scattered at times. We enjoyed wine in our room each night and brought our own bottles onboard — port from a port call in Portugal, to be exact.
But despite this clear signal to provide clean wine glasses, we had to replace our own every night with a somewhat confused call to room service — "No, not the wine, just the glass."
The same idea applied to my use of an additional duvet. Each night the extra comforter was packed away and each night I would have to lug it out again, hoping he would catch on that I liked an unnecessary amount of blankets.
Our room was always neat as a pin. But intuitive service like making the bed with an extra blanket or having wine glasses ready to go each evening when we returned onboard, would have given that more personal touch.
Dining Options on Azamara Journey
Making the Best of Meal Times
Despite constant changes in the ways guests are served during a pandemic, service levels remained high — something we also took particular note of on our first Azamara cruise.
Every crew member made a genuine effort to positively influence our experience, but perhaps none left as much of an impact as our servers in Discoveries Restaurant, Roston ("from Boston") and Aaron.
Humorous and attentive, they struck a chord with our young American hearts, though they seemed to thrive at their job no matter the nationality, and that takes skill.
Complimentary Dining Choices
There are three complimentary, no-fee dining venues plus room service onboard Azamara Journey. Each restaurant offers guests a full rage of selections.
Every night is themed after a different type of cuisine, ex. Italian and French. The themes differ between the main dining room and the buffet.
We felt the themes were a little odd at times. Rather than emphasize local cuisine, the restaurant chose to serve British food to a ship of Brits.
However, Indian night was a highlight. After learning how disappointed we were to miss it during a dinner in Prime C, our waitstaff made sure to order us a full Indian feast for the following evening.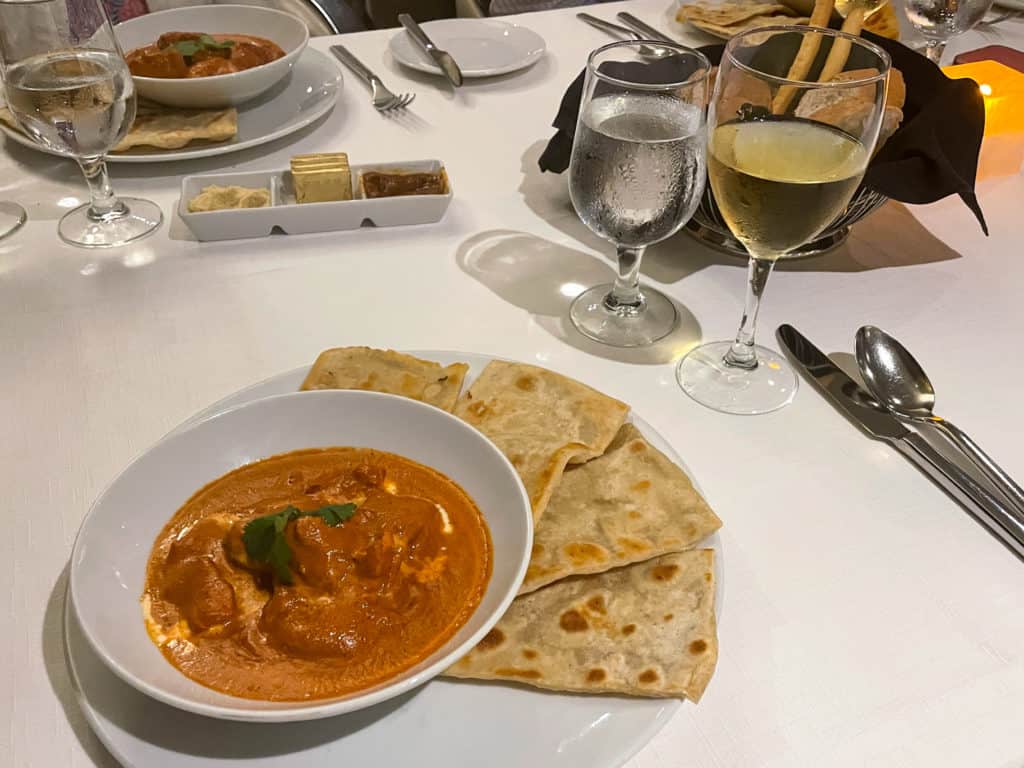 This was a special touch that impressed us. Overall, the quality of the food was quite good and the service was excellent.
Discoveries Restaurant
Open for breakfast (8 to 9:30) and dinner (6 to 9) with lunch served only on the day we were docked overnight in Funchal. Discoveries on Deck 5 is the main dining room onboard and it is a grand space.
The formal dining room is designed to accommodate most passengers on the ship at once. Only half of the dining room was in use during our sailing due to lower capacity.
We found that on a ship of Europeans, a 6 o'clock dinner was eerily quiet but pleasant if we needed an early night — most came to dinner around 8.
The use of QR codes, now common in land-based restaurants to reduce contact, were available on the daily program and around the ship to view menus or make reservations, but we found neither were needed.
We were always accommodated and handed physical menus.
Typical Daily Dining Options
Breakfast options were international, like many of the menus onboard, and dishes were a bit unexpected: a Mediterranean salad or an Asian chicken and rice congee to start, followed by Arabic shakshuka or asparagus Benedict.
Of course, classic breakfast options — pancakes, bacon, scrambled eggs, and the like — were plenty available upon request.
On the Discoveries menu each evening we found an enticing offering of starters, main courses, and desserts. Plus an always-available menu included standards like steak, salmon, and Caesar salad.
Each night it was possible to order an entire meal from the chef's theme du jour. On Indian night, it was hard to resist samosas and butter chicken. Other nights we thoroughly enjoyed the fish. The soups, such as a Spanish gazpacho or minestrone, were always delicious.
Windows Café
Windows, the buffet venue on Deck 9 open for breakfast (7 to 10), lunch (12 to 2), and dinner (6:30 to 8:30), was where we turned to for al fresco dining. The quick convenience of the buffet is hampered slightly by the inability to serve yourself due to health and safety measures.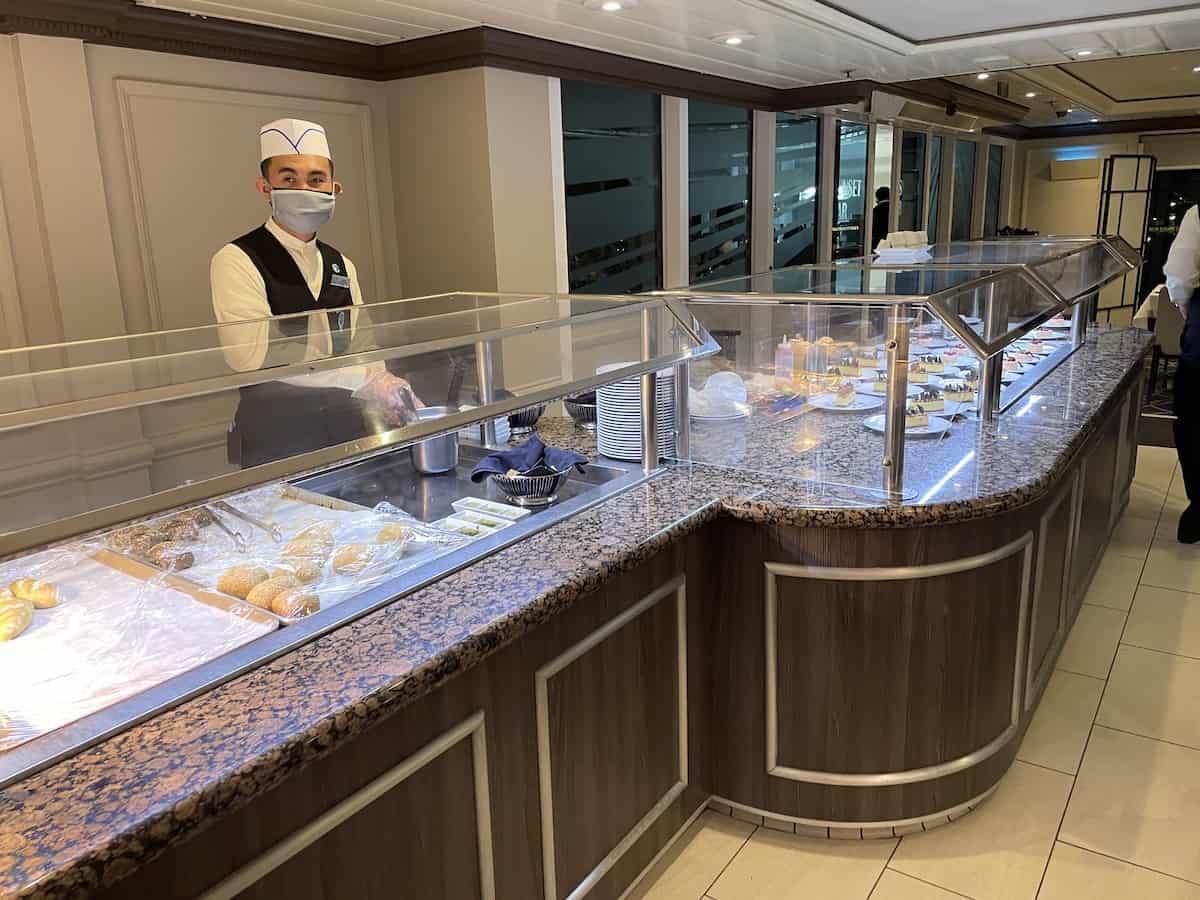 We chose to sit at the back of the ship and admire the stunning views of the islands in the morning and in the evening.
We ordered our energizer shots and fresh-squeezed juices at the entrance. Then we chose a variety of fruit and pastries or hot dishes. Finally, we grabbed outdoor seating with coffee served to your table.
Lunch was a similar affair, sans the juice bar.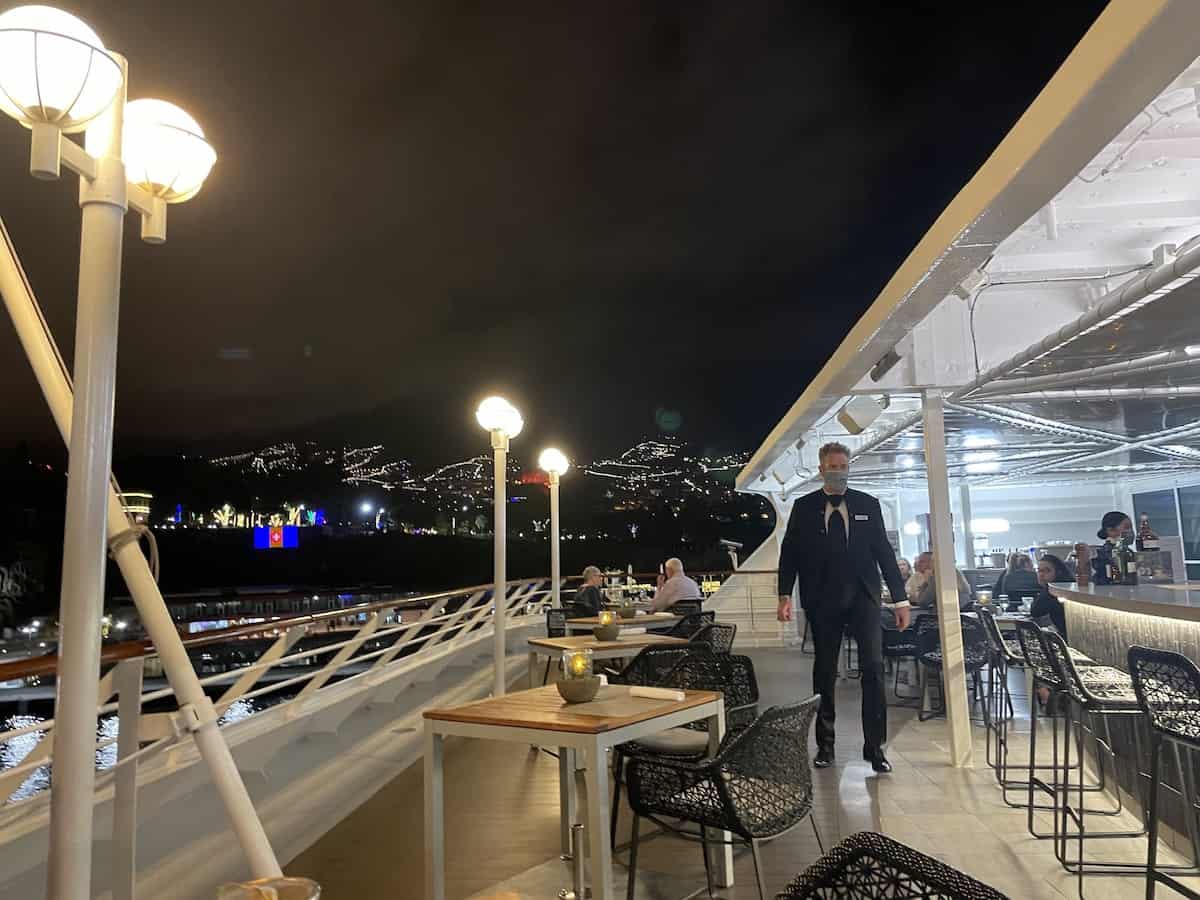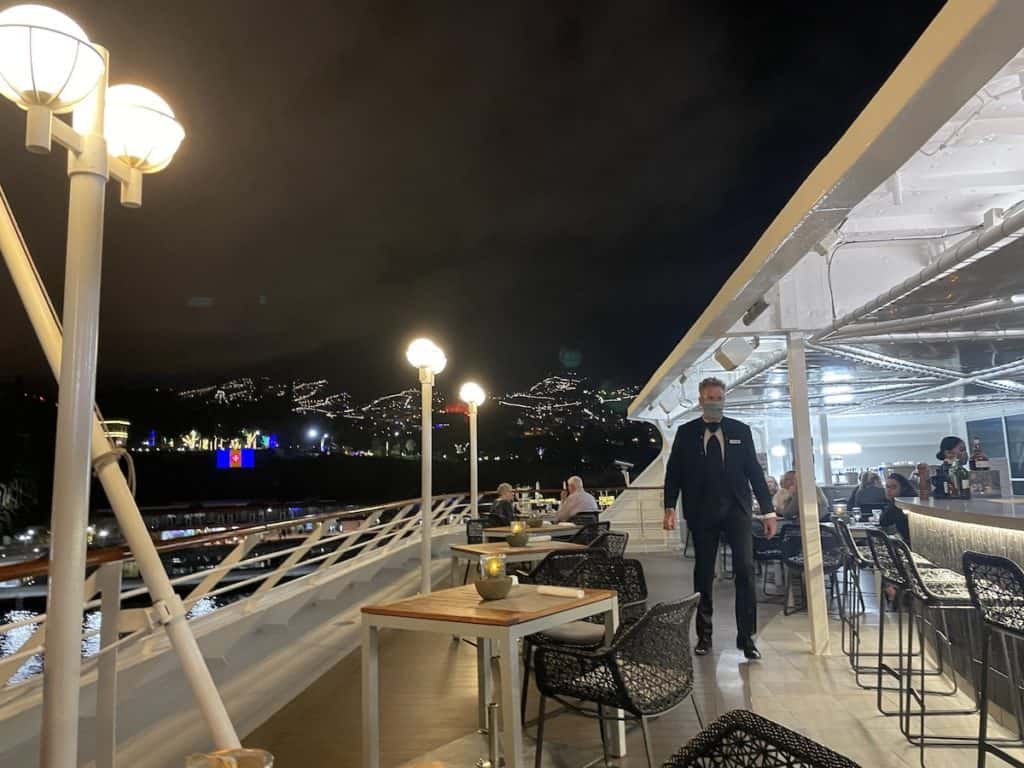 At night, Windows became something like a bistro, and we hope it stays that way. We loved sitting out on the deck and indulging in a menu unique from the main dining room, like South American.
The Patio
A casual option for lunch, The Patio is the poolside grill on Azamara Journey. We were pleasantly surprised by all of the options, which ranged from burgers (salmon, veggie, lamb, beef, turkey) to brochettes, soups, Buffalo wings, nachos, and sandwiches like pork loin with sauteed onions and feta on a baguette or a grouper panini with salsa and Chinese cabbage.
Swirl & Top, the soft-serve ice cream machines, are located here; they were out of service when we asked about them, but we were brought hard ice cream sundaes instead from Windows Café.
Room Service
Onboard Azamara Journey, room service is complimentary and available 24 hours a day. Our favorite order was a cheese plate and two glasses of rose as we got ready for dinner, but sandwiches, desserts, and even a pizza are on offer.
For room service breakfast, a room tag is provided in your room to make your selections and hang it on your stateroom door the night before. Continental options as well as hot breakfast dishes like steak and eggs are available, free of charge.
We found that our breakfast consistently arrived early; better than late, but a bit of an unexpected wakeup call.
Specialty Dining
Chef's Table
Dinners at are available throughout the cruise, but limited to a dozen or so guests.
For $95 per person, this six-course, food-and-wine paired meal is a sensory experience. It is typically held at a banquet table in one of the specialty dining rooms and hosted by the executive chef.
During the pandemic, guests are distanced at a minimum of two tables. Themes might be French, Italian, or Arabic.
Additionally, Azamara Journey was trialing a new concept called the Explorer's Dinner, held once per cruise for $65 per person.
I thought this was a great deal considering a venue was fully decorated for the event and included six courses themed after a regional explorer. Special wine pairings were not included.
On our sailing the meal celebrated Juan Ponce de Leon from Spain with garlic shrimp and paella.
Dining packages are available to bundle culinary experiences, including packages with both specialty restaurants and the Chef's Table.
Prime C Review
Azamara's specialty dining restaurants, Prime C and Aqualina, have temporarily become two rotating dining rooms with one menu. Specialty dining remains included for suite guests, otherwise it's a $30 cover per person.
Due to low passenger counts, kitchen and waitstaff were sometimes accommodating just one or two couples in each restaurant following Azamara's restart.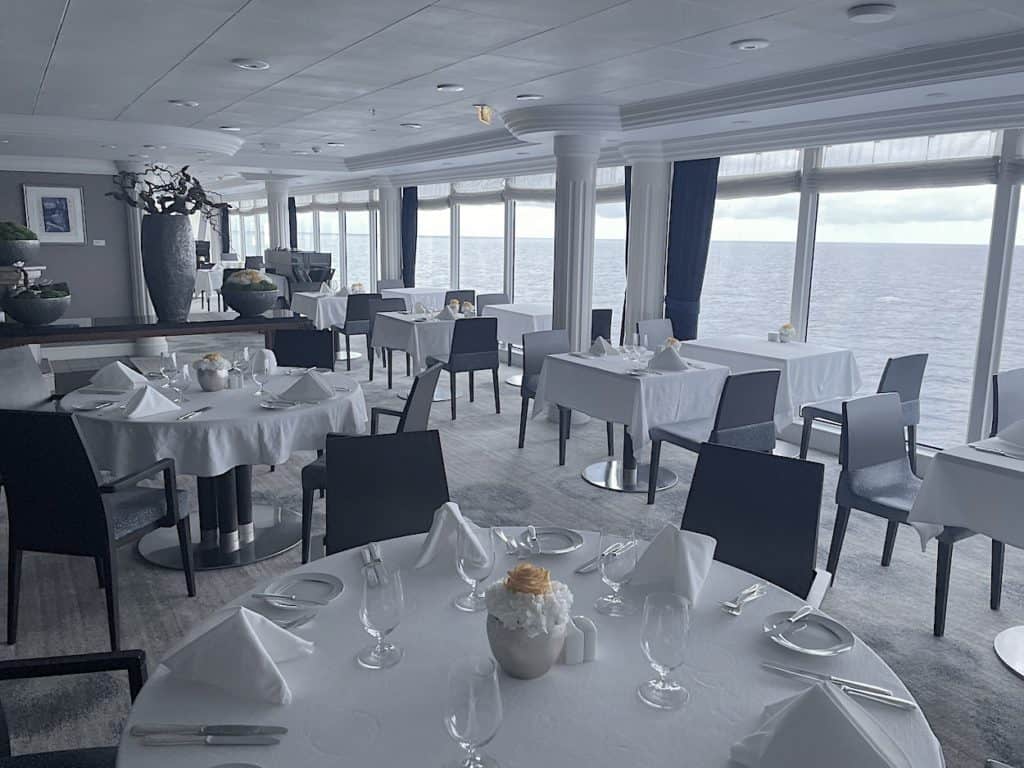 To combat the all-too-quiet ambiance, one specialty venue is open each night of the cruise but serves a combined menu from the kitchens of the steakhouse and Italian restaurant, which we were told is a "best of the best" from each.
While some diners seemed to revel in the mix-and-match, the choices can be a bit overwhelming, so review the menu before heading to dinner.
On the left, in red, are three starters, four soups or salads, and five entrees from Prime C, while on the right in blue you could find the same amount of Italian-themed options from Aqualina.
During our specialty dining evening, we sat in Prime C and ordered a combination of dishes like crab and lobster cakes from the steakhouse menu and a braised beef cheek in Chianti sauce that was actually from Aqualina.
Some desserts, like the famed tiramisu, were not available, but service still shined. However, the cook of a fellow diner's steak and the drawn-out nature of a meal here deterred us from revisiting. Instead, we opted for the exciting menu rotations and familiar service found in Discoveries.
Are Beverages Included on Azamara?
As for drinks, beer, wine, soft drinks, and select cocktails, they are included in the price of your cruise fare. Perhaps our favorite inclusion are the specialty coffees, which include dairy milk alternatives on hand, found at the Mosaic Café on Deck 5.
The juices available at Windows café in the morning are delightful (the smoothies were a bit of a miss). Drink packages are available for an additional fee to enjoy premium spirits and wines throughout the course of your cruise.
Entertainment and Onboard Activities
On a sailing filled entirely with days in port, most passengers are out exploring from the morning until the evening.
Our cruise director — author, entertainer, and former figure skater Eric de Gray — was the glue that held together every show and every event. Even his onboard announcements were amusing, delivered with a signature snark, and his headlining show nearly had us in tears.
Outdoors Activities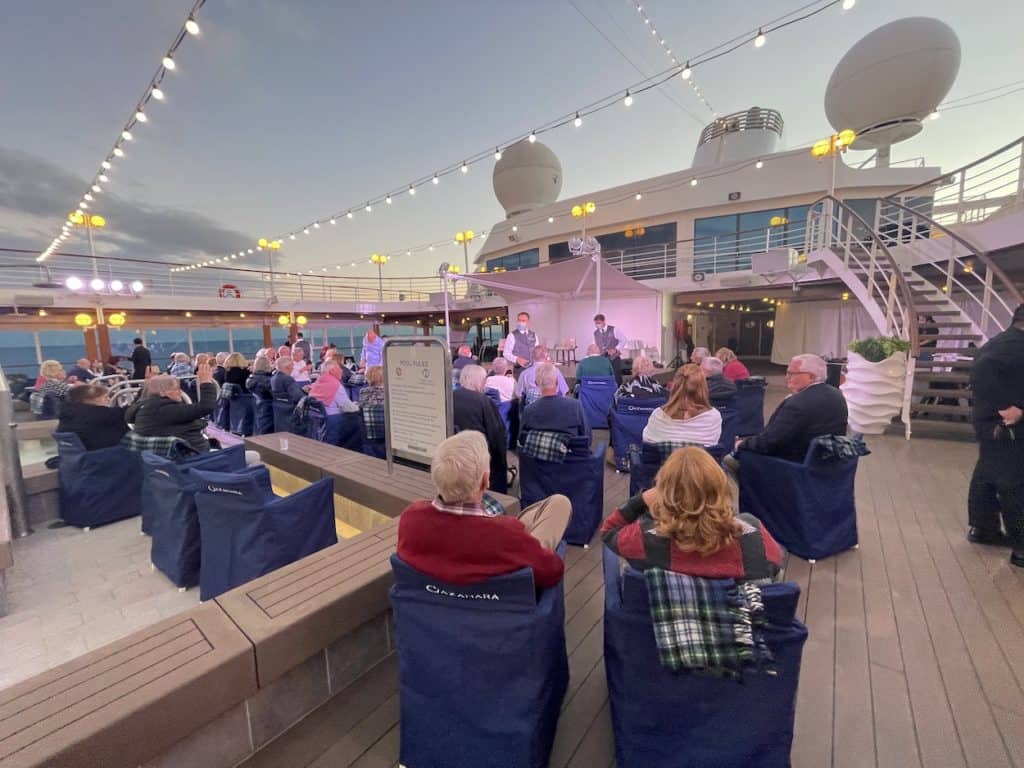 There is one pool and two whirlpools located on Deck 9, that saw a considerable amount of holiday-makers during the day.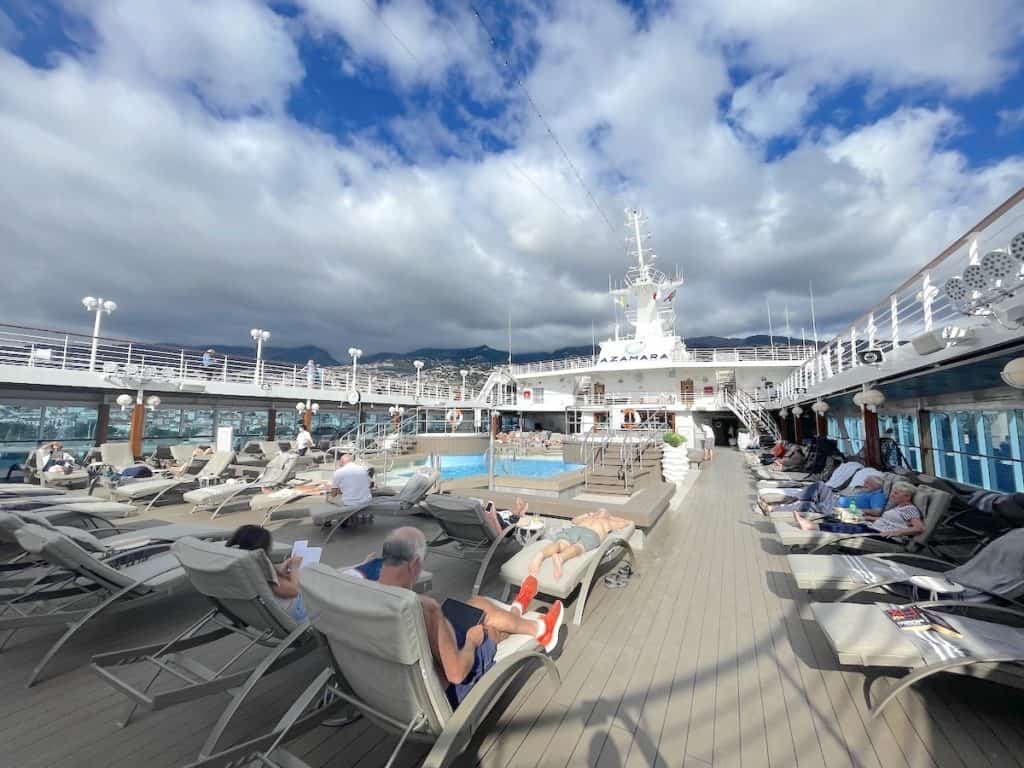 The library, on Deck 10, is a mausoleum-silent space to read or borrow books on the honor system. With a delicate mural on the ceiling, its truly a gorgeous room for an afternoon repose.
There are two shops onboard Azamara Journey. Indulgences sells the standard duty-free liquor, perfume, and cigarettes, while the Journey Boutique sold luxury clothing, jewelry and accessories.
Nightly meetups are held for Friends of Bill W., LGBTQ, and singles and solo travelers.
Insider Tip: Visit the dining reservations desk in the Windows Café. Ask around for a list of each venue's dinner themes for the entirety of the cruise. That way, you can plan ahead (and not miss Indian night!)
The Spa
We were forewarned on a first-day ship tour that many of the crew members at the Sanctum Spa were unable to join the Azamara Journey. This was due to their country's COVID-19 restrictions.
Despite being short staffed, we loved our spa experiences (yes, plural). The staff were extremely friendly and professional.
My travel companion had her luggage misplaced by the airline and boarded the ship without her hard-earned, high-end hair products.
Without missing a beat, the spa manager pulled every Elemis product she might have needed. Even with limited therapists onboard, we had a combined four treatments — including my first-ever facial. We raved about them all.
Spa Discounts and Services
Spa specials ran throughout the cruise. With a booked treatment you received a discount on future treatments. Facials ranged from $129 to $199 and massages ranged from $149 to $299.
Hair, nails, and waxing services are also available at The Sanctum, along with teeth whitening and shaves for men. The spa was typically open from 8 a.m. to 10 p.m.
The Sanctum Terrace is a lovely and serene spot at the front of the ship, just outside the spa. There are loungers and a small thalassotherapy pool.
Should You Buy a Spa Pass?
Daily and weekly passes were available. But we were able to enjoy some time here before and after our spa treatments. It's the perfect place to watch the sunset if you can manage it. The terrace hours are listed until 8 p.m. but we never saw anyone else there.
Unfortunately, many of the missing spa staff were fitness instructors, so onboard classes like Pilates were unavailable. However, the fitness center was open and self-guided workouts and stretching were encouraged.
Only eight guests were allowed inside at one time, and masks were required.
Daytime Activities
On such a port-intensive itinerary, daytime activities extend to card games, shuffleboard, intimate trivia sessions, or a walk around the jogging track.
However, we did notice a fair number of Brits onboard who spent ample time soaking up the Spanish sunshine from a lounger near the pool.
Apart from a smattering of dance classes and maybe a lesson on smartphone photography, we were disappointed by the lack of enrichment.
We did hear a lot of positive feedback about a wine and food pairing exercise, but guests had to pay an additional fee to participate.
Enrichment Lectures
From a cruise line that claims total destination immersion, we wanted to learn more about the ports and the culture and not just what few shore excursions were offered.
A lecture on the Spanish Civil War was postponed due to poor attendance. We place that blame less on the passengers and more on the activities staff choosing enrichment topics.
Despite an active volcano on La Palma, we were still able to dock. Some information on volcanoes — how the Canary Islands were formed — seemed like a more relevant and timely topic.
Insider Tip: If you don't feel like an all-day excursion, reserve tea at Reid's Palace (in Funchal) online in advance. It's a bit of an uphill climb, but totally walkable and bookable on your own. Only available from 3-4:30 Wednesday, Thursday, and Sunday.
Evening Entertainment
The vibe onboard Azamara Journey is relaxed and a bit sleepy. While there were some standout entertainment experiences, evening plans sometimes began and ended with a simple nightcap.
There are bars located in each dining venue. Additional bars included the Cabaret Lounge, Mosaic Café, Pool Bar, the Living Room, and Spirits in the Den.
Be sure to find the Sunset Bar on Deck 9 aft, it's the perfect place for a sailaway drink. This bar has its own unique beverage menu that features tasty tropical tipples. We wish we had found sooner.
Where You'll Find Live Music
At night, you can find a variety of live music around the ship to complement your cocktail. On our sailing we enjoyed the band East Pearl. They worked triple duty playing dance hits before dinner, at night, and late-night in the Deck 10 Living Room.
There was a pianist who played near Spirits bar. The Journey Orchestra performed Latin music every night in the Living Room. Plates of tapas were offered.
If you are extra vigilant, you might be able to catch a karaoke session in the Living Room lounge.
Capacity was capped in the Cabaret Lounge, the onboard theater, but it was never a problem for the evening shows. The singers and dancers had the task of appealing to a multicultural audience.
Shows like "Four on the Floor" and needless to say, there was a lot of ABBA.
We attended the classical piano recital of Sasha Kovalovin and thoroughly enjoyed his talent alongside his charming commentary.
White Night and the AzAmazing Evening, Azamara's signature events were canceled due to COVID. But the resilience and resourcefulness of Azamara's hotel and activities staff and crew ensured guests were still able to celebrate.
White Night — temporarily – became Bright Night, a version of the deck party muddled by crowd capacities and then bad weather.
The theater held the main performance. Guests encouraged to dance though mask use was not enforced.
Similarly, accommodating hundreds of guests at a local venue wasn't doable for the AzAmazing Evening. So Azamara Journey hosted a Destination Celebration, instead.
This included a poolside performance from a quartet called Paganini, and a Spanish dinner in the Windows Café.
The humor-infused classical concert was a perfect fit for the Azamara audience. There were two showtimes in two seatings.
The destination centered around the unique culture of the Canary Islands and not blanket Spain. But it would have been nice to try more regional dishes and drinks from the places we visited.
Perhaps it was not possible due to logistical challenges.
Who's Onboard
Well-traveled retired couples are typical Azamara guests. The small ship cruise line also attracts a strong number of loyal and return cruisers.
On our Canary Islands cruise, there were 329 total passengers (about half capacity) spanning an impressive 19 nationalities. British passengers made up two-thirds of the guests. Danish about 10 percent.
There were just 15 Americans onboard, 11 Germans and 10 Macedonians. Plus, a mix of over a dozen other countries represented.
Final Thoughts – Azamara Journey Review
Azamara has largely ditched its formal Azamara Club Cruises moniker, while retaining its clubby camaraderie in all the best ways.
It's not the most luxurious cruise line, or the most modern, or the most intimate. There is familiarity and a genuine nature to the service onboard that is hard to pinpoint but easy to recognize.
Even during a global pandemic and an ownership change, Azamara has retained its signature offerings and its stellar crew. This included comfortable surrounds, tasty cuisine, a welcoming atmosphere, and access to spectacular destinations.
Cruise Review in a Nutshell
Ship: Azamara Journey
Category: Premium ($$$)
Internet/Wifi: Extra fee, though included in many cruise fare packages.
Date: December 11-18, 2021
Disclosure: Azamara paid my cruise fare and that of my guest. Azamara included my airfare and an onboard credit. All opinions are my own and reflect my cruise experience and observations.
I hope you find this Azamara Journey cruise ship review to be helpful whether or not you're considering an Azamara Canary Islands cruise. Azamara cruises the Mediterranean, the Caribbean and the world.
Brittany Chrusciel has covered the cruise industry for many years, formerly as Cruise Critic's Destinations Editor, and has been quoted in publications such as Skift, USA Today, and the LA Times. She is a proud alumnus of Semester at Sea, where she circumnavigated the globe while studying writing, Spanish, and political science. Her favorite river cruise experiences so far have been visiting the Christmas markets with her German grandmother, and Portugal's Douro River.