Get the best cruise deal with these 7 cruise-hacking ploys.

Everyone wants a deal with benefits. Cruise prices can fluctuate as wildly as airfares. How do you get the lowest possible price and value-added amenities? Here are my seven suggestions to get the most value for your cruise dollar.
1. Book your cruise as far in advance as possible. 
In the "old" days, people would show up at the port, suitcase in hand, thirty minutes before sailing time in hopes of negotiating a last-minute bargain. Those days are over. Homeland Security doesn't allow it and ships seem to always sail full.
The best values, accommodations and availability are offered ten to eighteen months before the cruise, not the week of the cruise. Many cruise lines offer early booking savings and usually with lots of perks. They may even offer upgrades to those who booked early. Why? The cruise line will "re-sell" the original stateroom to a new customer at a higher price. This isn't rocket science. Supply and demand drives the rates. As a ship nears capacity due to heavy sales, fares will increase for those people who book closer to the sailing date.
If you can pick up and go, aren't fussy about the itinerary, the accommodations or what cruise line, you just might find a last minute (0ne to three months ahead) bargain (that's "bargain" not a "steal".)  Why? The online cruise sellers block group space as soon as it is open for sale. Eventually they have to return the unsold allotment or get stuck with unsold "merchandise." This starts to happen somewhere in the vicinity of ninety days before the cruise.
But you can't be choosy. The discounted cabin might be all the way at the bow on a very high deck or all the way aft on a very low deck. Think lots of motion and engine vibration, respectively.
If you are willing to spend hundreds of dollars for last minute air fares, then the more exotic cruise itineraries may have the best opportunity for snagging a decent cabin on a last minute (ninety days or less) cruise.
2. Look for added benefits and amenities. 
To entice guests, cruise lines add additional benefits to specific cruises in order to add value and uniqueness when a price drop isn't in the plan. For example, many times they'll offer onboard credits (actual dollars that may spent onboard), pre- or post-cruise hotel stays, complimentary airport transfers, lunches or dinners in the specialty restaurants, private shore excursions or exclusive onboard gatherings.
3. You might qualify for special rates or discounts. 
Many cruise lines offer senior citizen rates (over fifty-five), active/retired military discounts and resident rates. From time to time cruise lines like to say "thank you" to those who belong to or have careers with organizations. Firefighters, police and teachers may have special pricing as a way to show appreciation for all they do for the community. Many times the mega online cruise "discounters" fail to ask if you fall into any of these categories for special offers. Why? They lose commission.
4. Frequent cruiser? Ask about any Alumni discounts. 
Most of the cruise lines have their own past passenger clubs. Holland America has their Mariner Club, Carnival Cruise line has their VIFP program, Crystal has their Crystal Society and so on. Each cruise line has their rewards for being a repeat passenger. It may be in the form of a discounted rate, category upgrade, onboard amenities, welcome back parties or even complimentary wash and fold for your clothes. Cruise lines that are owned by the same company, i.e. Royal Caribbean owns Celebrity and Azamara, may offer past passenger/loyalty rewards or credits simply because you've cruised on one of their "sister" cruise lines.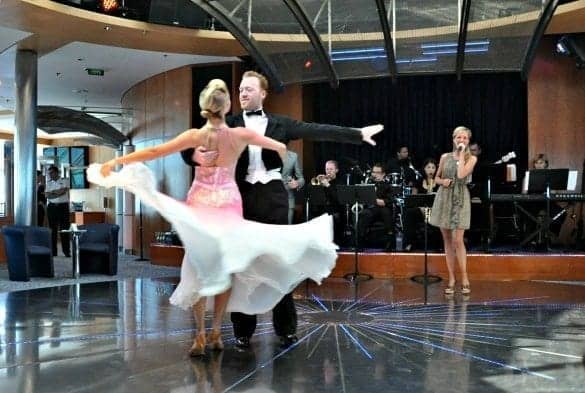 5. Book your next cruise while on your current one. 
The cruise lines know that the best time to sell a cruise is when their passengers are having a wonderful time on their current cruise. Most cruise lines are very generous and offer special savings to passengers that reserve and deposit a future cruise while still onboard. You may receive onboard $$$ credits towards that future cruise, a discounted rate, category upgrades and a reduced deposit.
Another advantage of booking onboard, if you know when you'd like to cruise, is that you can usually find a perfect cabin location, itinerary and sail date. Most important, all you have to do is to tell the cruise lines' onboard booking agent that you want to have your travel agent back home handle your new reservation. The Future Cruise Consultant (as they are usually called) will look up your travel agent's name from your existing reservation and give the credit to that agency. Chances are, the agent at home will be so excited that you might even receive a special thank you gift for your effort.
6. Invest in the stock market…cautiously, of course. 
Royal Caribbean International and Carnival Cruise Lines, being publicly held companies, offer onboard credits to their shareholders. With one hundred shares of either company, you are given up to two hundred dollars to spend onboard your cruise. If you cruise enough, you can actually make back the cost spent on buying their stock.
Unfortunately, these cruise lines will not allow shareholder credits to be combinable with any other deal offered by the cruise line. So choose your dollars-off or onboard credits carefully. For example, a Royal Caribbean shareholder who is also at the Diamond Plus past passenger level can choose between the $200 onboard credit OR a $225 discount for booking a balcony stateroom. Book a longer cruise at least six months ahead of time and receive a $350 discount on a balcony. Which would you choose – the shareholder $200 credit or a $225 – $350 discount?
7. Develop a relationship with a knowledgeable cruise-focused travel agent.
Working with someone you know and trust makes more sense than chasing down a bargain on a computer. More times than not, if it's too good to be true, it usually is. Online mega-sized travel (not cruise) agencies may charge hidden service fees, cancellation fees and penalty fees for name changes. Sometimes the fees or penalties are written in grey and in teeny, tiny font. If you should find something fabulous online, let your travel agent know and they can almost always match it or do better.
Travel agents also know when the cruise lines open their new deployment schedules. A home-based travel agent has access to the same sailings and rates as do the huge online agencies. Let your travel agent know what's on your cruise bucket list and they can watch for it to become "open to sell" and grab the best rates and the most onboard amenities on the first day.
There you have it –  seven ways to snare the best possible cruise deal and value for your money. PS. If you have any tips for securing a good cruise price, please leave a comment to share with others. Happy cruising!
As Levar Burton said on Reading Rainbow, "…but don't take my word for it." Take a look at prices from these cruise-oriented agencies:

I'm the editor and creator of CruiseMaven.com, a solo traveler cruising the world on waves and wheels, collecting recipes along the way.  I hope my articles and photos entertain, advise and inspire you to travel the world without flying.  Take a breath…stop for a local meal and a glass of wine along the way.