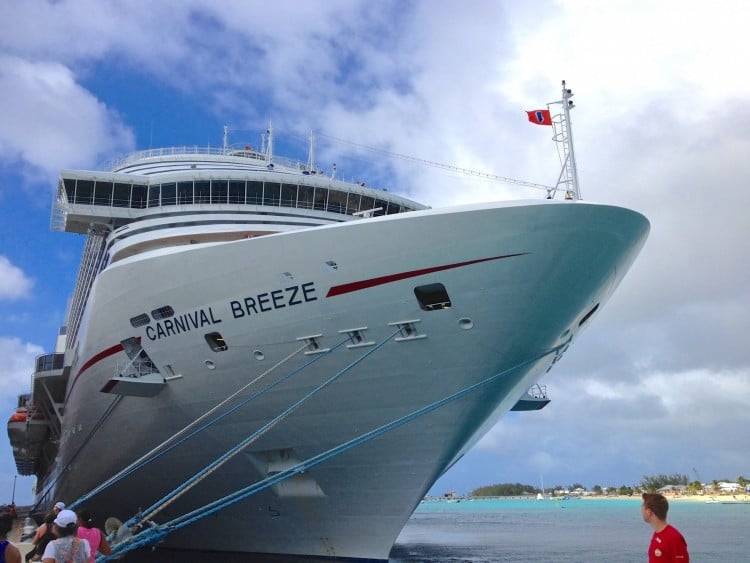 Summer 2016 looks great for Galveston and Port Canaveral!
Recently, I attended a travel industry event and stopped at the Carnival booth to say "Hi" to former sales-person friends. Thrust into my hand at the first hello was the list of new Carnival itineraries for 2016, what I nicknamed years ago as the Cruise Ship Shuffle.
No more Cruises to Nowhere
Because of recent changes in how ships are official cleared into and out of the U.S., all 2016 Cruises to Nowhere are scrubbed. I thought this was a terrific way to get new guests to experience a cruise while at the same time fill in the blanks when schedules changed.
Who's on first?
A lot of Carnival cruisers may not know this classic Abbott and Costello bit. It's all about figuring out what baseball player is on which base or outfield. Similarly, here's the lowdown on what ships are moving where and when and what ports are affected by the changes.
In a nutshell:
Carnival Breeze will reposition to the port of Galveston and replace the Carnival Magic 7-day sailings. Currently booked Carnival Breeze guests will be moved to the Carnival Splendor.
Carnival Magic moves to Port Canaveral to replace the Carnival Valor 7-day sailings. Currently booked Carnival Magic guests will be moved to the Carnival Breeze.
Carnival Valor from Port Canaveral will change to a new rotation and guests will be moved to the Carnival Magic.
Port Canaveral
Carnival Valor
Near and dear to my heart on the Space Coast, Port Canaveral is going to see spectacular growth in the next few years. After a multi-million dollar dry-dock, the Carnival Valor will begin a new series of cruises from May 8 – October 30, 2016 as follows:
3-Day Bahamas – Nassau
4-Day Bahamas – Nassau & Freeport
5-Day Bahamas – Half Moon Cay, Nassau and Freeport
6-Day Eastern Caribbean – Nassau, Amber Cover-Dominican Republic, Grand Turk
8-Day Eastern Caribbean – St. Maarten, St. Kitts, San Juan, Grand Turk
8-Day Southern Caribbean – Aruba, Bonaire or Curacao, Grand Turk
On October 30, the Carnival Valor will take over the  3- & 4-Day Bahamas schedule from the Carnival Victory.
Carnival Victory
Takes the place of the Carnival Sensation beginning on February 25, 2016 through October 27, 2016 alternates 3- and 4-Day Bahamas cruises. The 3-day cruise goes to Nassau and the 4-day visits Nassau and Freeport.
When the Carnival Valor replaces the Carnival Victory on October 30, the Victory will offer a repositioning cruise to San Juan, including St. Thomas, St. Kitts and Antigua.
Carnival Magic
Heading over the Port Canaveral beginning April 20, 2016, the Carnival Magic will offer a 3-day Bahamas cruise on April 20. The Carnival Magic then replaces the Carnival Valor with alternating 7-day Eastern and Western Caribbean itineraries, departing on Saturday.
In November, 2016, the Carnival Magic will offer an 8-day cruise to Aruba, Curacao and Grand Turk on November 12. There's a 5-day cruise to Amber Cove in the Dominican Republic and also Grand Turk on November 20, and another 8-day Thanksgiving cruise to Eastern Caribbean cruise on November 25, 2016.
Cruises from Galveston
On May 8,2016, the Carnival Breeze breezes into Galveston with three alternating 7-day Caribbean itineraries. One of the 7-day Western Caribbean cruises includes Montego Bay, Grand Cayman and Cozumel while the other western itinerary visits Roatan-Honduras, Belize and Cozumel. Included in the three alternating itineraries, guests will call on Key West, Nassau and Freeport.
It looks like a great line-up for 2016, especially for Port Canaveral, where Carnival rules! Sure, there's other cruise lines that home-port on the Space Coast, but none have as many ships here as Carnival.

I'm the editor and creator of CruiseMaven.com, a solo traveler cruising the world on waves and wheels, collecting recipes along the way.  I hope my articles and photos entertain, advise and inspire you to travel the world without flying.  Take a breath…stop for a local meal and a glass of wine along the way.