Ed. Note:  The new cancellation policy applies only to the US passage contract.
Are you one of those cruisers who never remembers the due date for final payment on their cruise? Worse yet, you don't mark your calendar for the day to cancel your booking without penalty. If you are or plan to cruise aboard Cunard next year, read on. There's a new Cunard cancellation policy on the horizon.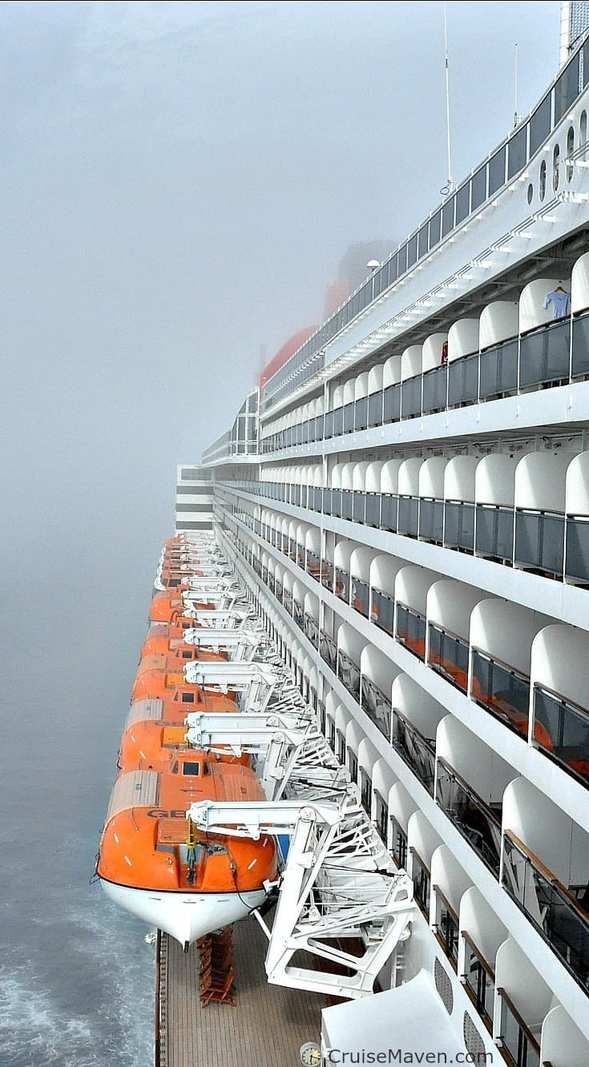 New Cunard cancellation policy begins May 15, 2017
That's right. Beginning next year, May 15, 2017 to be exact, the new Cunard cancellation policy to cancel without penalty is 121 days prior to departure. But it's before final payment is due. For example, say you're sailing on the 2-night Queen Mary 2 cruise on May 22, 2017. Final payment is due on Feb. 21, 2017 but the cancellation penalty to lose 25% of the money paid is actually on Jan. 22, 2017.
What it boils down to is your final payment is due 90 days before sailing but the cancellation penalty period kicks in at 120 days before sailing. However, there is an exception to the 25% penalty. If you booked your cruise under a reduced deposit promotion, you would only lose the deposit. See the 3rd penalty chart below for details.
Here are the three penalty charts from Cunard's legal page, beginning with the standard deposit and voyage length:
Going on a longer cruise? Here's your chart:
And if you paid a reduced deposit as a result of a special promotion, here's your chart:
For those guests booking a reduced deposit promotion, the initial cancellation fee of "deposit amount" will not exceed the deposit required/paid at the time of the booking.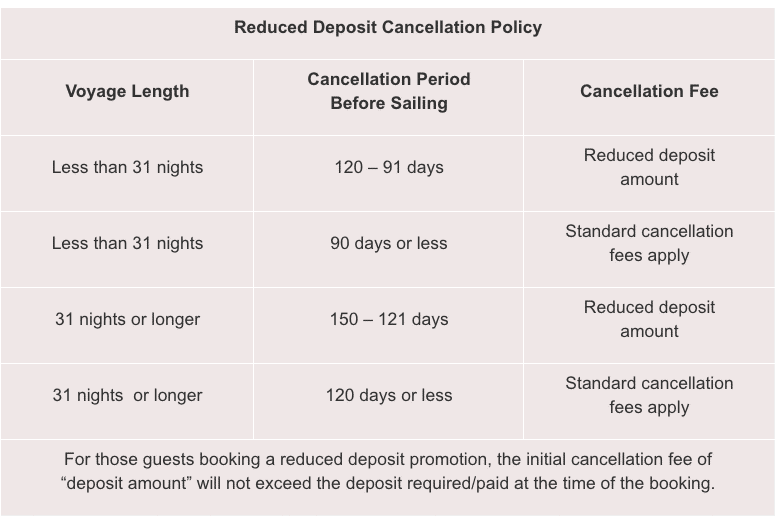 Cunard leads the industry with this new, closer-in cancellation policy. It probably won't be long until other cruise lines adopt this policy, too. Until we get used to the change…mark your calendar(s) with a really bright highlighter pen!
Find the new cancellation policy in its entirety with this link to Cunard.com
I'm the editor and creator of CruiseMaven.com, a solo traveler cruising the world on waves and wheels, collecting recipes along the way.  I hope my articles and photos entertain, advise and inspire you to travel the world without flying.  Take a breath…stop for a local meal and a glass of wine along the way.