Norwegian Bliss, built in 2018, was designed for scenic sailing — from Alaska to Mexico. With its innovative Waterfront dining concept, Norwegian Cruise Line ensured that many Norwegian Bliss restaurants had outdoor seating to take advantage of spectacular views and fresh sea air.
Seriously. Who wouldn't enjoy dining al fresco in one of the many Bliss specialty restaurants for seafood, steak, Italian, or Mexican flavors?
Keep reading for our breakdown of Norwegian Bliss specialty restaurants and the ones that won't cost you another nickel.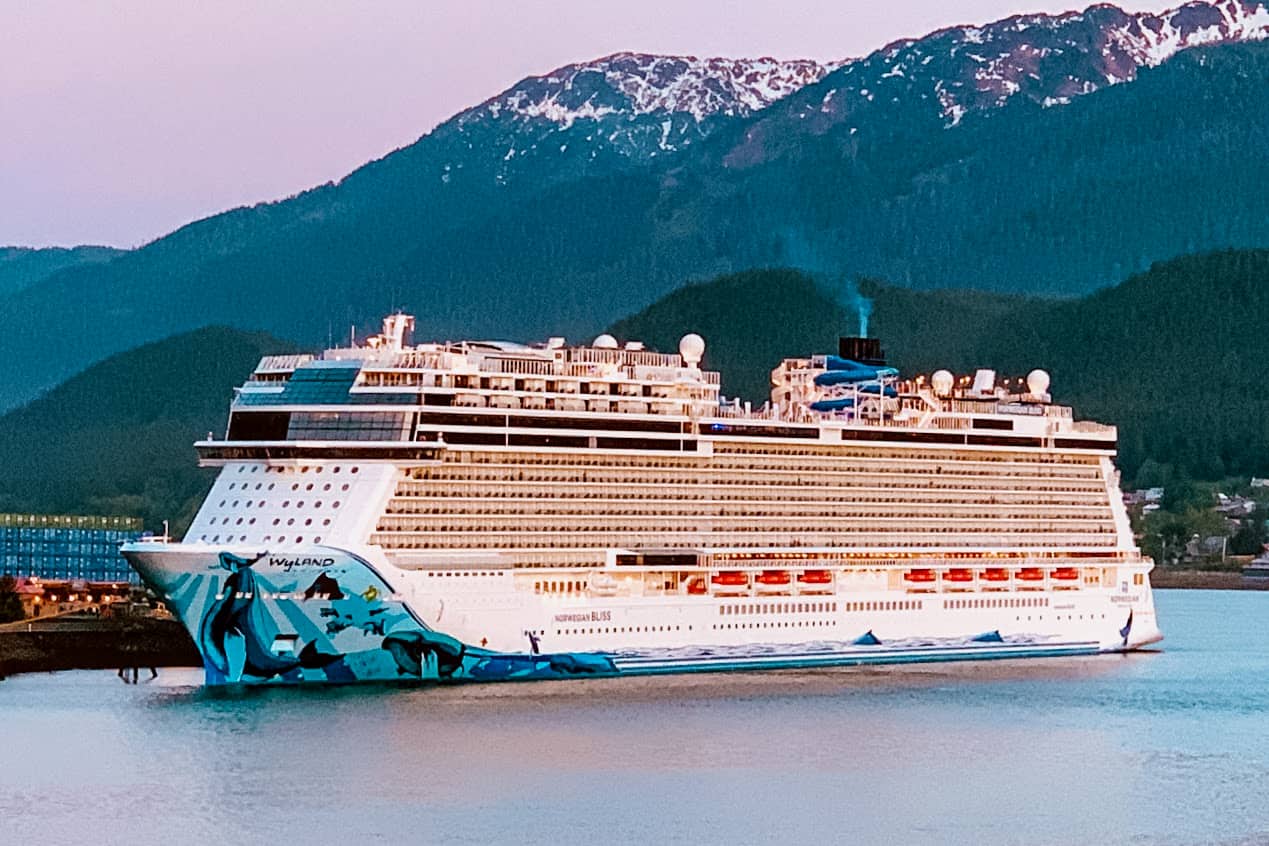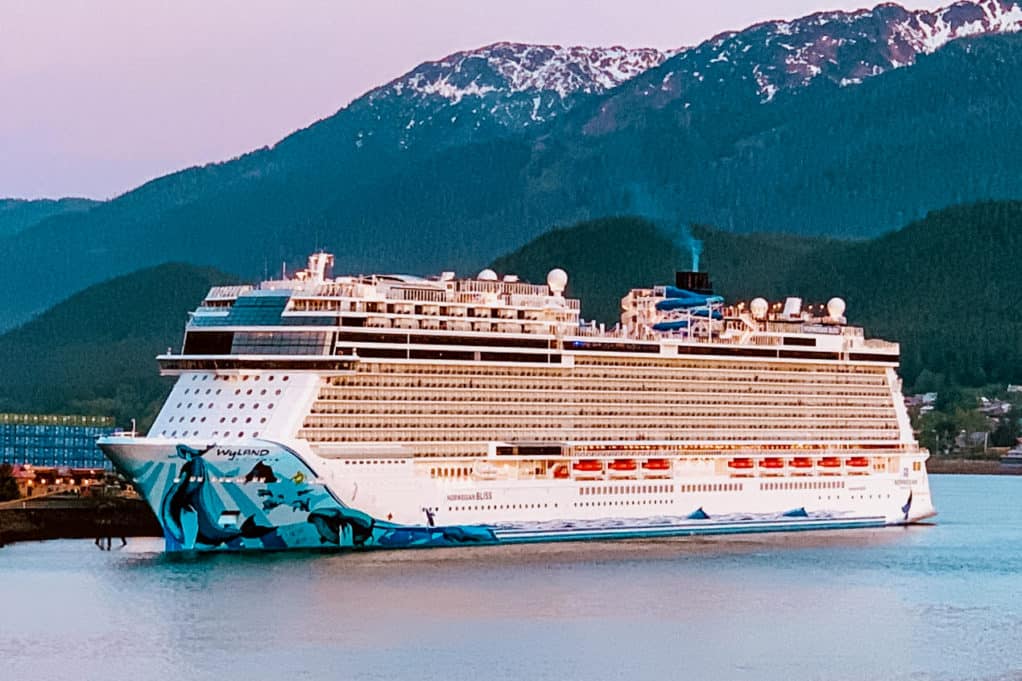 Norwegian Bliss Dining And Food Guide
If you're wondering how many restaurants are on Norwegian Bliss, we counted a rousing 19 places for dining and food. With so many food outlets, it's certainly not required to pay extra for specialty dining just for some culinary bliss.
For example, in addition to the innovative main dining rooms and buffet on Norwegian Bliss, The Local Bar & Grill is an always-open option with daily specials that probably has just what you're craving any time of day, and it's free of charge.
Though not widely advertised, passengers who want to laze away the hours in the gorgeous, sprawling observation lounge can do so without having to leave for a snack. A nearby small buffet is perfect for a bite to accompany your coffee or cocktail.
Quick Glance: Complimentary Restaurants
Taste and Savor (Main Dining Rooms)
The Local Bar & Grill
The Manhattan Room (Main Dining Room)
Garden Café (Buffet)
The Haven Restaurant (for guests of The Haven)
Quick Glance: Specialty Dining Options With a Fee
Q Texas Smokehouse
Starbucks
Coco's
Teppanyaki
Cagney's Steakhouse
Los Lobos
Food Republic
Ocean Blue
La Cucina
Dolce Gelato
The Bake Shop
American Diner
Le Bistro
Room Service
Free Restaurants on Norwegian Bliss (Included)
TASTE AND SAVOR (Main Dining Rooms)
In the middle of the ship on Deck 6 are Norwegian Bliss's cleverly-located main dining rooms. On one side of the ship is Taste and directly across the hall is Savor.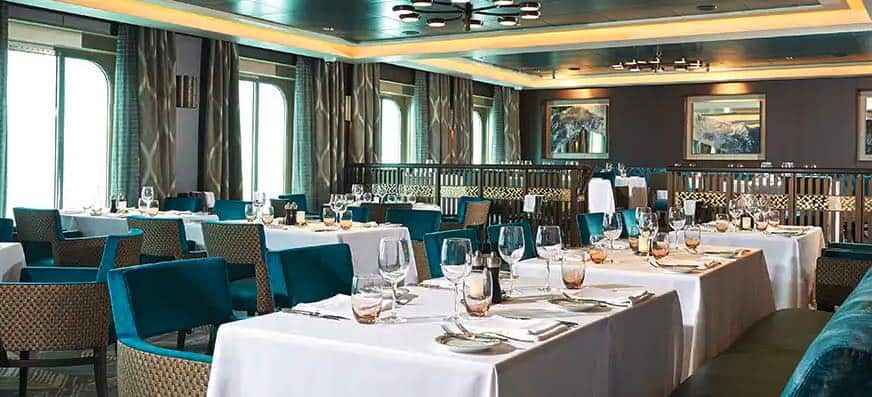 While both restaurants serve the same menu, the slight difference in décor and the separation of the restaurants give diners a more intimate experience. Plus, these two restaurants provide something more similar to a land-based restaurant than your typical sprawling cruise ship main dining room.
Open for breakfast, dinner, and occasionally lunch, the mirrored main dining rooms invite passengers to relax with family and friends complete with ocean views multi-course meals.
For dinner, there are nearly a dozen appetizers to choose. These include soups, salads, pot stickers, and more. Featured entrees offer seafood, beef, poultry and vegetarian, like eggplant parmigiana or chicken cordon bleu.
Always-available choices include a grilled New York strip steak, breaded flounder filet, herb-crusted rotisserie chicken, and creamy shrimp fettuccini Alfredo, plus a couple of other options.
There are recommended wine pairings, and a separate dessert menu, that might feature a seasonal fresh fruit plate, cannoli, or chocolate espresso cake.
RELATED: 17 Best Gifts to Give Someone Going on a Cruise
2. THE LOCAL BAR & GRILL
The Local is like a hidden gem, except it's not hidden at all. Midship on Deck 7. It's the happening spot, with views above the atrium and three meals a day, plus late-night snacks.
For complimentary dining, the selection is good, with slightly elevated pub fare inclusive of watermelon Greek salad and wings, soups, and a serious burger of course.
We particularly like it for breakfast; we found a carafe of coffee was left on the table here while we had to ask for refills in Taste and Savor.
3. THE MANHATTAN ROOM
Resembling a supper club, The Manhattan Room aft on Deck 7 is the ship's third main dining restaurant and only open for dinner. This free restaurant serves the same menu as Taste and Savor, but with more of a grand dining hall vibe, dressed in black, gold, and muted blues. It's a good option for large groups to dine together at night.
4. GARDEN CAFÉ (Buffet)
To have every option at your — sanitized — fingertips, head to the Garden Café buffet, on Deck 16. Open for breakfast, lunch, and dinner, you'll be swimming in stations from waffles and omelets in the morning, to a carving station, salad bar, cheese plates, pastries, and more. The Indian options are expertly made and well liked.
5. THE HAVEN RESTAURANT (included for guests of The Haven)
On Deck 18, within The Haven enclave, is the exclusive restaurant for guests of The Haven suites. The Haven dining doesn't disappoint with a relaxed, upscale ambiance and breakfast, lunch, and dinner service.
Expect dishes like steak and eggs or eggs Benedict for the first meal of the day. Lunch could be salmon with lobster sauce and short ribs, seared scallops, and pastas to close out the evening for dinner. The breakfast and lunch menus typically remain the same, while there might be dinner specials each night.
READ MORE: New! Norwegian Bliss Cruise Review
Specialty Restaurants (14 Total! and Prices)
This lengthy list includes all Norwegian Bliss specialty dining restaurants. And yes, "specialty dining" means there's an added cost per person.
There are so many options to indulge in at the extra-fee specialty restaurants onboard Bliss. Consider the purchase of one of Norwegian's specialty dining packages and choose from two to seven meals per person.
Specialty dining packages on the ship run about $95 to $179 per person, plus a 20% percent gratuity. It's still a good deal, when you consider most of the venues onboard the ship are priced a la carte anyway.
Q Texas Smokehouse (a la carte)
Set back on Deck 6, walking into the Smokehouse is a nearly immersive experience. The surprisingly large venue houses rows of tables, a bar, and a stage for the occasional live performance.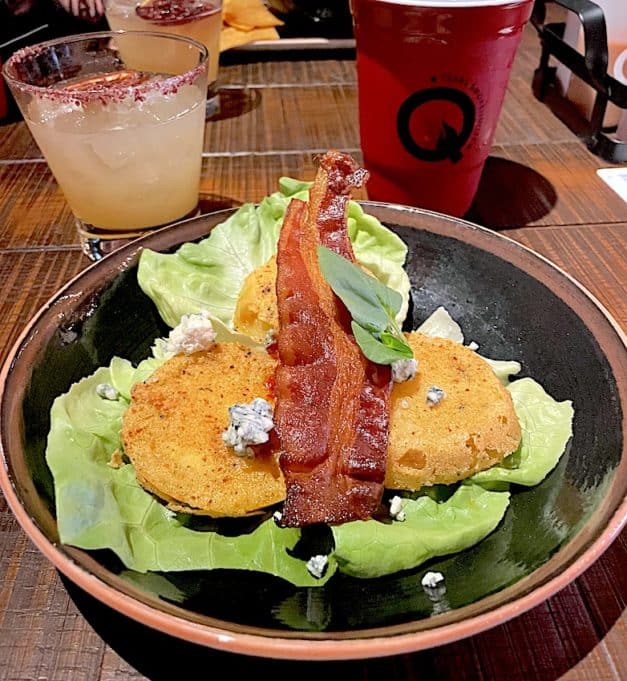 Barbecue is the star here, and options run from brisket, pulled pork, and chicken to Cajun shrimp skewers, smoked sausage, or turkey, ranging from $14 to $21. The fried green tomatoes ($5) are a classic appetizer and the $4 sweet potato with pecan honey butter could almost be dessert.
Plates come with all the fixin's, especially if you order the Pitmaster Platter for $25, that has just a bit of everything.
Q Texas has a custom cocktail menu, and don't sleep on the smoked peach margarita. For dessert, the house special mason jar banana pudding is stellar and large enough to share, at $7.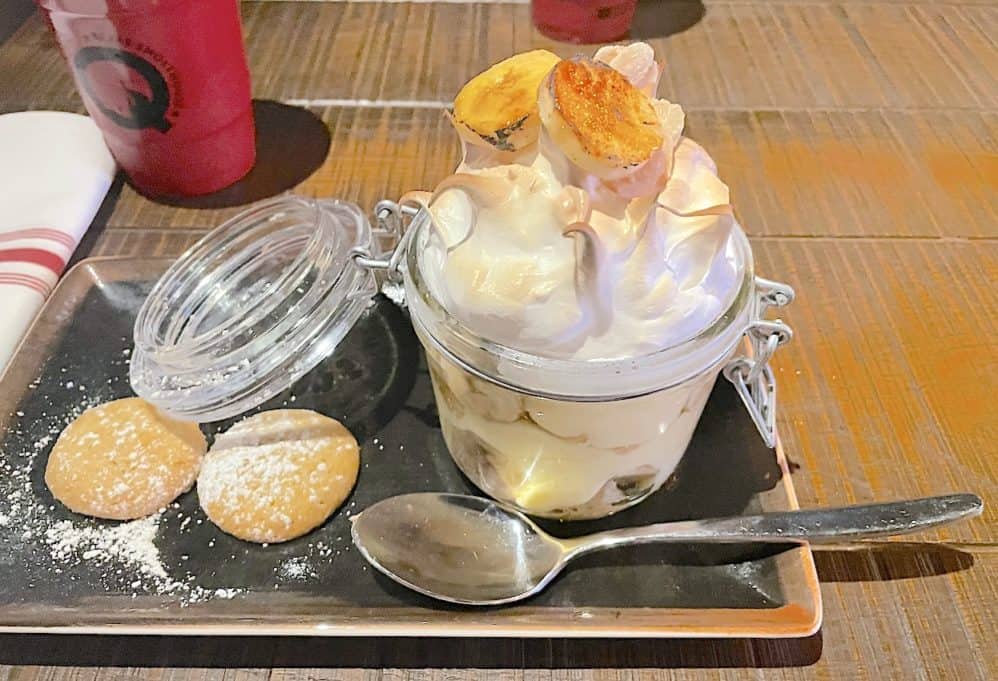 2. STARBUCKS (a la carte)
Built into the bustling Deck 6 lobby, an authentic Starbucks storefront serves up all your favorite espresso and blended drinks. A bake case also provides a variety of snacks, like muffins, doughnuts, cookies, and their signature loafs, for around $3 apiece.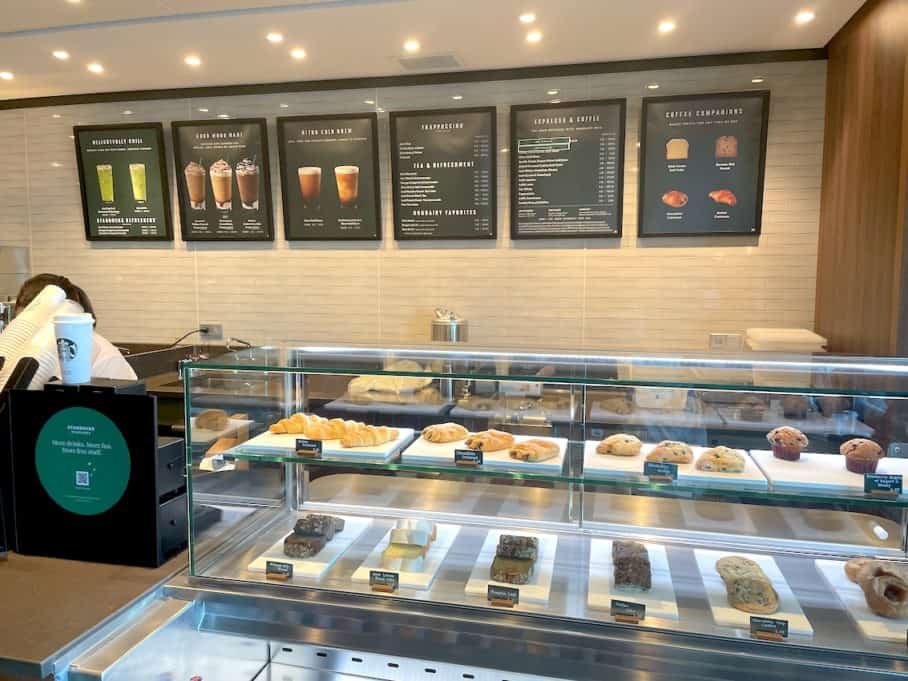 Be aware that Starbucks beverages are only included in Norwegian's very top-tier drinks package.
3. COCO'S (a la carte)
In the sparkling 678 Ocean Place atrium on Deck 6, ship, those strolling past Coco's will be dazzled by Coco's confections.
Here, the desserts are almost too pretty to eat, with chocolate truffles, gelato, candy and cupcakes on display, and crepes and ice cream coupes are served by request. Perhaps the crown jewel of Coco's is its Mad Milkshakes, with over-the-top combination like fudge and cheesecake.
Dinner and a Show at Teppanyaki
4. TEPPANYAKI ($39 per person)
One of the last remaining cover charges to be found onboard, Teppanyaki is tucked into Deck 6. It remains a family-favorite restaurant, due to the chefs who slice, dice, and entertain diners seated around a hibachi grill for a delicious prix-fixe meal.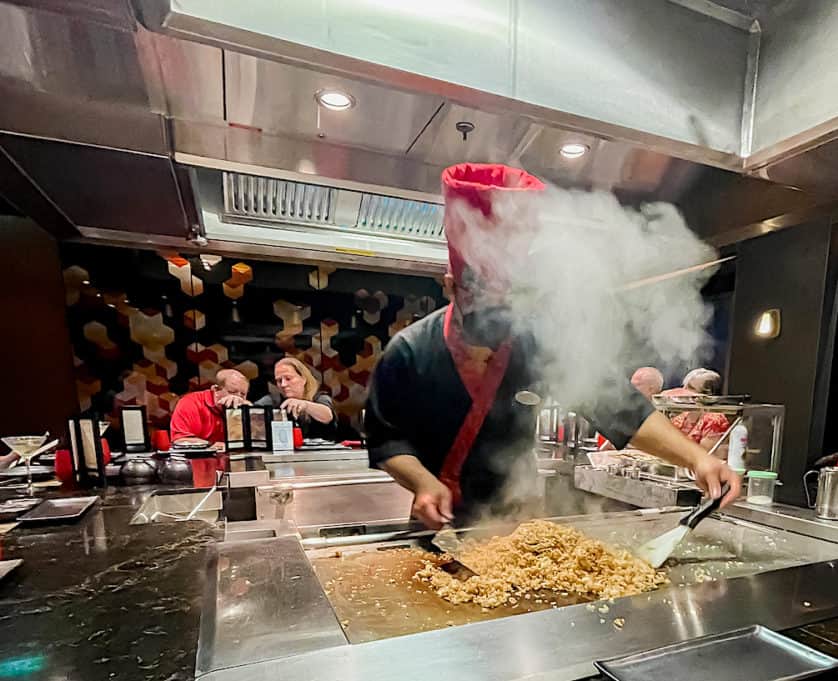 Miso soup and seaweed salad are a precursor to your choice of protein (seafood, chicken, filet mignon) or veggies, served with garlic fried rice, grilled vegetables, and a variety of dipping sauces. If you're on a restricted diet, you can request low-sodium or no-sodium for your fried rice and meal.
Combo dishes placate the indecisive diner with options like steak and shrimp or chicken and steak. Dessert is a choice of green tea cake or sliced fresh fruit.
Norwegian's Signature Steakhouse
5. CAGNEY'S STEAKHOUSE (a la carte)
On Deck 8 of Norwegian Bliss is the line's signature steakhouse, Cagney's. All the classics are here, from oysters Rockefeller and lump crab cake ($6 each) to surf and turf ($29) or lamb chops ($24).
Of course steak is king (averages $20), and connoisseurs can select cut, cook, and sauces, along with sides for about $3. The truffle fries are a Norwegian cruiser favorite.
6. LOS LOBOS (a la carte)
Walking into Los Lobos on Deck 8, across from Cagney's, you'll immediately be struck by the colorful and vibrant décor.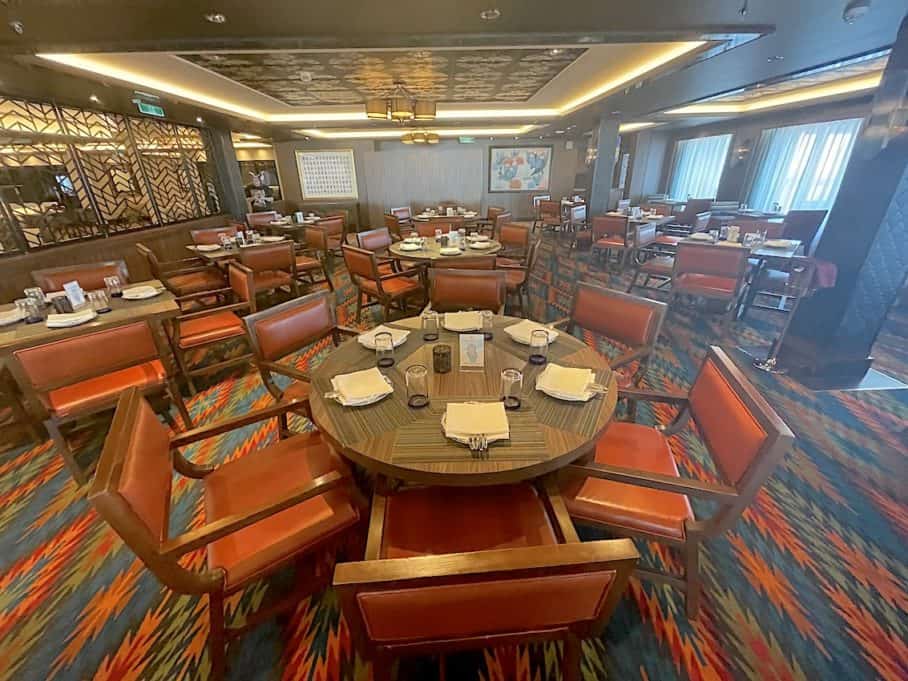 A great variety of menu options makes it hard to decide, from classics like fish tacos ($14) or a loaded burrito ($18), to something a little more adventurous like nopales, a cactus salad ($8), or a Veracruz-style snapper entrée ($24). Whatever you decide, the tableside guacamole ($9) is a must.
Don't forget about the very tequila-based cocktail menu.
Around the World Dining
7. FOOD REPUBLIC (a la carte)
Indecisive diners will either love or be tortured by the mind-boggling options at Food Republic on Deck 8. Choices for lunch or dinner span flavors and formats, from sushi and dumplings to noodles, handhelds, or "shareables."
Pulling from international influences, you'll find spicy Korean fried chicken ($10), Tijuana street fries ($7), avocado raita ($5), an Alaskan summer roll ($10), and a Thai steak and noodle salad ($14).
Regardless of whether you're sampling or sharing, leave some room to order from the dessert menu ($7 each) including, cake, waffles, and a brownie in a jar.
Even more interesting, diners place their orders by using a tablet.
8. OCEAN BLUE (a la carte)
Ocean Blue brings finesse to its plates on Deck 8. Seafood is the focus here, with fresh fish delicately prepared to taste.

Start with fresh black mussels or Dungeness crab salad and move on to menu options like a swordfish, branzino, or a lobster pot pie. Non-seafood options like steak are available. Prices vary, but anticipate spending about $50 per person for a three-course meal here.
9. LA CUCINA (a la carte)
Also on Deck 8 you'll find the Norwegian Bliss Italian restaurant, La Cucina, that translates to "the kitchen." Dine like the Italians do, with choice of antipasti, pasta (or pizza), secondi, and a dolci or dessert ($8), like a tiramisu or panna cotta, of course offered with a cappuccino.
Appetizers include soup and salad, or a full platter of meats, cheese, and olives — prices range from $6 to $10. Pastas range from basil pesto gnocchi for $13 to shrimp ravioli in lobster sauce for $19. Pizzas are $12 to $17 and include a classic margherita pie or veggie or meat options.
Entrees average $30 and include osso bucco and frutti di mare.
10. DOLCE GELATO (a la carte)
Walkers along the Waterfront on Deck 8 can take a break from the step count with some delicious gelato. A window and counter face directly onto the outdoor promenade. This makes a quick scoop or a double cone all that much harder to resist. Flavors vary and might include strawberry, white chocolate, or salted caramel.
11. THE BAKE SHOP (a la carte)
The bakery on Deck 8 is where to head for sugary gifts or spur-of-the-moment sweets. Cupcakes are the specialty here, with a rainbow of French macrons and bonbons also available to surprise and delight, averaging about $2 to $3 apiece.
12. AMERICAN DINER (a la carte)
Up on Deck 17, close to the action of the pool and the Raceway go-kart track, you'll find a covered but open-air diner that serves lunch and dinner.
One of the most unique of all Bliss restaurants, diners sit in cozy booths fit to look like they're inside retro cars and adds to the fun atmosphere. Heat lamps keep the American Diner warm on chilly days.
The quality of the food at American Diner is impressive and extends beyond hamburgers and milkshakes. Items like a fried chicken platter and lobster roll sliders were tasty and cooked well.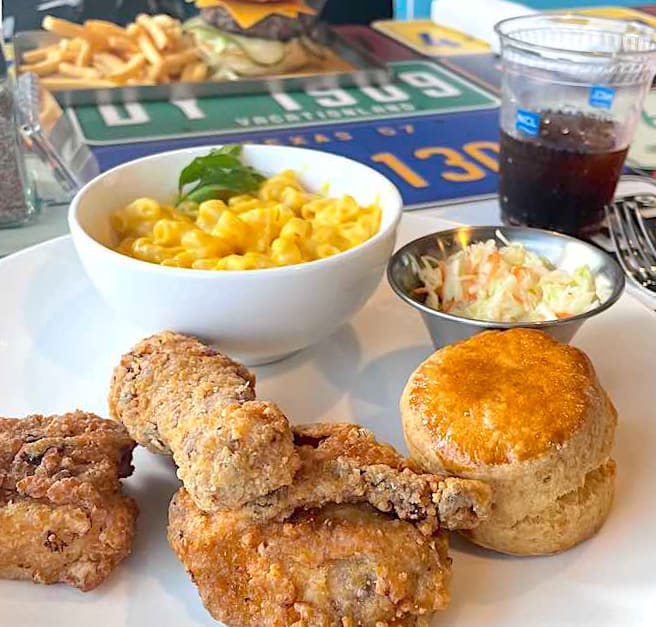 Although there is a fee for this restaurant, we found lunch items like pulled pork sliders for $6 or a quinoa and kale salad for $5 to be super satisfying and easy on the wallet.
READ NEXT: Norwegian Bliss Offers Unlimited Go-Cart Packages
13. LE BISTRO (a la carte)
Set apart from most of the Norwegian Bliss restaurants, Le Bistro welcomes patrons on Deck 17 for dinner. The French bistro is one of the most romantic restaurants on the ship for a special evening. There's even a custom Champagne menu featuring Veuve Clicquot.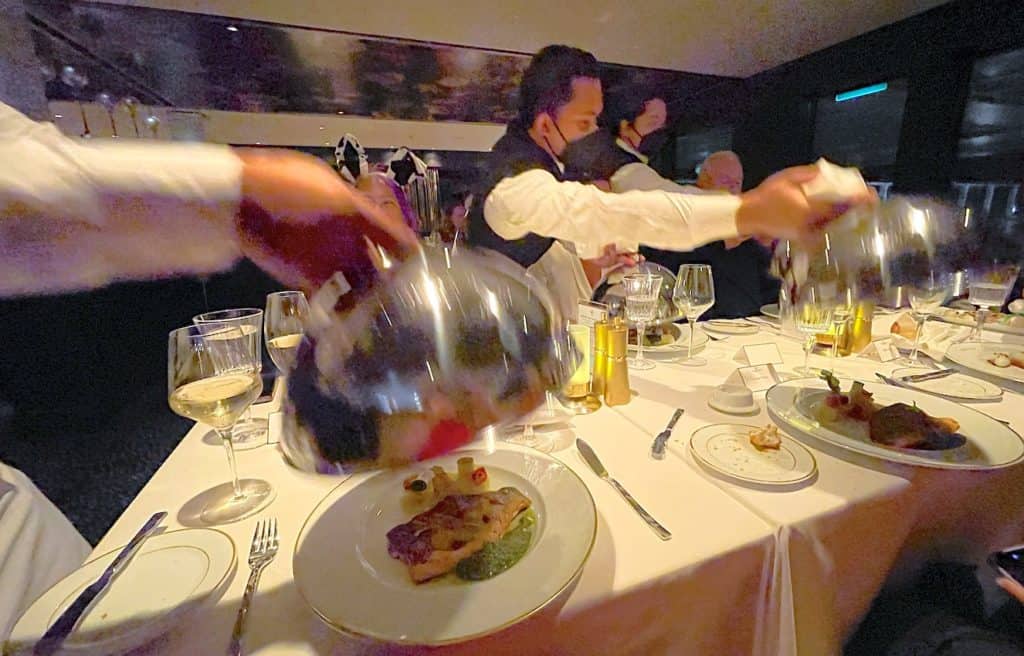 Before diving into a roasted veal chop ($35), coq au vin ($24), or roasted maple leaf duck breast ($27), try their steak tartare ($14) or the French onion soup ($8) .
The sautéed dover sole is a highlight ($39) and though tempting, the lobster thermidor carries a $10 dining package supplement. Desserts are refined, and include a 70% dark chocolate cremeux with a raspberry Chambord sauce ($8).
14. ROOM SERVICE ($9.95 service fee)
While 24-hour room service menu items are technically free, a set fee for each order makes this an added-fee service. Continental breakfast is the exception if you order before 10 a.m. and for suite guests.
Choose from a menu of hot and cold items like pizza, pasta, burgers, sandwiches, and fish and chips. In addition, the kids menu offers chicken fingers and PB&J, while a dessert menu includes NY-style cheesecake done a variety of ways.
Parting Thoughts on Norwegian Bliss Dining
With so many Norwegian Bliss restaurants, for specialty dining or a fee, so you're sure to find a few of your own favorites. Our choice for breakfast was The Local.
The Local for Breakfast
While it might seem strange to start your day at a pub, the prompt, friendly service and nearly the same variety of options as the main dining rooms ensured a satisfying (and free) breakfast each and every day.
The Local is conveniently located midship, so getting to your meeting point for any early excursions should be a breeze.
Food Republic for Lunch
Among our favorite Bliss specialty restaurants, we learned to follow the ship's officers and crew to Food Republic for lunch. It's not hard to imagine why this bright, open venue is such a crowd-pleaser.
The sushi counter is an excellent spot for solo diners to nosh and unwind without the pressure of a big, empty table.
La Cucina for Dinner
Having sailed aboard Norwegian Encore so close to our Bliss sailing, we were skeptical that La Cucina, Norwegian's fleet-wide Italian restaurant, could live up to the hype of land-based La Scarpetta (Onda by Scarpetta is featured onboard Encore).
In addition, we were pleasantly surprised to find a fine Italian dining experience that stretched from the creamy burrata starter to the tender osso bucco entree.
We were so full by the time we got to dessert that we committed the cardinal cruising sin of skipping it altogether, instead opting for a steamy expresso.
Even the most budget-conscious cruiser will want to try at least a few of the specialty restaurants on their vacation. We recommend booking a Norwegian Bliss dining package to take advantage of the savings before you cave and splurge anyway.
PLEASE PIN AND SHARE TO YOUR FAVORITE BOARD!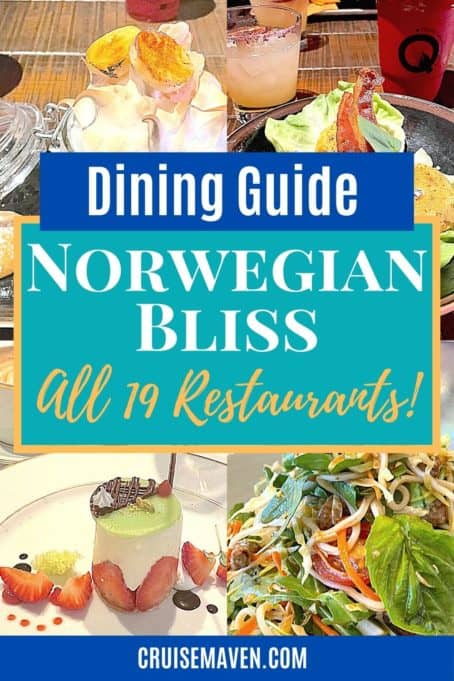 Brittany Chrusciel has covered the cruise industry for many years, formerly as Cruise Critic's Destinations Editor, and has been quoted in publications such as Skift, USA Today, and the LA Times. She is a proud alumnus of Semester at Sea, where she circumnavigated the globe while studying writing, Spanish, and political science. Her favorite river cruise experiences so far have been visiting the Christmas markets with her German grandmother, and Portugal's Douro River.