I didn't have to be asked twice when I received an invite to sail on Norwegian Bliss' first cruise out of the port of Los Angeles after the pandemic pause. Finally, I'd have time to do a complete Norwegian Bliss cruise review.
That's because my only cruise aboard Norwegian Bliss was a transatlantic crossing when the ship first launched in 2018.
On my first cruise onboard Norwegian Bliss, I'd spent much of my time running around getting info for a super detailed review, interviewing the hotel director, and actually writing.
So, I hadn't had much time to truly enjoy the ship. This time, I'd have more time to relax and take in all the ship had to offer.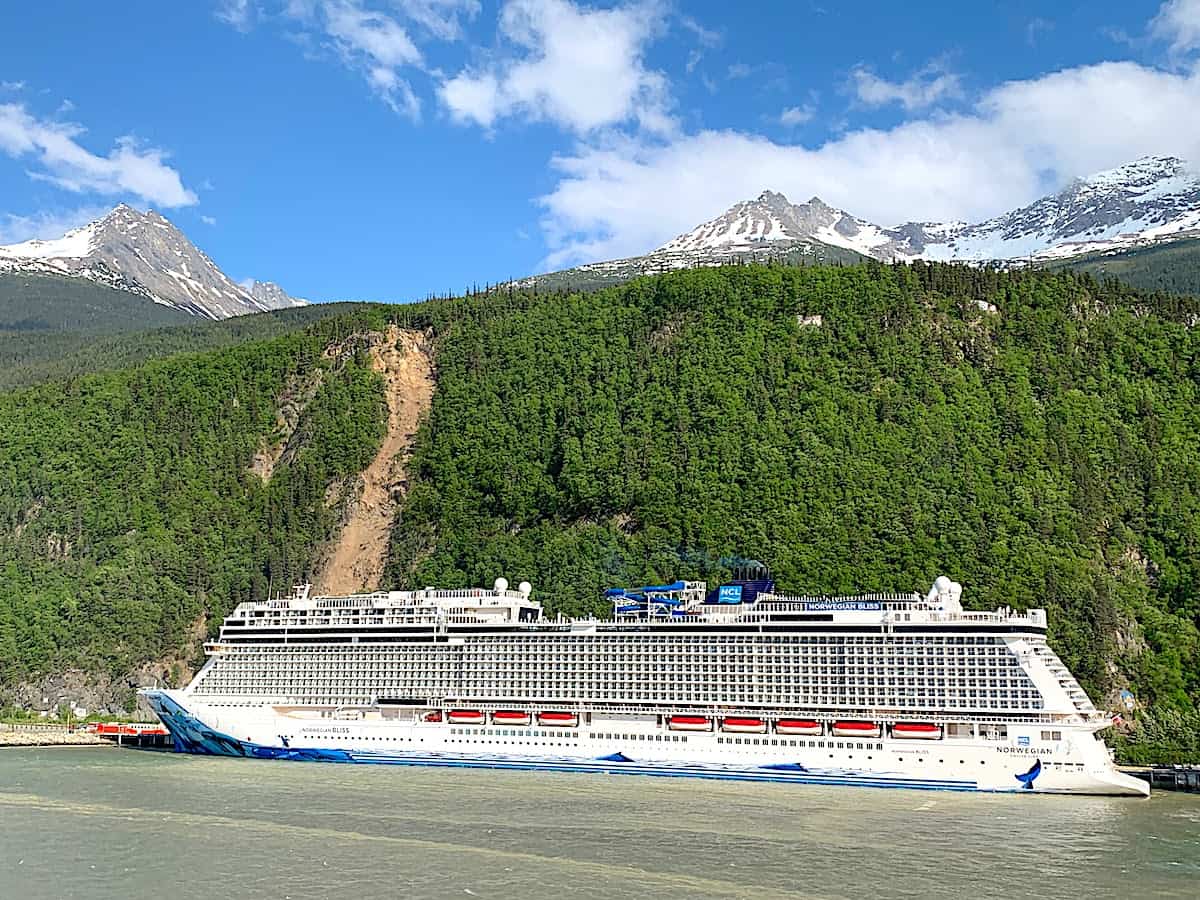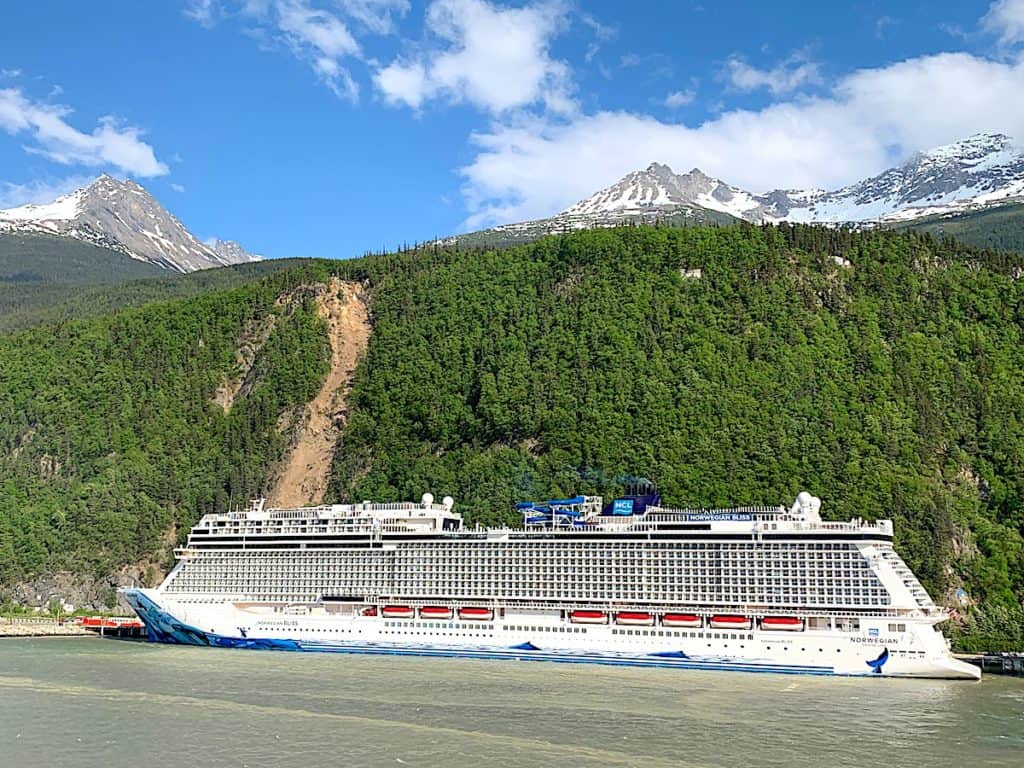 Norwegian Bliss Cruise Review
Fast Facts
Year built: 2018
Year refurbished: n/a
Weight: 167,800
Decks: 20
Passengers at double occupancy: 4,004
Crew: 1,700
Total staterooms: 2,043
COVID-19 Protocols
Norwegian Cruise Line has some of the strictest COVID-19 protocols in the industry, but because of this, all NCL sailings are maskless.
For our sailing from a U.S. port, all passengers 12 years and older and crew had to be fully vaccinated (14 days past the final shot). Proof of vaccination was required.
All guests over the age of 2 were required to provide proof of a negative COVID-19 antigen or PCR test given by a verified third party or by a medically supervised home test within 48 hours of embarkation. Digital or printed proof of negative results are needed to board.
Onboard the ship, the crew wears masks, but guests don't need to. We saw some folks opting for masks, especially as the cruise went on (and after the port stops), but most people enjoyed living without masks for a change.
Welcome Aboard Norwegian Bliss
Embarkation at the port of Los Angeles is endless. My sailing was the first for this ship since the cruise pause, so things might speed up a bit over time.
But the layout at the port, combined with the line's strict protocols, makes it almost impossible to speed up significantly. (This will change after January 16, 2022, when the cruise line does not administer its own pre-cruise COVID-19 tests.)
The line tries to control the crowds at the port by assigning a check-in time, but even so, the queue to show proof of vaccination and set up your on-site COVID-19 test is long. Once you get past this first part, waiting for the actual COVID test is less than a minute. Then it's on to the waiting area.
I got my test results in about 10 minutes. If you've provided your cell number, you'll receive a text message saying your test results are in (this means you passed the test).
If you're not using a cell phone, you'll need to watch for your "number" to be projected on the wall. This seemed to take longer as my number still hadn't been shown by the time I'd had my text message checked and moved on to the next step… outside to wait for a shuttle van that goes to the terminal for check-in.
That's another 20-to-30-minute wait. There are separate lines for different loyalty levels and suite (The Haven) guests here.
RELATED: Norwegian Takes Delivery of Norwegian Prima!
Our Mexican Riviera Itinerary
Puerto Vallarta
Mazatlán
Cabo San Lucas
First Impressions
Norwegian Bliss is a beautiful ship. Unlike any of NCL's older vessels, it has a sophisticated feel, all neutral grays, and muted blues. What stands out more than anything as you walk the ship for the first time is how much there is to do.
Bars and restaurants are everywhere. Plus, waterslides, Go-Kart racing, and laser tag. There's a comedy club, Broadway shows (two of them!), and The Beatles cover band. There are multiple sun decks and pools.
There's the Waterfront, where you can dine out or enjoy your favorite tipple in the fresh air with gorgeous sea views.
The stunning Observation Deck has floor-to-ceiling windows, upholstered loungers, and tables for quiet card games with friends. In fact, the Observation Deck is one of the most popular spots on board. If you want one of those comfy loungers, you'll have to get there early in the a.m. to claim it.
But there's more to all those bars, restaurants, and activities than their appeal. A lot of the venues come a fee.
The restaurants? They're almost all a la carte, which can add up quickly. But the food is oh so good.
The Go-Kart and laser tag? There's a per-turn fee for that too. Even some of the deck space (Vibe Beach Club) costs extra.
The number of for-fee venues was initially overwhelming. I quickly learned you can have a great time on the ship without paying anything extra. (Well, maybe a meal or two in some specialty restaurants.)
The Broadway shows in the main theater are free and top-notch. The Beatles cover band is also free and a blast. The food in the MDRs is excellent. And, had I been up for it, the waterslides are also free!
Norwegian Bliss Standard Balcony Stateroom
I didn't spend much time in my standard balcony cabin (room 11110) on Norwegian Bliss – too much to do elsewhere! The room is somewhat smaller than you'll find on most other cruise lines (as is the case with most of Norwegian's standard) rooms, but it's still comfortable for two people.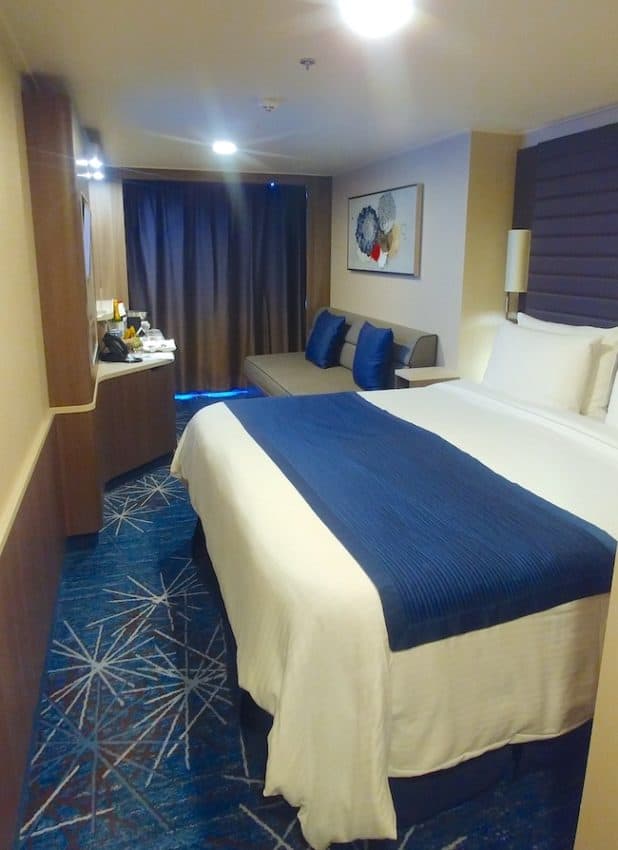 Stateroom Hits and Misses
In my opinion, there are several design flaws. For one, there's not a single drawer in the room. Call me crazy, but some things (like underwear and socks) just don't fit as well on a shelf as they do in a drawer.
Second, the closet is the worst located closet on any cruise ship I've ever been on. It's built into the wall that separates the main room from the bathroom. You have to shimmy your way between one side of the bed and the closet to get to it. Totally inconvenient.
The closets have plenty of hanging space; you can ask for extra hangars if you need them. The other side of the closet has several shelves, including one with the safe on it.
I was cruising solo, so I had plenty of room for my clothes. With my husband, it probably would have been a much tighter squeeze for all our clothing.
READ NEXT: PHOTO TOUR OF NORWEGIAN BLISS PUBLIC SPACES
Here's What I Loved About the Room
The shelf space in the bathroom: two extended, narrow faux wooden shelves, a long counter, and four suspended glasses, which I used for my toothbrush and toothpaste. Oh, and the shower has a glass door. So much better than those clingy plastic curtains!
Hooks! So, few cruise lines put hooks by the door to hang things like jackets, sweaters, or baseball caps. In fact, I almost always bring magnetic hooks with me because I know I won't have any place to hang these things. On Norwegian Bliss, my room had two!
Electric outlets: There were plenty of outlets, including regular outlets by the desk and a USB port on either side of the bed.
More About My Bliss Stateroom
My room steward, Muhammed, was quiet, and I seldom saw him. But he kept my room clean and serviced twice a day. And he always had a fresh bucket of ice for me every morning and evening.
He even left me a towel animal my last night of the cruise, something you virtually never get on an NCL cruise.
Here are a few other basics to know about. The room has a couch, which is always a plus in my book.
The desk area is relatively small, but there was a ledge in front of the mirror, which was handy for putting smaller items. There's a bit of under-desk cabinetry where you'll find several shelves for placing anything that doesn't fit in the closet.
Uh-Oh..Bathroom Problem
One additional note about my bathroom. It always smelled of sewage. It was manageable at sea, but it reeked on port days.
Because I didn't spend much time in the room, I never bothered to complain about it. I'm also convinced the cabin's location had much to do with it. (My cabin was the second to the most forward cabin on deck 11.)
INSIDER TIP: If your room comes with a bar of soap, do not leave it wet on the counter. It'll stick, and you'll never be able to move it again without a pry bar.
Oh, about the balcony. It's also smaller than the industry average but excellent for two people sitting and reading or watching sail away.
Of course, viewing the extended balconies a few decks below with two upright chairs, two loungers, and a small dining table made my standard balcony feel even smaller.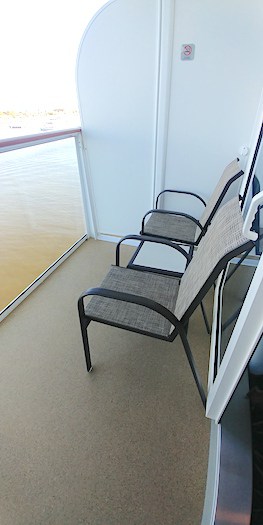 Dining on Norwegian Bliss
Dining on Norwegian Bliss is a highlight, even if you're not shelling out the extra cash for specialty dining (of which there's a lot).
READ MORE: NORWEGIAN BLISS DINING GUIDE – ALL 19 RESTAURANTS
Let's talk complimentary first. On Bliss, you'll find three main dining rooms, plus The Local Bar & Grill (open 24 hours), and the buffet.
Food is excellent at all spots. I loved getting breakfast at The Local. Even though the menu is smaller than in the main dining rooms, the service is consistent and fast.
And I love the feel there. It's more diner than a pub with several booths where I like to sit with my computer and check my email while enjoying an omelet or French toast. Oh, and that French toast. So good. Super thick but smallish pieces, so I never felt too guilty for indulging.
My go-to for lunch was usually one of the smaller main dining rooms, Taste or Savor. Because of their smaller size, they feel more like specialty restaurants than the Main Dining Rooms.
The menus were the same, and the food was always excellent. There was a corn chowder one day that I could have had for lunch/dinner every day and been totally satisfied!
On days I was short on time, the buffet was okay, but, personally, I enjoy the atmosphere of the sit-down restaurants more than a buffet. With that said, there was plenty of choice at the buffet, and everything I ate was good.
One Note About Dining Service
Overall, the service in the dining rooms was smooth and friendly. The only hiccup I encountered was when my friend ordered a glass of rosé at lunch. The waiter brought a White Zinfandel, a white wine, and a glass of red wine, and then a different waiter brought the rosé she had ordered.
Later that evening in The Cavern, an acquaintance was also served a White Zinfandel after ordering a rosé. I'm thinking NCL might want to invest in better sommelier training outside of the wine bar.
For dinner, I ate in a specialty restaurant or one of the smaller main dining rooms. I tried the Manhattan Room once just to check it out. It's got the same menu as Taste and Savor, but it's much larger and has a more traditional main dining room feel.
You'll never feel like you're missing out on the best food on board if you stick with the free venues. But if you are looking for something "extra," there are plenty of specialty restaurants to choose from. All but one (Teppanyaki) are priced a la carte.
Speaking of specialty restaurants, NCL offers all guests several value-packed add-ons when they book a cruise. One of the value-adds is a dining package that, for a one-week cruise, gives you two nights at a specialty dining restaurant.
Before the pandemic, most cruisers had a choice of two (from six options). But, for the time being, the line is offering all six to anyone who books.
My favorite specialty restaurant in the NCL fleet, and perhaps any cruise ship, is Teppanyaki, a hibachi-style Japanese restaurant on almost every NCL ship. On Bliss, it didn't disappoint, though COVID-19 protocols mean some of the "show" has been changed. For instance, there are no flicking veggies at diners to see if they can catch them in their mouths anymore.
But it's the food I come for. It's always delicious, and there's plenty of it. I left stuffed to the gills and happy as a clam.
My other favorite spot onboard was Coco's, a for-fee gelateria that serves up crazy shakes and sundaes. A word of warning: If you're watching your waistline, don't go. Temptations abound. Thankfully, you can also get gelato by the scoop. I loved the white chocolate (with Oreo pieces and whipped cream, thank you very much).
Insider Tip: If the six or so gelato flavors at Coco's aren't to your liking, you'll find more options (like stracciatella) at Dolce Gelato on Deck 8 outside The Waterfront.
I also immensely enjoyed Food Republic. It's a sit-down eatery, but you order from touch screens, and it's all tapas-sized plates. There are various choices, including an extensive sushi menu.
My favorites were the chicken teriyaki satay and the Mexican street corn (elote). Two to four dishes are more than enough for two people (depending on your appetite, of course).
On my first night onboard, I ate in Cagney's as part of a large press group dinner. Cagney's serves primarily red meat and shellfish, both things I don't eat. I opted for a trout dish but didn't have high hopes.
It wasn't bad, but I'm glad I didn't have to go back for another meal. With that said, everyone else loved their steaks and surf 'n turfs.
Three other specialty restaurants I tried out were Q (a barbecue place) and La Cucina and Le Bistro, both NCL staples.
Q is a meat lover's paradise. I had a tasty barbecued turkey, but the venue is for those who love brisket, pulled pork, and the like. However, there is the cinnamon and butter sweet potato dish that is divine!
Le Bistro is the line's fine-dining French spot. I find it a bit heavy, and our dinner (another group press dinner) was a bit late for my taste. I opted for a vegetarian puff pastry. It was okay, but definitely not my favorite meal. Those who opted for the more traditional French fare (escargot, filet mignon, etc.) seemed to be enjoying their meals immensely.
La Cucina was my least favorite of the restaurants I ate at, though the burrata appetizer was heavenly. My fettuccine alfredo and chicken cacciatore were both fine but nothing to write home about.
One last word about the "dining" on Norwegian Bliss. More accurately, the drinking. In addition to the large selection of eateries onboard, there are several bars, with many specializing in a specific type of drink.
There's The District for beer and Sugarcane for mojitos. There's the A-List for gin & tonics and The Cellars for wine. Even some restaurants, like Q, have signature cocktails worth trying out at least once.
Insider Tip: There's a small bar on The Waterfront, Sail & Sustain Bar, just outside Maltings. It's rarely advertised on the daily program, but it's worth visiting.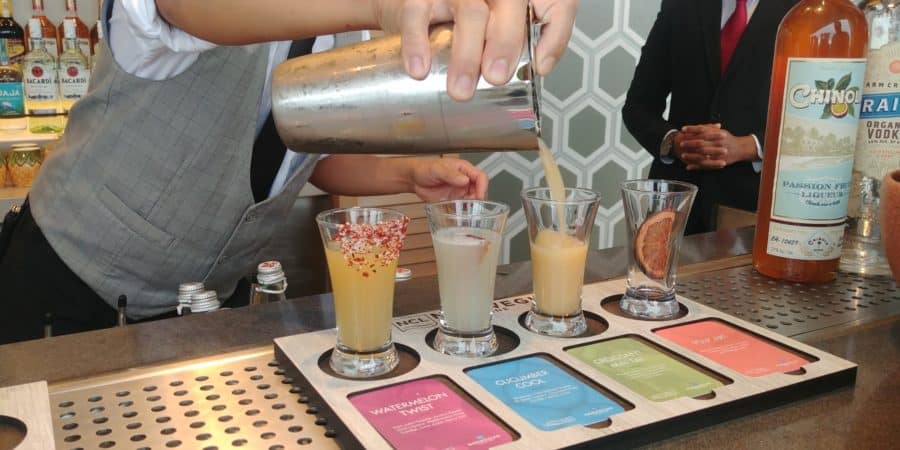 All the cocktails there are made with reused ingredients. For instance, the buffet's orange peels and pineapple rinds are roasted and used as garnishes.
Leftover croissants are crushed and added, and even coffee grounds are cleaned and used to make a coffee liqueur ingredient. I know that sounds gross, but it's not.
Entertainment and Onboard Activities
There is a LOT to do on Norwegian Bliss. From morning to late at night. And, unlike dining, most of the entertainment is free. (The same isn't true for activities.)
For the most popular activities and shows, sign up early! Even at 50% occupancy on our sailing, the Comedy Club had filled up within less than two days. And the Go-Kart had only a few openings.
The same is true for the Broadway shows "Jersey Boys" and "Six: The Musical." Sign up for your preferred time slot on day one of your cruise!
On our sailing, "Jersey Boys" wasn't playing, but I'd seen it before on a previous Norwegian Bliss sailing, and it's fantastic.
"Six: The Musical" is a newer Broadway musical I knew little about. It's the "herstory" of Henry III's six wives; a pop musical with fabulous costumes. Learning about their stories was interesting and prompted a Google search later that night.
But the music didn't connect with me on a deep level. That isn't saying much; I'm not a "Hamilton" fan either. Like "Hamilton," "Six: The Musical" already has a cult following, and some fans book a cruise on Bliss just to see the show.
You'll need to plan your other evening activities to get the timing right for karaoke and The Beatles cover band. Both take place in The Cavern Club, an atmospheric bar styled after the famous Liverpool club where The Beatles got their start.
It's got a great vibe but is small and fills up quickly. You'll need to get to these at least 30 minutes early if you want a seat.
The once-a-cruise Bandaoke (karaoke with a live band backing you up) is held in the Atrium rather than The Cavern. It drew a sizeable crowd on our sailing and was a real hoot. Sadly, it only went for an hour. I'm sure everyone would happily stay around for another hour or two!
Insider Tip: The Beatles cover band offers three shows (early, middle, and late Beatles) in The Cavern Club. A fourth show is held in the main theater (usually on the second to last or last seaday) with highlights from the other three shows.
Other evening activities include live music in various venues throughout the ship. If you like Latin music and dancing, you'll want to head to Sugarcane Mojito Bar, where the vibe is Caliente.
If you're more interested in a Piano Man vibe, head to The District Brewhouse, where you'll find something like 25 beers on tap.
Insider Tip: There are plenty of spots to relax and read on Norwegian Bliss, but my favorite in the early part of the day was The District Brewhouse. Few people think to go there, so it's almost always a super quiet spot. It doesn't usually open until the afternoon, and it's got super comfy leather couches and lots of natural sunlight.
Later at night, the D.J. takes over at The Social (usually the comedy club) for thumping beats that depending on the passengers, either draws a crowd … or doesn't. I only made it to the Halloween party at The Social, but it was packed and bumping for a good couple of hours. The "Six" queens even came out to enjoy the fun.
Laser Tag and the Go-Kart are also open in the early evening, with the laser tag arena taking on a glow-in-the-dark vibe for extra effect. On my sailing, laser tag seemed to be mostly deserted. I suspect it's more of a kids/teens thing than an adult thing, and our sailing had no one under the age of 12.
The same can't be said of Go-Karts, which were regularly used by adults to channel their inner teenagers. I'd done the Go-Karts on a previous cruise, so I didn't give it a go this time. The first time I found it a bit frustrating because if you get stuck on the track with a slow driver, there's very little "go" in the experience.
You can pay for a single session or purchase a full-cruise pass. And, speaking of money, both the Go-Karts and Laser Tag cost extra money.
And, of course, if you've got money to spare, the casino is always happening.
The Ocean Loops take riders out over the open water in a clear tube, though you're going so fast you probably won't even notice! The Aqua Racer lets you and a friend race side-by-side down the slide. The waterslides are free of charge. There's also a waterpark for kids, but it was always empty on our sailing with no children.
Besides the Go-Karts and Laser Tag, daytime activities are more cruise traditional on Norwegian Bliss. There's trivia (a personal favorite), cooking demos, arts and crafts, and pool games. There are art and wellness seminars, shop talks, and language classes.
RELATED: NORWEGIAN BLISS GO-KART UNLIMITED PACKAGES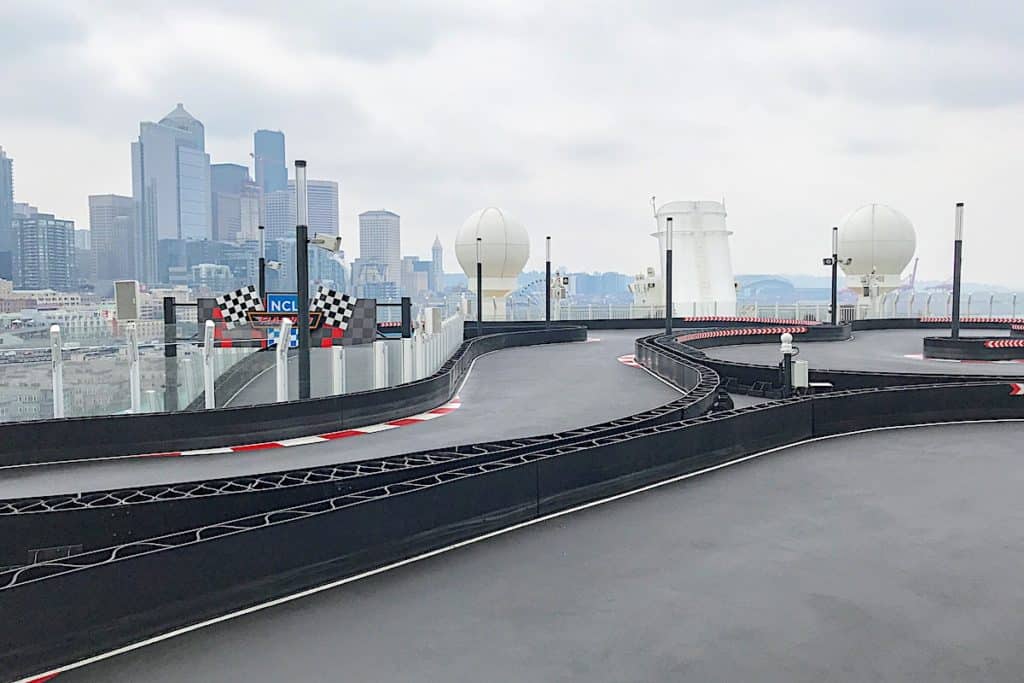 Extra-fee activities include Bingo, Deal or No Deal, wine and whisky tastings, and even a wine and chocolate pairing.
I spent more than a few hours at the spa, getting treatments. But Norwegian Bliss also has a phenomenal thermal suite with heated ceramic loungers, various saunas, an ice room (with actual snow!), a thalassotherapy pool, and a salt room.
You have to pay for a full-cruise pass to use the thermal suite. The passes didn't sell out on our cruise because the ship was only at 50% occupancy. Full sailings usually see the passes sell out the first day.
Who's Onboard
While sailing from Los Angeles, Norwegian Bliss draws heavily from the West Coast. The vast majority of people on our sailing were from California, with a spattering from Washington State and Oregon.
NCL's vaccination policy means no under-12s are allowed, so few families were on board. I saw a few teens from time to time, but my sailing was pretty much all adults. Ages ranged from 20-somethings to people in their 50s and 60s. There were also older folks, but fewer than I usually expect to see on a one-week warm-weather cruise.
Perhaps, because it draws from the L.A. crowd, there seemed to be lots of well-to-do 20- and 30-year-olds having a good time. I even saw a fair number of younger couples in The Haven (the ship's suite enclave), noticeably more than I've seen there before.
Final Thoughts on my Norwegian Bliss cruise.
Norwegian Bliss is a beautiful ship with lots of things to do. For me, the variety of dining choices and the Broadway shows make the ship. I honestly believe the newer NCL ships have some of the best entertainment at sea, and the performances on Bliss didn't disappoint.
While it can feel a bit nickel and dime-y at times, there is plenty that's free. Plus, most of the line's fares come with some value-adds, like free dining in specialty restaurants, which can cut down on some extra costs.
Overall, I enjoyed my time on Bliss and would be happy to sail on the ship again.
Norwegian Bliss Cruise Ship Recap
Category: Mainstream Cruise Line (with Carnival and Royal Caribbean)
Internet/Wifi: Extra fee.
Date of Cruise: October 24-31, 2021.
Disclosure: I was a guest of NCL during my time onboard Norwegian Bliss. I was also given a premium drink package, access to the thermal suite, and Go-Kart Track/Laser Tag. All opinions in this Norwegian Bliss cruise ship review are my own and reflect my personal cruise experience and observations.
Dori Saltzman is a content and copy writer who previously spent 15 years covering the travel and cruise industries at several travel trade publications and at CruiseCritic.com. You can find out more about her at dorisaltzman.com