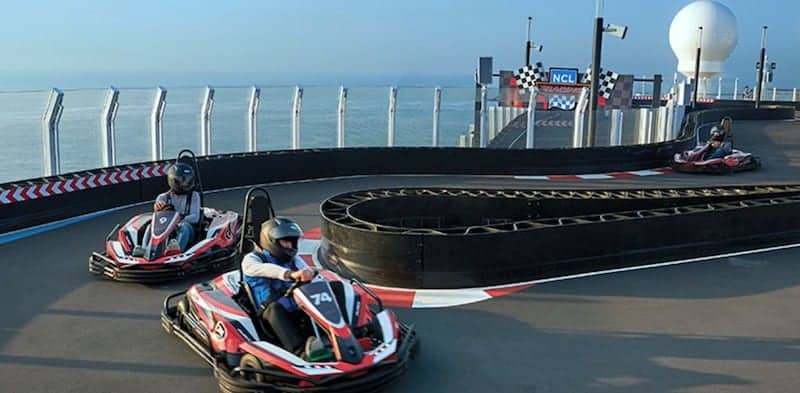 If zooming around a racetrack at speeds up to 30 mph and 17 stories above the ocean sounds like fun, Norwegian Bliss is calling your name.
With the largest race track at sea, where guests don helmets and buckle up in actual go-karts, Norwegian Bliss has struck gold. This onboard attraction has turned out to be more popular than imagined.
When Norwegian Bliss was launched this year, a ticket to zoom around the course cost $7.00 per person. Not a bad price unless you wanted to zoom around the track several dozen more times. Then the $7 could really add up.
A couple of months later, a ticket for the Norwegian Bliss go-karts increased to $9.95 per person for the eight-minute thrill ride. While a $3 increase doesn't sound like much, if everyone in your group wanted multiple go-kart rides, once again, it could add up before you know it.
See later:  Norwegian adds more cruises to Cuba
Norwegian has tried to solve that issue and give guests more options. Now you can purchase (onboard only, not pre-cruise) unlimited passes to ride on the Norwegian Bliss go-karts. Unlimited weekly passes are $99.95 per person and an unlimited daily pass runs $29.95 per person. The cost for a single ride is still $9.95.
Is a go-karts unlimited pass for you?
If once around the novel race track isn't enough for your inner Mario Andretti, keep in mind that there are a limited number of passes available for purchase. You'll need to head up to the go-karts ticket stand and buy your pass as soon as you can, once onboard.
Buying a go-karts pass also has a major advantage; you'll have your own speed-line for easy entry. You won't have to wait in the longer lines with the one-timers. Since only 10 go-karts are allowed to zoom around at a time, there could be a wait. If this unique experience, the only one of its kind cruising North America, is on your must-do list, a daily or weekly pass could be one of the better investments you'll make on your Norwegian Bliss cruise.
I'm the editor and creator of CruiseMaven.com, a solo traveler cruising the world on waves and wheels, collecting recipes along the way.  I hope my articles and photos entertain, advise and inspire you to travel the world without flying.  Take a breath…stop for a local meal and a glass of wine along the way.