Forty-one years ago on May 18, 1980 at 8:32 a.m., Mount St. Helens erupted. The enormous first eruption wasn't from the volcano's top, as you'd expect. Instead, in a fury, its north face exploded, sending rock and ash sideways at over 300 miles per hour.
The day before, on May 17, 1980, a series of earthquakes beneath the mountain gave volcanologists and geologists a clear signal that a cataclysmic event was about to happen.
On that fateful morning of May 18, a 5.1 magnitude earthquake violently shook the peak. A massive avalanche began atop the north face of Mount St. Helens. Almost simultaneously, the volcano's north side blasted open with an explosion so fierce that it sent a lateral ash column some 15 miles to the north.
As if this wasn't enough of an explosion after being dormant for 127 years, a vertical eruption followed almost immediately, sending ash and gas even farther. This time the flume extended 16 miles skyward. As the ash fell, Spokane – 350-miles northeast of the volcano – creeped into total darkness.
After the eruption, 57 people had died, thousands of animals were killed and trees obliterated. Before the eruption, the highest point of Mount St. Helens was 9,677-feet. Afterwards, a horseshoe-shaped crater formed where there used to be mountain. The peak dropped 1,300-feet to a new height of 8,366-feet.
Mount St. Helens by Motor Coach Tour
This was one of those white-knuckle motor coach tours that left me feeling weak in the knees yet oddly exhilarated at the same time. Aboard American Cruise Lines' Queen of the West, we were on a one-way Columbia River cruise from Vancouver, Washington to Clarkston, Idaho.
It was on the second day of the cruise that I jumped at the chance to take a shore excursion tour to visit Mount St. Helens. I really didn't have a clue what to expect.
Our first stop was at the Mount St. Helens Visitors Center to watch a short movie about the volcano eruption, and of course souvenirs.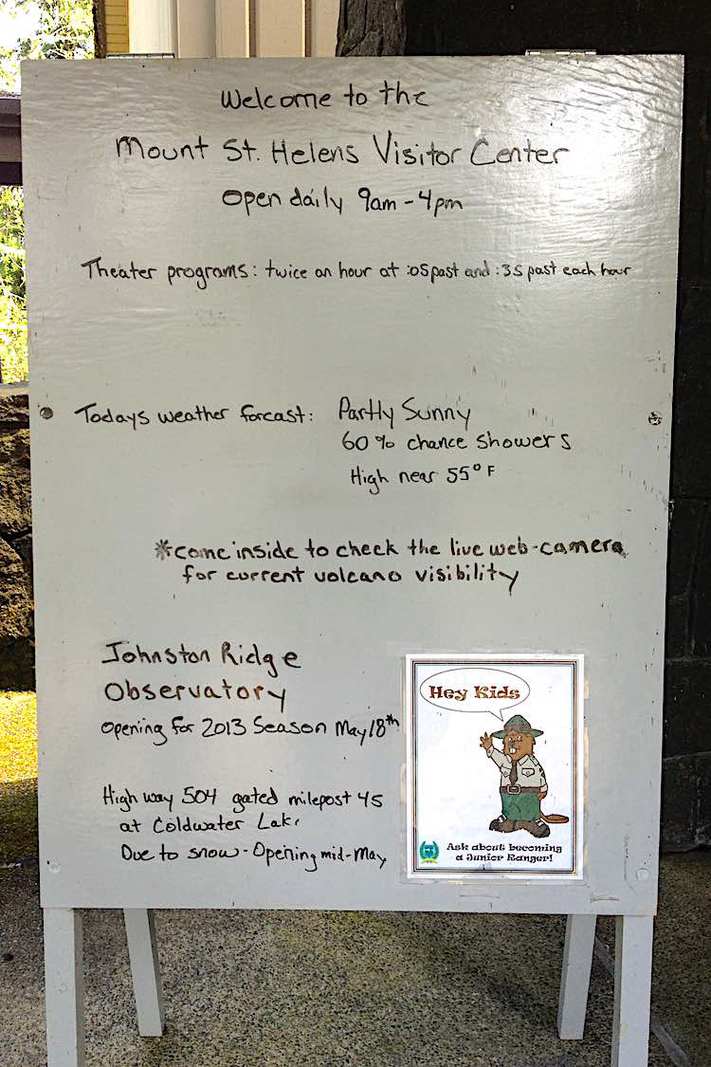 On the Road to Mount St. Helens
Back on the bus, the grandfatherly-driver informed us that due to excessive amounts of snow, we wouldn't be able to get as far as he hoped; to the Coldwater Lake Viewpoint. Instead, we would go as far as he could, and then pull off the road.
If you've ever driven into or out of Portofino, Italy, the drive up to Mount St. Helens has the same overlook: straight down. While I'm fine if I'm the driver, being on an enormous bus and rounding hairpin turns wasn't my idea of a relaxing ride.
On drives like these, I take photos to calm my fear. Or in this case, I tried to take photos despite blue tinted windows and horizontal snowflakes.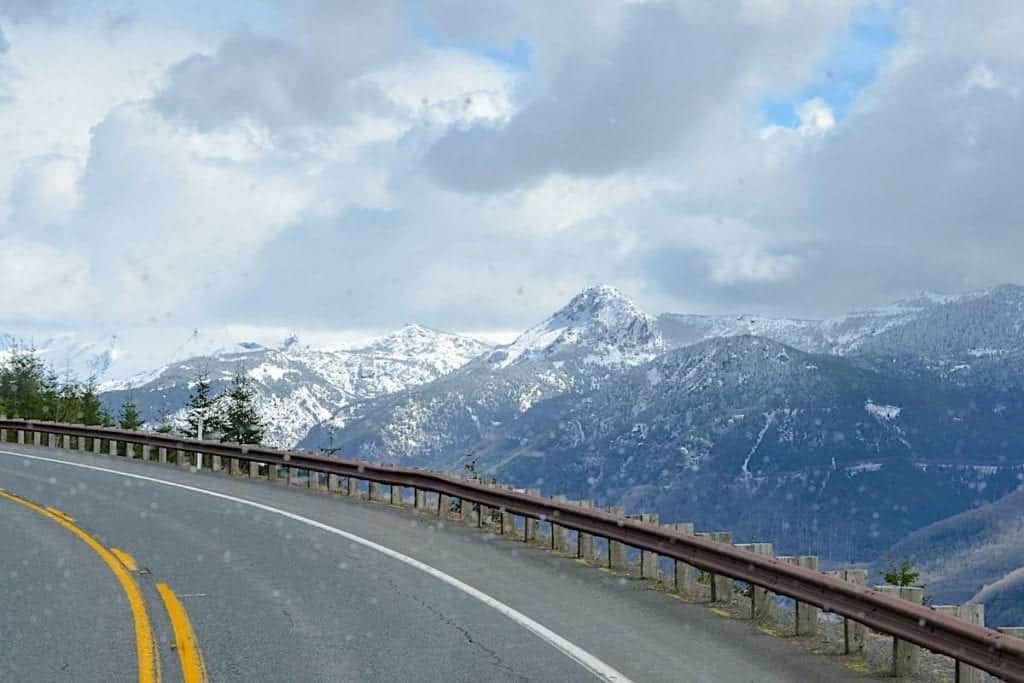 We ended up on the side of the road, just past Elk Rock Viewpoint, or maybe we were at Elk Rock Viewpoint. The snow had obliterated any turnoff into a designated parking lot. Either way, we were at the edge of a steep hill, fortunately separated by a rather wide berm of snow.
Once the driver pointed it out, from our angle we could clearly see the definition of the crater.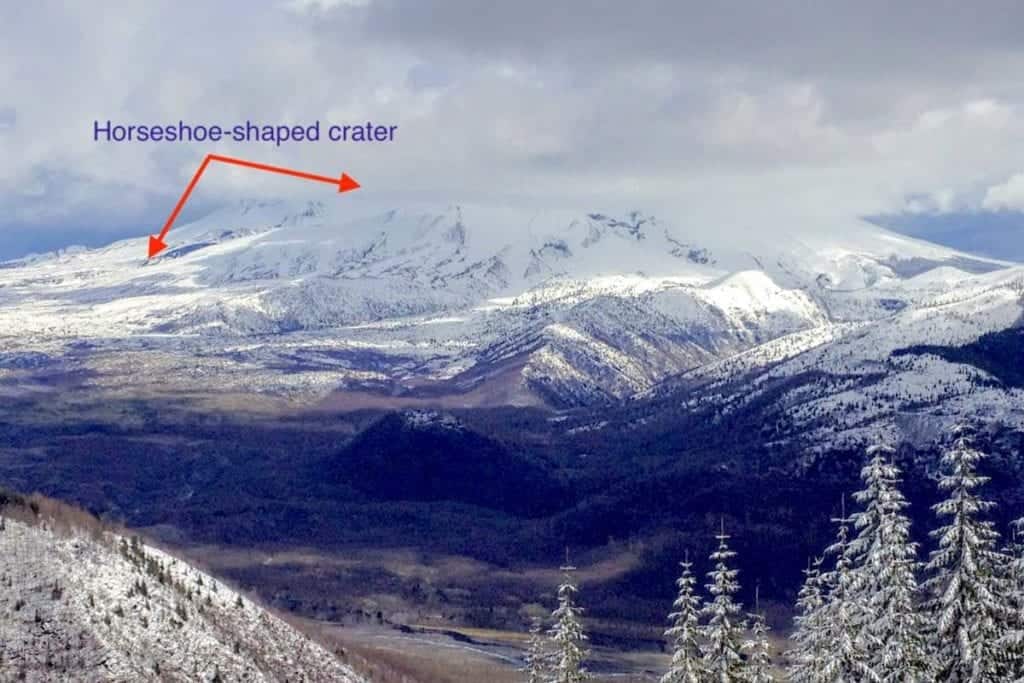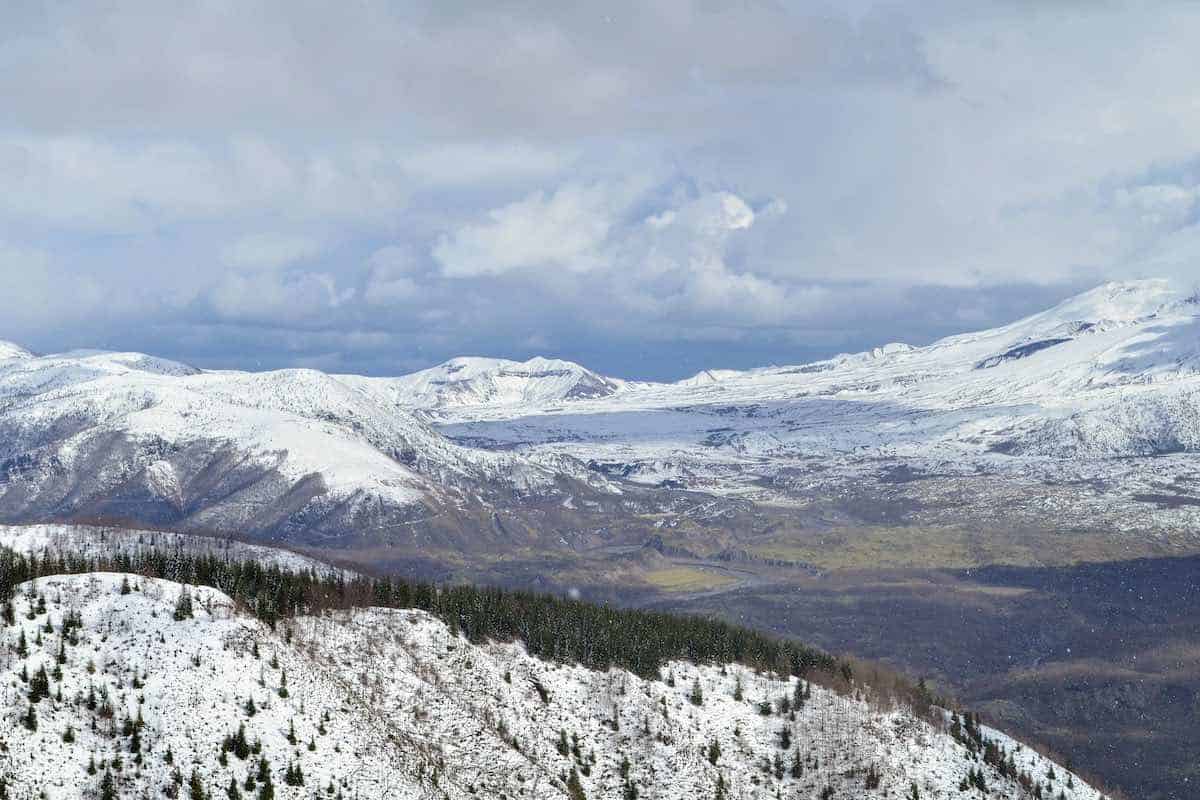 If you look closely at the photo above, in the center you can faintly see the road that would lead to its end at the Johnston Ridge Observatory. From there, you're looking almost straight into the crater.
Viewing Mount St. Helens -As Close As We Could Go
We were somewhere on State Road 504, either at or near the Elk Rock Viewpoint, the designated entrance to Mount St. Helens National Volcanic Monument. At an elevation of 4,355-feet, we had climbed very high in a really short time, from the beach where our river ship was docked.
Time to Head Back Down the Mountain Roads
The weather conditions quickly began to change from bright sun and cotton-puff clouds to a stiff north wind and impending snow squalls. We were ushered back on the bus after about 20 minutes of viewing Mount St. Helens. There had been plenty of time for photos and fresh air so it was nice to get back into my coach seat and warm up.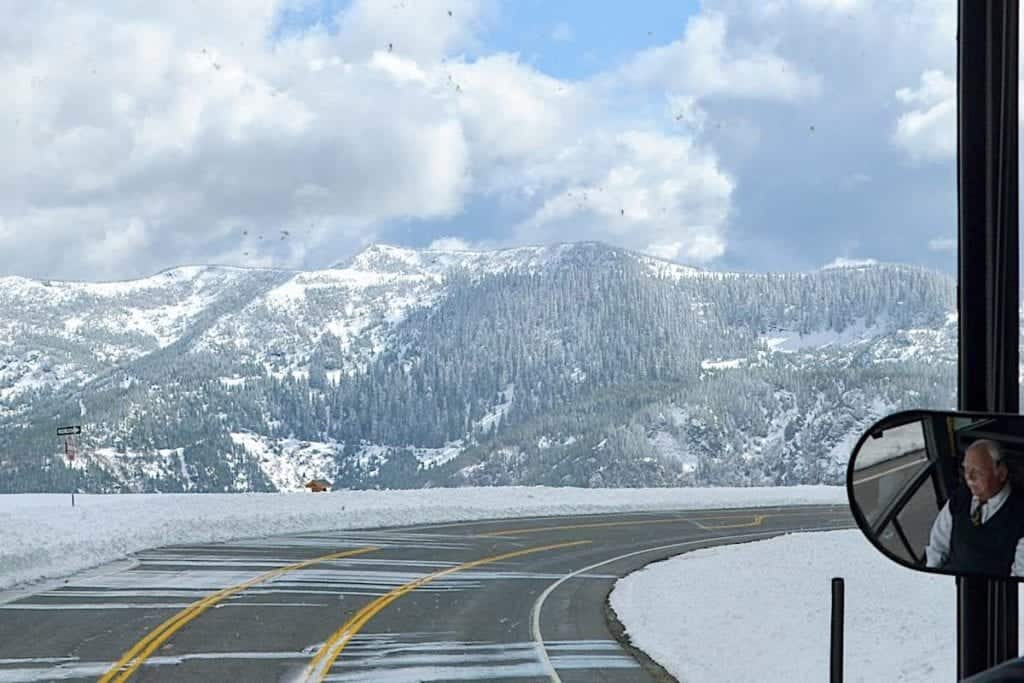 We had to go back on the same route that brought us up so our bus driver needed to make a three-point-turn on the highway. I was certain he had done this a million times. As the rear edge of the bus neared the drop-off, I hoped I was right.
Wind-driven snow swept across the highway as we made our descent.
Parts of the distant sky were still blue but as we drove on, gray skies prevailed and sleet danced across the windshield. We were at sunny sea level and back on board sooner than I expected.
Learning details about history and science of the 1980 eruption of Mount St. Helens was an eye-opening experience. Actually being there made it real. So many people, from scientists to hikers and residents, lost their lives to the volcano.
Mount St. Helens isn't the only volcano along this stretch of the Columbia River. As you cruise east, be on the lookout for Mt. Hood and Mt. Adams. There are eleven volcanoes in Washington and Oregon monitored by the United States Geological Survey. Eleven additional volcanoes are not monitored.
I'd like to return someday when the weather is warmer and complete the drive to the Johnston Ridge Observatory…the end of the road.
More related articles by Cruise Maven
I'm the editor and creator of CruiseMaven.com, a solo traveler cruising the world on waves and wheels, collecting recipes along the way.  I hope my articles and photos entertain, advise and inspire you to travel the world without flying.  Take a breath…stop for a local meal and a glass of wine along the way.