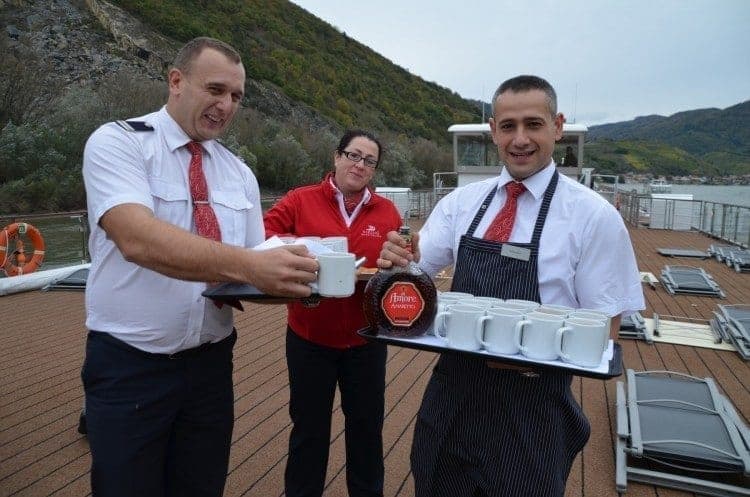 They all have booze, serve lots of food and visit ports.
And that's about as similar as they get. Just because you love to cruise, (whether on Carnival, Queen Mary 2 or Silversea) doesn't mean you're cut out for a slow-paced life on a river cruise. Or does it?
Though river cruises have been quietly pleasing passengers for decades, they are definitely today's latest trend. At an astounding pace, dozens of new and innovative river ships are launched each year and available across Europe, Asia, North America, South America, Africa and Russia. If there's an inland waterway, you can bet there's a river ship to navigate along its winding path.
River cruises are quickly gaining a legion of loyal followers, too. Many ocean cruise aficionados are moving inland, curious to learn what all the hype is about and anxious to experience this new trend.
Are you cut out for river cruising? Here's what you can expect on a river cruise, compared to an ocean cruise.
Basic differences between river and ocean cruises
1. Big Ship vs. Little Ship or Boat. European river ships have at most three decks plus an expansive sundeck. Any higher and the ships wouldn't squeeze underneath the hundreds of bridges along their path. Maximum passengers: about 190 vs. 5,400+ on the biggest cruise ships. River boats can be smaller, more like private yachts and as tiny as 8-passenger luxury barge boats as on Alaska's Inland waterways, French canals, Scottish lochs or Botswana's Chobe River.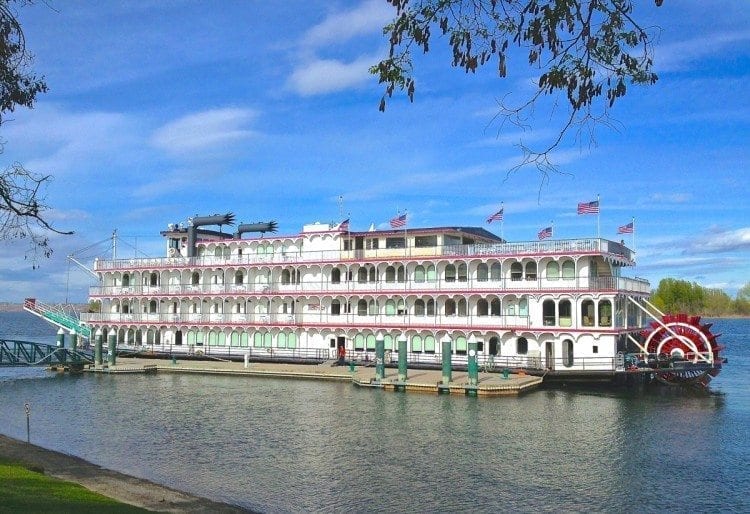 2. Construction. You won't find a bright red paddle wheel on an cruise ship! Flat bottom river boats vs. 25′ draft (below the water) of the ocean ships. Love a soak in a whirlpool? Maybe one whirlpool on a river ship…or maybe not.
3. Passenger demographic. River cruise passengers tend to be well-traveled, retired (55 yrs. +) with disposable income. They usually have experienced several ocean cruises and want to try something slower and less crowded. However, river cruises, especially in Europe, are becoming more popular for younger honeymooners and family reunions.
4. Children's programs. Cruise ships, yes. River cruises, no. None. The only exception are special family-themed river cruises such as the partnership with Disney and AmaWaterways.
5. Dining room. With only 80-190 guests, everyone can be seated in the dining room at one time, usually at 7 p.m. While you can sashay into breakfast between 7 a.m.-9 a.m., and lunch from noon until 1:30pm (give or take based on itinerary schedule), guests on river cruises are expected to arrive to dinner within a few minutes of the dining room being open. Ocean cruises with their dine-when-you-want-to time doesn't exist on the rivers.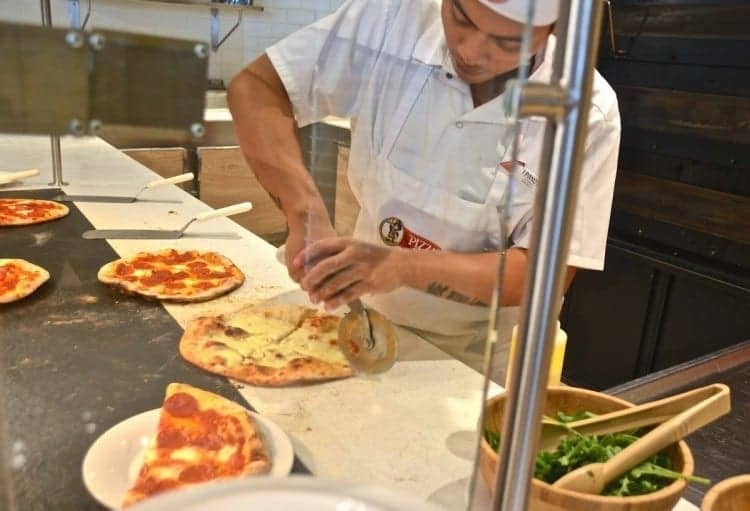 6. Speaking of dining. 24-hour pizza on a river cruise? Ha-ha-ha! Carpets on river cruises are rolled up by 11p.m. Occasionally, the piano player/entertainer may keep things lively in the lounge until midnight.
7. No sea days. On a river cruise, you travel at night to awaken every day in a new port. In fact, your captain might even make a surprise visit to a quaint village not on the itinerary, especially if there is a festival or local event that day. If you crave sea days, take an ocean cruise. Only exception: there may be a stretch on the Lower Danube or Mississippi where there just isn't anyplace to port, so you could have one "river" day.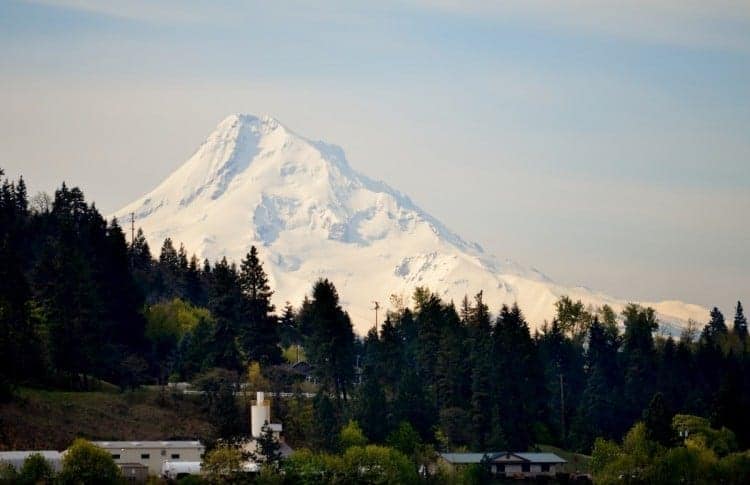 8. Ports. On a river cruise, you can usually walk from your river ship right into the heart of the city or town. If the mooring happens to be a little too far to walk to town, there is usually a complimentary bus to whisk you into town, for example, in Vienna. No more gritty industrial ports miles from the city, as with some of the ocean cruise ships' itineraries.
9. Who might like to try a river cruise? Those who have been there, done that a zillion times on cruise ships are prime candidates for a leisurely river cruise. History buffs, retired educators, and those looking for a slower pace without the glitz, non-stop action and mega-crowds found on many ocean-going vessels.
You're not cruising with 3,000 new-found "friends." No queues on and off your river ship. First-time cruisers who are a bit jittery can test their mettle on a smooth-sailing river cruise. No seasickness, land is always in sight and the water may even be shallow enough to walk ashore if there was an emergency.
10. How do the accommodations compare? Smaller ships equal smaller accommodations. There aren't many condo-size suites on a river ship. Rather than the 1,500+ square foot luxury suites on cruise ships, river ship suites are traditionally closer to 500 square feet.
Watch for new designs on river ships with lofts on Avalon Waterways and Viking's new, larger Explorer Suites. AmaWaterways newest ships have unique split balconies; half French balcony and half with walkout seating. Except for the lowest waterline deck with high-up windows, most river ships offer French balconies (sliding glass doors that open to the river.)  While there's enough room to stand and lean against the railing, French balconies are mainly for fresh air, listening to the river sounds and connecting with the outdoors.
A few of the newest river ships offer expansive two-room suites, outdoing the longstanding one-room typical stateroom or suite. As said in the movie, Field of Dreams, "if you build it they will come," so it is that bigger and more luxurious river ship suites are on the horizon.
A newcomer to the North American market, CroisiEurope, a French-based river cruise line with 43 ships in their fleet (includes barges, river boats and 2 cruise ships), will build more intimate 82-passenger river ships. And it was just announced that longtime European king of the rivers, Viking River Cruises, will add six specialty river ships for Mississippi River cruises, however their launch date is uncertain.
11. What are the differences in onboard amenities?
River cruises are ALL or almost all inclusive. This means that your bottled water, wine, beer, most or all cocktails and even shore excursions are included. Except for one or two ultra-luxury ocean cruise lines, you won't find any of the above on cruise ships.
BUT…River Ships Do Not Have:
– Casinos – Rock climbing walls
– Water parks
– Enormous fitness centers
– Shopping arcades
– Multiple dining options
– Gala production entertainment.
-Disco nights. If you're looking for an all-night disco, you won't find one on a river ship. On a river cruise, your evening entertainment will include a resident piano player/singer, folkloric dance troupes, cabaret singers and regional historians.
12. How expensive are river cruises vs. ocean cruises? There aren't any $399 7-night river cruises. Prices can begin at $2,000 per person for a 7-night cruise and inch up to several thousand dollars for the longer and/or more exotic itineraries. Mississippi River and Columbia River cruise prices usually begin at over $3,000 per person. Smaller rivers in North American can fetch an even higher price tag.
Paddlewheelers ply the Mississippi and Columbia rivers in the United States. Small river boats, many the size of large yachts, cruise the inland waters on the eastern seaboard, Alaska and the Midwest. Exotic itineraries in Southeast Asia take intrepid passengers along miles of the Mekong and Yangtze rivers. If you crave adventure, head to South Africa's Chobe River to view dozens of wild animals. Then there's the Nile River, too.
If you know what to expect, are ready for a change and enjoy socializing with a smaller group of fellow passengers, then a river cruise might be just what you should try on your next vacation.
Insider tip:  While river ports in America are paved and ADA compliant, many port towns and nearby cities in Europe have uneven cobblestone sidewalks and streets. Those with limited mobility may find it difficult if not impossible to negotiate some of the historic sites and steep stairs.
I'm the editor and creator of CruiseMaven.com, a solo traveler cruising the world on waves and wheels, collecting recipes along the way.  I hope my articles and photos entertain, advise and inspire you to travel the world without flying.  Take a breath…stop for a local meal and a glass of wine along the way.