But what would Huck think?
Until my cruise aboard the Queen of the Mississippi, the only experience I had on an old-time paddle wheeler was aboard the Liberty Belle at Liberty Square in Disney World. This time, instead of a circular 20-minute boat ride, I'd try a week-long Mississippi river cruise from New Orleans to Memphis.  Mark Twain would've loved it.
The Queen of the Mississippi's ambiance and décor of the mid-19th century were accurately duplicated throughout each the four decks, the public areas and our cabins.  Beautiful ornate woodwork, plush cushioned sofas and chairs and a sun deck with dozens of white wooden rocking chairs were evocative of a small step back in time.  All 150 passengers, mostly seniors and mostly Americans with a few Brits and Australians, got into the 1800's spirit even before the complimentary wine was poured at lunch and dinner.
It would be a week of grisly Civil War battlefield sights and stories, tours of opulent plantations with their troubled past and costumed glamour.  There were strolls through some of America's cities that grew up along the river plus a chance to indulge in regional southern food that reflected its French and subsequent Creole influence.
Where we cruised
Here's our itinerary:
New Orleans, Louisiana
Oak Alley Plantation
Baton Rouge, Louisiana
Natchez, Mississippi
Vicksburg, Mississippi
Memphis, Tennessee
Oak Alley, Louisiana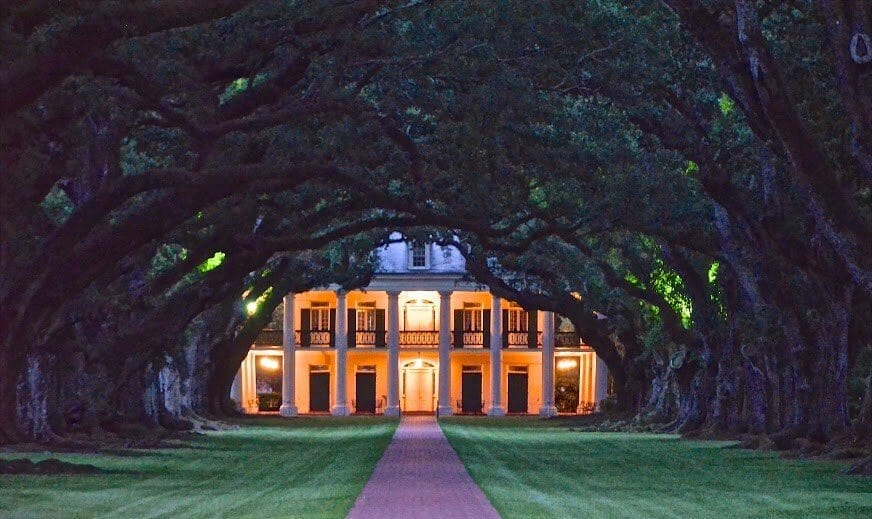 First stop on our first night, Vacherie, Louisiana for Oak Alley Plantation.  Aglow at sunset, our first glimpse was quite a spectacular sight. Maybe it was the 300-year old canopy of live oaks or the warm glow from the porch lights.  Either way, a stroll along the 1/4 mile path from the ship's gangway to the double-door plantation house entrance was a good way to walk off dinner and enter Mr. Peabody's Wayback Machine.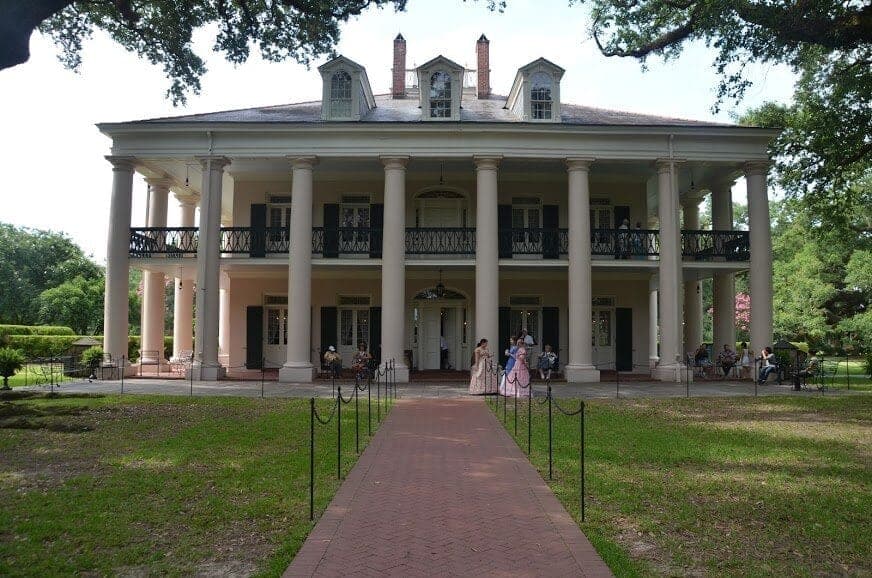 Next morning, apparitions of plantations past had disappeared with the light of day, or so I hoped. Tour guides in period costume guided us through many of the rooms, chatting up the history and events from the plantation's more than 175-year old existence.
Baton Rouge, Louisiana
As we neared Baton Rouge in the early evening, it was a strange juxtaposition of a contemporary skyline with an Antebellum mood.  A light drizzle curtailed our plans to walk the river's wide promenade or take a peek at the USS Kidd Naval Destroyer permanently docked on the Mississippi. Instead, many guests stayed onboard and relaxed on rocking chairs beneath the awning on the Sun Deck.
The day's city tour visited included a tour of the castle-like Old State Capitol Building.  Inside was a costumed presentation by the "Ghost of Sarah Morgan" who recanted her tales of the Capitol's Civil War history and ghostly past. Then onto the new State Capitol Building (also known as Huey P. Long's monument).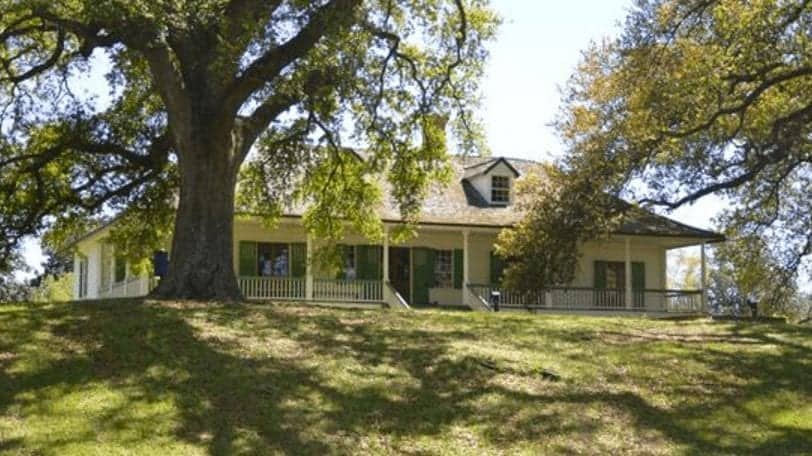 Magnolia Mound is a beautifully preserved French Creole plantation house dating from 1791. Several buildings, including an outdoor open-hearth kitchen, slave quarters, the Overseer's house and an unusual three-seater outhouse comprise the 900-acre grounds.
Natchez, Mississippi
Natchez, Mississippi, our third stop, began with a city motor coach tour that wound through the tree-lined thoroughfares and riverfront drives.  A stop for an extensive and fascinating tour at Longwood, the elegant three-story mansion that was never completed.  Back to the Queen of the Mississippi for lunch and then shuttle buses ran to and from the sleepy downtown area.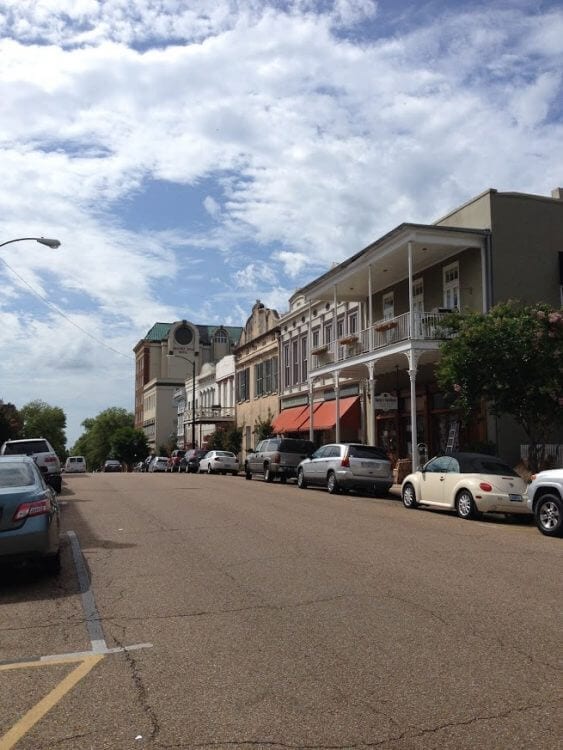 Downtown Natchez was built by French colonists in 1716. Definitely worth a walk-through just to dodge overhanging pink bougainvillea, stop for an iced tea and explore the small clothing boutiques and miscellaneous shops.  Or like me, buy another cook book.
Vicksburg, Mississippi
Civil War battlefields, monuments and memorials seemed to dominate the day's theme in Vicksburg. Once we reached the National Military Park entrance, a park guide narrated the scenes and explained what happened where and why.  Not being a Civil War buff, (I'm a Lewis and Clark enthusiast) I learned more about the Civil War than I could absorb in the two-hour tour.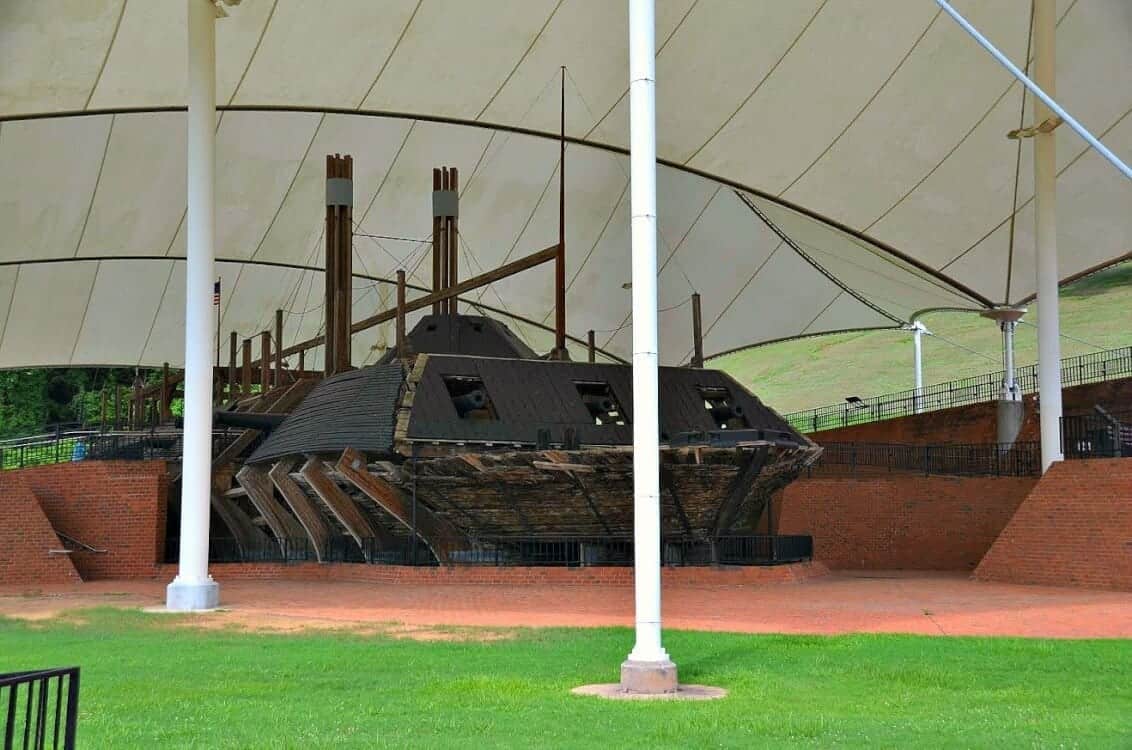 We stopped to view the S.S.Cairo, an iron clad gunboat sunk in 1862, discovered and pulled out of the nearby Yazoo river in 1956. Who knew?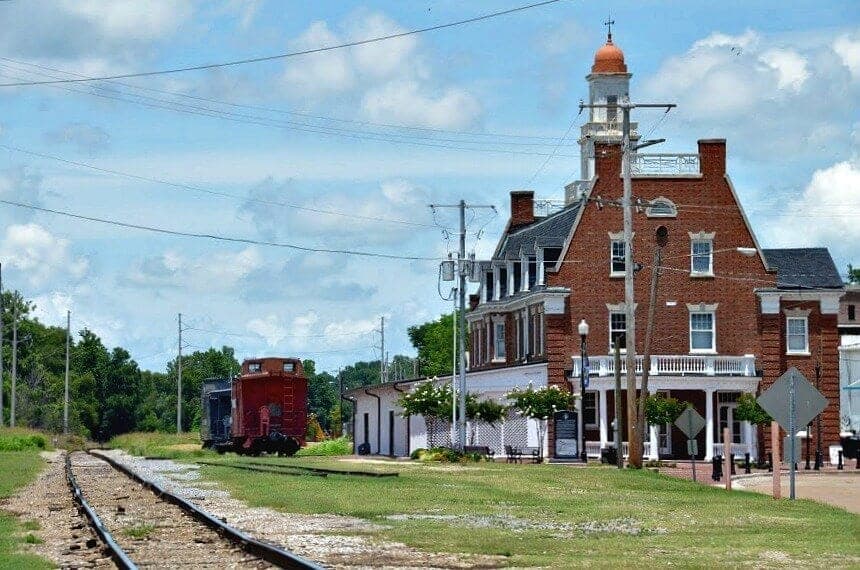 There was time back at the dock to explore the beautiful Yazoo and Mississippi R.R. Station building, now the Old Depot Museum.
Memphis, Tennessee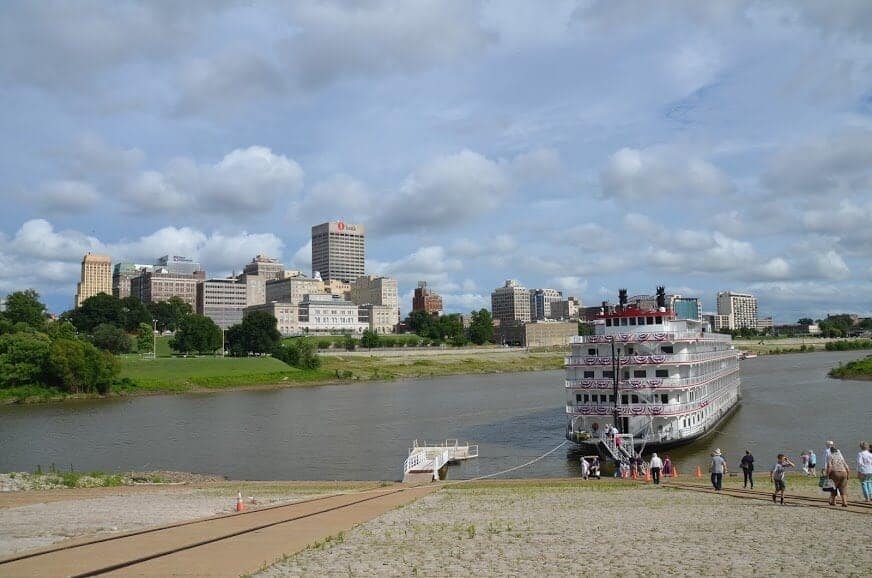 We were supposed to dock right at Beale Street, the heart of Memphis.  Due to a civic event, we detoured to dock at Mud Island.  An overnight in Memphis allowed plenty of time to tour, taste and listen to Memphis blues.
Not an Elvis fan (he was a few years before I discovered the transistor radio!) I was encouraged to take the Graceland tour.  That's his house, very unimposing and looking more like a suburban home in a northern city than what I imagined.
Graceland is frozen in Elvis-time.  You can tour all of the downstairs rooms but the upstairs, where Elvis died, is off-limits.  It's the extensive adjacent grounds and buildings that give Graceland its estate-like quality.
Goin' home.
The dock at 6am.  Everyone's luggage was sorted and ready to go.
As on all seven-night cruises, whether ocean or river, the days went by too fast.  We covered a lot of ground and a total of over 453 miles on the Mississippi river.
Amtrak's famed City of New Orleans train was my ride from Memphis back to New Orleans.  Once aboard the train and comfortable settled into my roomette, I'd go to the dining car for a hot breakfast and train coffee.  A fabulous finale to a memorable week.
Notes
In 2015, after a major refurbishment, the Queen of the Mississippi became the new American Pride and relocated to the Columbia and Snake rivers on the Washington and Oregon border.
Also in 2015, American Cruise Lines launched their brand new, 150-passenger Queen of the Mississippi, following the same itineraries as her predecessor.  Then in 2016, the America was built for Mississippi River cruises from New Orleans, carrying 185 guests.
The most traveled routes are between New Orleans and Memphis or St. Louis. There are also a few full-length New Orleans to St. Paul, Minnesota or reverse cruise each summer, plus journeys east to the Ohio, Cumberland and Tennessee rivers.
Disclosure:  I was a guest of American Cruise Lines aboard the Queen of the Mississippi.  As always, all opinions are my own.  I was under no obligation to spin this article should anything not be up to standard. It was a wonderful week and I heartily recommend this cruise.  However, if you're looking for zip-lines, mountain biking, beer pong and late-night festivities, head to the Caribbean!
PIN THIS AND SAVE!