Day 4 – Jet boating through Hells Canyon in search of ancient petroglyphs.
I've gotten used to very early mornings this week. On these day-long shore trips, we're off the ship and on the bus for 9am departures. Consequently, retiring at 10pm does not require a twist of my arm. Early mornings, lots of fresh air, crystal blue skies and motor coach rides all contribute to a blissful night's sleep for me.
Clarkston, Oregon and the adjacent town of Lewiston, Idaho across the river, flank the entrance of the Snake River's tributary into Hells Canyon. Rustic fly-in resorts for fishing, boating and hiking are visible along the shoreline.
Convenient for passengers, two canopied jet boats were waited for us when we docked. All aboard and off we sped, heading into the Hells Canyon.
Heading into Hells Canyon.
Upstream we jetted against the fast-flowing current as our boat captain threaded a path through the narrows of the towering canyon walls.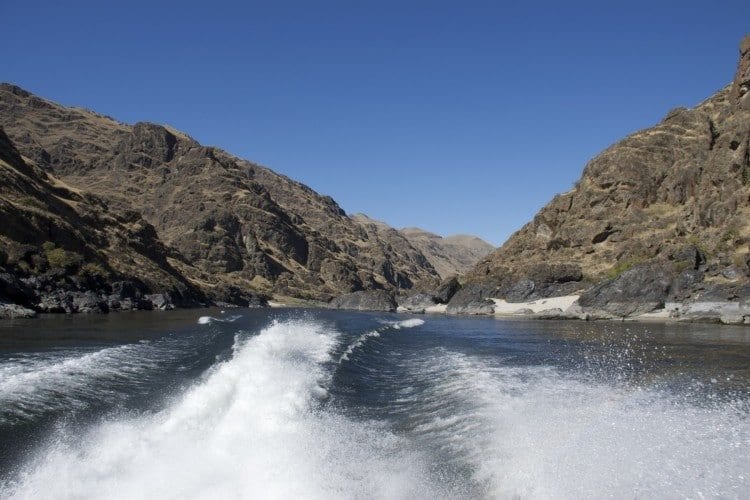 We entered one of nature's best-kept secrets in the United States. Hells Canyon is the deepest river-carved gorge in the North America. Not many people know that Hells Canyon is deeper than the Grand Canyon when measured from canyon rim to base. The highest point in remote Hells Canyon is 8,043 feet and easily out-shadows the Grand Canyon's 6,100-foot landmark Point Imperial by nearly 2,000 feet.
Lunchtime!
After nearly two-hours of high-speed twists and turns as we sliced through the Canyon, we tied up at Garden Creek Ranch.
Deep in the wilderness and about as remote a place for lunch as you can imagine, the caretakers of Garden Creek Ranch greeted our arrival.
Owned by the Nature Conservancy, Garden Creek Ranch is a 15,000-acre working ranch, apple orchard and host to various groups in all but the winter months.  The ranch rises to nearly 6,000 feet in elevation.
After lunch, we were back on the jet boats to explore a little further upstream. Our guide pointed out a picturesque little waterfall.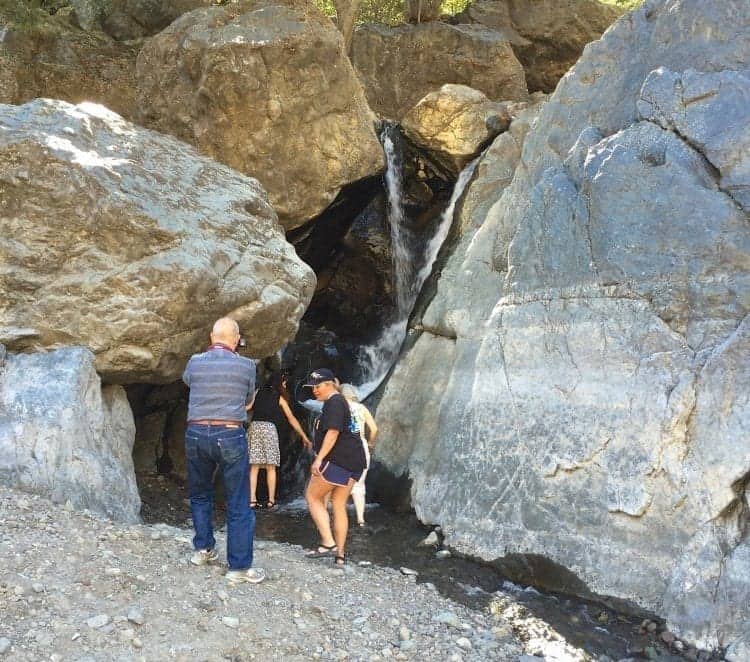 The most fascinating encounter were the 7,000-year old petroglyphs.  Perfectly preserved on several large, moss-covered boulders, they looked like they were painted yesterday. Our guide brought the boat right up to the most clearly distinguishable painted rock. 7,000 years old and still picture-perfect.
Since a trip through spectacular Hells Canyon is better described through pictures than words, here are more photos as we boated halfway through the 120-mile long canyon.
Hells Canyon is dotted with Big Horn Sheep, elk and mountain lions. Great Blue Herons hopefully wade for dinner along the shoreline while sparrows and Redtail hawks swoop and glide on warm air currents.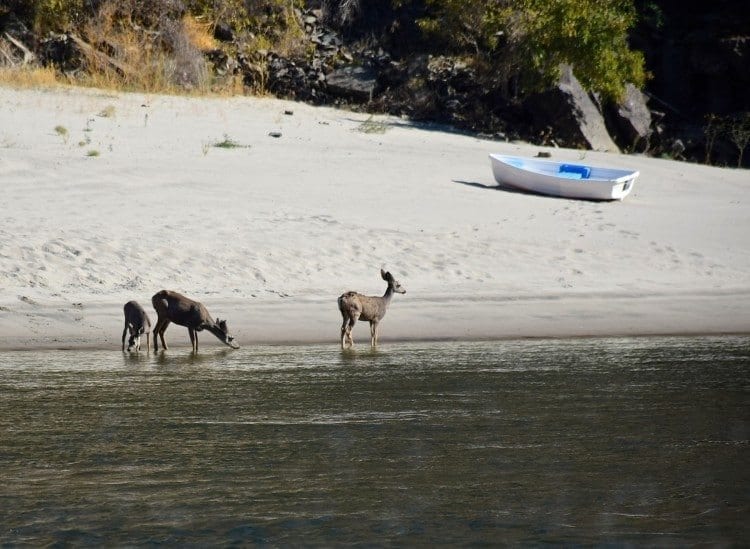 Binoculars or a zoom camera lens will enhance your visit. Un-Cruise provided loaner binoculars in every stateroom.
The return ride with the current was faster, a lot bouncier and we zigzagged back to the Legacy in less than two hours.  Back on board, it was nearly time to get ready for 5:30pm cocktail hour.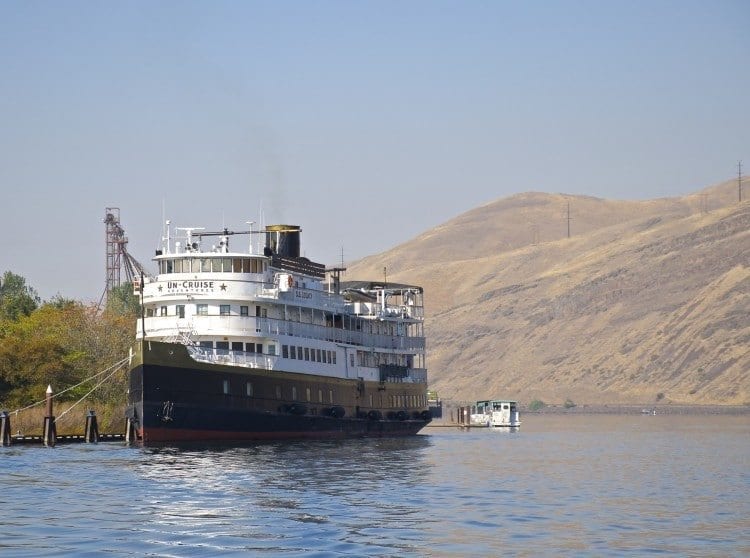 Soon, another day on our wilderness river cruise came to a close. Once again by 10pm, everyone was in their stateroom to rest up for the next day's tours in Walla Walla, Washington.
On tomorrow's agenda:  A visit to a recreated Pioneer Village and Museum in the morning and two wineries, one of which included lunch, in the afternoon.
Day 1: Aboard the S.S. Legacy to cruise the Columbia and Snake Rivers
Day 2: Bonneville Dam and towering Multnomah Falls
Day 3: A relaxing "sea" day on the river. 
Day 4: Jet Boating through Hell's Canyon (That's this one!)
Day 5: Walla Walla Wineries, the Whitmans and the Oregon Trail
Day 6: Maryhill Museum, The Dalles and a real Stonehenge
Day 7: Following Lewis and Clark to Fort Clatsop and a visit to Astoria, Oregon