American Cruise Lines announced that their new American Jazz, one of the company's 10 new riverboats, is repositioning from the Mississippi River to the West Coast. The ship will begin new California river cruises in February 2023.
If you follow U.S. maritime history, this will be the first of this type of river cruise since the 1940s. Overnight river cruising between San Francisco and Sacramento became popular during the California Gold Rush of 1849.
Passenger and cargo steamboats sailed the San Joaquin, Napa, and Petaluma River deltas throughout the Bay for decades. Eventually, a highway was built that linked San Francisco and Sacramento and river cruising came to an end. American Jazz is bringing it back!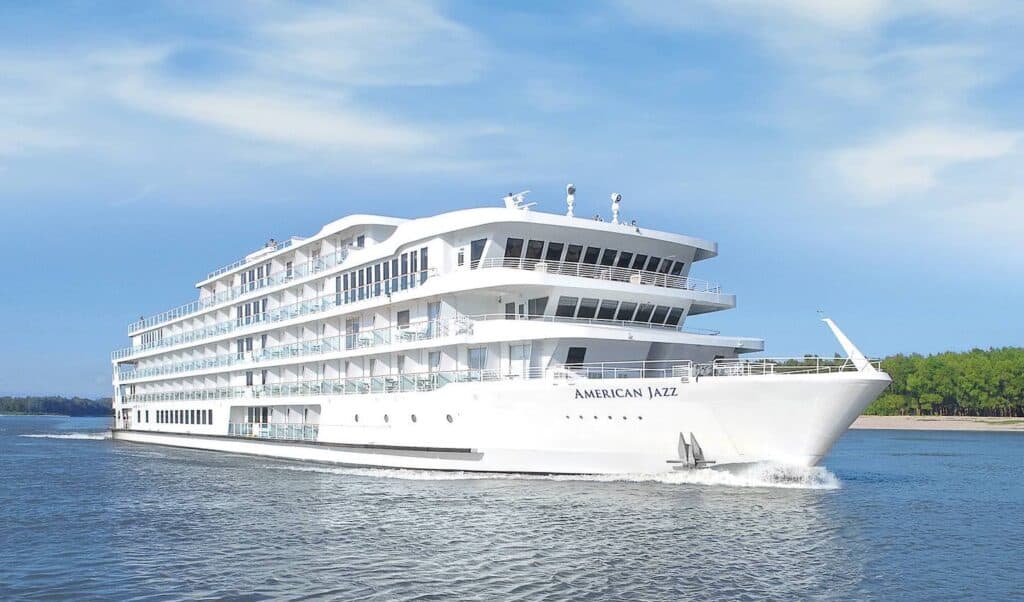 American Jazz Moves from Mississippi to California
Already underway along the journey from the Mississippi River to San Francisco Bay, American Jazz should transit the Panama Canal in the next few days.
American Jazz's repositioning voyage is following a similar route to the historic U.S. mail ships of the Gold Rush era that carried passengers, mail, and gold between the East and West coasts.
The expert nautical team aboard is supported each day of the voyage by the company's shoreside operations team. Throughout the journey, American's crew and the shoreside team closely monitor vessel systems, weather forecasts, and voyage progress.
READ MORE: American Jazz Shore Tours on California River Cruises
American Jazz in San Francisco Bay
American Jazz's arrival to San Francisco Bay begins a historic development in U.S. River cruising. It is the first U.S.-built riverboat to offer overnight cruises throughout the Bay and California Delta in over 80 years.
American Jazz will embark on the first 8-day San Francisco Bay cruise on February 24, 2023. The new river cruises will sail San Francisco Bay and Wine Country while cruising the Napa River, Sacramento River, and San Joaquin River.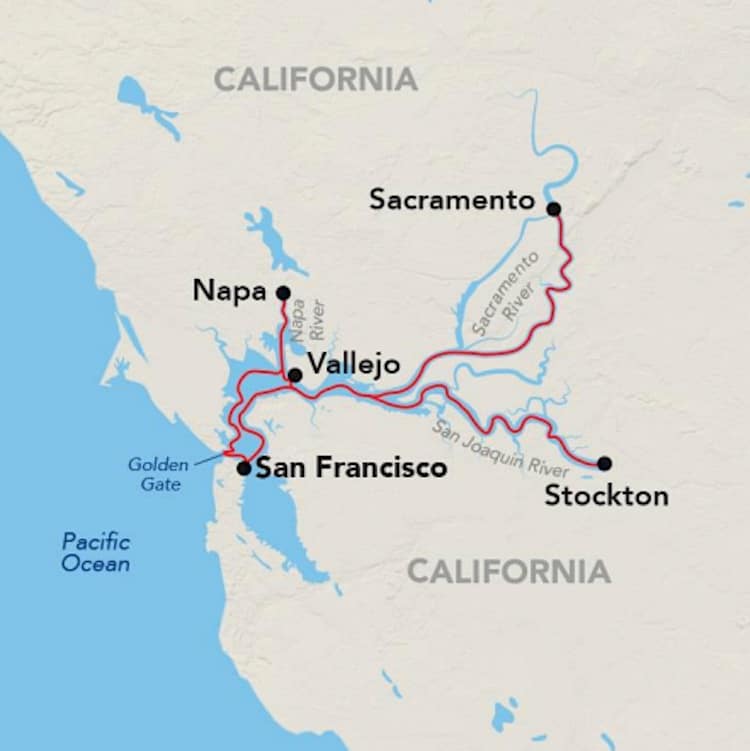 "Exploring San Francisco Bay and the California Delta by U.S. riverboat is a momentous occasion for domestic river cruising and another first for American Cruise Lines. We are proud to provide this new opportunity for our guests to experience the joys of cruising close to home, as they discover yet another beautiful area of the country by riverboat," said Charles B. Robertson, President & CEO of American Cruise Lines. "American continues to expand the possibilities for exceptional domestic small ship cruises by introducing brand new U.S. flagged riverboats and small cruise ships each year."
California Cruising
American Cruise Lines' American Jazz offers an 8-Day San Francisco Bay itinerary that's roundtrip from San Francisco. Departures are in February and March, and return in November and December 2023.
Passengers aboard American Jazz will explore San Francisco and Wine Country, visit vineyards and enjoy regional experiences from special wine tastings to becoming a winemaker for a day.
Cruises highlight the region's historical, cultural, and geographical influences that gave rise to the city of San Francisco. Guests will learn and explore the lush vineyards and flourishing agricultural communities present throughout the Bay area and its surrounding valleys today.
RELATED: Best Things to Do in San Francisco
American Jazz California River Cruise Itineraries
American's new 8-Day San Francisco Bay cruise itineraries include:
San Francisco
Stockton
Sacramento
Vallejo
Sail San Francisco Bay, San Pablo Bay, the Napa River, and the San Joaquin River.
Departures in 2023 for the California river cruises aboard American Jazz are: 2/24, 3/3, 3/10, 3/17, 3/24, 11/03, 11/10, 11/17, 11/24, 12/01, 12/08, 12/15, 12/22, and 12/29.
American Cruise Lines is offering a special Wave Season deal that includes Complimentary Domestic Airfare for select San Francisco Bay cruise dates on March 10, 17 and 24.
American's California river cruises further represent the rapid growth of the domestic river cruise market and the extensive possibilities for exceptional 100% U.S. small ship itineraries.
In just the past few years, the company's portfolio of domestic itineraries and their fleet of U.S. built small ships has experienced record growth; more than doubling in size since 2016, with many more new builds announced through 2027. Notably, all of American's new ships remain small—with every boat in the fleet accommodating 180 guests or fewer, offering private balconies and over 350 square feet of space per passenger.
I'm the editor and creator of CruiseMaven.com, a solo traveler cruising the world on waves and wheels, collecting recipes along the way.  I hope my articles and photos entertain, advise and inspire you to travel the world without flying.  Take a breath…stop for a local meal and a glass of wine along the way.