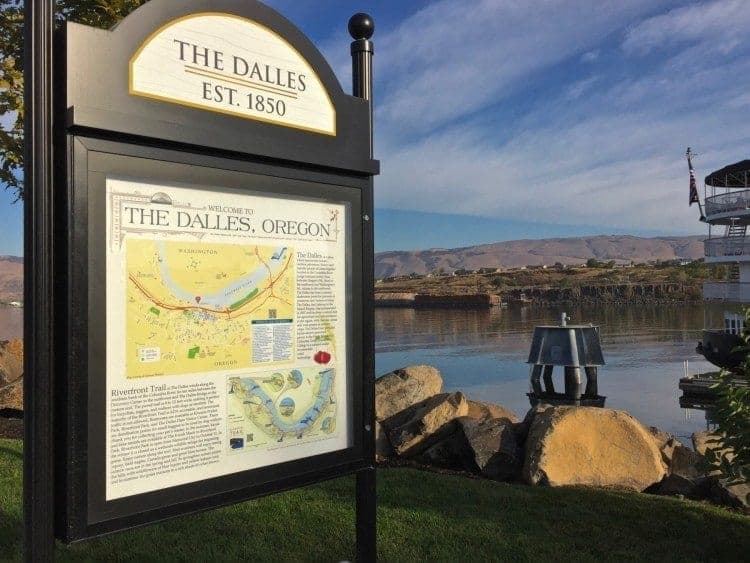 Eight hours in The Dalles is like taking a brief step back in time.
There was always an evening activity and the night before our arrival into The Dalles was no exception. Heritage Guide Kenny dressed as Samuel Hill, a mid-19th century industrialist, road builder, and subsequent millionaire. Sam, along with his wife Mary, ventured across rolling plains and dangerous mountain ranges to settle in this high-desert wilderness.
In character as Sam Hill, Kenny colorfully explained Sam's plan to build a palatial home on the top of a lonely butte to honor his wife, Mary. Turned out Mary was a city gal who didn't want to live in Nowhereville USA, sweltering in the heat of the desert summers or the damp, bone-chilling winters high above the river.
Samuel Hill, still hell-bent on building his dream mansion, decided to turn Mary's mansion into a museum. It would house his world-renown collection of Augustus Rodin sculptures as well as a huge cache of royal possessions courtesy of Queen of Romania. He named it the Maryhill Museum.
Here then, is a photo tour of our day docked in The Dalles en route to the quirky Maryhill Museum, the historical Columbia Gorge Discovery Center and oddest of all, Stonehenge.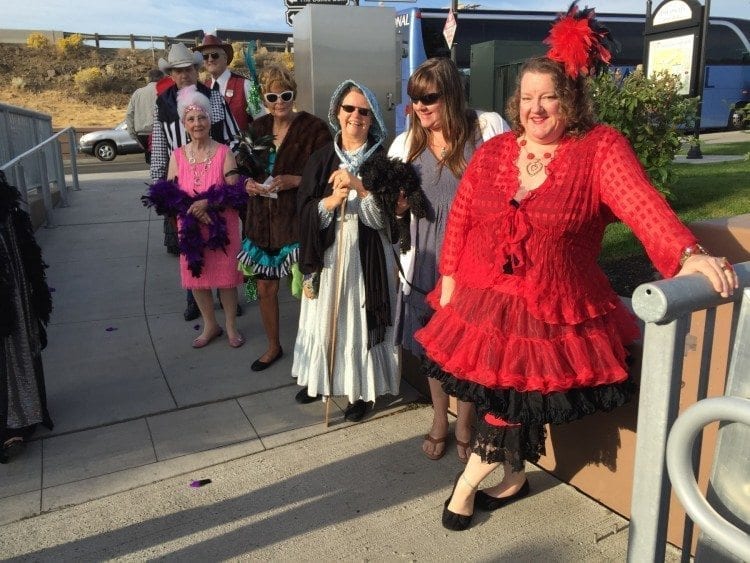 It was pretty silly to walk off the ship and be greeted by what might have been Miss Kitty's "girls" and slick card dealers.  A lot of laughs and photo ops.
Onto the motor coach and we were off to visit Maryhill Museum.  I had heard about this museum years ago because of Sam Hill's collection of Rodin sculptures, the largest collection outside of Paris. Not to mention tons of treasures from the Queen of Romania.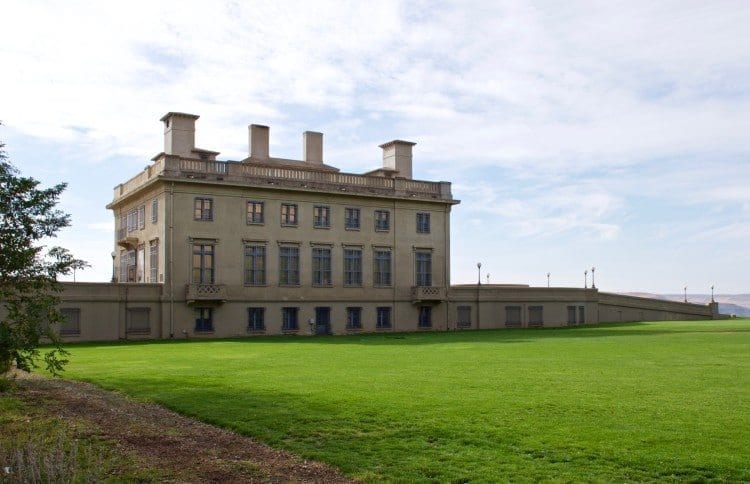 Our bus let us off almost right at the entrance to the museum.  On this very warm September morning, the parking lot was nearly empty. It felt like we had the entire estate to ourselves.
I like to wander about and let everyone else go ahead of me, especially when I'm in a group. It's always nice to stop and look back to see where you've been without the heads of people blocking the view.  Case in point, this gorgeous scenic overlook from the museum patio.
So much to see at this eclectic museum located truly in the middle of Nowhere, USA.  We had about two hours to roam around the dozens of exhibit halls and rooms before we were back on the bus for lunch on the ship.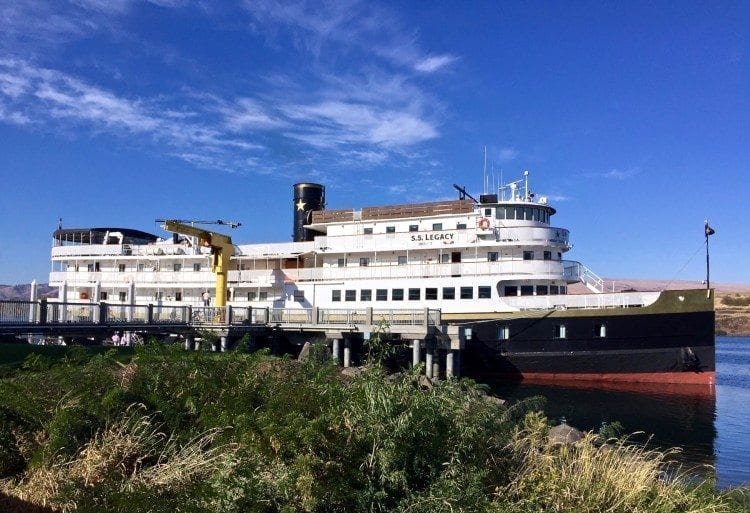 Lunch finished and off we went to see what this Stonehenge thing was all about.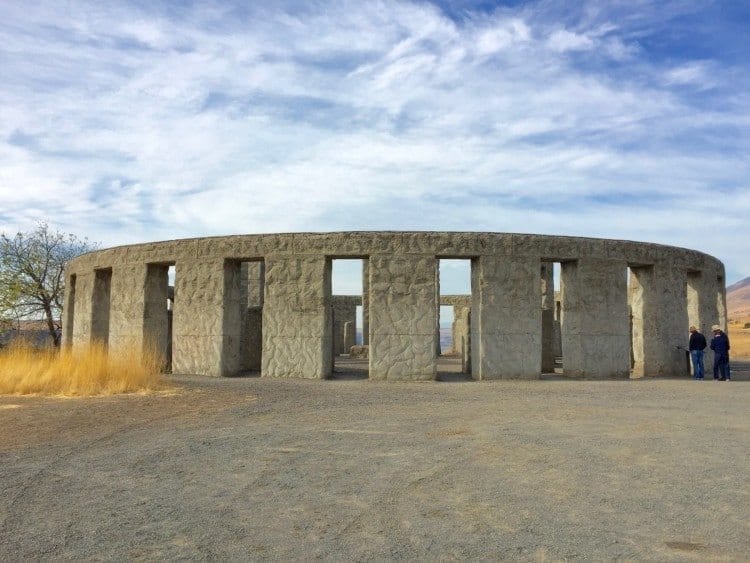 Story goes that when Sam Hill visited Wilshire, England and laid eyes on the real Stonehenge, he was smitten with the landmark's mystery and improbable construction.  He decided to build a replica near Maryhill and dedicate it to honor America's military personnel who died in World War 1.
Columbia Gorge Discovery Center
Last on today's agenda, the Columbia Gorge Discovery Center.  A docent dressed in some sort of quasi-pioneer costume showed and demonstrated how a musket was loaded and hopefully fired.
A private showing of raptors was the finale for the day.  A rescue facility and educational center for local school kids, the handler brought out several raptors of varying sizes.  The most amazing of all was the Great Horned Owl.  So docile and calm, we all were able to get up close and take his photo.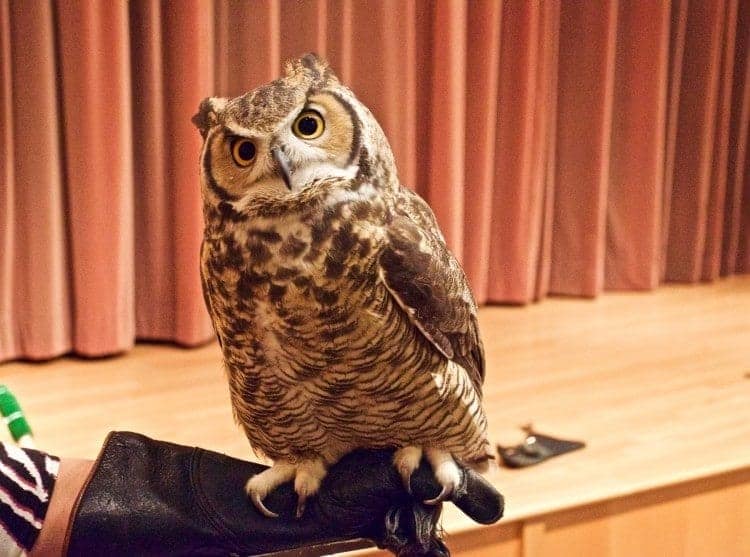 The sun was just starting its evening descent when we returned to the S.S. Legacy, just in time for cocktails of course!  Only one day remained and it would take us to the edge of the continent at the entrance to the Pacific Ocean, as Lewis and Clark discovered on November 15, 1805.
Here are the links to follow my week aboard the S.S. Legacy:
Day 1: Aboard the S.S. Legacy to cruise the Columbia and Snake Rivers
Day 2: Bonneville Dam and towering Multnomah Falls
Day 3: A relaxing "sea" day on the river. 
Day 4: Jet Boating through Hell's Canyon
Day 5: Walla Walla Wineries, the Whitmans and the Oregon Trail
Day 6: Maryhill Museum, The Dalles and a real Stonehenge (That's this one!)
Day 7: Following Lewis and Clark to Fort Clatsop and a visit to Astoria, Oregon

Disclosure:  I was a guest of Un-Cruise Adventures aboard the S.S. Legacy and I provided my own transportation to Portland via Amtrak, round-trip from Chicago.
I'm the editor and creator of CruiseMaven.com, a solo traveler cruising the world on waves and wheels.  I hope my articles and photos entertain, advise and inspire you to travel the world without flying.  Take a breath… stop for a meal and a glass of wine along the way.