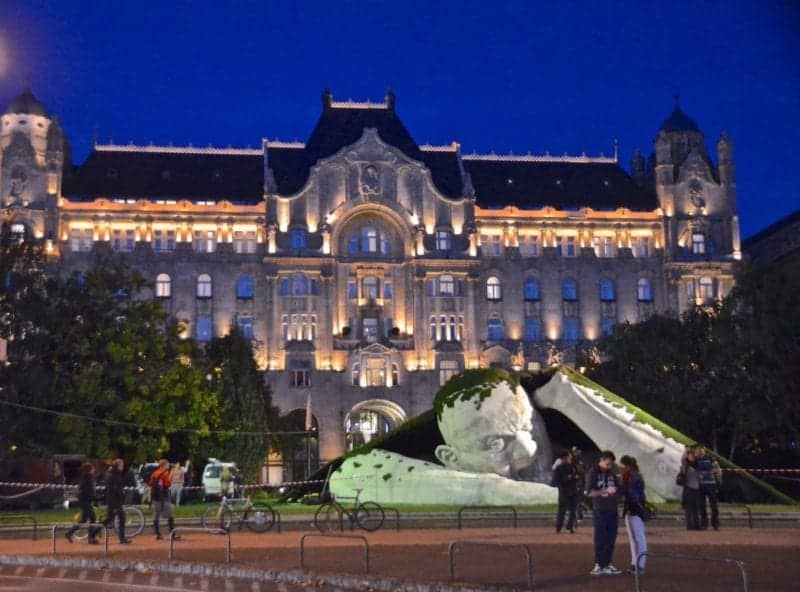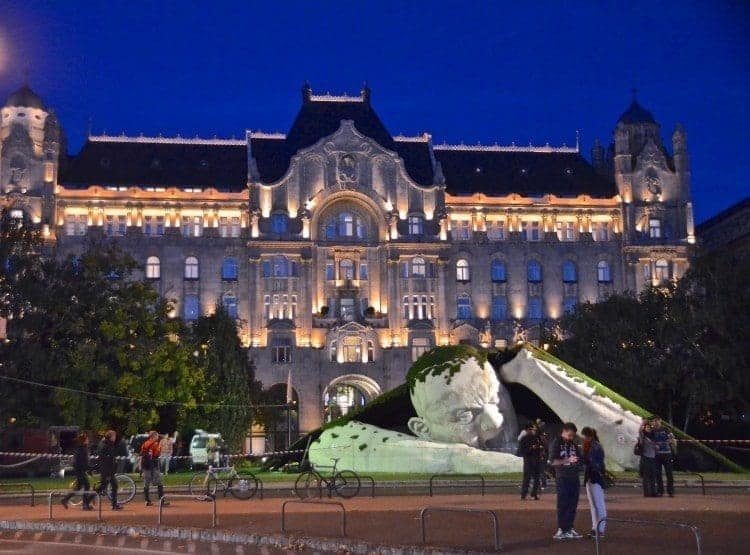 It's called, "Popped Up" by artist Ervin Loránth Hervé.
Made of polystyrene, the huge sculpture, "Popped Up" is on display at Széchenyi Square, overlooking the Danube River. The gorgeous Four Seasons Gresham Palace Hotel serves as a backdrop, and is even more striking when illuminated at night. The sculpture was featured in the 2014 Budapest Art Market.
I was aboard Viking River Cruises Viking Lif, on a 14-night river cruise from Budapest to Amsterdam. We were docked in THE prime location; at the foot of the famous Chain Bridge on the Pest side of the river and opposite the sprawling Budapest Parliament Building on the Buda side.
Budapest is a wonderfully walkable city, especially on the Pest side, where the nightlife hits full-swing after 11pm. Camera in hand and only yards from the Chain Bridge and the immense sculpture, it was a total surprise when I saw this giant angry man covered in what looked like the park's front lawn.
I don't know how long this installation will be on display, probably until the 2015 Art Market in mid-October. If you are planning a river cruise that begins or ends in Budapest, be sure to take a walk over to see "Popped Up" and fully appreciate the weirdness and beauty of it all!
I'm the editor and creator of CruiseMaven.com, a solo traveler cruising the world on waves and wheels, collecting recipes along the way.  I hope my articles and photos entertain, advise and inspire you to travel the world without flying.  Take a breath…stop for a local meal and a glass of wine along the way.