Welcome aboard the second half of a two-week, three-river, four-country Viking river cruise aboard Viking Skadi, from Budapest to Amsterdam.
To start from Day 1: Viking Grand European Tour Began in Budapest, Hungary. And now…
Viking Skadi and Grand European Tour – Week Two
Day 8: Aboard Viking Skadi and Nuremberg, a City of Contrasts
Nuremberg, once the unofficial capital of the Holy Roman Empire, is a walled city with much of the medieval fortification still standing. With Nuremberg being so spread out, Viking's included bus tour was my choice to see as much as possible.
There was time to visit Nuremberg Castle, Hitler's Rallying Grounds and other reminders of the city's dark Nazi past. Plus, there was time for a short walkabout in the old town, Altstadt, to buy souvenirs and sample an authentic Nürnberg sausage.
Amazingly, near two and one-half miles of the original old walls that surround the castle are still intact. Depending on your day in Nuremberg, you may have time to take a castle tour, or at least walk across the moat.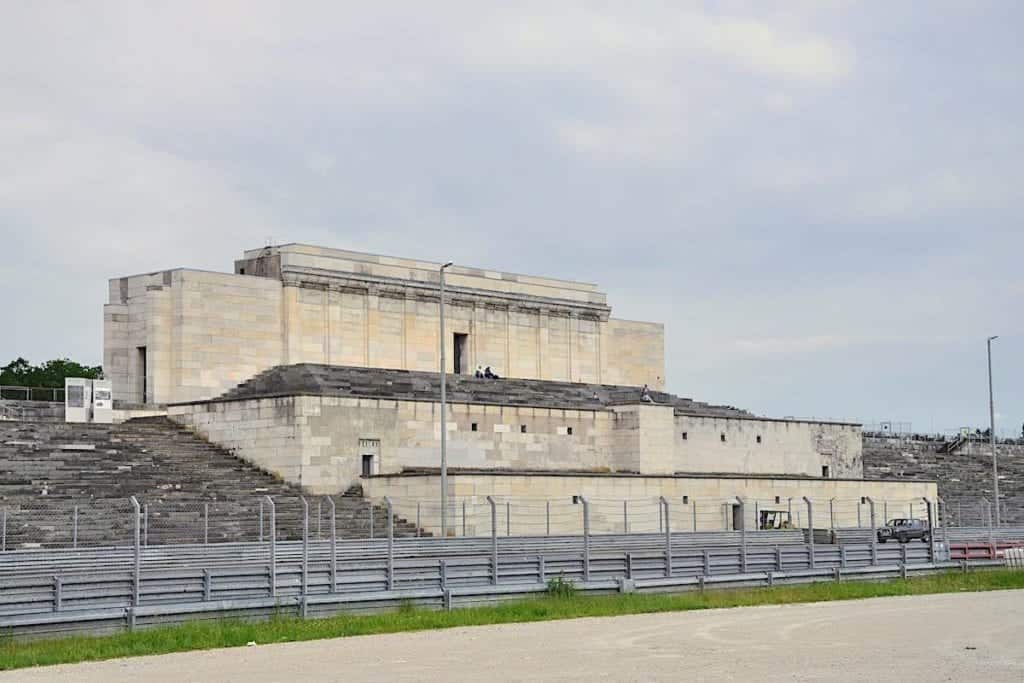 While I enjoyed the Old Town and could have stayed another half-hour or so, I couldn't wait to get back on the tour bus and away from the Stadium. Conversely, I looked forward to returning someday to Nuremberg for the Christmas markets, one of the largest in Europe.
Back on Viking Skadi for our first night onboard since swapping ships. The routine was the same…pre-dinner briefing, dinner and then entertainment in the lounge. It had been a very busy and hectic day from very early morning leaving Viking Lif, to a visit to Walhalla and back on the bus to Nuremberg and board a new river ship.
Day 9: Bamberg – one of my favorite towns on the Main-Danube Canal
Today were two port visits; Bamberg in the morning and Hassfurt in the afternoon but there were two options. Guests could leave Viking Skadi in Bamberg at 1:30 PM for the afternoon or stay aboard and cruise to Hassfurt. Since I'd already been to Hassfurt, and the river ship was only there for an hour, Bamberg was my choice.
After lunch, those going to Bamberg boarded the bus for the short ride into town. Once there, you could join the walking tour or strike out on your own.
What's so special about Bamberg? For one thing, it was once the seat of the Holy Roman Empire and like Italy, built on seven hills, each with a church on top. In 1993, the entire city became a UNESCO World Heritage Site.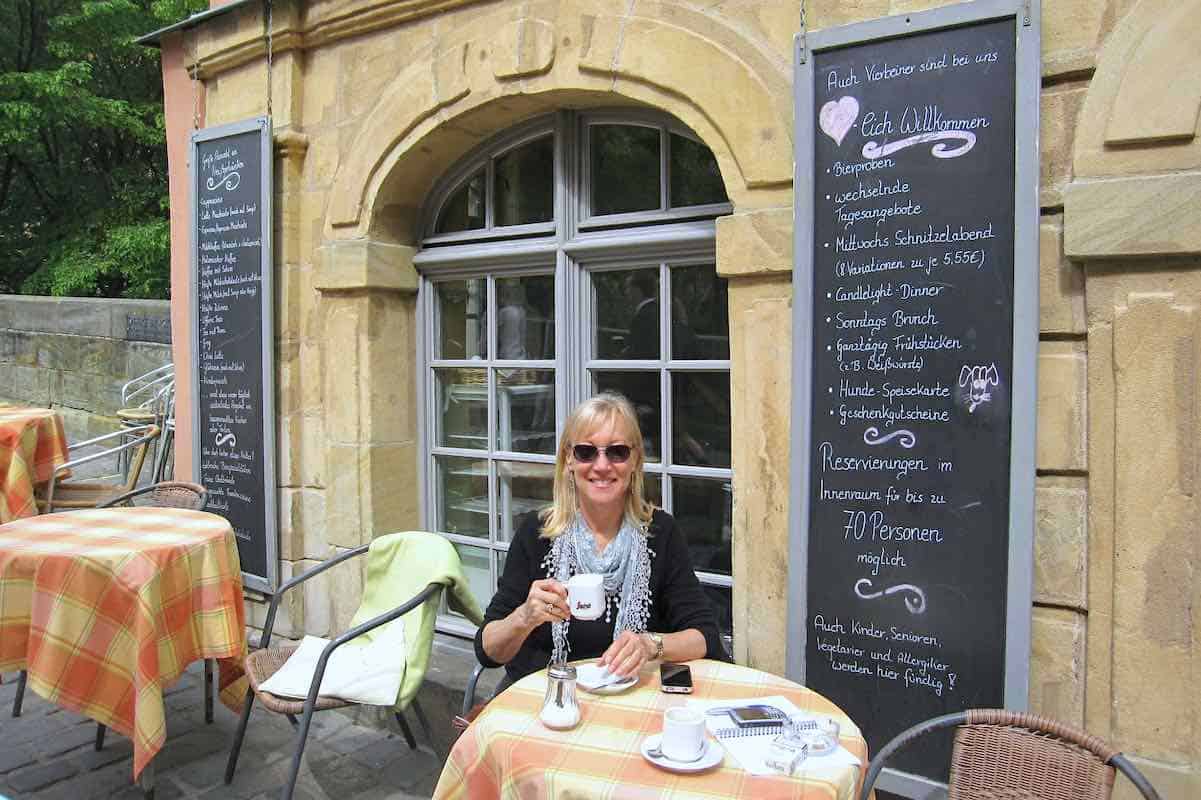 Back on the bus and on to meet Viking Skadi in Hassfurt. We met the river ship at 6:00 PM, enough time to rest for 45 minutes until the Daily Briefing and dinner procession. Tonight's entertainment was provided by the onboard keyboard player. Again, we were all pretty tired and by 10:30 PM, the carpet was rolled up.
Day 10: Würzburg and Rothenburg ob der Tauber
I can't tell you enough that if you have a chance to go to Rothenburg ob der Tauber (Rothenburg on the Tauber river) do it. For me, Würzburg is more of a drive-around city, with a guided tour of the baroque 40-room palace, Würzburg Residence built between 1720 and 1744, Marienberg Fortress and a drive across the Old Bridge, built in 1120.
Würzburg is a fascinating city, surrounded by wineries and some terrific cafés and dozens of old churches. More times than not, though, I opt for a day in Rothenburg ob der Tauber and its half-timbered houses.
Rothenburg is probably the most well-preserved medieval town in Germany, located on Germany's historic Romantic Road. Amid half-timbered houses, you'll find tiny shops and even hotels.
But the best thing to do there is to walk the 1.5 mile city wall that circles Rothenburg since the middle ages.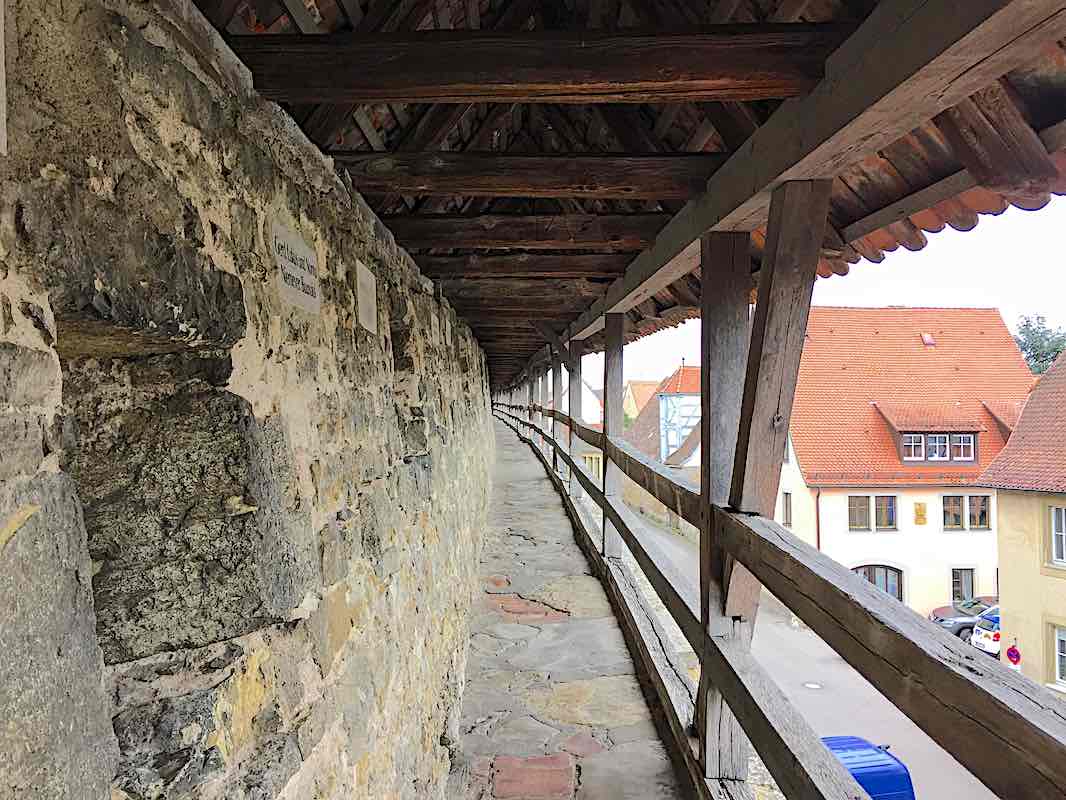 You have to walk up and down several sets of uneven cobblestone steps, as the wall connects five medieval gates dating from the 13th to 16th centuries. Stop and take a look inside the guard houses, too. Get to the town center at top of the hour to see the adorable clock "show".
Back onboard Viking Skadi in time for Cocktail Hour. No one ever missed it. Then after dinner, we all found a seat in the lounge for an hour-long glass-blowing demonstration. Good-night.
Day 11: Wertheim – Quick Stop and a Walking Tour
We had about two and one-half hours for our guided tour to walk us through picturesque Wertheim. It was kind of a slow, lazy day. I was back on board by noon and at 12:30, we were underway, heading for a next-day arrival to ancient Koblenz, Germany, once occupied by the Roman army.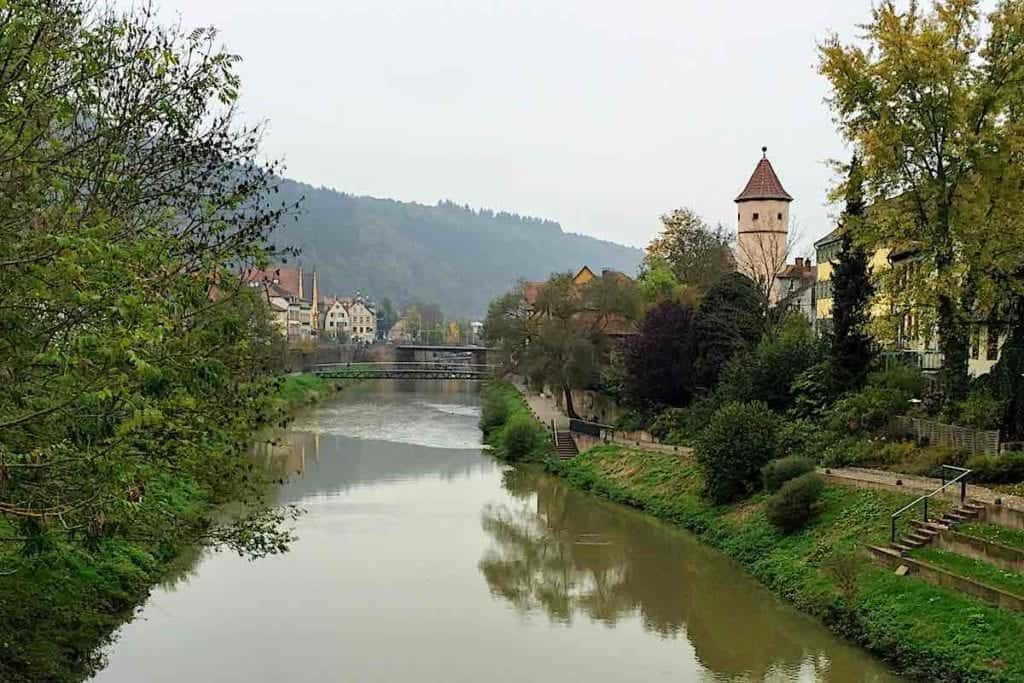 Day 12: Cruising the Romantic Rhine – It's Castle Day!
Our Viking Longship sailed through the night so that we'd reach the Rhine River Gorge just after breakfast. This is one of those special moments on a river cruise that you want to just relax and watch as medieval and ancient history unfolds in front of you. And it doesn't last long…only about two and one-half hours, a distance of nearly 41 miles.
I'd love to show you all of my photos from over two dozen trips up and down the Rhine through this stretch, but that will be another article. In the meantime, here are a few of the highlights. The majority of the 30+ castles are found just after Rüdesheim, between Bingen and Koblenz.
A little less than the halfway point is the legendary Loreley Rock. Set on a steep cliff, where the Rhine is the deepest and narrowest, the Loreley Rock is said to be where the beautiful Loreley used to sit and sing to the sailors on the river.
Her singing was such a distraction that it lured unsuspecting sailors to their doom. It's tradition for river ships to play the Loreley song through this stretch of the river.
Arriving Koblenz
Koblenz sits on two sides of the point where the Rhine and Mosel rivers meet. Ehrenbreitstein Fortress looms overhead like a watchdog guarding a front gate. Almost all Rhine river cruises stop in Koblenz and today was no different.
River ships were everywhere and our guided walk through town was crowded with tourists. Even at night, Koblenz is alive with activity. From outdoor restaurants and cozy cafes to people leisurely strolling along the river's promenade. I would have stopped in to my favorite dive bar, the Peanut Bar, but alas, it doesn't open until 7PM.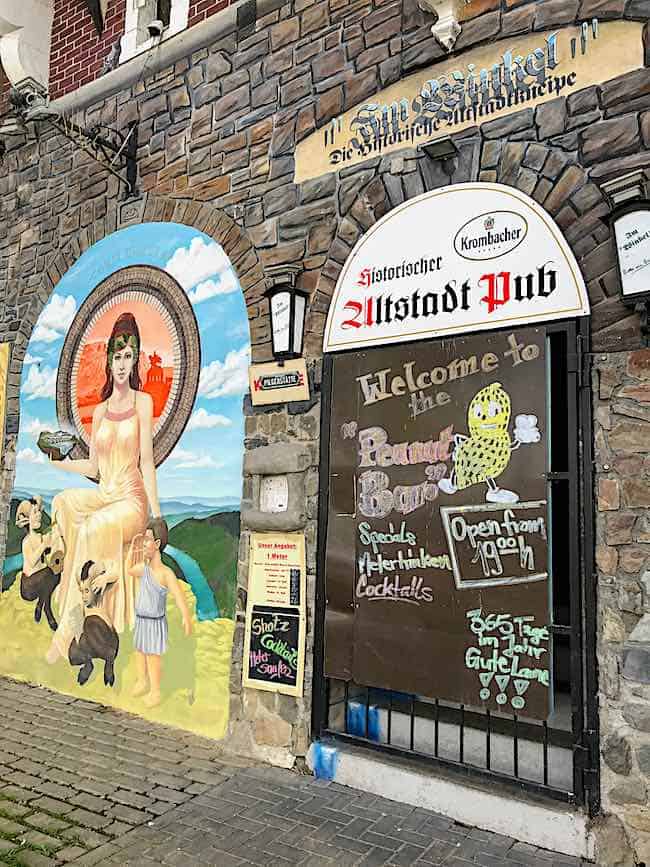 There were two included tours to choose in Koblenz; a bus ride to a walking tour in Marksburg Castle, the best preserved castle on the Rhine or a cable car ride across the river and up the hill to Ehrenbreitstein Fortress. I took the tour inside sprawling Marksburg Castle. I've done the cable car ride over the river and once was enough for me.
Tonight's dinner was titled, "A Taste of Germany" and its name held true. Traditional German foods were served in the dining room, Aquavit Lounge and also in the Galley.
A couple of rather staid-looking German musicians entertained while we ate. Beer flowed. It was a fun night. But in a way, it was also bittersweet. Once you've cruised past the incredible stretch of castle after castle, it means the trip is almost over.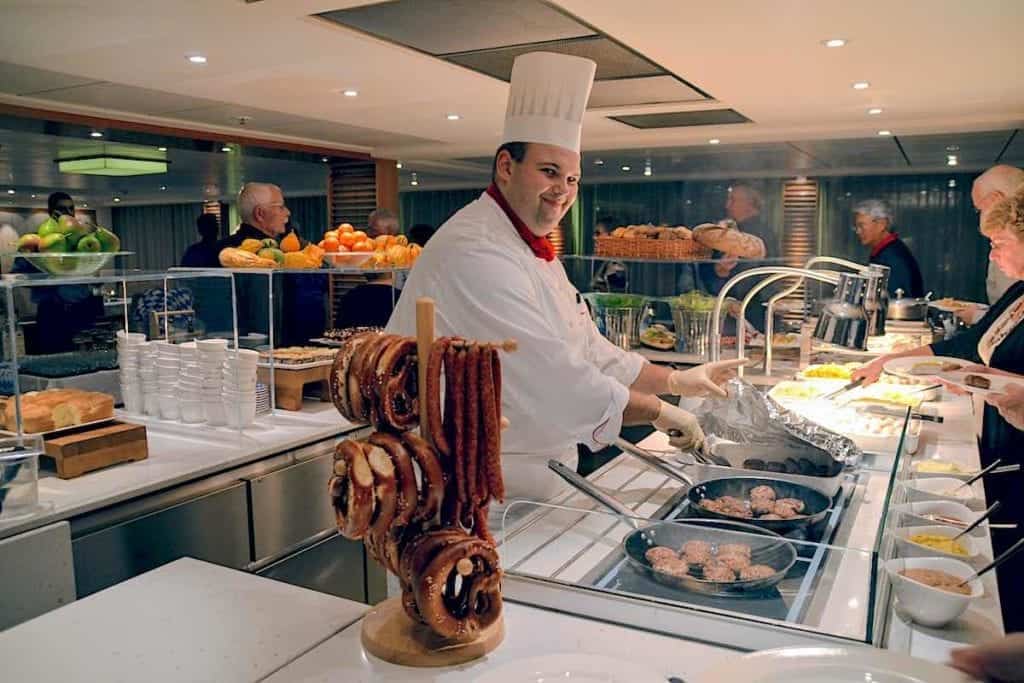 With only a couple of days left, and a lot of walking planned for my day in Cologne, I called it an early night. At least for me it was early…probably just after 11:00PM. After all that rich, tasty and delicious German food and of course a slice of Black Forest cake, 11:00 wasn't really all that early.
Day 13: Cologne: Chocolate, French Fries with Curry Sauce, the Cathedral and More
Cologne's a fun and funny place. So much history, fabulous food, great beer and a lot of odd museums. Not to mention the famous Cologne Cathedral, nearly untouched by the Allies in World War II.
I set out on my usual walking tour, happy to take a couple of new friends from the ship with me. First place I head to is the Cathedral.
Be sure to go downstairs to the creepy basement to see the crypts. Then a walk through downtown and maybe into the city a little bit deeper.
Depending on the season that you go, you could run right into Christmas Markets. Everyone was outside, eating or drinking or strolling the two-mile long waterfront promenade.
Viking Skadi docked fairly far down along the promenade, so Viking had buses to drive guests into downtown. For me, a longer walk meant I could justify a stop at the Schokoladen Museum for a slice of chocolate cake followed by a quick stop at the outdoor kiosk next door for french fries and curry sauce.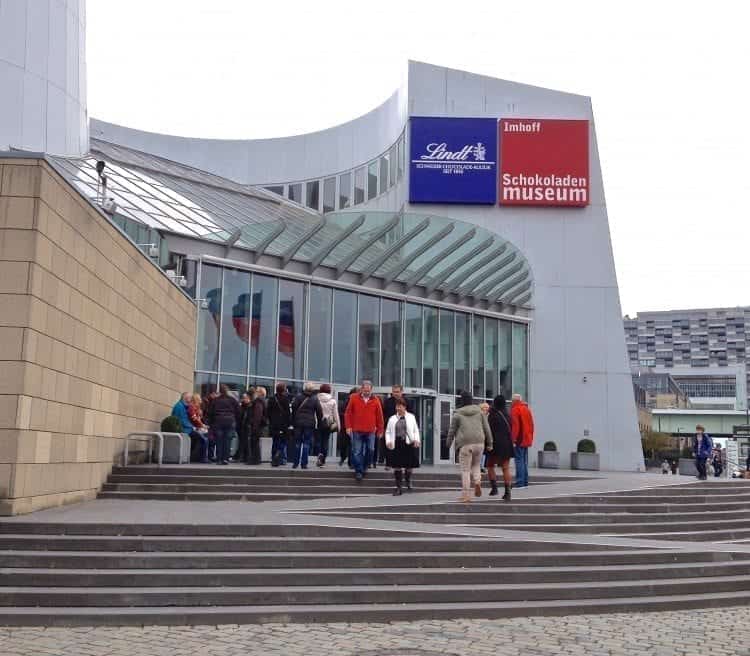 These were soooo good! A trip to Cologne isn't complete unless I stop at the kiosk near the Chocolate Museum for these hot, crunch, slightly spicy potatoes.
If all this food and walking during the day wasn't enough, Viking offered a nighttime optional ($) Beer Culture walking and drinking tour! And yes, I went along, not so much for the beer, but to walk with a group and see the city at night. A good time was had by all and we were back on board Viking Skadi by 11:00PM.
CONTINUING READING: Five Quirky Museums to Visit in Cologne
Day 14:
Kinderdijk Windmills – A UNESCO World Heritage Site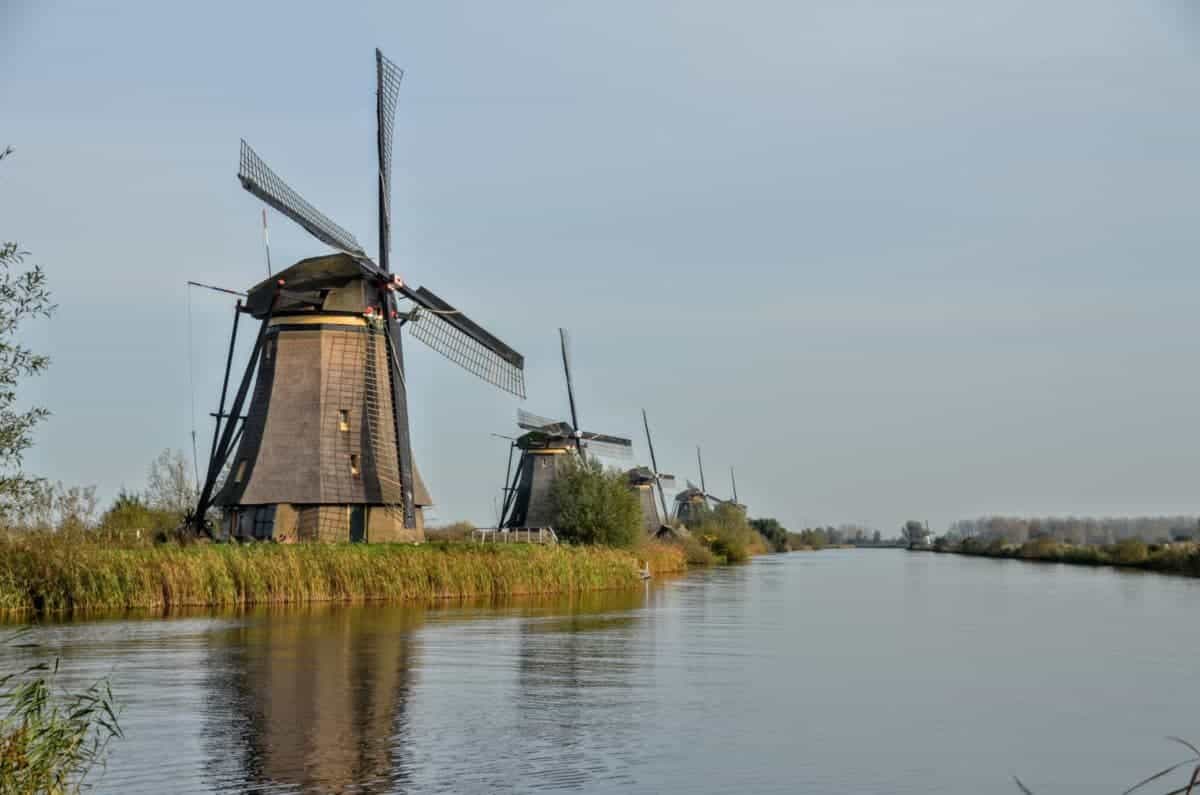 I already started to pack last night. Once we docked in Amsterdam, it would be time to hit the ground running. Also, I wanted to enjoy my wandering around time in Kinderdijk without worrying about the next day.
At 11:30am, everyone was invited to a Dutch Masters art lecture followed by some of Holland's best cheese and Jenever tastings. The cheeses were excellent samples of Gouda (correctly pronounced "How-dah"), Edam, and a Dutch Cheddar.
Jenever, if you're not familiar, is kind of, sort of a gin. But really, it's not gin at all except that they both are infused with juniper berries. Think Mescal or Aquavit…something to sip, though now used in craft cocktails.
Following all of this was lunch that I happily nibbled at in the Aquavit Lounge. With a 1:45PM arrival at Kinderdijk, I wanted to be ready and not sluggish.
For some reason, even on this beautiful sunny and warm late autumn day, this working windmill village was not crowded. There's a resident guide who explains the history and function of these 16 windmills, with all but one dating back to the 1700s.
The remaining two hours left plenty of time to wander. It's not easy to believe how old these windmills are but that they are actually functioning to lower the water table at this below-sea level town.
Take a walk through Kinderdijk in my article link below.
READ MORE: A Visit to the 18th Century Windmill Village of Kinderdijk, Netherlands
Tonight was the Captain's Farewell Dinner aboard our new home for the past week, Viking Skadi. As always, the last night's briefing was a bit sad as we recapped the past 14 days and all that had happened.
We traveled on three rivers, the Danube, the Main and the Rhine though four countries, visited more cities that we had days – 16 ports in total. Counted over 30 castles and fortress ruins, passed World War II monuments and landmarks all the time enjoying our two river ships; Viking Lif and by chance, Viking Skadi.
Day 15: Goodbye Viking, Hello Amsterdam and Beyond
Our early morning arrival into Amsterdam meant it was time to gather the last of my belongings, head into the dining room and leave with last minute goodbyes.
READ NEXT: My in-depth review of Viking Lif/Viking Skadi balcony cabin
Departure Procedure
Similar to departure morning on cruise ships, Viking does departure by time of your flight and a corresponding color-coded ribbon that you tie onto everything being transferred to the motor coach.
The first baggage pick up outside cabin doors began at 4:00AM. Bus transfers begin at 5:00AM for those with the earliest departures. The ship can also arrange for a taxi to take you to the airport.
Because I was independent, I was able to stay onboard until 9:00AM before taking a taxi to the train station.
My day would include a train to Paris for a five-day Seine river cruise, then two trains to Berlin for the 25th celebration of the fall of the Berlin Wall.
Finally, I'd catch another train to Hamburg and Queen Mary 2 back to New York. My two weeks with Viking, from Budapest to Amsterdam is a trip I'll always treasure.
To start from Day 1: Viking Grand European Tour Began in Budapest, Hungary.
Disclosure: I was a guest aboard Viking Lif and Viking Skadi for their spectacular Grand European Tour river cruise. As always, opinions are my own. There were no requirements on what to write or not to write.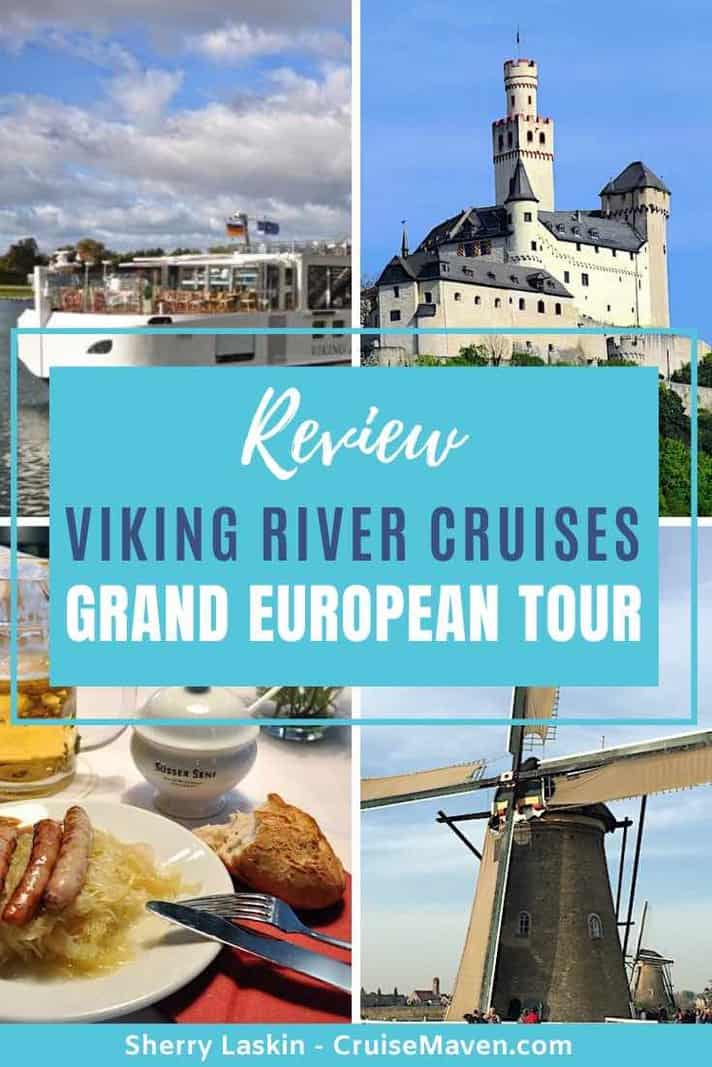 I'm the editor and creator of CruiseMaven.com, a solo traveler cruising the world on waves and wheels, collecting recipes along the way.  I hope my articles and photos entertain, advise and inspire you to travel the world without flying.  Take a breath…stop for a local meal and a glass of wine along the way.