Pick a port or destination and Cruise Plotter takes you there.
Okay, I'll admit that I'm fairly savvy in knowing what ship is going where and when…but only generally speaking, of course. No one can memorize thousands of itineraries and the ships that go there.
When I learned about Cruise Plotter (developed by the British company, DealChecker.co.uk) and checked it out, I thought it was a very clever and fun way to search for a cruise vacation.
Only a couple of clicks away.
Arrive at a cute interactive map that displays more than 200 cruise destinations around world and thousands of cruises from which to choose.
Always a skeptic, I cross-checked the results with a few cruise lines just to make sure that what I found on the Cruise Plotter was accurate. And it was.
Here's how it works.
To reach the Cruise Plotter, go to:  http://www.dealchecker.co.uk/cruise/cruise-plotter/
Once there, click, "Explore" and you're at the Cruise Plotter map.
Select a region or a port and from there it's self-explanatory. For example, click the little orange ship icons for Caribbean and then Eastern Caribbean.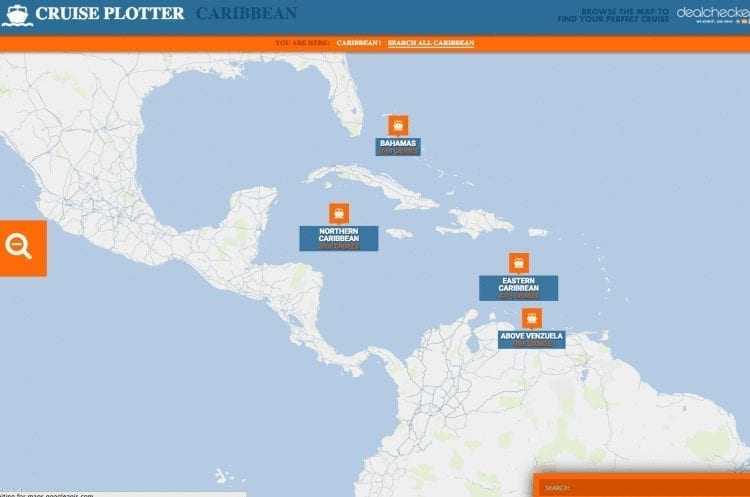 Another map pops up, this time showing the individual islands and another set of ship icons. Pick and island and voila! On the right-hand side of your screen is a list of cruises on Eastern Caribbean itineraries that include the particular.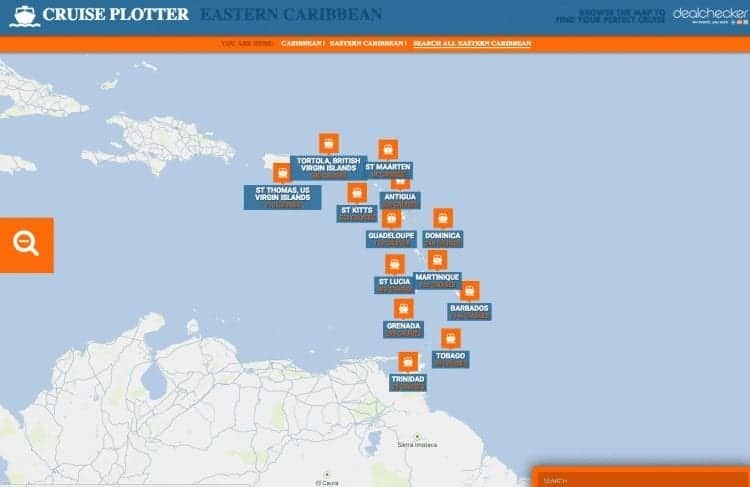 On the left side of your screen, is the ability to update your search. Using sliders, it's possible to select your cruise by price, date, length and/or cruise line.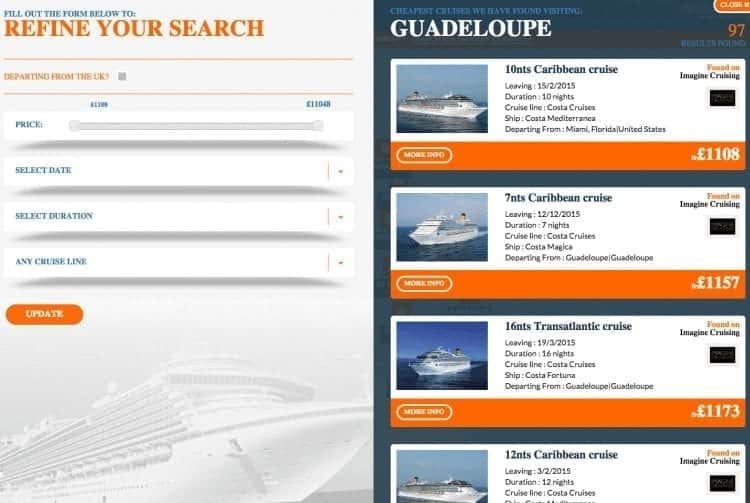 What cruise lines are included?
During my test run, I counted at least twelve different cruise lines offered among the various itineraries. These included:
Carnival
Celebrity
Costa
Cunard
Holland America
MSC
Norwegian
P&O
Princess
Royal Caribbean
Silversea
StarClippers
When you find a cruise that you like, just click on More Info and then Visit Provider. You'll be taken to a full-view screen with detailed information about that particular cruise with more information, prices and the option to enquire for more info.
Since DealChecker.co.uk is exactly that…a deal checker, you can compare deals from a handful of different travel agencies.
Curious? Head over to the Cruise Plotter and test drive this newest cruise finder tool. It's fun, interesting and a great way to plan your next cruise.
I'm the editor and creator of CruiseMaven.com, a solo traveler cruising the world on waves and wheels, collecting recipes along the way.  I hope my articles and photos entertain, advise and inspire you to travel the world without flying.  Take a breath…stop for a local meal and a glass of wine along the way.