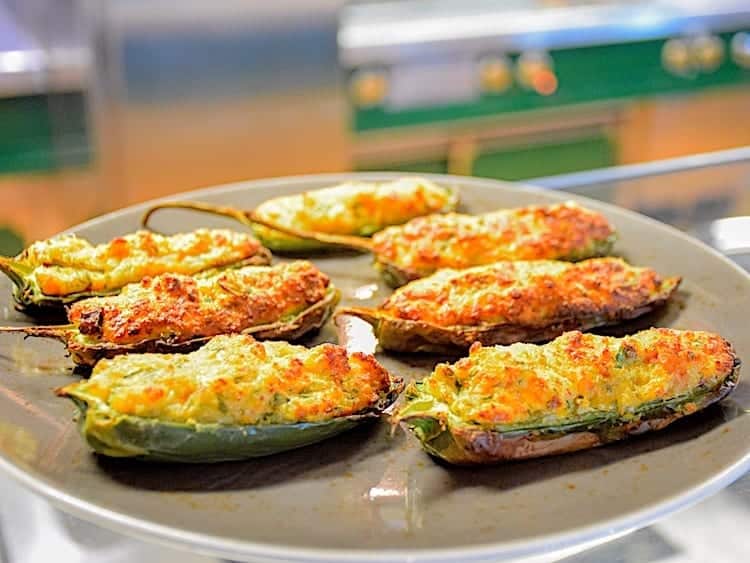 Here it was, only Day 5 of a 14-night transatlantic crossing and already I was back at my version of Foodie Central. It's Holland America's onboard partnership with America's Test Kitchen. The perfect way to pass time on a long cruise.
This Photo of the Day happens to be a plate of, you guessed it, bubbling hot jalapeño poppers.
The Test Kitchen labels their cooking demonstrations as "Courses" as though we were students at their actual online cooking school. This was Course 4 in the onboard series. Under the title of Getting to Know Chiles.
I mentioned it in an earlier post in this Photo a Day series. If you want to snag a good ringside seat at any of these demonstrations, plan to arrive 20 minutes before showtime. I'm serious. Especially at the beginning of your cruise when everyone is excited and looking for something foodie to do.
So back to the jalapeño poppers. Here's the America's Test Kitchen recipe.
Jalapeño Poppers
Spicy, a tad greasy and easy to prepare, these jalapeño poppers are terrific at a casual indoor gathering or outdoor BBQ. Makes 24 poppers.
Ingredients
6

slices

bacon

12

jalapeño chiles

halved lengthwise with stems intact, seeds and ribs removed

Salt

4

ounces

mild cheddar cheese

shredded, 1 cup

4

ounces

Monterey Jack cheese

shredded, 1 cup

4

ounces

cream cheese, softened

2

scallions

sliced thin

3

tbsp

cilantro, fresh

minced

2

tbsp

panko break crumbs

1

large

egg yolk

2

tsp

lime juice

1

tsp

cumin
Instructions
Adjust oven rack to upper-middle position and heat over to 500 degrees. Set wire rack in rimmed baking sheet. Cook bacon in 12-inch non-stick skillet over medium heat until crispy, 7 to 9 minutes. Transfer to paper towel-lined plate. When bacon is cool enough to handle, chop fine and set aside.

Season jalapeños with salt and place cut side down on wire rack. Bake until just beginning to soften, about 5 minutes. Remove jalapeños from over and reduce oven temperature to 450 degrees. When cool enough to handle, flip jalapeños to cut side up.

Mix cheddar, Monterey Jack, cream cheese, scallions, cilantro, panko, egg yolk, line juice, cumin and bacon together. Divide cheese mixture among jalapeños, pressing into cavities. Back until jalapeños are tender and filling is lightly browned, 9 to 11 minutes. Let cool for 5 minutes. Serve.

To make ahead
The filled and unbaked jalapeños can be covered and refrigerated for up to 1 day. Add 3 minutes to baking time.
That's all there is to it. Pretty easy recipe. Be sure NOT to touch your eyes when handling a jalapeño. I wear those kitchen rubber gloves like they do in restaurants, when handling chiles. Too often I've accidentally touched my eye and wow…the burn is horrible.
Read next: Cruise to Cozumel for Josefina's Kitchen Cooking Class
To compliment the cooking demonstrations and almost nearly as popular, are the large colorful recipe cards on display. Pick up your recipe card as you enter the Test Kitchen. They go fast and there's a limited amount per recipe. More stuff to lug home, but worth it.