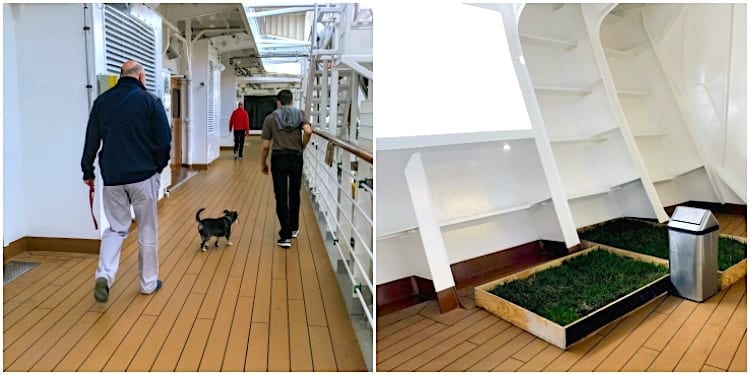 Dogs on cruise ships?
Today's pic of the day has gone to the dogs. Dogs on cruise ships, that is.
Yes, there are dogs on cruise ships. I've seen them on numerous occasions. Of course, Cunard's Queen Mary 2 allows dogs on cruise ships. Those dogs are classified as Pets and have their own kennel and even a Kennel Master. In addition, dogs must be considered Service Dogs, not Emotional Support Animals, to be permitted on any other cruise line.
While I've seen dogs on cruise ships on several cruise lines, I rarely can find their designated Go-pad. Formally referred to as a "Service Dog Relief Area". On this transatlantic crossing aboard Holland America's Koningsdam, I found the SDRA the first time I did a walk-around on the promenade. There, semi-hidden in a corner as the deck curved forward, were two wooden pallets, with a cushy layer of real sod. Lucky dogs.
Know the difference between Service Dog and Emotion Support Animal
Aside from Queen Mary 2, every cruise line seems to have its own Service Dog policy. Not to be confused with Emotional Support Animals, Service Dogs must be able to perform a specific task for the owner, according to policy. Here is Royal Caribbean's Service Dog rules. Carnival's dogs on cruise ships policy differs a bit as you can see if you compare the two cruise lines. Each cruise line makes a distinction between allowing Service Dogs and Emotional Support Animals.
Read next:  What's it like to take a transatlantic cruise?
Some ports of call may not allow you to bring your dog ashore.
Holland America doesn't completely state their Service Dog policy on their website (at least not that I could find) and directs you to contact their Access and Compliance Department. It's certainly worth your time and trouble to do so, considering the fact that they do indeed allow Service Dogs as you can see from my pic of the day.
I'm the editor and creator of CruiseMaven.com, a solo traveler cruising the world on waves and wheels, collecting recipes along the way.  I hope my articles and photos entertain, advise and inspire you to travel the world without flying.  Take a breath…stop for a local meal and a glass of wine along the way.