What if your employer wants you to relocate to London. Or you're lucky enough to spend a summer vacation in the pastoral English countryside. An apartment in Paris with your poodle? It would be wonderful to visit your relatives in England (or vice versa in America) without the need to board your pet at home.
There's only one cruise ship that features dog and cat kennels. Cunard Line's Queen Mary 2 has been transporting dogs and cats pampered in style across the Atlantic for decades.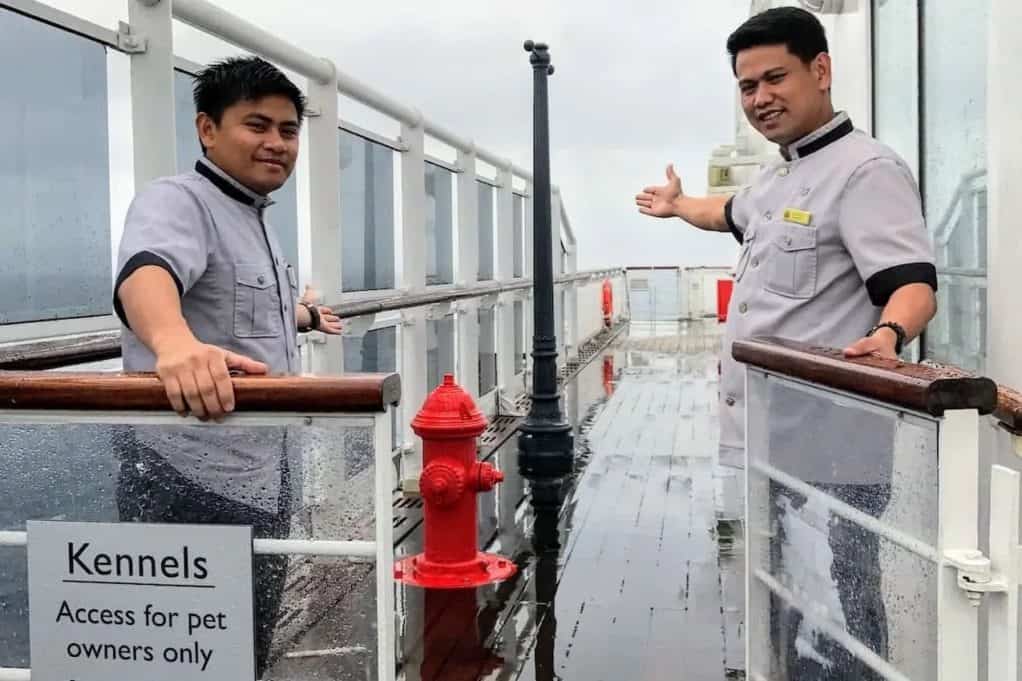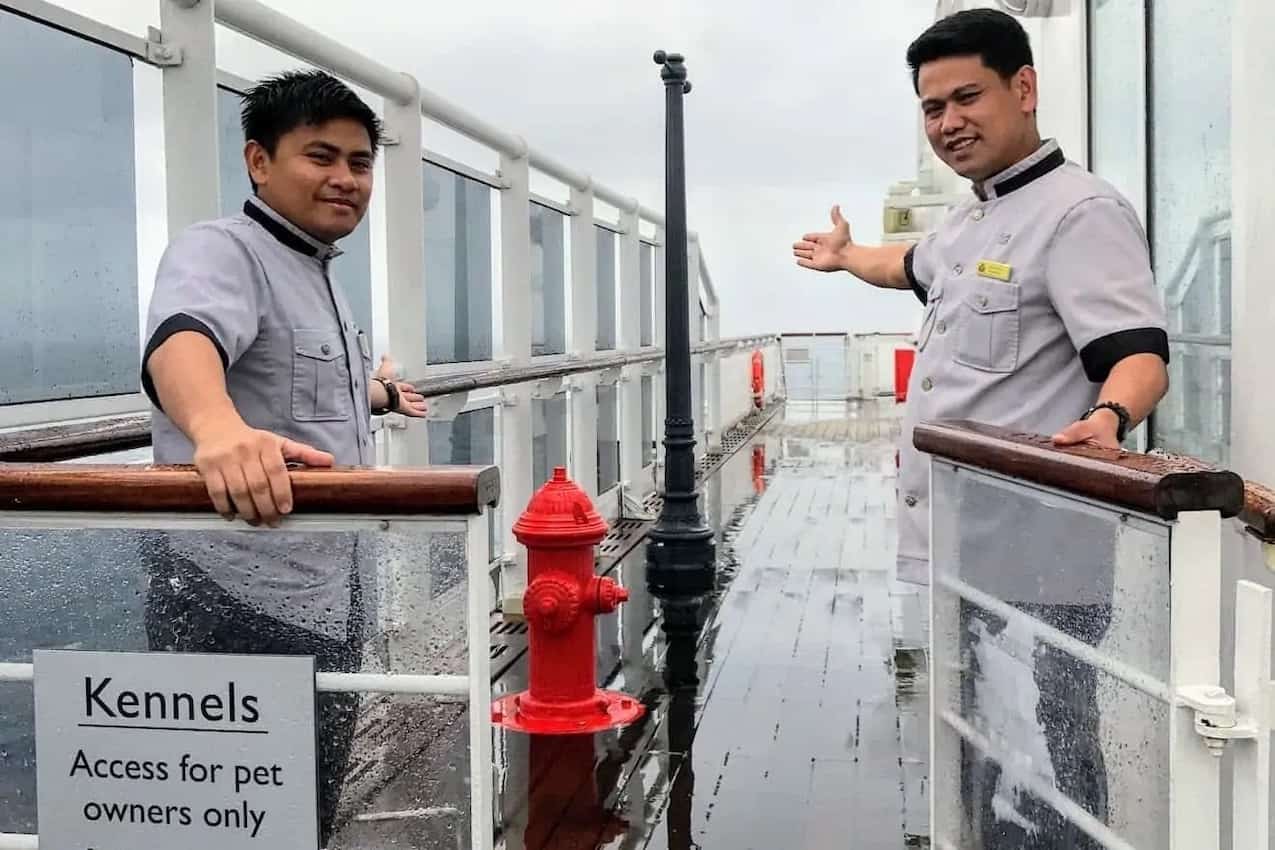 Cruise with Your Cat or Dog using Queen Mary 2 Kennels
If you want to bring your pet on a cruise, keep in mind that the kennels are only used on certain Queen Mary 2 cruises. You can cruise with your pet on either an eastbound or westbound transatlantic cruise between New York City and Southampton, England. Longer, back-to-back cruises aren't permitted. However, you could disembark in Southampton, stay a few days or weeks and then return to New York.
READ NEXT: What It's Like on a Queen Mary 2 Transatlantic Crossing
Queen Mary 2 Kennels
All you need to do is to book your personal Queen Mary 2 transatlantic crossing. Then if space is available, book the kennel for your pet. Again, Cunard's Queen Mary 2 is the only ship in the world that permits pets to cruise with their owners between the two countries. The only option to cruise with your dog on other cruise lines would be if it is a bona fide service animal.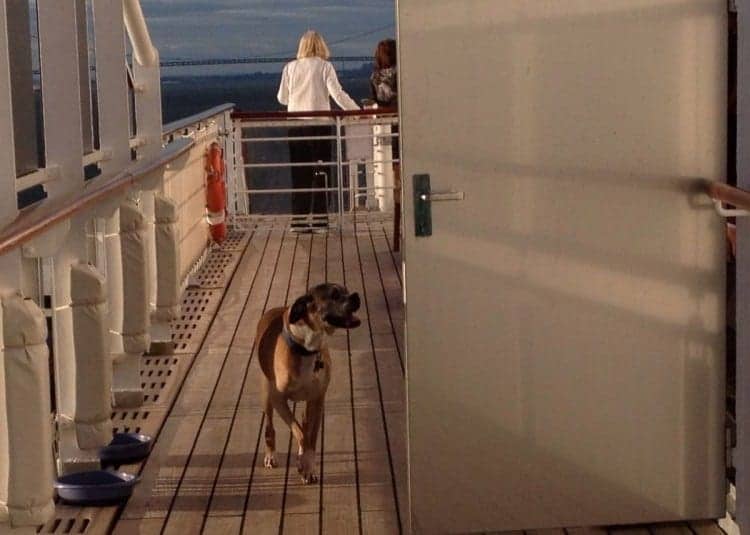 How Will My Dog or Cat Be Treated in the Kennel?
People aren't the only creatures that receive Cunard's legendary White Glove Service. In charge of the Queen Mary 2 kennels is the Kennel Master, who pampers, feeds and exercises the dogs outside on their own deck space and tends to the cats. If that's not enough, each canine or feline also receives a special welcome aboard gift.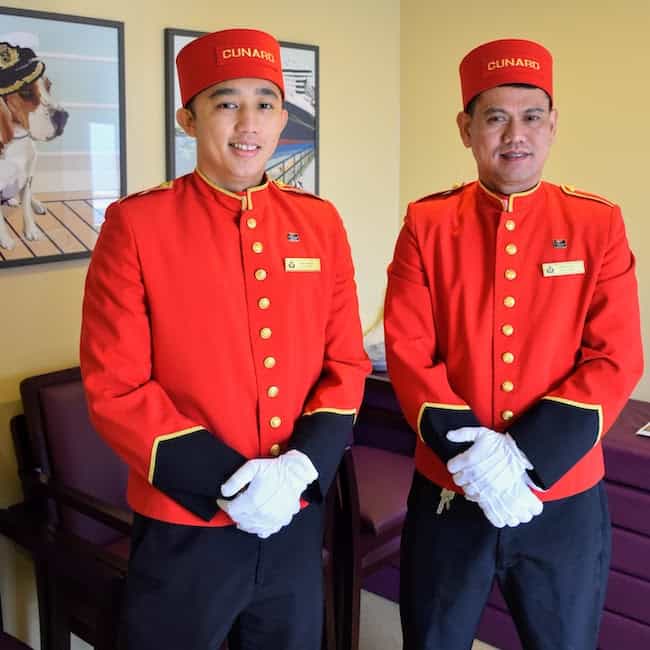 Following the Queen Mary 2 remastering in 2018, there are now a total of 24 kennels, 12 upper and 12 lower. Two lower kennels can be opened for larger dogs or just for more space. Cats are required to be on the upper level with two kennels, one for the litter box and one for the living area.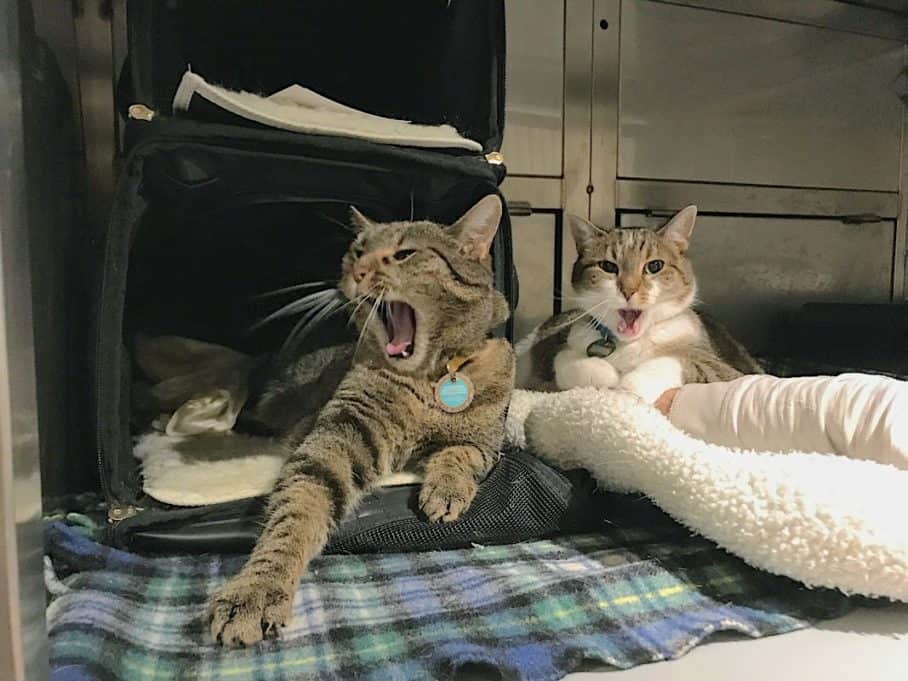 What are the Requirements to Travel with Pets?
For many years, to bring your dog into England meant six long months of quarantine, despite proof of vaccination. Now it's simple with the Queen Mary 2 kennels. You will need to complete a stack of paperwork prior to boarding, no matter which direction you will cruise.
Watch as Kennel Master Oliver leads the dog parade on deck. It was extremely windy!

Eastbound crossings from New York to Southampton:
Must be fitted with a microchip
Had a rabies vaccine 21 days or more before the cruise
Issued with an official Veterinary Certificate within 10 days of the cruise
Dogs must be treated against heartworm, 1-5 days prior to boarding
Westbound crossings from Southampton to New York:
Issued a current Health Certificate within 30 days before entry into New York
Rabies vaccine – check for the most recent update from the United States CDC
Note: If pet owners have an EU pet passport, the passport cannot be updated by a US or Canadian vet. It can only be updated by a UK or EU veterinarian.
Clearly, it's easier to bring your pet into the United States than into England. Today, the British quarantine period has been removed, provided the owner has fulfilled all of the requirements for cats and dogs.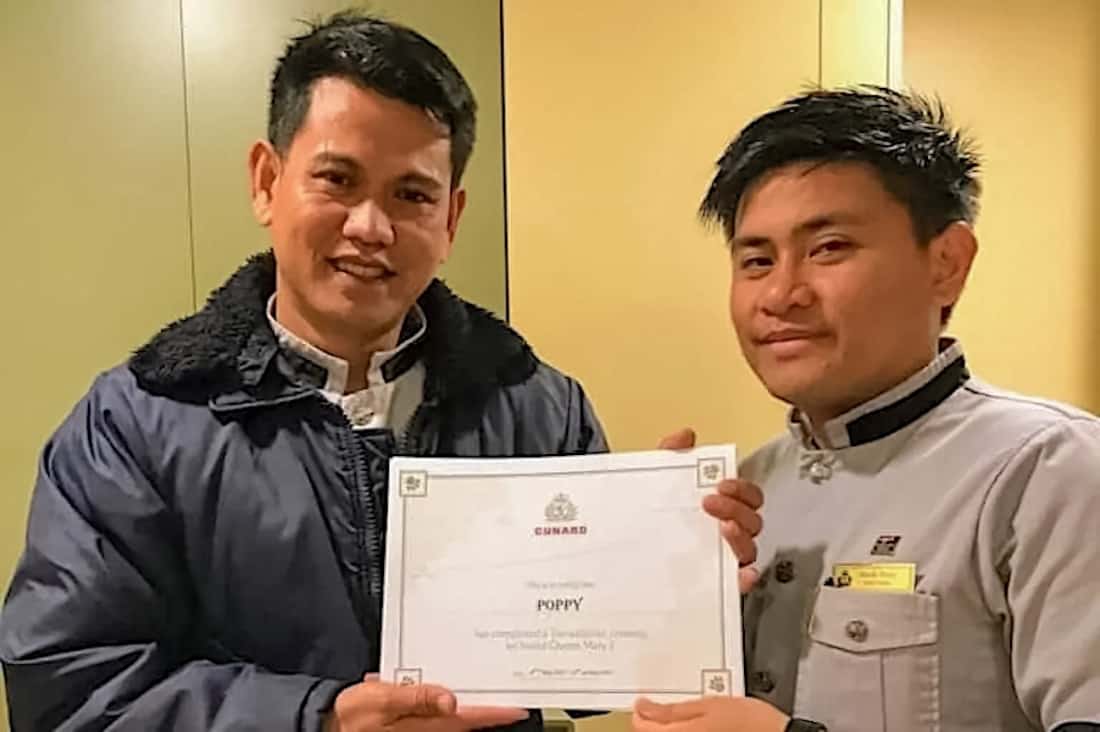 How to Reserve a Queen Mary 2 Kennel
It's important for you to reserve your Queen Mary 2 kennel as soon as possible. Usually, this can be done up to two years before the sailing. If you should request a particular sailing date and the kennels are already reserved, ask to be placed on a waiting list. People tend to reserve the kennels way ahead of time in the hopes of taking their cruise. Plans change and people end up canceling their reservation and there's a chance you'll get a kennel.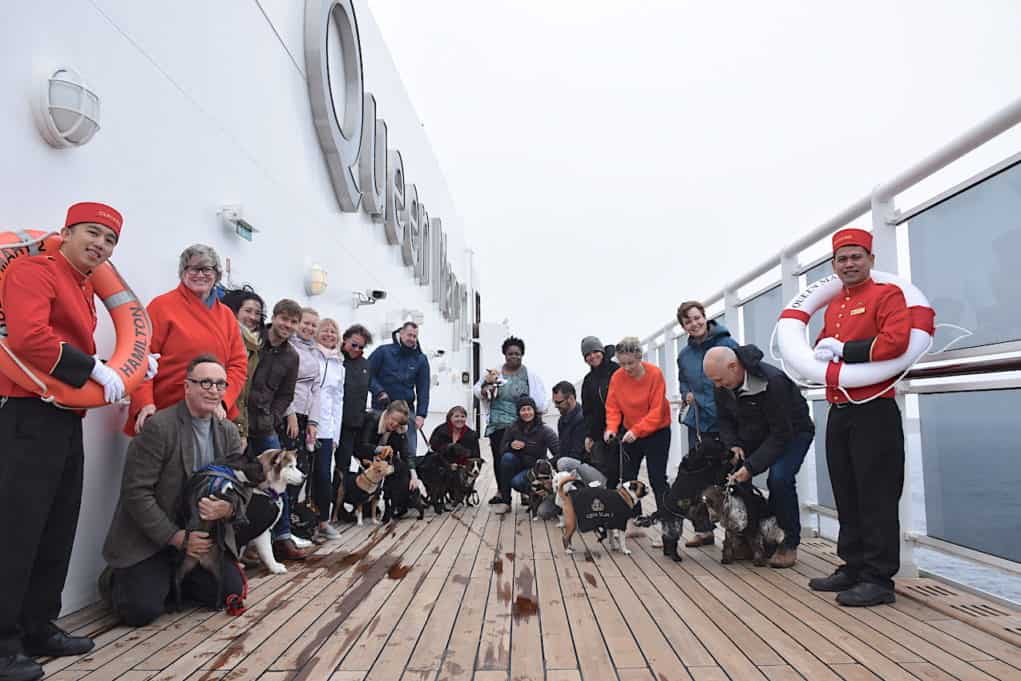 Is There Visitation Time During the Cruise?
Of course! While animals are not permitted in guest staterooms or public areas (except for service animals), owners may visit their pets at four scheduled times every day of the voyage. In addition to the outdoor, off-leash doggie area, there is also an indoor play space where the dogs can romp around off-leash, too, should inclement weather prevail. Visiting hours are:
8:00am to 10:00am
11:00am to 12:00pm
3:00pm to 6:00pm
8:00pm to 8:30pm
How Much Does a Kennel Cost?
Upper kennel $800.00 each – Dimensions: 27″ high, 35 1/2″ deep, 30″ wide.
Lower kennel $1,000.00 each – 36″ high, 35 1/2″ deep, 30″ wide.
Prices as of July 2018.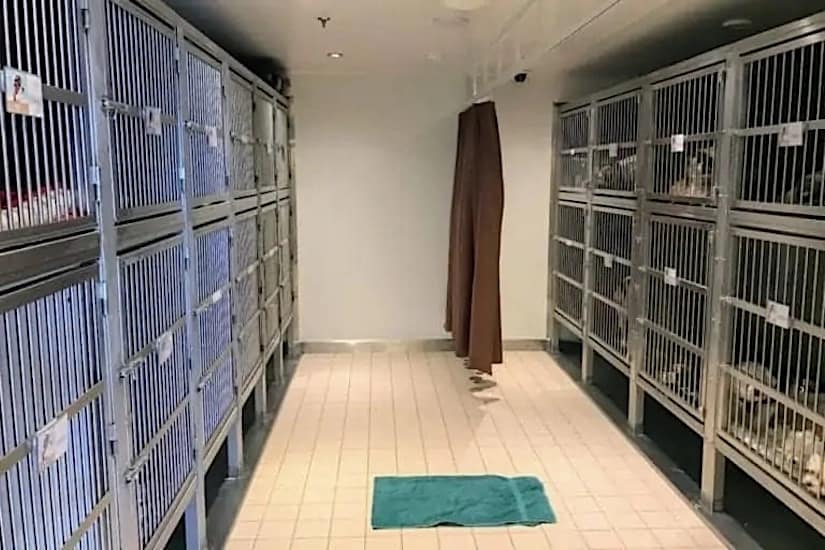 Anything Else to Keep in Mind?
Only dogs and cats and ferrets are allowed.
There is no veterinarian onboard.
Dogs may be walked onto the ship or in a kennel.
Cats must be brought onboard in a kennel.
Pets in the upper kennels must weight 26 lbs. or less
Lower kennels occupants are 26 lbs. and more
It's easy to arrange for you to travel with your pet between England and the United States. However, it is extremely important to follow the instructions exactly as Cunard states or your pet may not be allowed to even board the ship. Prices may change over time so consult Cunard for the most up-to-date kennel prices.
Why stress out your pet (and you!) when Fido or Fluffy can travel aboard the Queen Mary 2 and be a four-legged, pampered passenger for a week.
Note: Information here is from Cunard Customer Service, the department in charge of Queen Mary 2 kennel requirements.
PIN IT!

I'm the editor and creator of CruiseMaven.com, a solo traveler cruising the world on waves and wheels, collecting recipes along the way.  I hope my articles and photos entertain, advise and inspire you to travel the world without flying.  Take a breath…stop for a local meal and a glass of wine along the way.