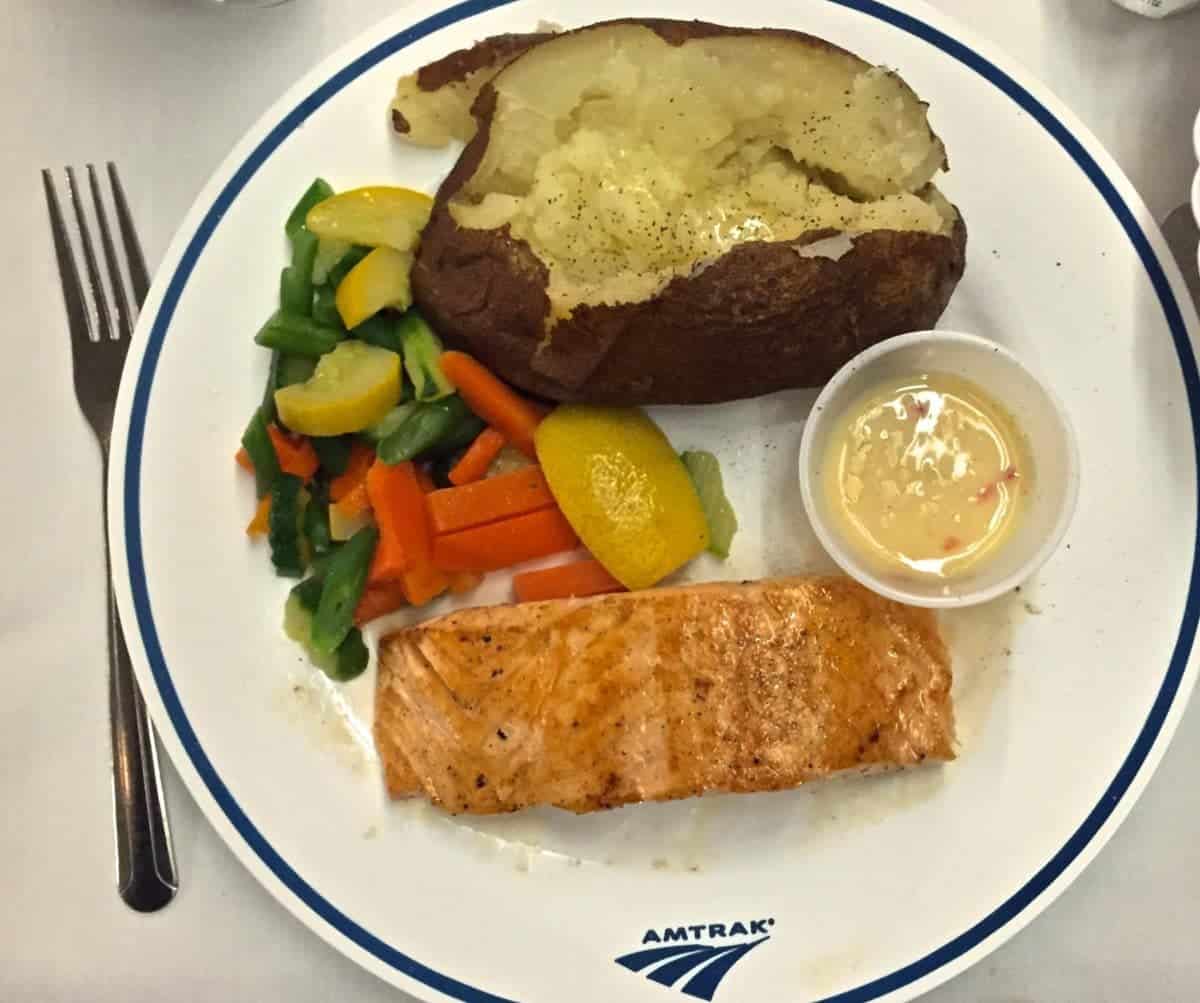 Will the traditional dining car become history?
UPDATE: Amtrak recently also discontinued the traditional dining car on the Silver Meteor.
Last year, Amtrak made an executive decision. They decided to eliminate the inclusive meals program in sleeping car passengers' fare aboard the Silver Star. The Amtrak Silver Star is one of two overnight Amtrak trains that run between New York City and Miami.
With the removal of the dining car, a substantially lower fare for sleeping compartments on the Silver Star was possible. A savings in the range of $150-$200 less than the Silver Meteor for a sleeper on the same route. The cost of rail fare, which is calculated separately, wasn't affected.
I recently traveled aboard the Silver Star to experience the overnight trip without a dining car. Sleeping car passengers would purchase their meals à la carte in the Café Car. It seemed like a reasonable, cost-saving alternative.
Note to self: next time pack food.
When I arrived early into New York Penn Station, I briefly thought about buying a large salad or sandwich to bring aboard the train for lunch, but without a cooler, I decided against it. It was two hours until our 11:02am departure and I had no way to keep something cold.
Before I booked the Silver Star, I glanced at the online Amtrak Café menu. My favorite chipotle black bean burger was listed. That would be for dinner. For lunch I'd get snacks.
All aboard and we left Penn on time. Shortly thereafter, I walked to the Café Lounge car to purchase my lunch. But the menu posted on the wall didn't match the menu I had just viewed online. No chipotle black bean burger.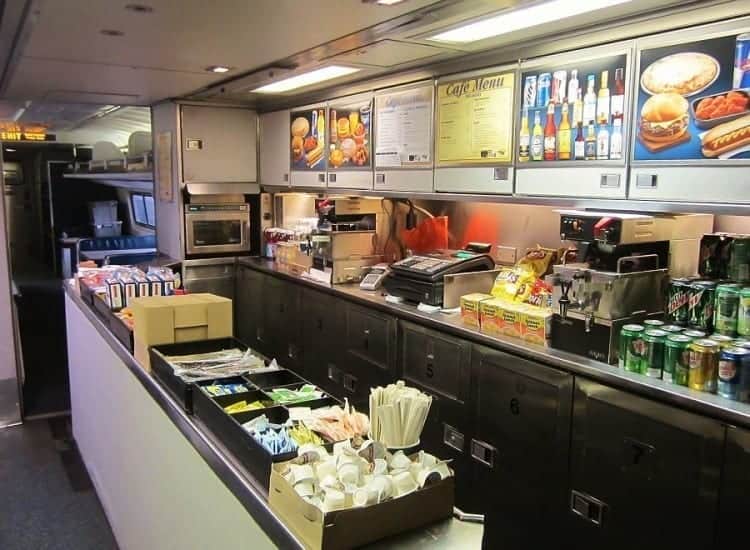 For lunch, the line to order was short. Within 5 minutes I was on my way back to my roomette with a chicken Caesar wrap and a bag of chips.
Holiday travel aboard Amtrak trains means sold-out capacity. On this trip, sleepers and coach seats were filled. With no dining car, nearly 400 passengers could make their way to the café car at dinner time, staffed by only one hapless soul who would have to work nearly non-stop without assistance.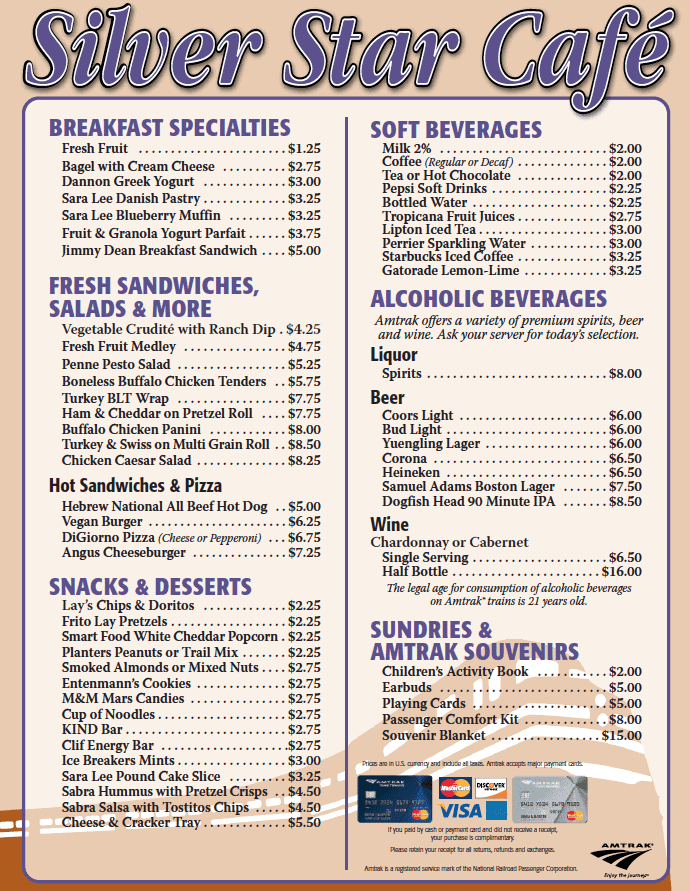 Dinner without a diner was heading for disaster.
At 5:30pm when I headed through the train towards the Café car to buy dinner, there were 20 people in line from the sleeping cars.
The Café Car is located between the coach cars and the sleeper cars. Thus, two lines formed: one from the coach section, which I couldn't see, and the other from the two sleeper cars. And only one café attendant to handle it all. Back to my roomette I went.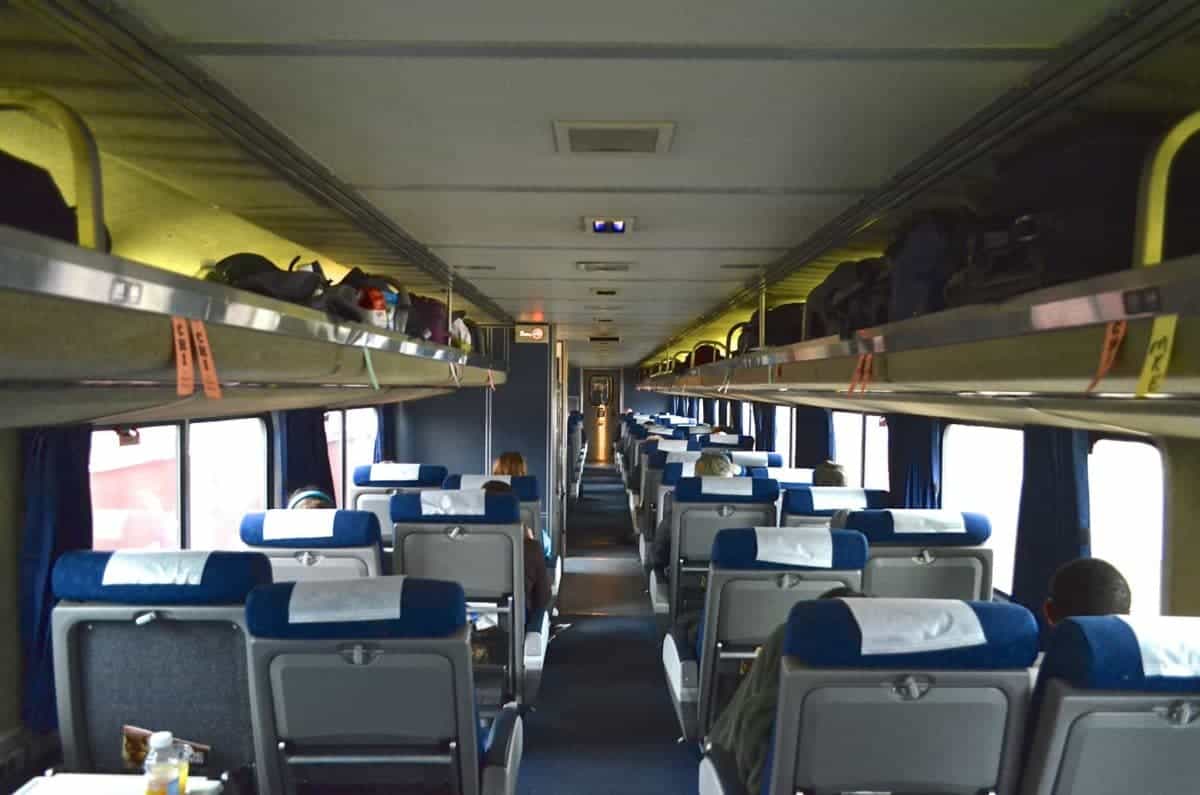 What a mistake. At 6:15 I decided to venture back to the café only to find the line had tripled. I was out of snack food. Luckily, sleeping car passengers still receive free bottled water, juice and in the morning, fresh coffee. If breakfast items sold out, I had a packaged slice of Sara Lee pound cake from the Acela lounge at Penn Station. Worst case, I'd have hot coffee and squishy pound cake for breakfast.
Ask your sleeping car attendant for room service.
Then I remembered something crucial on the press release. Sleeping car passengers can order their café meals from their car attendant and still have some semblance of room service.
I pressed the sleeping car attendant's call button and Nicholas quickly appeared. I handed him $20 and requested a cheese pizza, if it was still available. Car attendants don't have to wait in line; they can go behind the café counter and purchase, prepare and head back to their car in minutes. Unless of course the line was so long that he needed to pitch in to help the overworked café attendant. Which he kindly did.
About 45 minutes later, Nicholas returned with my pizza but just steps away from handing it to me, the train lurched around a turn and the small, microwave pizza slid right out of the tray. Back to the Café Car.
This time, nearly 8:30pm, Nicholas safely returned with another pizza. I closed the door to my tiny roomette, pulled out the hidden table and happily ate my beleaguered pizza. I had a small bottle of wine that I brought from Europe, so all was well.
What was Amtrak thinking?
This was an experiment of chaos in motion. A train full of hungry, pre-Christmas passengers and by 10pm food had nearly run out. Rumor was that more food would be delivered en route, but that never happened.
The travel time between New York City and Miami is about 25 hours, if the train is on time. Without food, ridiculously long lines and no option to purchase anything during our brief station stops, passengers traveling to Florida must have been anything but thrilled.
Economical coach passengers usually bring a small cooler bag filled with snacks, sandwiches and beverages for the duration of their journey. Sleeping car passengers rarely carry along food since meals are included throughout the trip.
Under non-holiday circumstances, having only one person to staff the Café might have gone on without too much trouble. Unfortunately, with the Silver Star's eight passenger cars filled to capacity, the current plan didn't work.
Is there a solution? Will Amtrak bring back the dining car to the Silver Star and subsequently raise the cost of the sleepers? Past experience has taught me that once a feature is removed from any form of transportation, it rarely makes a comeback.
At first, I thought this was a good idea. Offer a cost-saving way to purchase a sleeper and experience an overnight train trip in a cozy bed. Maybe more people would buy a sleeper. Maybe not.
If I ran the zoo.
Here are my suggestions to avoid a train full of disgruntled Amtrak Silver Star passengers who won't want to travel again with Amtrak. Exactly the opposite of what I imagine was the intention of Amtrak with this new policy.
The way I see it, there are three possible ways to resolve this disastrous situation in the future.
1. Add a second café car for the sleeping car passengers.
2. If using only one Café car, add a second attendant, one for the sleeping car guests and one for those in coach. One person simply cannot efficiently work both queues. And it will avoid ugly arguments between passengers about who was next in line. Seriously.
3. Plan for holiday crunch times and order enough food from the vendors so meals aren't depleted and passengers are properly fed. Assuming you've already addressed either 1. or 2. above.
When the sun came up the next day, I walked to the refreshment station at the end of my sleeper car. With a steady hand, I went back to my roomette and enjoyed a steaming cup of coffee and the still-squishy Sara Lee pound cake. No way was I about to venture back to the Café car. All was fine.