As travel picks up steam, and train enthusiasts like myself begin to plan our Amtrak train trips, this greenhouse gas reduction pledge shows light at the end of the proverbial tunnel.
We're at the beginning of one of the most transformational changes for passenger rail in the U.S. For years since its beginnings in 1971, Amtrak has been chomping at the bit to modernize and compete in the international train world.
On April 22, Earth Day, Amtrak announced plans to reduce 40% of greenhouse gas emissions with a full transition of all onboard electricity to carbon-free sources by 2030.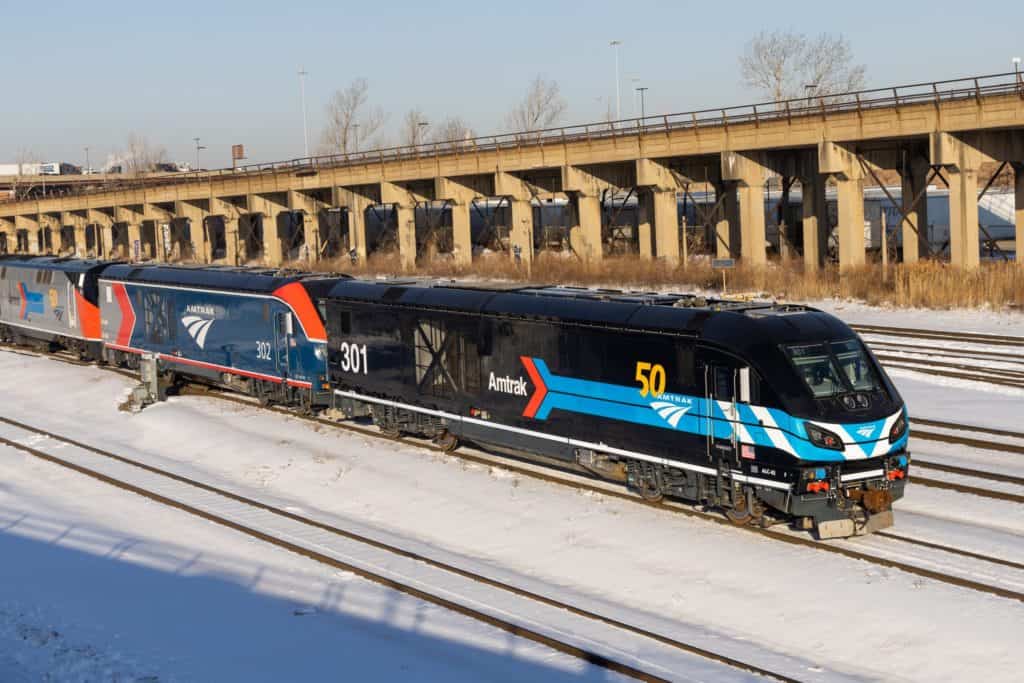 As a part of this plan, Amtrak's new ALC-42 locomotives will reduce air pollution and greenhouse gas emissions when compared to the old 1990s fleet being replaced.
The new locomotives 301 and 302 are among the first of 75 locomotives being delivered through 2024. They reduce emissions of nitrogen oxide by more than 89 percent and particulate matter by 95 percent. They'll burn less fuel than the locomotives being retired and can reach a top speed of 125 mph.
"The United States has the opportunity to make use of an unparalleled asset—our railway infrastructure—to support an expanded network of low-carbon, high-capacity intercity passenger rail that can reduce this country's carbon emissions," said Amtrak CEO and President, Stephen Gardner. "Creating a future where rail is operated on clean energy, Amtrak is stepping up to President Biden's Climate Change Commitment and the FRA's challenge as we aim to transition to carbon-free electricity to power our trains."
For travelers concerned about the environment, according to Amtrak, their trains emit up to 83% fewer greenhouse gases per passenger when compared to driving. For flying, Amtrak's footprint is 73% less than airplanes.
From 2010 to 2019, Amtrak reduced greenhouse gas emissions by 20%. This is equal to powering the homes of the entire population in Richmond, VA.
Amtrak has introduced several initiatives towards energy efficiency upgrades by using as little fuel as possible and running more efficient locomotives. Another reason to be excited about these new energy-saving plans is to simply take note as Amtrak continues to reduce fuel and energy use year-over-year.
Acknowledging the impact of climate change to local communities, Amtrak is also developing a company-wide climate resilience plan to ensure the company will continue to provide reliable and safe service as climate conditions change.
I'm the editor and creator of CruiseMaven.com, a solo traveler cruising the world on waves and wheels, collecting recipes along the way.  I hope my articles and photos entertain, advise and inspire you to travel the world without flying.  Take a breath…stop for a local meal and a glass of wine along the way.