Amtrak has introduced a new upgrade bidding program and it's called BidUp. Basically, just like with other travel programs where you place a bid, with Amtrak's BidUp, you could find yourself in Business or First Class on your train ride.
Amtrak BidUp for Premium Service Upgrade
If you've ever traveled in a coach seat on Amtrak, you know that the seats are spacious. There's plenty of room to stretch out your legs and wide enough to not bump elbows with your neighbor. But if you want a more premium train experience on your Amtrak trip, try BidUp.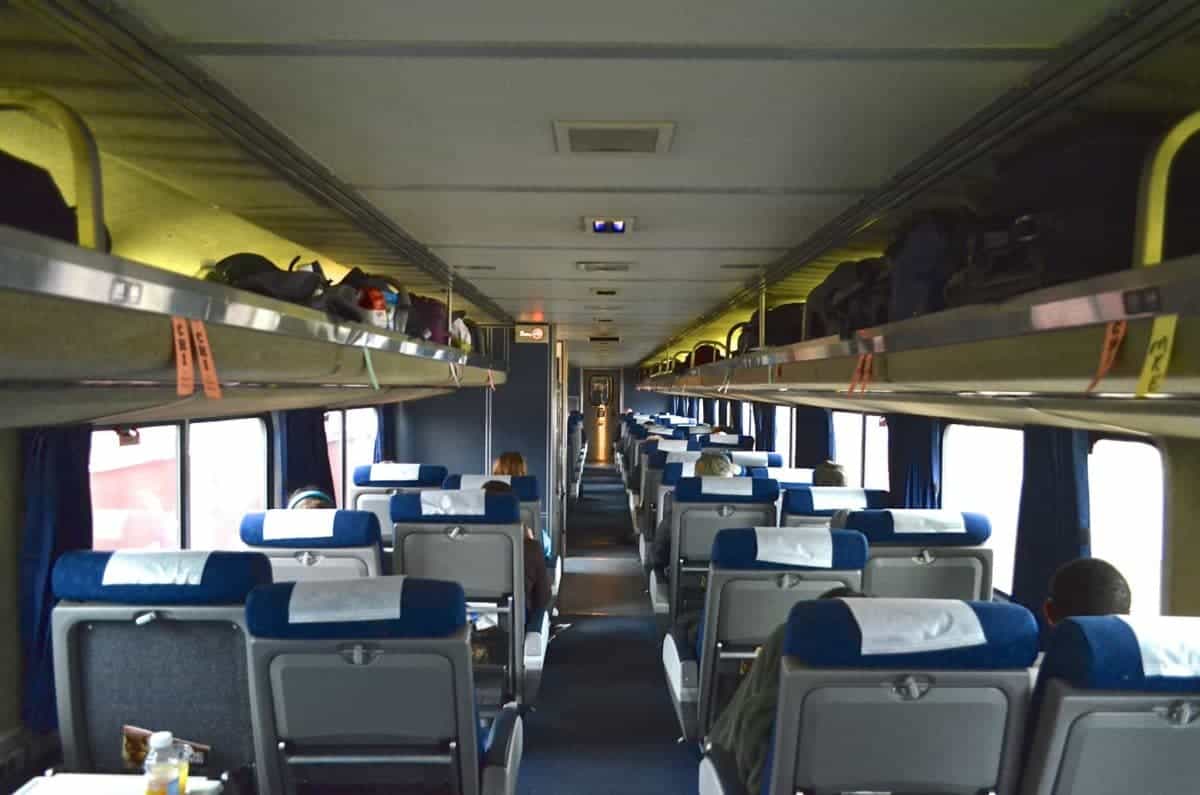 If you're booked in coach on select routes, you can have a try at bidding up for an upgrade to Business or First Class. Currently, Business Class seats are available on 17 Amtrak trains. First Class is a feature aboard Amtrak's Acela fleet between New York and Boston.
What Amtrak Trains Have Bidding?
The initial roll-out of BidUp covers several train routes in the Northeast. These include the Northeast Regional running between Boston and Virginia Beach, the Palmetto between New York and Savannah, Georgia, the Carolinian for travel between New York and Charlotte, NC and the Vermonter running between New York and St. Albans, Vermont.
Business Class offers riders a dedicated car or section on the train, even more legroom and reserved seating. If you belong to Amtrak Guest Rewards, you'll receive a 25% point bonus if you win your bid to upgrade to Business Class.
READ MORE: Amtrak Viewliner Roomette Review and Photos
How to Bid With Amtrak BidUp
If you have an existing reservation, visit Amtrak.com/BidUp. Check eligibility up to two hours prior to departure. If eligible, place a bid to upgrade your reservation into one of the premium classes of service: Business Class (most corridor routes) and First Class (Acela).
You can view upgrade options for your scheduled trip and then submit a bid for an upgrade to your itinerary. Amtrak does not charge a fee to place a bid and will also will provide tips on how to increase the chance of winning an upgrade.
You can modify or cancel your bid and will not be charged unless the upgrade is awarded.
If you have a winning bid, you'll will receive a new ticket prior to the scheduled departure.
Other terms and conditions could apply. More details can be found at Amtrak's BidUp page.
Amtrak Guest Rewards members will be able to earn two points for every dollar spent on their trip. This is in addition to bonus points for Business Class and First Class tickets.
"BidUp is a great way for more Amtrak customers to enjoy our premium services," said Roger Harris, Amtrak Executive Vice President/Chief Marketing and Revenue Officer.
Upgrades on Acela Trains
All Acela First Class and Business Class ticket holders receive some very nice amenities.
Reserved seating
You can arrive at the station just minutes before departure
Convenient electrical outlets and conference tables
Adjustable lighting and large tray tables
However, with a First Class Acela ticket, you'll receive priority boarding a select stations, complimentary meal service at your seat, access to Acela and Metropolitan Lounges. Guest Rewards members will receive a 50% point bonus, too.
The only thing you can't do at this time is to use your Guest Rewards points if you win the bid. You can't pay with points.
The Future for Amtrak BidUp
There is talk of expanding Amtrak BidUp to more routes. Not only to coach seats, but there's also rumor that soon you might be able to bid on sleeping accommodations, too. If that should happen, I know the first person who'd place a bid! There's nothing better than having your own sleeping compartment on a long-haul or even a one-overnight train trip.
I'm the editor and creator of CruiseMaven.com, a solo traveler cruising the world on waves and wheels, collecting recipes along the way.  I hope my articles and photos entertain, advise and inspire you to travel the world without flying.  Take a breath…stop for a local meal and a glass of wine along the way.