Pat Woods is a widely-published travel and cruise writer based in Arizona. She's also terrific storyteller as you'll find out when you read her tales from the tundra. Well, maybe not that far north.
Pat's cruise to Alaska began in Seattle….
By Pat Woods, Guest Contributor to CruiseMaven.com
To celebrate our anniversary, husband Rob and I took a 7-day Alaska cruise on Holland America's ms Oosterdam. We enjoyed seeing God's natural wonders from a safe and comfortable ship–giant glaciers, abundant wildlife, majestic peaks and luscious rainforests.
Embarking in Seattle on a sunny Sunday, we saw Mt. Rainier from the ship's stern pool. After attending the lifeboat drill and Catholic Mass, we enjoyed a five-course dinner with other guests fromLos Angeles and Dallas.
After dinner, we listened to the Adagio Strings quartet play selections by Mozart, Bach and Schubert in the Explorer's Café. Other guests played Bingo, watched a comedy show, gambled in the casino, sang along in the piano bar and danced.
A sea day highlight was Tracy Arm, a scenic fjord with steep granite walls carpeted in green Sitka spruce striped by long cascades of whitewater. Within a one-hour time span, we had rain, snow, hail and momentary sunshine. Some guests watched the scenery indoors from the forward observation deck. We donned warm jackets to experience the glacier on an outdoor deck. During the brief hail storm we ducked into theLidobuffet for hot tea.
Fabulous food
We ate most meals in the bi-levelVista dining room. As You Wish dining enabled us to eat with pleasant, friendly people from around the U.S. andCanada.
The Pinnacle Grill ($10 lunch, $25 dinner) provides elegant china, stemware and linens for a romantic dinner for two or a special group celebration. Dinner at the Pinnacle Grill is table side food theater at its finest. Servers lace lobster bisque with aged cognac, flambé entrees and desserts such as Baked Alaska. Creative chefs go beyond simply preparing mouth-watering dishes. They create food artistry.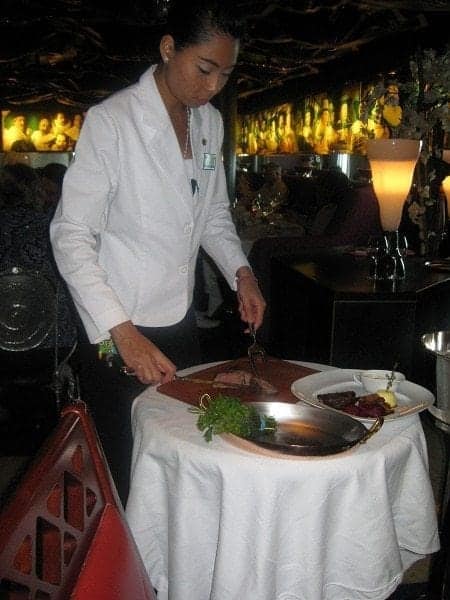 One night during each cruise, the Pinnacle Grill transforms into the legendary Le Cirque ofNew York City, ranked among the world's best restaurants ($39 dinner, $59 dinner and wine pairing).
For our Le Cirque dinner, we had delightful lobster salad and butternut squash with huckleberry soup. Lucia, our efficient and attentive server, sliced Rob's Chateaubriand table side. My seared Alaskan Black Cod was prepared with a red wine reduction. For dessert, I chose a decadent Napoleon with fresh berries, while Rob ordered his favorite, Crème Brulee.
Friendly port towns
During our 7-day cruise, we visited threeAlaska ports plusVictoria, B.C. Unlike some popular destinations where previous visitors have worn the welcome mat thin, Alaska ports are friendly and safe. Juneau, Sitka and Ketchikan warmly welcome visitors from May through September.
Southeast Alaskans are friendly, outdoor types who favor rubber boots, Levis and hooded sweatshirts. They're often seen with large dogs, rugged like the Last Frontier they inhabit. Despite frequent rain, locals do not favor umbrellas—which are for wimps.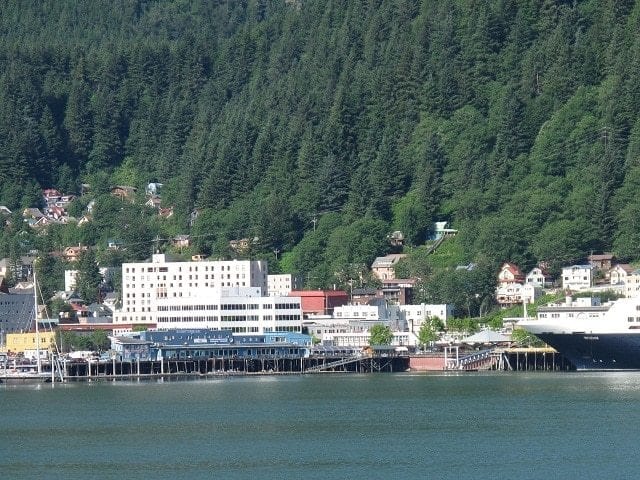 Juneau developed quickly after the 1800s gold rush. Today cruise ships dock in city center, enabling guests to walk to dockside tour vendors, shops, the library (get/send email) and the Red Dog Saloon. www.traveljuneau.com, 1-800-587-2201.
Mount Roberts Tramway's cable cars carry visitors up a steep mountain to a Visitor Center, nature center and gift shop. The view is spectacular, and the gift shop purveys authentic Alaskan artifacts.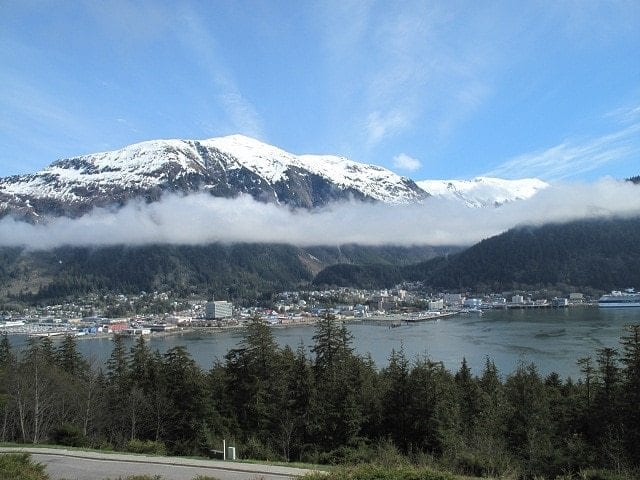 Juneau's best-known attraction, Mendenhall Glacier, is a 15-minute ride from downtown. Cruise ships sell various motor coach tours. Take an Express bus from the cruise ship dock to Mendenhall for $8 each way. Visitor Center admission $3, free with a National Park pass.
Don't miss the movie and accessible trails maintained by the U.S. Forest Service. We saw a porcupine back down one tree and scamper up another. On a previous visit, we saw a mama bear and her cubs eating salmon in the stream.
Set in the Tongass National Rainforest, Glacier Gardens is a unique family-owned botanical garden The Visitor Center brims with hanging baskets of fragrant petunias. Outdoors, we enjoyed photographing the unique upside down flower trees.
We rode a covered golf car up a steep trail through the rainforest as our driver shared the garden's history. At the top, we got out for stunning airport views and photo ops. www.glaciergardens.com. 907-790-3377.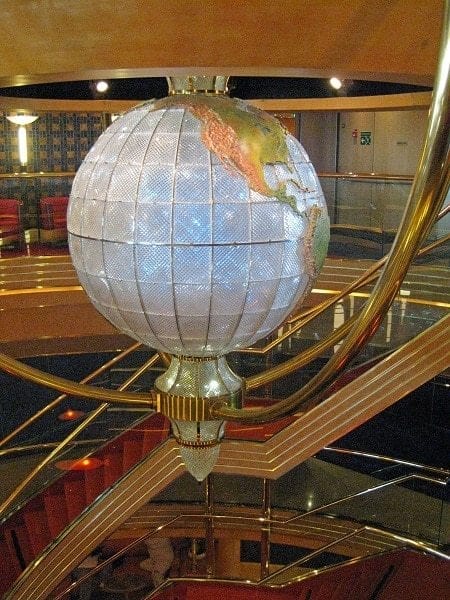 On-board activities
Built in 2003, the Oosterdam caters to a wide range of interests. To work off calories, we hit the fitness center and walked around the promenade deck. Other guests took digital computer or cooking classes, attended art auctions, played trivia or cards, visited the spa, took afternoon tea and socialized in lounges. More active guests played basketball and volleyball.
Throughout the voyage, we heard few complaints from fellow passengers. As expected, outdoor temperatures inAlaskawere cool in mid-May—ranging from the high 40s to low 60s.
You won't need a pricey wardrobe to experience Alaska's laid-back, friendly ambiance. Wear sturdy shoes and dress in removable layers. Dozens of ships ply Alaska waters between May and September.
Photo credit: Pat Woods, Rob Woods, Holland America and the Juneau CVB