There are river cruises…and then there are river cruises. Just like Caribbean cruises, Europe river cruises visit most of the same ports and cities. With so many similar itineraries on the rivers of Europe, what makes AmaWaterways river cruises stand out from the rest?
Every river cruise line has their high points that distinguishes them from the pack. So what makes AmaWaterways different?
Here are my ten reasons why I like AmaWaterways river cruises.

10. Complimentary bottled water

What I've learned after spending nearly two years cruising the rivers of Europe on a half-dozen different river cruise lines is that each line has their own version of "bottled water." AmaWaterways actually replenishes your cabin every morning with name-brand bottled water.
One cruise line which shall remain unmentioned bottles their own water into glass carafes which they seal with tape. At the beginning of the cruise I was given two name-brand bottles of water and told to refill those for the duration of the cruise from the carafe. Yuk.
AmaWaterways wins in the bottled water category, for sure.

9. AmaWaterways waitstaff doesn't run away with the wine (or beer) as you're finishing dinner.

Like all the river cruise lines in Europe, house wine and beer is complimentary with lunch and dinner. The difference is that on some other cruise lines, the wine stops being poured way before the dinner plates are cleared. Not so with AmaWaterways.
The waiters can't seem to be more generous, always refilling or topping off your glass before you need to ask. That's the way it should be, in my opinion. Did I mention free sparkling wine every morning with breakfast? Hello Mimosa!

8. Evening city tours – after-dinner walks and concert performances

Many AmaWaterways river cruises offer evening walking tours in Europe. They've chosen some great wineries to visit that are only a short walking distance from the dock. Most if not all of the river cruises along the Danube include an optional Mozart concert in Vienna.
The difference is in the auditorium or theatre that is used. The venue that AmaWaterways uses isn't too far from the dock, has excellent acoustics and comfortable seating. There is an up-charge for this optional tour but it's a MUST-SEE experience.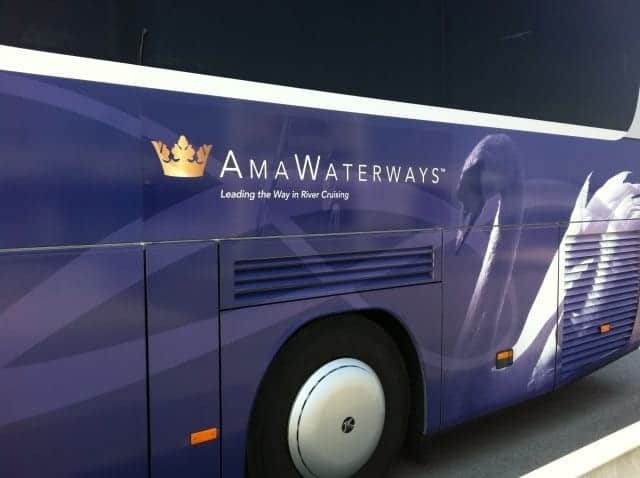 7. AmaWaterways has their own motor coaches in many cities with qualified drivers.

This is a safety issue first, comfort second. I've been on many shore excursions with other river cruise companies. On one particular trip as we headed back to the boat, the coach driver played chicken with an oncoming local bus on a two-lane road in the middle of nowhere Serbia. He probably did not have a job the next day.
The interiors of the coaches can vary as much as the skills of the driver, too. AmaWaterways owns coaches (not all, but some of them) which helps ensure consistency and safety for all.

6. AmaWaterways pays it forward. In other words, they give back.
AmaWaterways opened the ODA Free Village English School in the province of Siem Reap, Cambodia in association with ODA – the Orphans and Disabled Arts Association. Through financial support to the school, AmaWaterways sponsorship brings English-language skills to local children of grammar-school age to help improve their lives and assist with subsequent employment opportunities.

5. Complimentary bicycles to use in every port
Unlike ocean cruises that may dock in industrial areas in Europe, a river ship docks right in the heart of the city, town or even village. When you consider that most Europeans ride bikes everywhere, it's no surprise there are wide paved bike paths throughout every port of call.
While some other major river cruise lines have eliminated their onboard bikes or charge a fee to rent them ashore, AmaWaterways for maintains a fleet of bikes on every European vessel. In addition, AmaWaterways river cruises offer complimentary guided bicycle tours in at least two ports on every seven-night itinerary along the Rhine, Main, Danube and Rhône rivers.

4. On a back-to-back river cruise, the itinerary will could differ on the return trip

One of the great joys of cruising, whether river or ocean, is to stay on board for two or more consecutive cruises, called a back-to-back. On most river cruises, the itineraries back and forth along the river don't vary; you'll stop at the same cities on the way back as you did on the way there.
Not so on AmaWaterways. On a recent Mosel, Rhine and Danube river cruise, when I was onboard for two weeks south and two weeks north, new cities and towns were added to the itinerary in the northerly direction. It was exciting to know that there were still new small towns to visit that I didn't see on the way down.

3. They feature excellent local entertainment from shore side.

One of the most memorable moments on a river cruise occurs in the evening. Again, this isn't a new concept, but one that AmaWaterways has done to perfection. River cruise lines employ local entertainment to come onboard for the evening's show either while still docked or even while underway.
On a moving ship? Entertainers will board the ship at various locks along the route, with their driver dropping them off at one lock and picking up the performers further down the river at another lock. And there are plenty of locks. One particularly excellent singer/performer is Valerie May.
She sings and entertains to a variety of familiar songs from around the world. Valerie even gets the audience to sing along to the Sound of Music's "Do-Re-Mi." A not-to-be-missed performer.

2. Food allergies? Avoiding sodium? Vegetarian? The Dining Room Manager will accommodate

So many people have food issues these days. Maybe it's medical or by choice, but every cruise ship galley has learned to accommodate these needs. What differentiates AmaWaterways is the ease and efficiency with which these requests are handled.
I prefer a low- or no-sodium diet. Paulo, the restaurant manager on AmaLegro, remembered my request from the first through the twenty-seventh day of my cruise.
But the number-one reason that I love AmaWaterways is:

1. It's a family-owned company. Two families, actually.
AmaWaterways was started in 2002 by Rudi Schreiner, Kristin Karst and Jimmy Murphy (seen above). When Rudi left the helm at Viking River Cruises and teamed up with Jimmy Murphy, the founder of Brendan Tours and Kristin Karst, a cruise line executive, they launched what was then called Amadeus Waterways.
Several years and a name change later, the Schreiner-Karst family and the Murphy family (sadly, Jimmy Murphy passed away in 2014) with Jimmy's son Gary are still going strong. There are now 22 custom designed ships in Europe and one ship each cruising Vietnam & Cambodia, and two in Africa.
You just never know when you might run into Kristin, Rudi or Gary onboard an AmaWaterways ship. They're always doing spot checks to make sure that their luxury river cruise line remains at the forefront of river cruise companies.
What are your reasons for choosing AmaWaterways?
PIN THIS FOR LATER!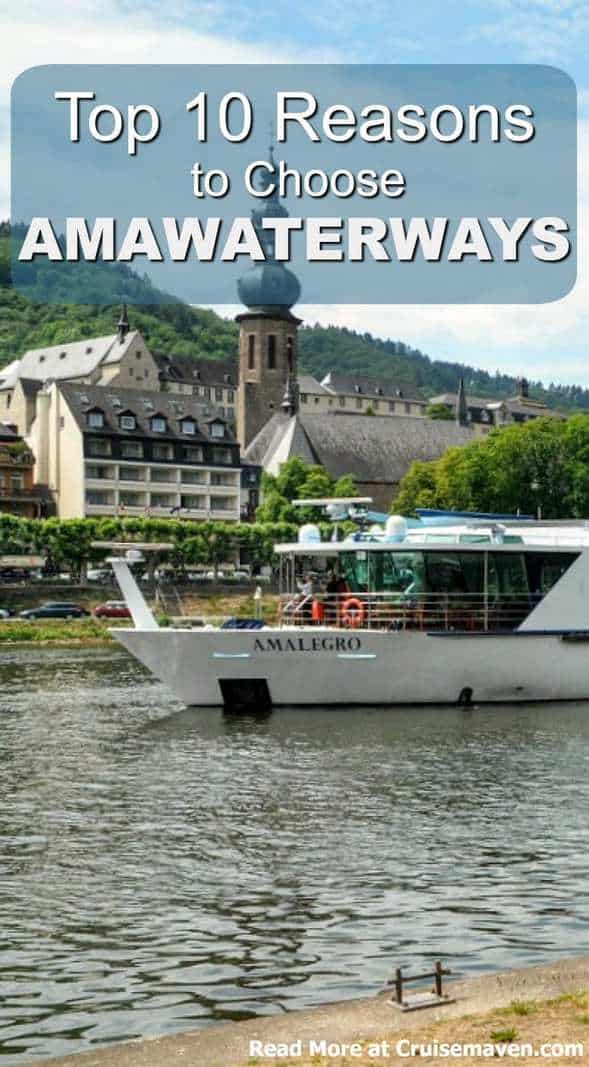 I'm the editor and creator of CruiseMaven.com, a solo traveler cruising the world on waves and wheels, collecting recipes along the way.  I hope my articles and photos entertain, advise and inspire you to travel the world without flying.  Take a breath…stop for a local meal and a glass of wine along the way.